Lana Condor's Stylist Reveals What It's Like to Dress the Actress Via Zoom and FaceTime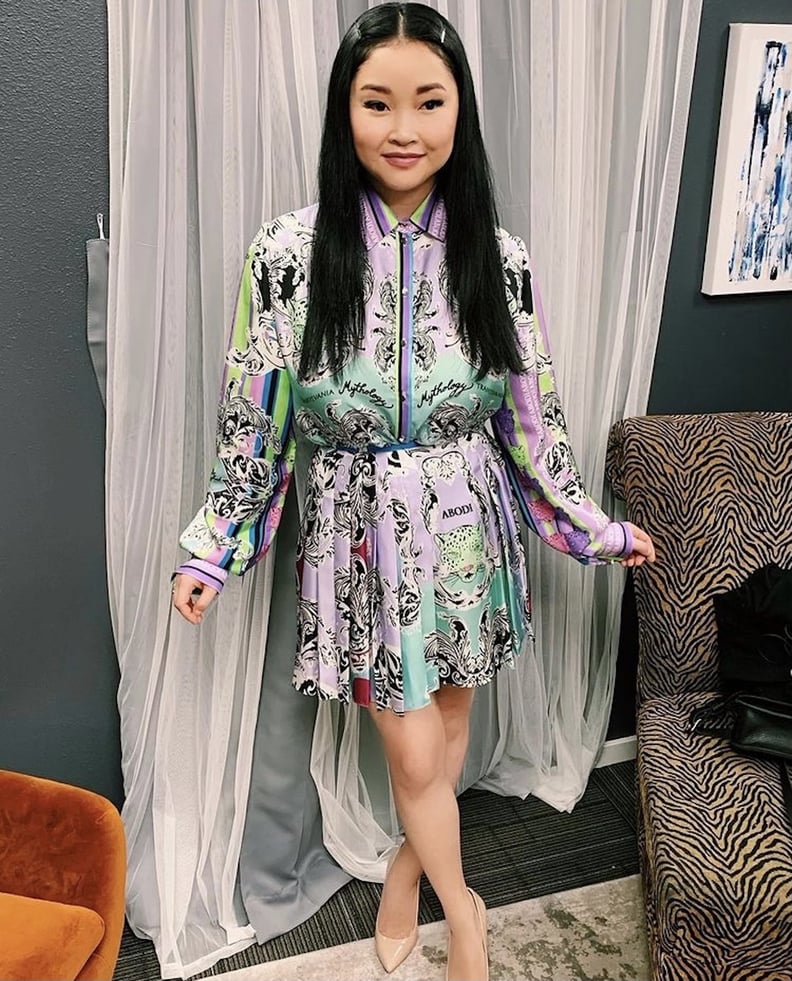 Courtesy of Tara Swennen
Courtesy of Tara Swennen
IDK about you, but I'm superexcited to watch To All the Boys I've Loved Before: Always and Forever, especially after seeing all of the amazing outfits Lana Condor has been wearing while promoting the new movie. So, who's behind her stunning press tour looks? It's none other than celebrity stylist Tara Swennen. I talked with Tara to learn what it was like styling the actress in the middle of a pandemic, whether the pieces were inspired by her role as Lara Jean in the movie, and so much more!
Obviously, COVID-19 has changed the way movie premieres are being handled with a lot of virtual red carpet events being held at this time. As you can imagine, dressing Lana virtually via Zoom and FaceTime rather than in-person was definitely a change of pace for Tara, but she was quick to adapt.
"We have a little bit of everything, to be honest, because the press tour is lasting over three weeks, and she lives in Seattle. For the first leg, since I'm in LA, I had to ship her a trunk," Tara explained of the clothes she curated. We put outfits together, took photos, sent them to her, and those were hers to choose from for the first three press days. Then, she came to shoot some stuff down here, so that's when I was able to bring her some more things, and that's when they decided to do a virtual premiere. They're going to be sending her and Noah [Centineo] an actual rolled up red carpet!"
Being a fan of the franchise, I had to know if there were outfits that Lana wears that were influenced by her character in the movie. Tara's answer? "I think all of them are, to some degree. Lana's own personality is very bubbly, joyful, and cute. She is an eternal romantic herself, and we wanted to play into that, so the [outfits] are all a bit flirty and fun. I think the edgiest piece really is what we chose for the premiere, and that's a departure from the character, but it all ties together in who she is and how she identifies with [Lara Jean]."
Keep reading to see more of my interview with Tara ahead, and take a look at some of our favorite press tour looks Lana has worn so far, courtesy of Swennen herself.
Lana's First Press Day Look
"For her first press day, she wore this red Adeam look," Swennen told us.
Lana's Look For Photo Shoots Vs. Talk Shows
"Lana's doing Live with Kelly and Ryan and she knows that Kelly is a big fan of shoes and pretty, flirty things so we slotted a very romantic dress for that."
"This Carolina Herrera dress was big and had lots of ruffles and layers, so it was going to look ridiculous sitting. So, The New York Times [photo shoot] was perfect. We do obviously tend to go a bit fancier for the nighttime [TV shows] but again, the beauty of Zoom styling right now is as long as I get a beautiful photo for the designers, it doesn't really matter where it goes. I know that it can be slotted. We tend to go for things that are generally just more appropriate for each vibe."
"Lana's doing Live with Kelly and Ryan and she knows that Kelly is a big fan of shoes and pretty, flirty things so we slotted a very romantic dress for that. Other than that, it's just more what we would've done for prior years, which is leaning more towards maybe a little black dress or something form-fitting and sexier for the nighttime talk shows and something prettier for the daytime ones."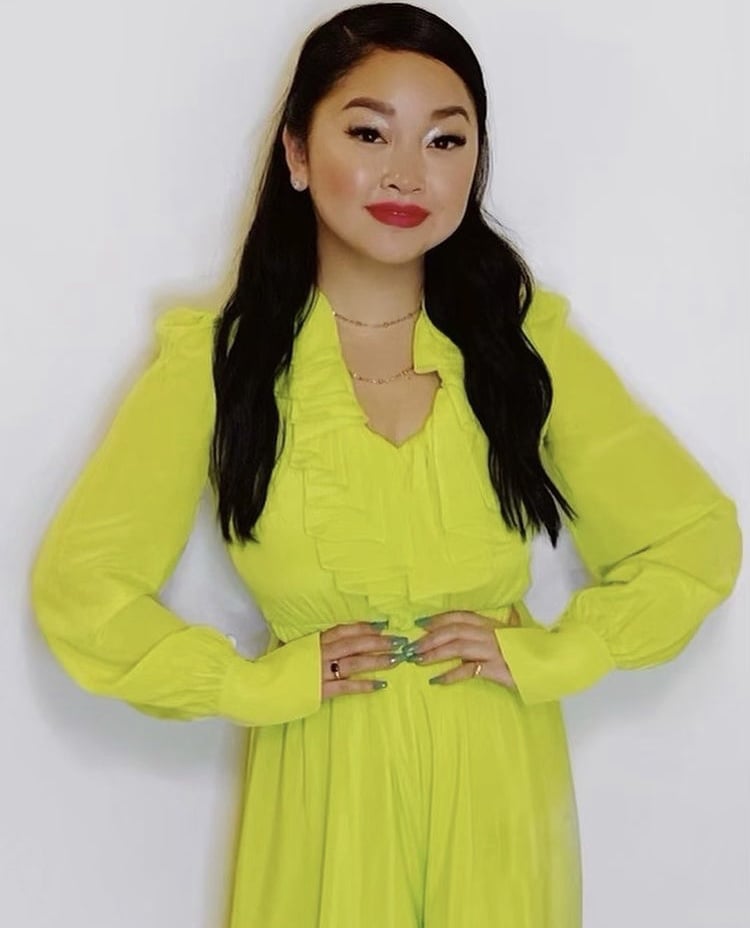 Lana's Favorite Designers to Support
"She loved wearing this lime green Cong Tri dress, because she was supporting the fellow Vietnamese. Obviously, I tried to bring her a wide range of diverse brands on every level. I just really try to support brands that have been very supportive of me — especially my clients — because I feel like everyone is hurting. So, the more I can share the love right back, that's very important to me within the industry. We really wanted to give [Lana's looks] a worldly view, so there are a lot of international brands mixed in."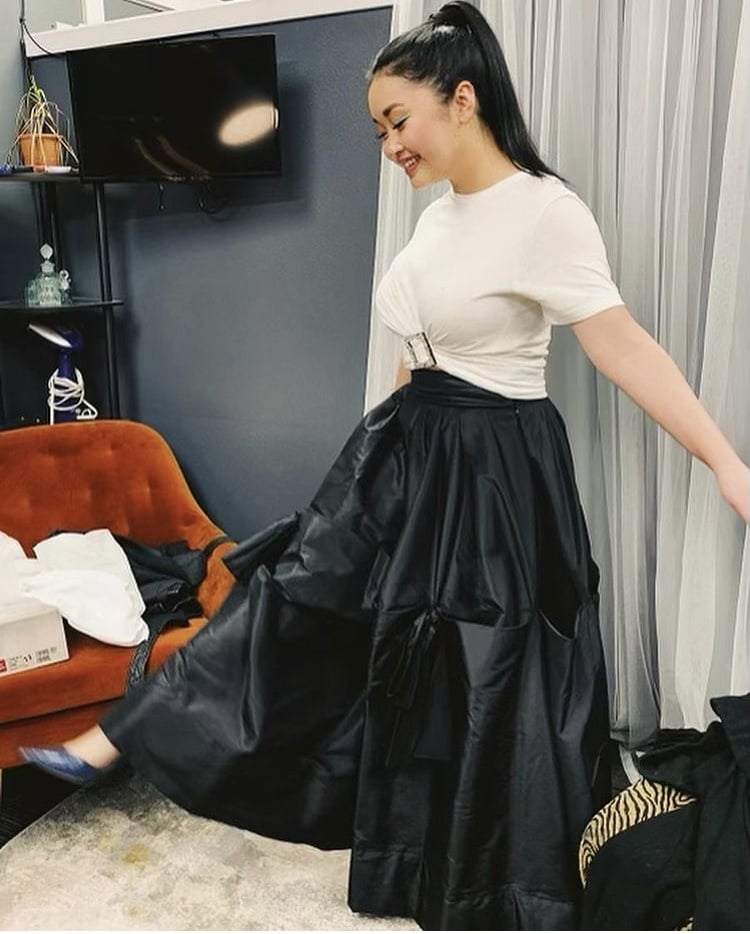 Lana's Press Tour Looks So Far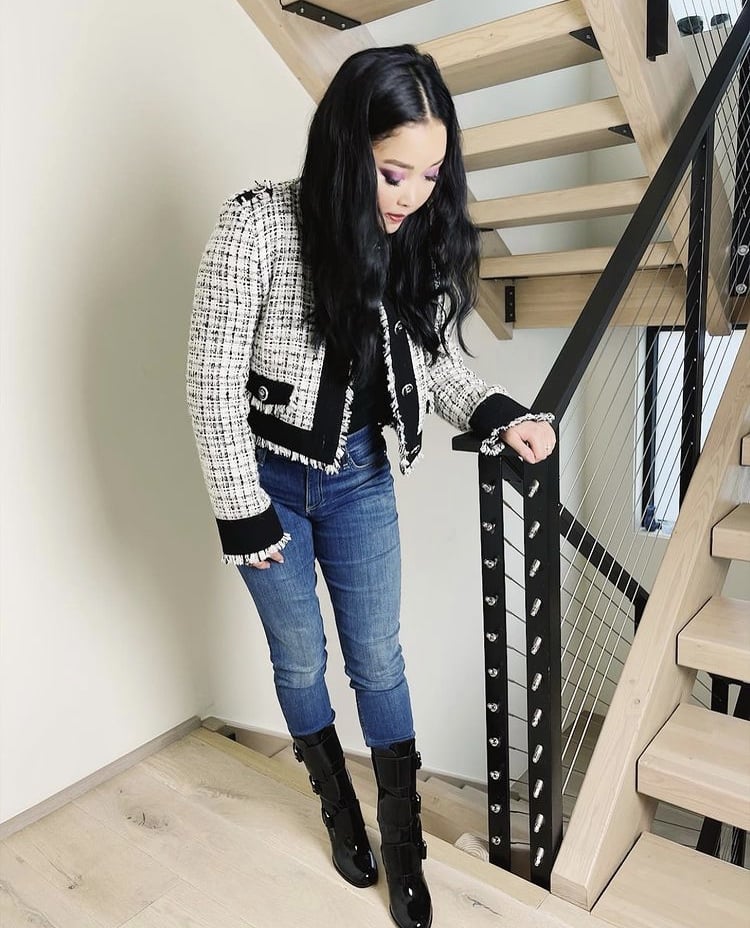 Wearing Dolce & Gabbana, Alberta Ferretti, and Tamara Mellon.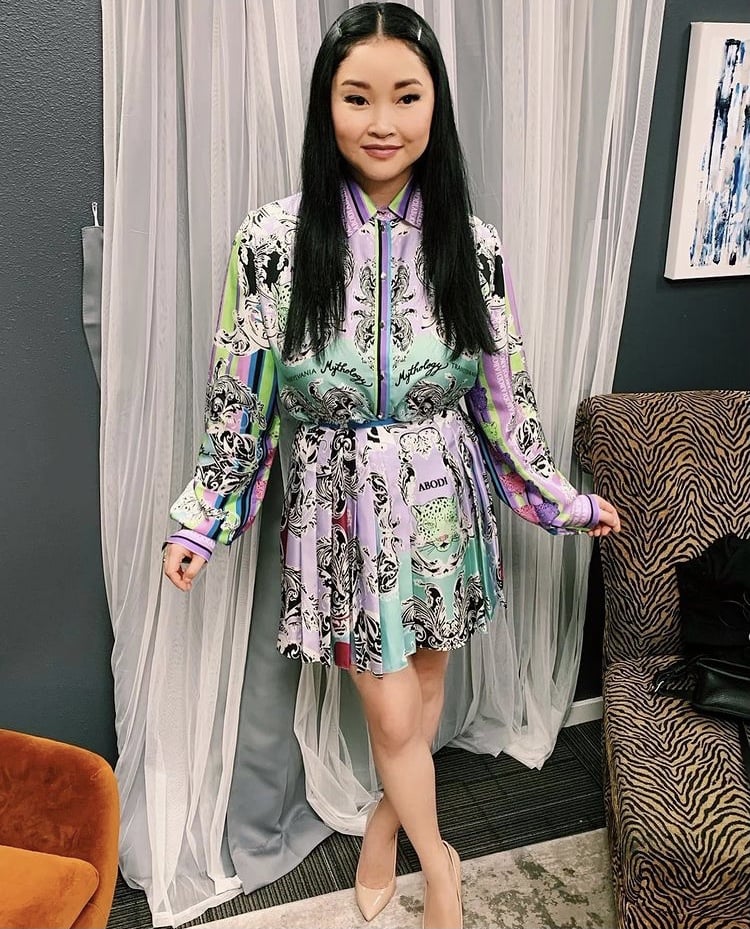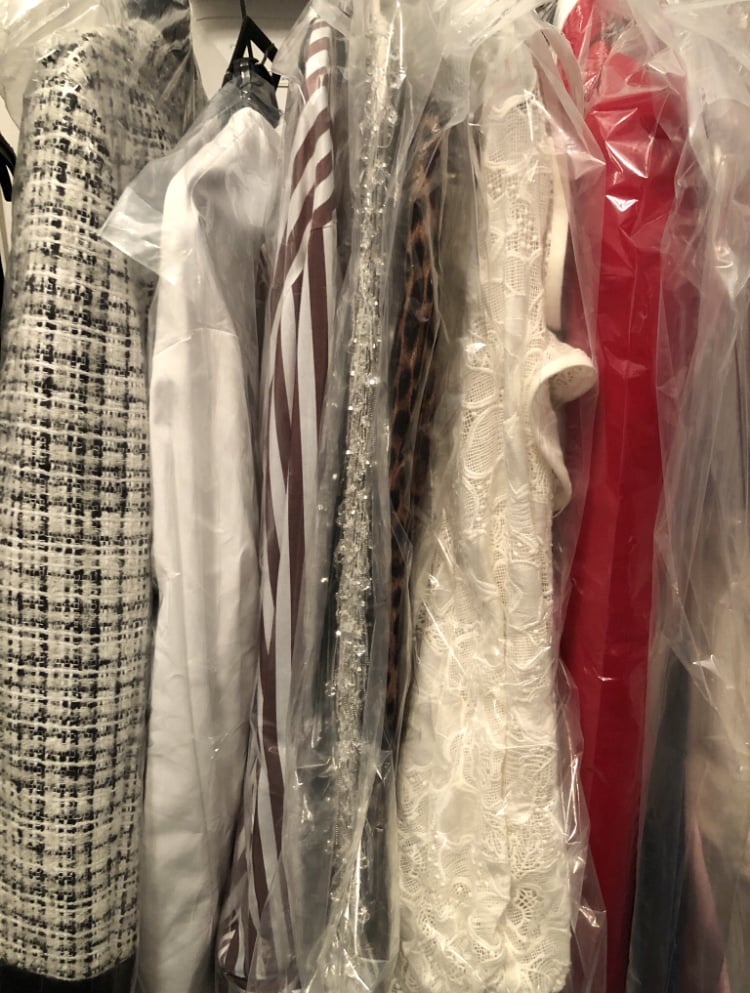 A BTS shot of how Tara sends clothes to Lana.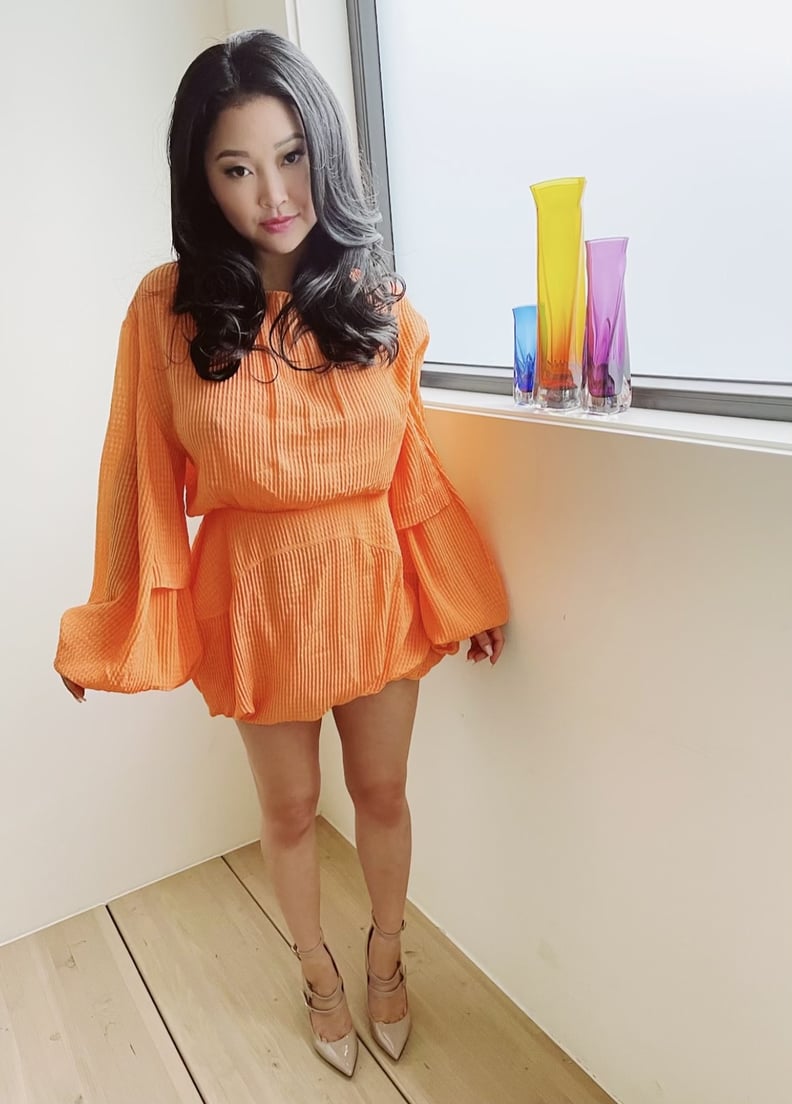 Wearing Stella McCartney.