14 Leather Jacket Outfits You Haven't Thought of Yet
When fall rolls around, getting dressed in the morning can be a bit tricky. Although temperatures have dropped, it's not quite cold enough to dig the shearling coats out, and there are just some days when we feel like wearing something a bit edgier than a trench coat. Enter: the leather jacket. Thick enough to keep us warm on chilly days, it'll go with all of your wardrobe essentials — from comfortable jeans to pretty dresses — and you'll be able to style it in so many ways that you won't even have time to get bored of it.
If you've always thought that a leather jacket wasn't for you, now's the time to reconsider. The staple is perfect to layer on a breezy night or in a chilly office, and it was practically made for covering your simple white tees. You can even balance it on your shoulders to add an effortless element of surprise to your look. While these little moves may feel typical or ordinary, take a tip from the women below to employ even more cool, unexpected twists.
— Additional reporting by Sarah Wasilak
Embroidered Leather Jacket
If you're trying to play up unique embroidery on your leather jacket, consider adding color pops in the same hue in the form of accessories or an undershirt. Keep the rest of your look monotone to let your statement coat do all the talking.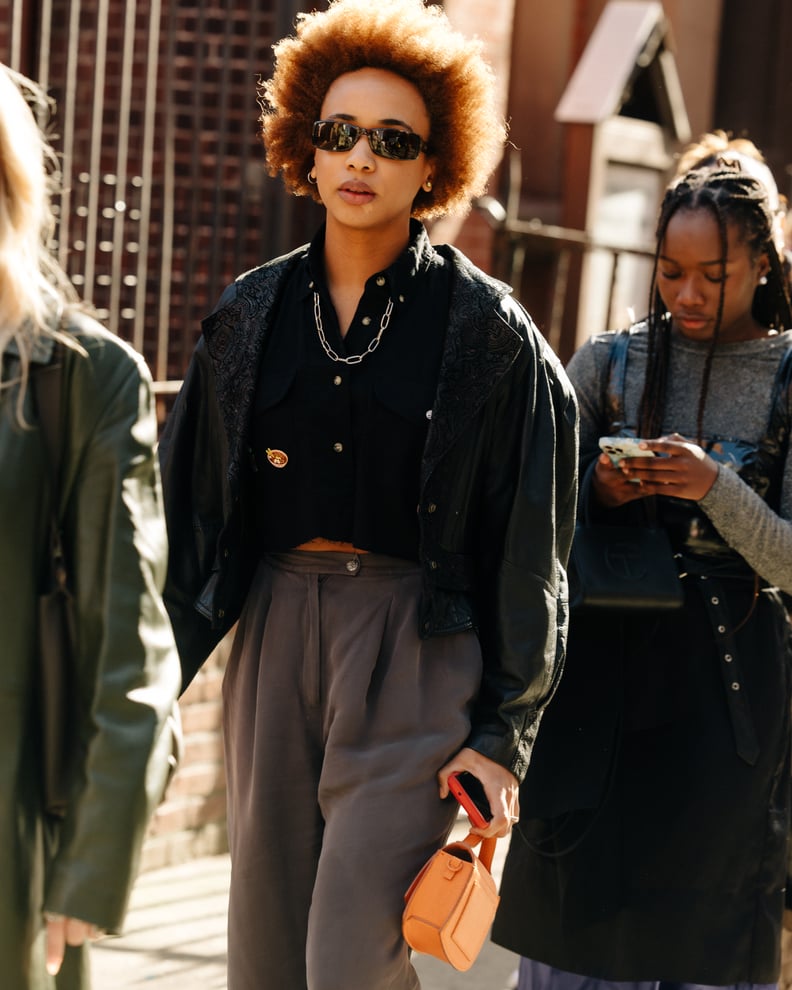 Lined Leather Jacket
In order to show off the interior lining of your leather moto jacket, allow it to hang open so the lapels are on full display and opt for a non-distracting top underneath. A sleek trouser and small mini bag are perfect outfit accoutrements.
Fitted Leather Jacket
Don't underestimate the appeal of styling your fitted leather jacket over the shoulders. Opt for classic pieces to complete the look, like a polka-dot shirt, jeans, and gold loafers.
Leather Moto Jacket
To really play up the edge of a leather moto jacket, consider an animal-print blouse, accessories with plenty of hardware — like your belt and bag — and aviator sunglasses.
Studded Leather Jacket
Play up the studs on the collar of your leather jacket with silver ankle boots that catch the light in just the same way. A fun patent skirt will emphasize the shine even more.
Belted Leather Jacket
It can be fun to allow the belt on your jacket to hang loose, rather than cinching it at the hips for a structured, buttoned-up aesthetic. Offset the edge of a leather jacket with a blush pink turtleneck and pretty heels.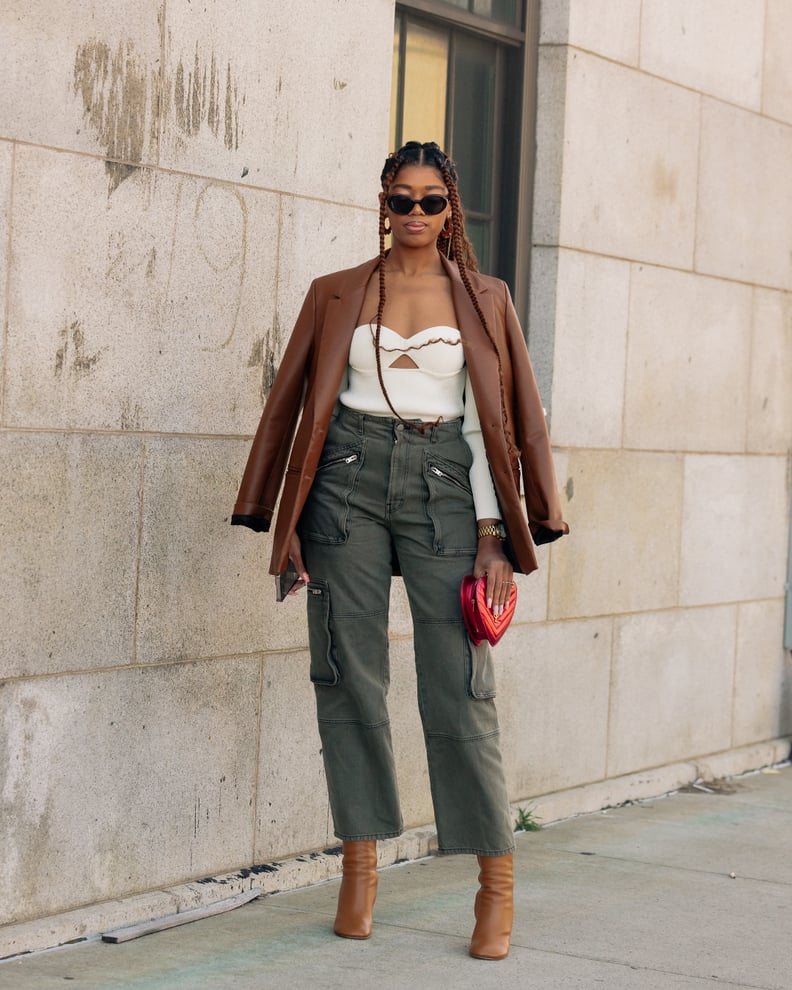 Leather Blazer Jacket
A leather jacket that's sophisticated enough to take the form of a blazer could benefit from a skin-revealing ribbed top underneath. Cater to the trends in cargo pants and ankle boots, and don't shy away from an eye-catching purse.
Distressed Leather Jacket
A pebbled leather jacket brings your look a serious dose of texture, which you can play up even further with the addition of a fuzzy sweater or intricately stitched denim. Complete the look with a bag that comes as close to the texture of your coat as possible.
Brown Leather Jacket
When it comes to a classic brown leather jacket, rather than your standard black, consider gray wool and cashmere pieces to complement the tone, and maybe even emphasize the zippers on your coat.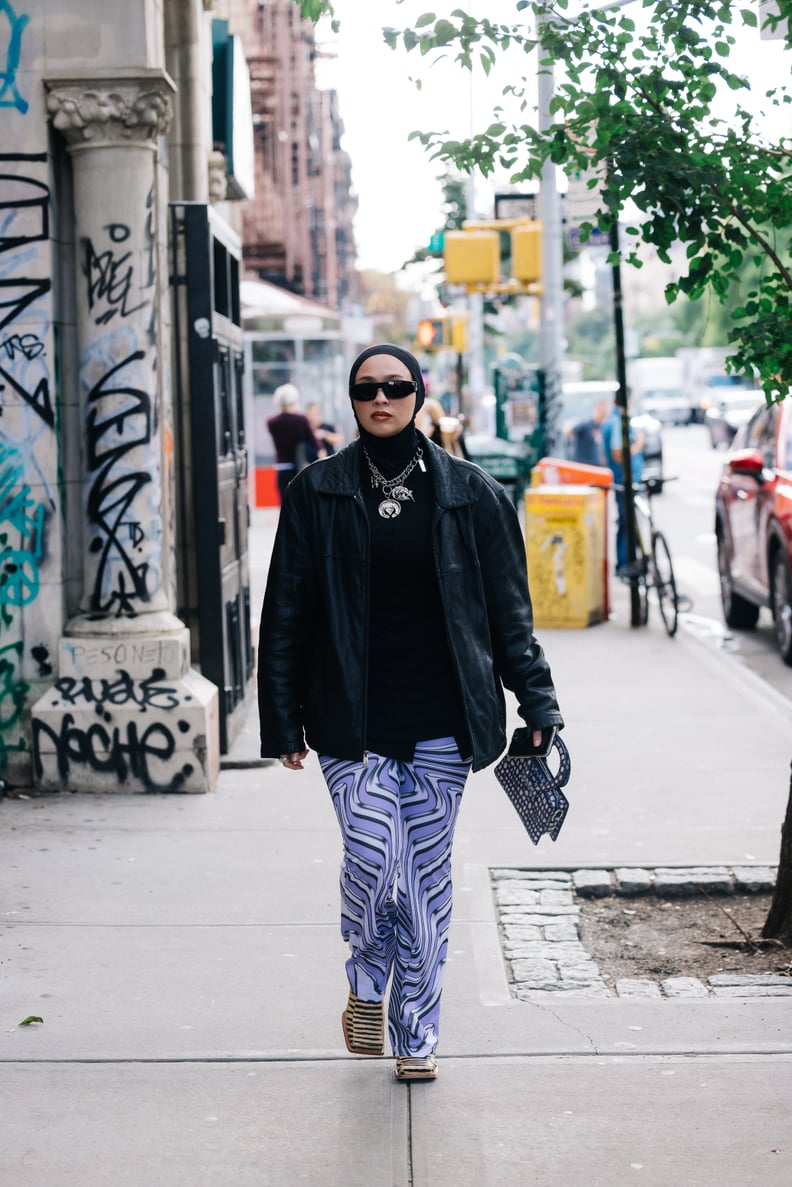 Oversize Leather Jacket
An oversize leather jacket has instant vintage appeal, so cater to the moment with retro prints, Matrix glasses, and a chunky statement necklace.
Colorblock Leather Jacket
Go For a colorblock jacket with contrast sleeves and style it with a striped sweater, jeans, and mules for a classic look that has an element of surprise.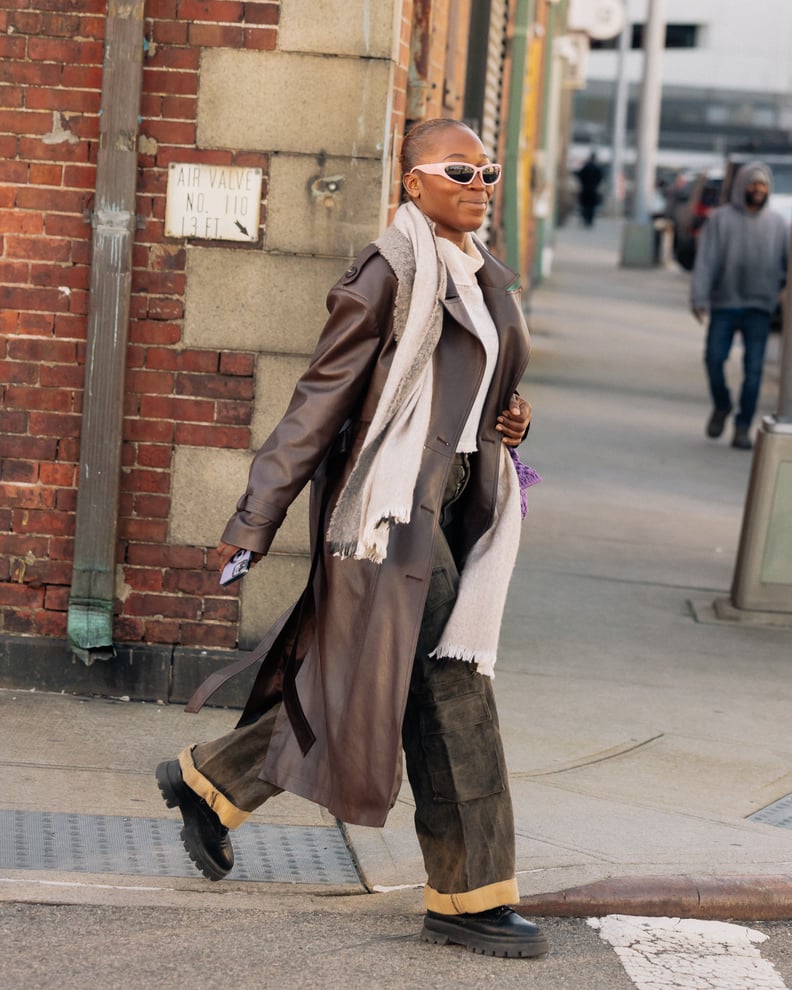 Long Leather Jacket
A liquid-like long leather jacket that hits at mid-calf looks great styled with a pair of wide-leg pants or tough cargos. Opt for lug-sole platform shoes to ground out the rugged feel.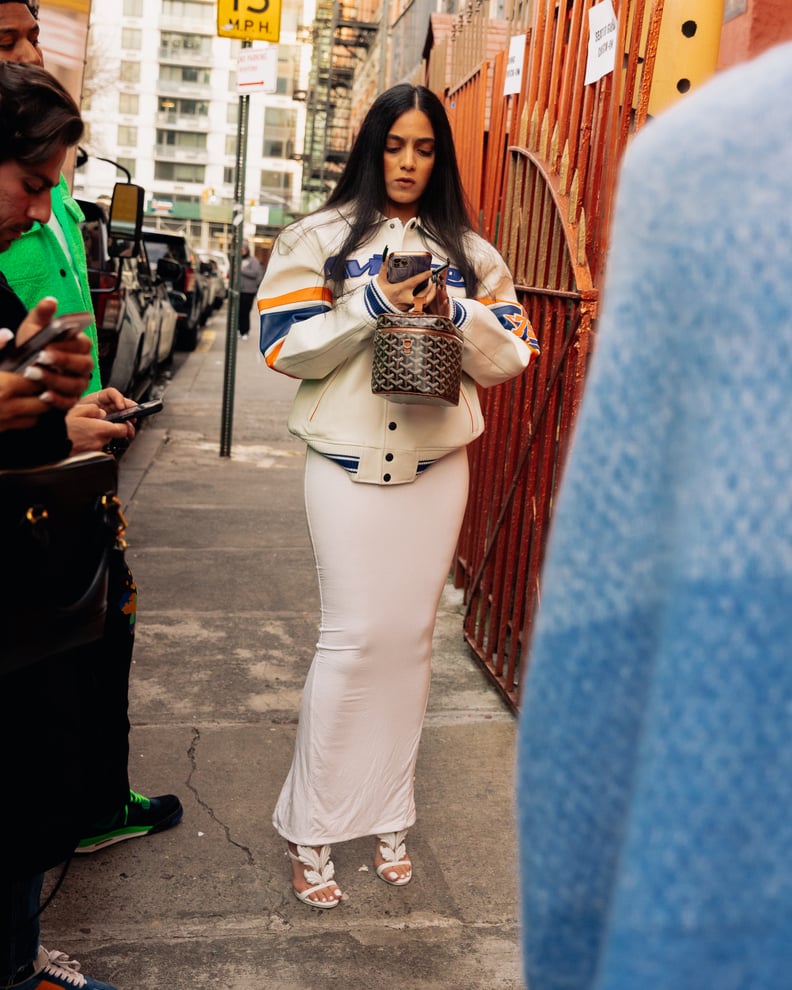 Leather Bomber Jacket
A leather varsity jacket feels instantly special and deserves the spotlight. Button it up and style it over a fitted jersey dress with a pair of heels and finish the outfit with a top-handle bag.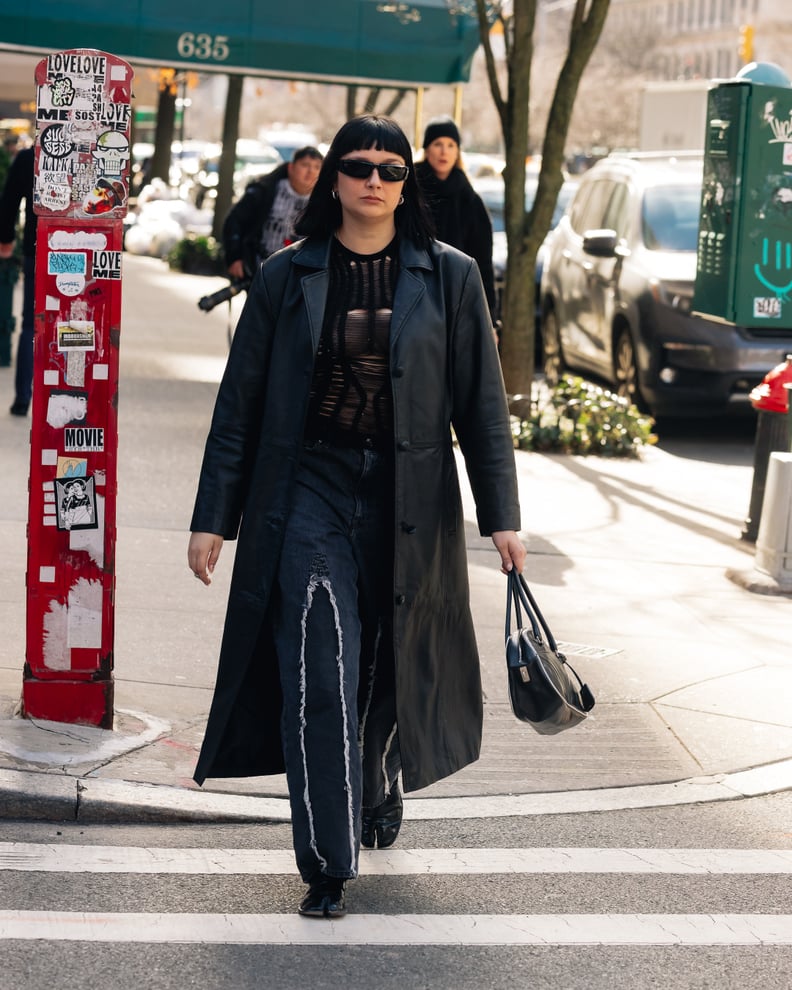 Black Leather Trench Jacket
This statement piece gives off '90s "Matrix" vibes, so cater to the moment with dark, structured skinny sunglasses and a ripped mesh tee. Incorporating other avant-garde pieces from your closet, like reworked denim or patent boots, can also liven up the look.