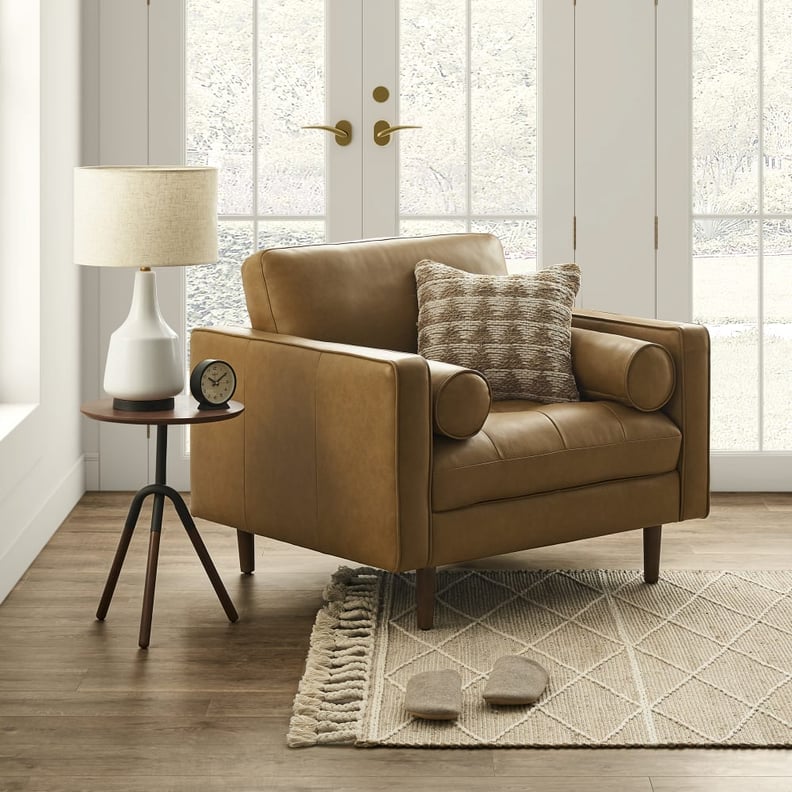 Castlery
Castlery
As POPSUGAR editors, we independently select and write about stuff we love and think you'll like too. If you buy a product we have recommended, we may receive affiliate commission, which in turn supports our work.
Leather furniture will never go out of style, so it's no shock the pieces are such big staples in homes today. The upholstery has an elevated look that makes it a standout addition to a living room or den. Without a doubt, leather furniture adds a sense of sophistication, plus they age like a fine wine when they're properly cleaned and taken care of. If you're looking to add an accent chair to your living space, incorporating leather will give your interiors a fresh and elevated feel. Whether it be an office chair, club chair, lounge chair, dining seat, or recliner, there's a leather chair on the market that's well suited for any space.
To help us uncover the best leather chairs on the market, we enlisted the help of designer Hema Persad, founder of Sagrada Studio and art director of "Property Brothers" on HGTV.
What to look for when shopping for a leather chair
A quality leather chair exudes craftsmanship, and Persad recommends paying attention to the details for a top-notch piece. "Check the seams for proper stitching, check the softness and flexibility of the leather — if it's not supple it will crack over time." She points out that softness and suppleness are key for quality leather pieces, and lower-quality leathers tend to be stiff and prone to cracking. "Leather should be firm but not too stiff, and any dye should not rub off when you touch it," Persad advises.
If you're prioritizing comfort in a leather chair, Persad recommends going with something that's textured so you don't slide around. "Something with a shape that allows you to sink in a bit but that still provides support," she says.
On the market for a leather chair made from vegan sources? Persad points out that "vegan leathers made from plant materials (i.e. cactus) tend to have a better and more high-end feel than synthetic materials, probably because the synthetic ones contain plastics that don't give that supple feel you want from leather."
What are the pros of leather chairs?
Leather chairs are ideal for anyone who wants a luxurious look that will stand the test of time, according to Persad. It's ideal for modern and sleek spaces as well as a midcentury-style home. To truly make a leather chair complement your space, it's important to pick the right style and design. Persad points out, "It can look dated if you pick the wrong silhouette. Make sure the silhouette isn't too bulky. Leather tends to look better in a more streamlined silhouette."
How to care for a leather chair
Although leather is known to be a durable material, that doesn't mean upkeep isn't necessary. Persad recommends conditioning it with a leather conditioner every year. "Try not to get it wet, wipe up water/liquid spills right away, and keep it away from direct sunlight," she advises.
Ahead, we curated the best leather chairs on the market in a wide variety of styles, perfect for your home and budget. Pick one up for your living room, office, bedroom, or den, and bask in its well-deserved charm. Keep reading to shop our top picks.
— Additional reporting by Haley Lyndes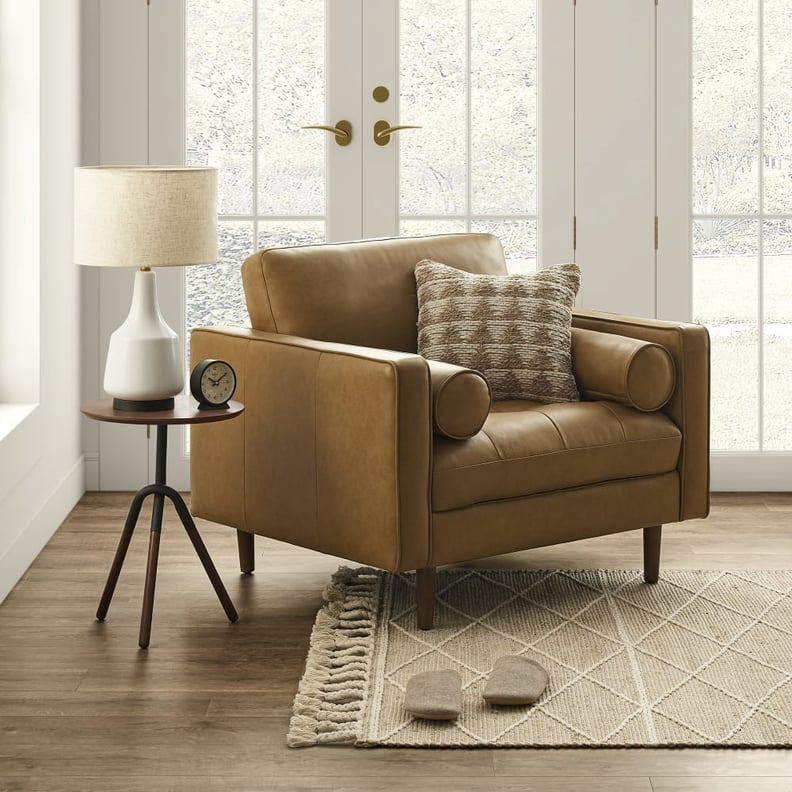 Most Comfortable Leather Lounge Chair
Castlery Madison Leather Armchair ($1,299)
This Castlery armchair is an editor favorite thanks to its buttery-soft leather and firm yet comfortable cushions, which is exactly what Persad looks for. "The Madison Leather Armchair is, hands down, the most comfortable piece of leather furniture my body has ever touched, and I don't say that lightly," one editor claims. This leather chair is on the firmer end and ideal for those looking for back support without compromising on comfort. Our editor says that "there's enough support that I don't feel like I'm entirely sinking in, but everything is cushy enough that I can sit for hours at a time reading, watching TV, or even working on my laptop."
The midcentury-modern design allows it to blend seamlessly into a variety of interiors, whether you're going for something more industrial, rustic and coastal, or modern. Plus, you can get it with a matching ottoman for a more relaxing set up. Read our in-depth review of the Castlery Madison Leather Armchair here.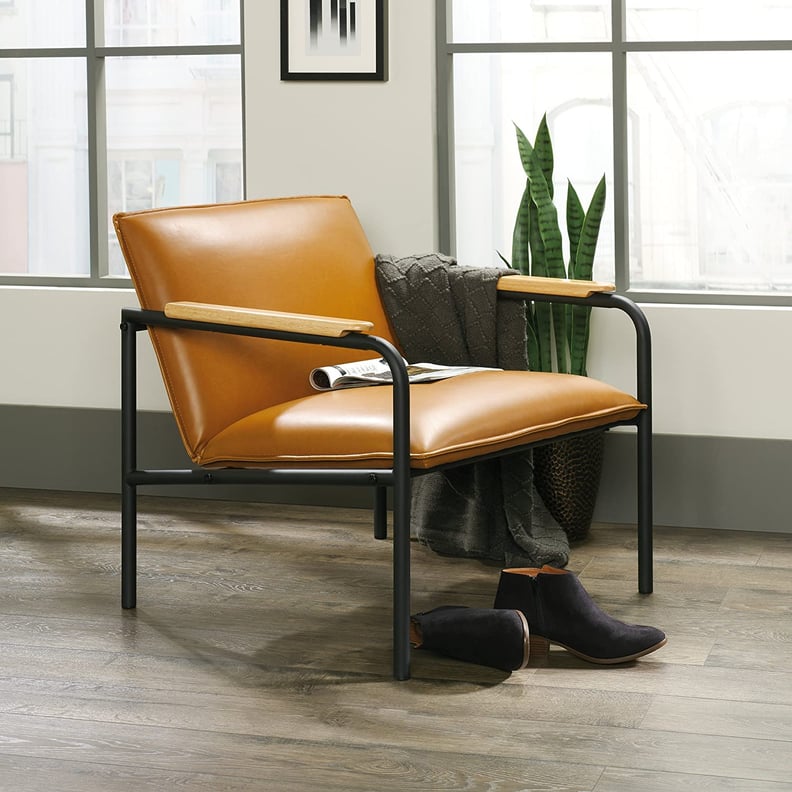 Best Affordable Leather Chair
Sauder Boulevard Café Lounge Chair ($167, originally $290)
The Boulevard Café Lounge Chair is a timeless accent chair with a midcentury-modern-inspired design. Ideal for an office, living room, or den, this accent chair is perfect for the industrial space. The arms are accented with wood caps, and the camel-toned leather adds warmth to your space. It's perfect for rounding out conversational spaces in your home. This chair also comes in non-leather options in various colors.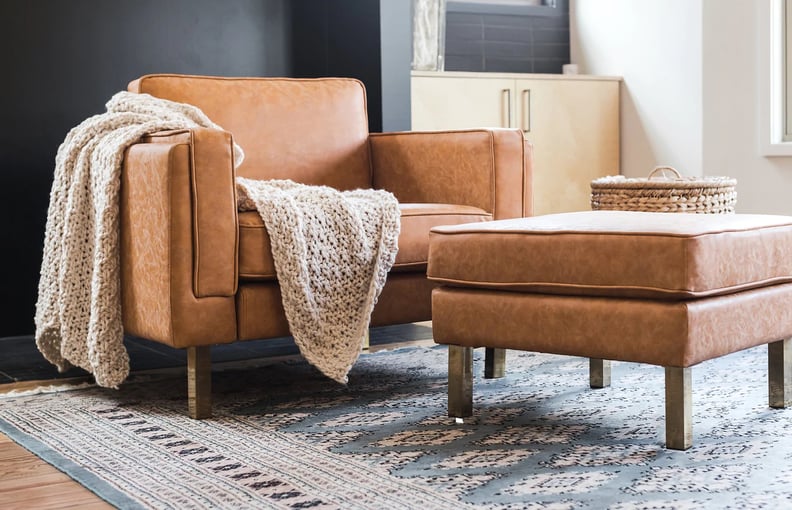 Best Vegan-Leather Armchair
Albany Park Albany Armchair ($699, originally $749)
If you're in the market for a stylish lounge chair, the Albany Armchair is a timeless piece that will accent your living space perfectly. Its strong square frame will add character to your space. It is made of durable vegan leather that has a distressed look for a lived-in feel. Choose between wooden or gold-tone metal legs.
It arrives in easy-to-move boxes so you can get it up narrow hallways and tight doorways. Plus, you can assemble it quickly without any tools, making it a great option for apartment renters.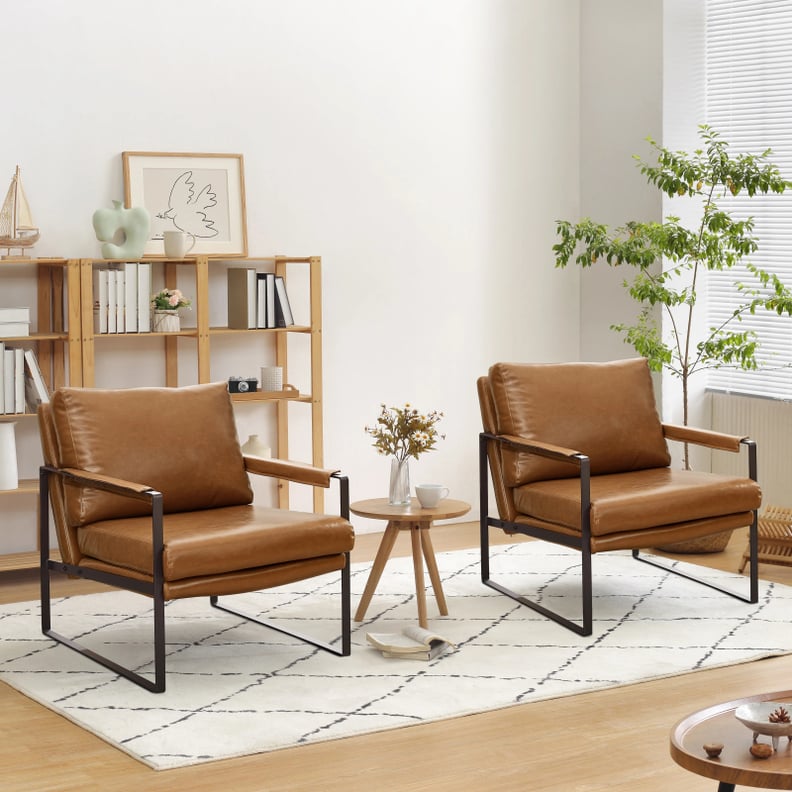 Best Leather Chair Set
Trent Austin Design Eisenman Upholstered Armchair ($520, originally $630)
The Eisenman Upholstered Armchair comes in a set of two, in a variety of colors, like a range of tans and browns, black, and gray. Each chair showcases a metal frame with mildew-resistant leather upholstery. The chair's wide rectangular cushions are as comfortable as you might imagine them to be, allowing you to sink right in. Accent these chairs with a throw pillow for a cozy touch.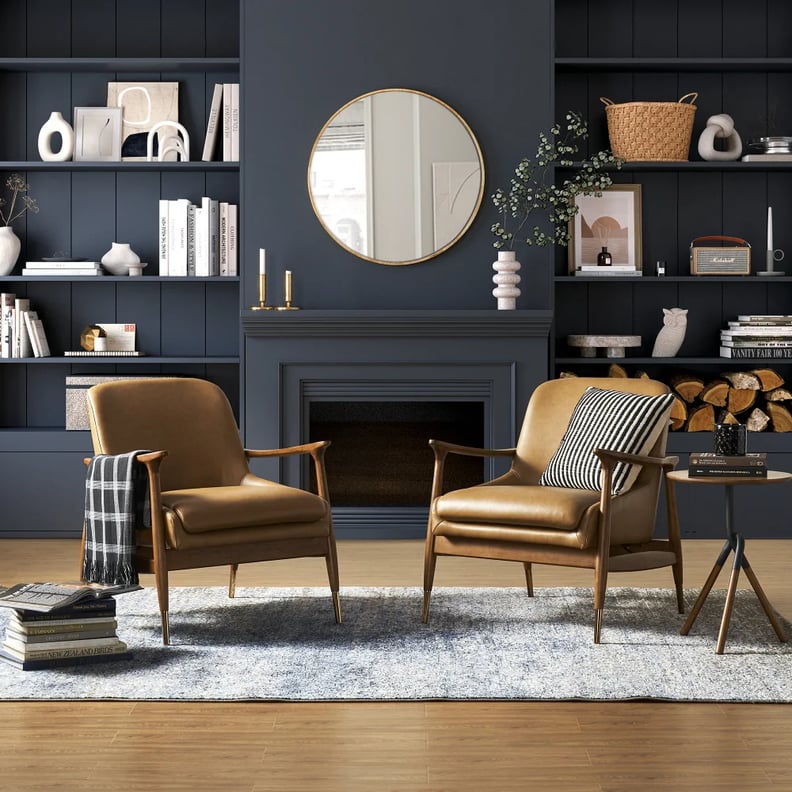 Best Midcentury Leather Chair
Castlery Desmond Leather Armchair ($949)
Create a sitting area that will inspire conversations for hours on end with this Desmond Leather Armchair. The chair comes in a gorgeous caramel that complements its wood frame and gold capped legs. The armchair's contemporary silhouette actually fits in nicely in a traditional space. Its seat rests between soft and firm, so you can sit in it as long as you'd like without getting uncomfortable.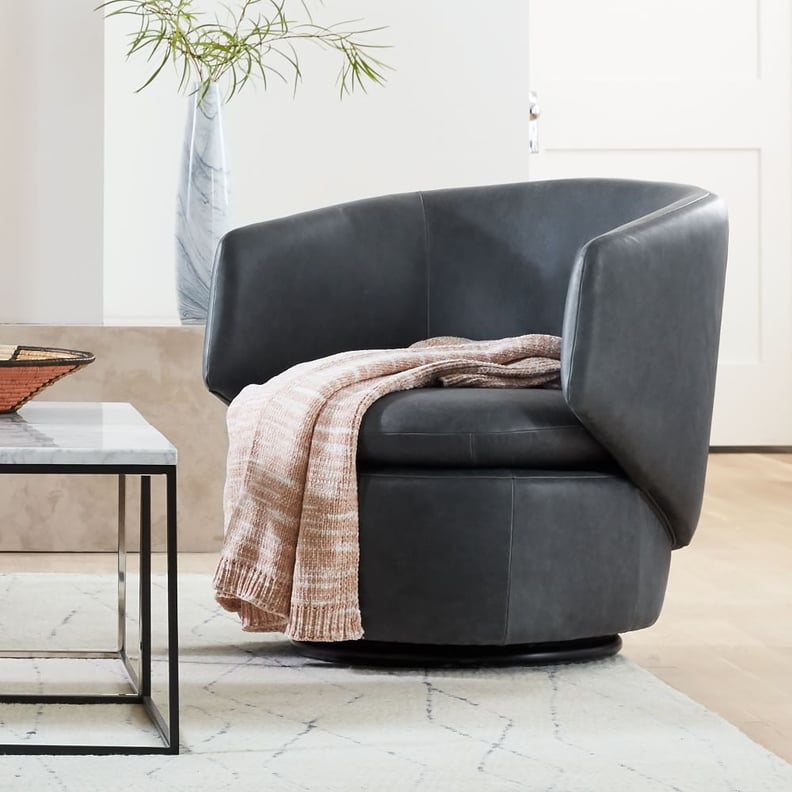 Best Leather Swivel Chair
West Elm Crescent Leather Swivel Chair ($879)
There's nothing like a chair that moves 360 degrees, and this Crescent Leather Swivel Chair does just that. Its swivel motion makes it easy to have conversations, and its crescent design molds perfectly to your body. Use this chair in your living room, and prepare to have the perfect TV-viewing station, conversation seat, and spot to sip your morning coffee. It comes in both genuine-leather and vegan-leather options in a variety of colors.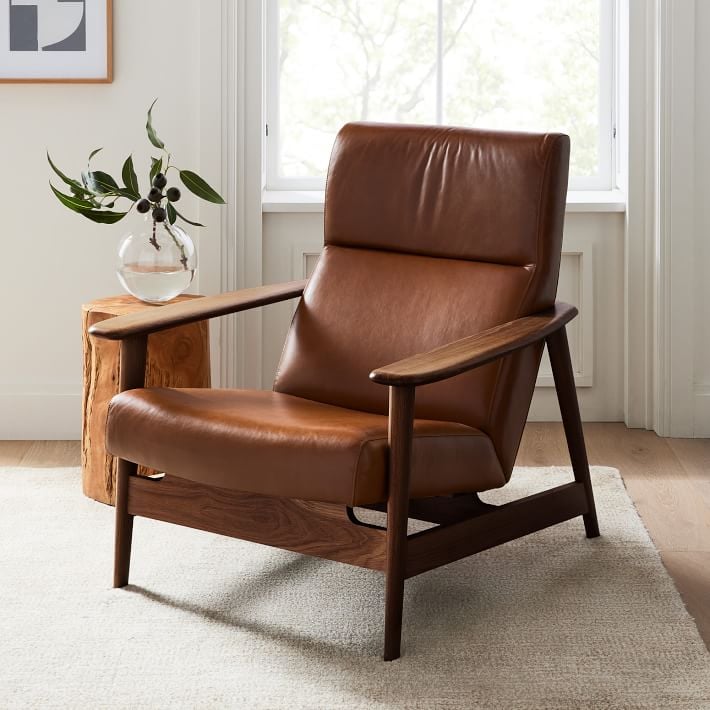 Best Wide Leather Chair
West Elm Mid-Century Show Wood High-Back Leather Chair ($1,079-$1,399)
If you want a chair that has a nice wide seat, this Mid-Century Show Wood High-Back Leather Chair has your back. The chair is made of aniline-leather upholstery that will develop beautifully with age. Although the cushioned leather will be the perfect spot to relax, it's the solid wood frame that gives this chair character and a sleek silhouette. Available in multiple leather options, including a tan vegan leather, there's bound to be one that suits your taste.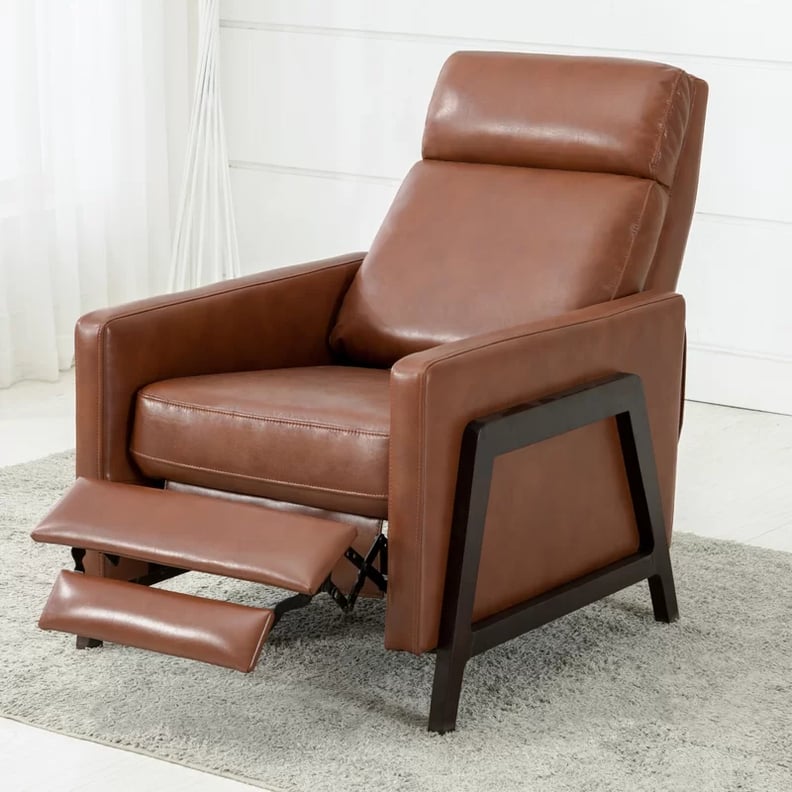 Best Leather Recliner Chair
AllModern Maxille Vegan Leather Recliner ($510, originally $670)
You no longer have to sacrifice style for a traditional recliner, because this Maxille Vegan Leather Recliner has both. The chair has square arms and a modern look that will complement your home's existing decor nicely. It's a contemporary and streamlined recliner that will encourage you to kick back and relax. This chair can go from fully upright to nearly flat. Plop it in front of your living room's TV, and prepare for a quick snooze. It comes in three faux-leather options including caramel, black, and navy blue.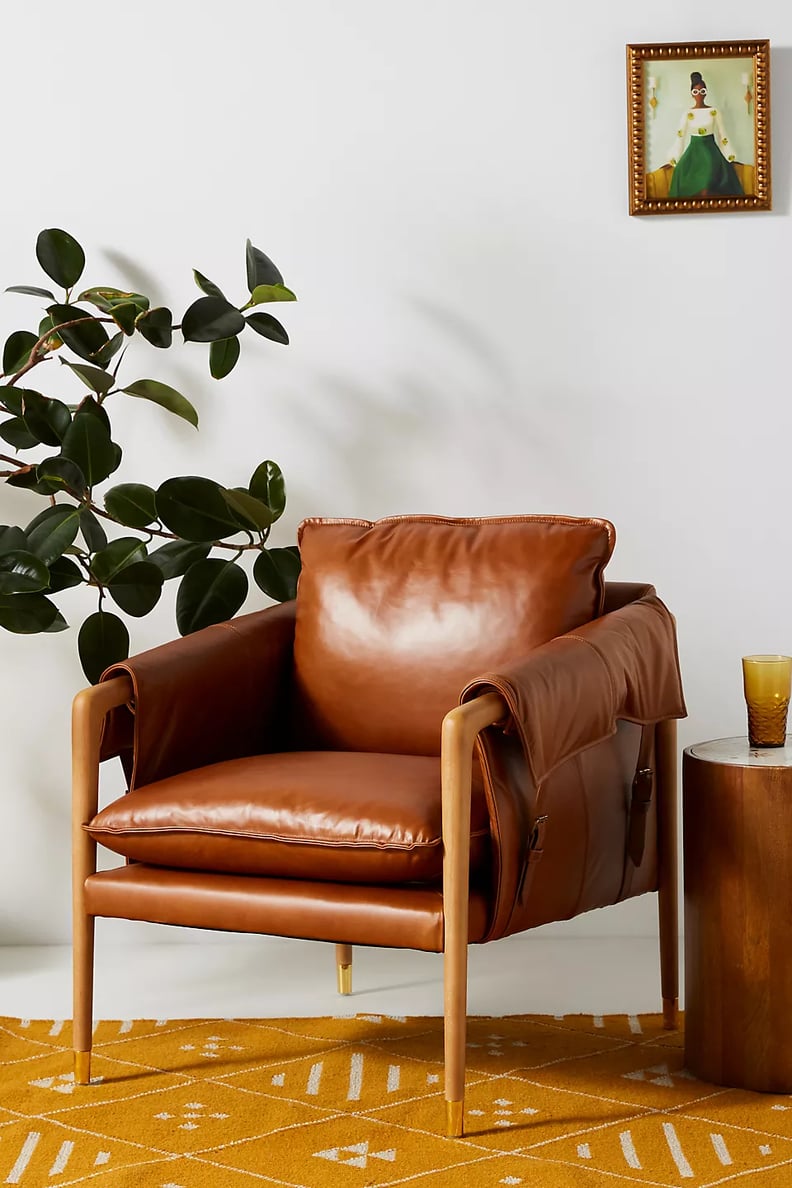 Best Leather Accent Chair
Havana Leather Chair ($1,498)
The Havana Leather Chair screams effortless sophistication. Elevate a den or living room with its leather upholstery, brass-accented legs, and buckled armrests. Its breezy, lived-in look is ideal for boho spaces or areas that require some warmth and character. This chair is perfectly sized for small spaces and can even fit into a bedroom to create a cozy sitting area. Place a side table next to it to complete its look.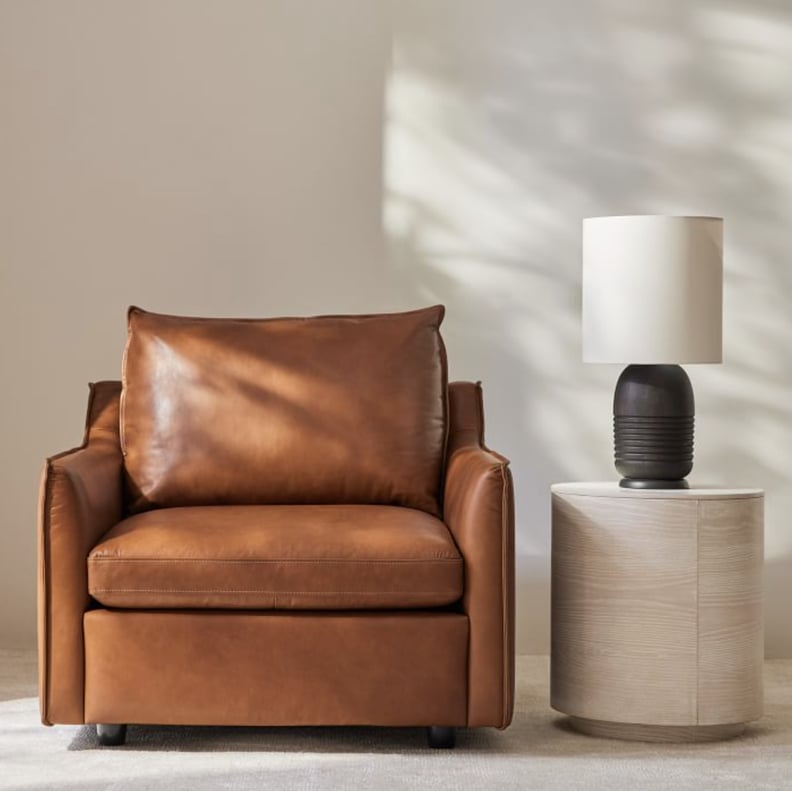 Best Club-Leather Chair
West Elm Easton Leather Chair ($1,499-$1,549)
If you're into classic leather chairs, try the Easton Leather Chair. The sleek and thin arms give it a modern, updated feel, and its plush cushions have a cloud-like comfort that'll suck you into a world of relaxation. With this chair from West Elm, you get both lounge-worthy seating and an elevated piece for your space. It's the ultimate accent chair for your living room or den, and it comes in various genuine leather hues.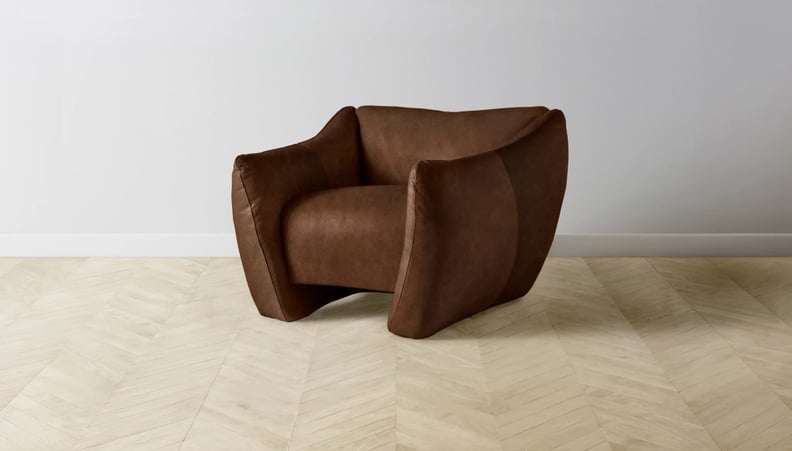 Best Luxury Leather Chair
Maiden Home The Bond Chair ($3,525)
Although Maiden Home's The Bond Chair looks like it belongs in MoMA, it's actually quite comfortable. The chair's oversize proportions make a statement with a geometric silhouette that can modernize a space. It has a down-filled back, seat, and arm cushions for an experience that you'll never want to get up from. If you're looking for a leather armchair you can curl up in, give The Bond Chair a chance. It comes in four Tuscan-leather options, including camel tan, bisque cream, bourbon dark brown, and seal dark gray, and six pebbled-leather options in various neutral tones.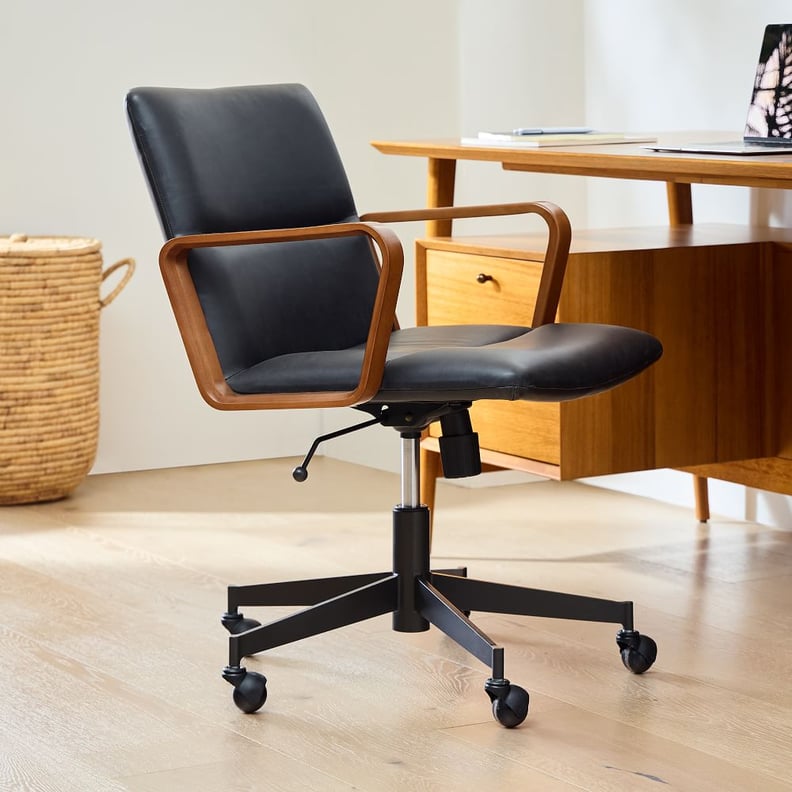 Best Leather Office Chair
West Elm Cooper Leather Swivel Office Chair ($599-$699)
If you're looking for an office chair that's timeless, consider this Cooper Leather Swivel Office Chair. The chair has a metal swivel base that allows you to move around your workstation with ease, and its solid beechwood arms complement its dark leather nicely. We love that this office chair isn't your typical chunky option that takes up quite a bit of space. Adjust its seat height to best suit your office desk for a comfortable workstation. Get it in a variety of genuine and vegan leather options.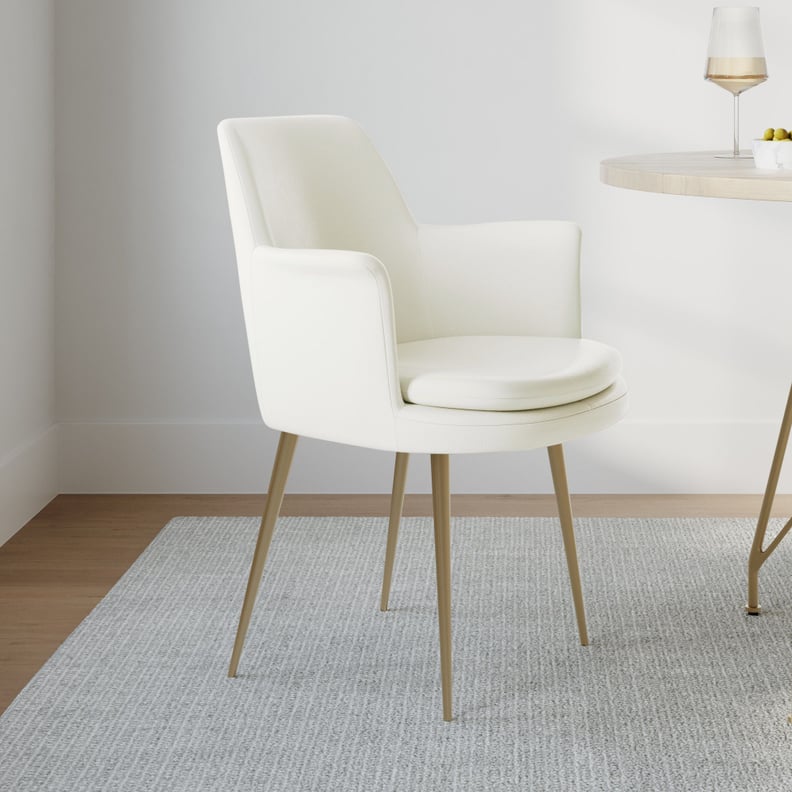 Best Leather Dining Chair
West Elm Finley Leather Dining Arm Chair ($499)
Featuring winged arms tapered toothpick legs, this Finley Leather Dining Arm Chair will stand out in your dining room. Its contemporary style is universal and can pair wonderfully with a number of dining tables. The cushioned leather seat allows you and your guests to sit comfortably at the table for hours on end. It comes in both vegan and genuine leather in various colors and you can choose between a gunmetal or a bronze gold leg. This dining chair is so stylish, you can also use it as accent seating in your living room.