Chrissy Metz's red carpet style has proven to be notable since she rose to fame following the first season of This Is Us. But even though she's got an awesome stylist to work with, Penny Lovell, along with a handful of designers who are happy to customize looks for her, it can be tough to find affordable fashion in a wide range of sizes. Of that, we're well aware.
But Chrissy's appearance on Late Night With Seth Meyers confirmed very good news: Loft's new extended sizes range looks DARN good in real life. Loft SVP and Chief Marketing Officer Laura Jacobs told us:
"We are excited to launch Plus in February 2018, deepening our commitment to providing versatile, stylish and feminine clothing. We took the time to make sure the sizing, the fit and of course the fashion were exactly right, offering a great selection of styles, including the dress Chrissy wore."
Chrissy's dress in question? A polka-dot wrap dress ($90) that she finished with Swarovski x Mary Katrantzou drop earrings, layering a tank underneath for extra support. Metallic gold loafers were the finishing touch — they took her outfit from plain and sophisticated to fancy and covetable. The best part is Chrissy's dress was the foundation of it all. Read on for a more detailed look, then scoop it up ASAP and shop the rest of the collection.
She Wore Swarovski x Mary Katrantzou Earrings
Chrissy's Stylist, Penny Lovell, Shared a Celebratory Shot of the Look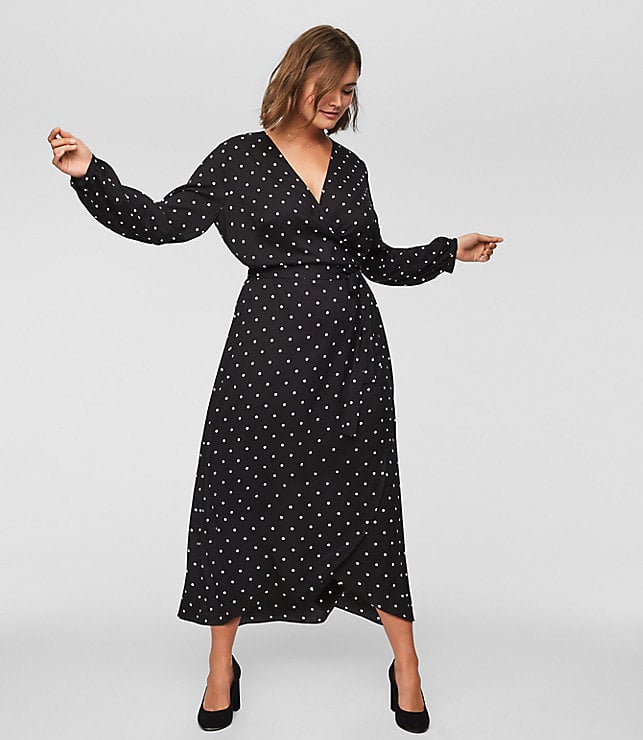 You Can Now Shop Her Loft Polka-Dot Wrap Midi Dress Here