Mansur Gavriel Apple Leather Bucket Bag Review With Photos
I Tried Mansur Gavriel's New Bucket Bag, and Now I Want It in Every Color
As POPSUGAR editors, we independently select and write about stuff we love and think you'll like too. If you buy a product we have recommended, we may receive affiliate commission, which in turn supports our work.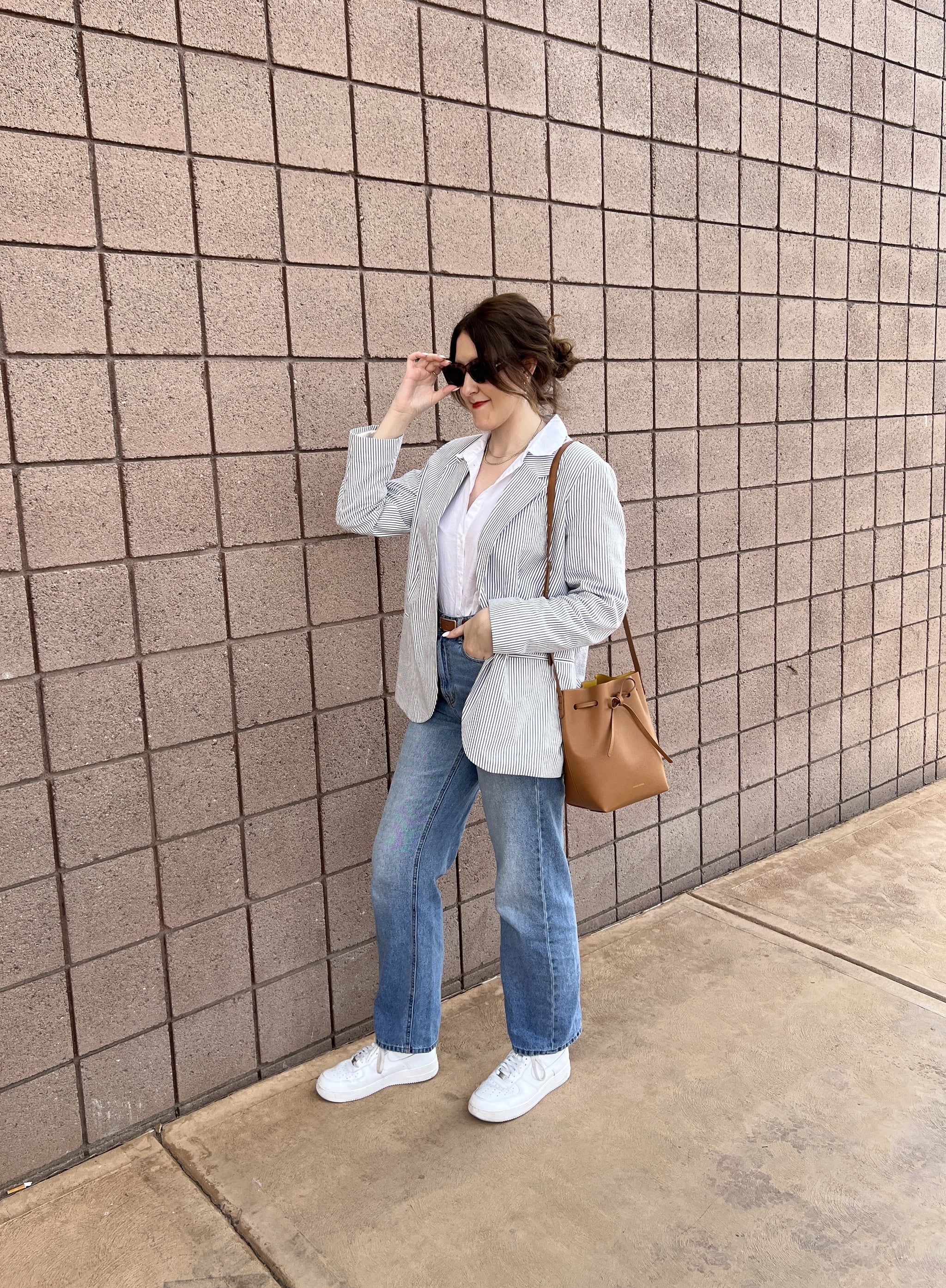 Image Source: POPSUGAR Photography / Kyley Warren
When you follow fashion and celebrity street style as closely as I do, you become pretty familiar with certain products — namely styles like platform UGG slippers, Leset T-shirts, and even Mansur Gavriel's famed bucket bag. The uniquely shaped accessory has quietly evolved into a signature style for the designer label, with stars like Rosie Huntington-Whiteley and Sienna Miller putting the statement piece on the map.
Over the last few years, I've tried (and subsequently failed) to get my hands on the brand's most coveted accessory — thanks to TikTok, the shoulder bag is often sold out. Fortunately, Mansur Gavriel just debuted a revamped (and more ecoconscious) version of the style that made it famous with the Mansur Gavriel Vegan Apple Leather Bucket Bag ($495), which features the same timeless look of its trademark predecessor, just in a more eco-friendly design; the bag is made from a durable, apple-leather material that's equal parts stylish and sustainable. Ahead, I break down all of the bucket bag's best assets — from its adjustable design to the style's spacious interior.
What I Like About This Mansur Gavriel Bucket Bag
Besides the bag's obvious chicness, I can't get over just how deep and spacious the accessory is. Pictures of this bag gave me the impression that it's more compact and slim than it actually is. In reality, the bucket bag boasts ample interior space that can hold all of my daily essentials and so much more — including a full bottle of wine (because who would I be if I didn't test that feature out?). From my wallet and passport holder (for those spontaneous, last-minute trips) to a pair of comfortable flats, my wireless headphones, travel makeup bag, and even a new bottle of Prosecco to throw in while I'm en route to my next girl's night, this designer bucket bag can truly hold everything. And the best part is that it's still incredibly lightweight and fits like a classic crossbody.
I also love the thoughtful detailing that went into designing this piece. As someone who values sustainability, I appreciate having styles in my wardrobe that look as good as they feel and are made from eco-friendly materials. This bucket bag ticks those boxes as it's crafted from a 100 percent vegan apple-leather material and recycled apple skins harvested in Northern Italy. While many designer brands are still working to shift their production efforts to be more eco-minded, Mansur Gavriel has already demonstrated its efforts to continue innovating the label through a more sustainable lens, and it's proven to be a brand that I can truly feel good about buying from.
What's Worth Noting
My only qualm with this accessory is that it's on the louder side — and it's the first time I've ever experienced this problem with a bag. Because of how structured the accessory is, the apple-leather material has a tendency to rub together and create a deep squeaking sound that's present whenever I put the bag on, pull items out of it, or even just walk with enough of a swag for the product to move around. While it's not loud enough to draw attention, it does make enough of a sound for me to notice it — and naturally, given the bucket bag's higher price tag, I'd prefer it was completely silent. However, it didn't deter me from investing in this bag, especially with the style's vegan composition.
There are also no interior pockets, which may or may not be a dealbreaker for some. I'm a dedicated organizer in my own right, so I'll usually have separate bags for my makeup, sunglasses, or even headphones. As a result, the bucket bag's lack of compartments doesn't phase me too much. If you don't love the idea of your items being all jumbled together at the bottom of this bag, you might be better off investing in one of the brand's more structured styles.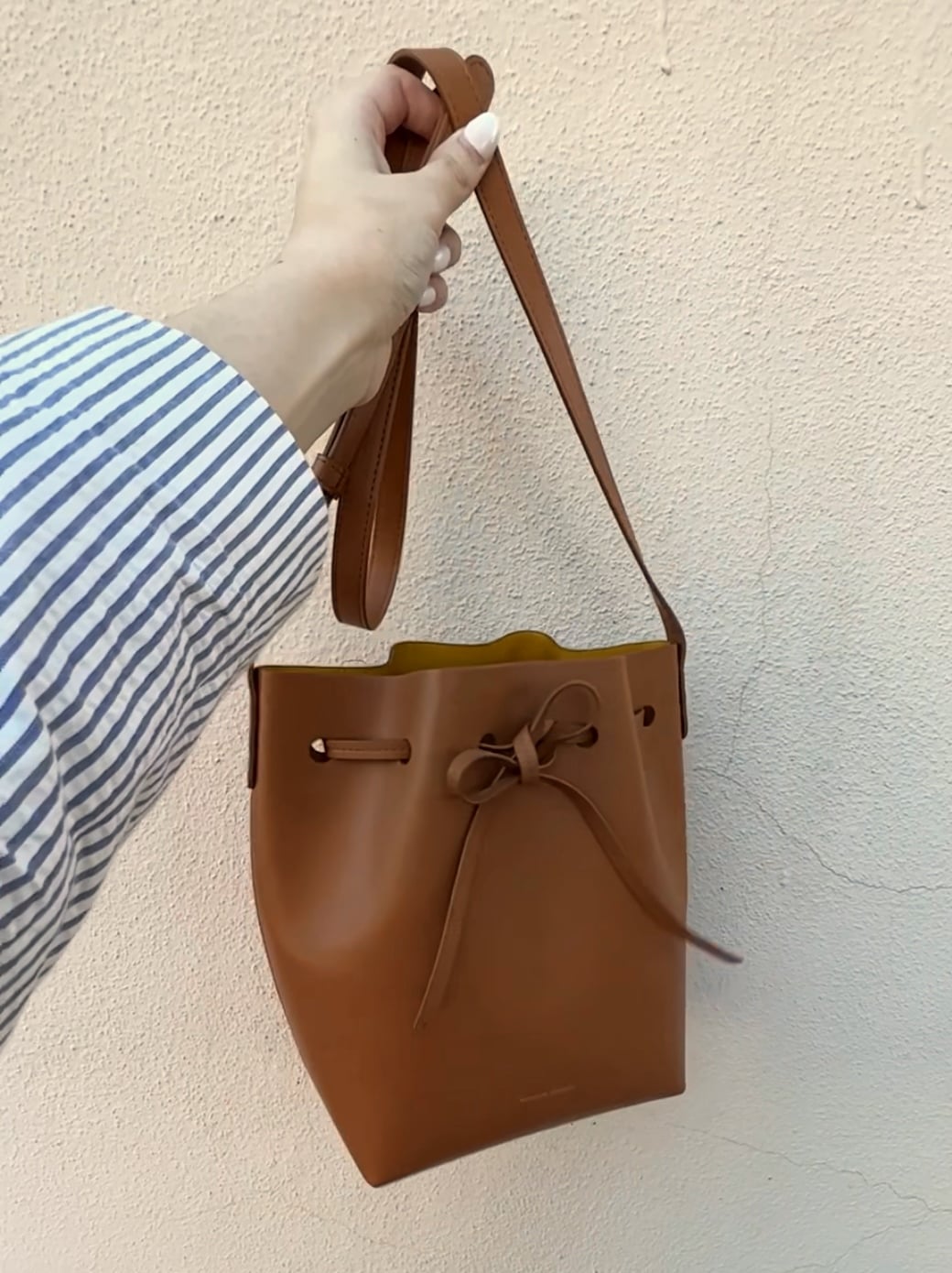 Image Source: POPSUGAR Photography / Kyley Warren
Who Is the Mansur Gavriel Bucket Bag Best For?
This designer handbag is ideal for anyone who (like me) carries a lot with them on a day-to-day basis. Whether I'm commuting to a coworking space, heading out for dinner with my girlfriends, or just gearing up for a busy day of travel, I like to keep every product imaginable on hand so that I can be prepared — regardless of what transpires in my day. I usually carry around a bulky, oversize tote just to ensure I have enough space to hold everything. But with Mansur Gavriel's new bucket bag, I can forgo the need for an unnecessarily large shoulder bag and opt for something more compact instead — thanks to the accessory's deep interior space and flexible design. If you want an accessory that can carry a lot without feeling like a burden, you really can't go wrong with this chic style.
Where Is This Mansur Gavriel Bucket Bag Available?
The Mansur Gavriel Apple Leather Bucket Bag is available to shop at Mansur Gavriel ($495), and shoppers can also scoop up other iconic silhouettes from the designer label at Nordstrom ($495), Saks Fifth Avenue ($495), Neiman Marcus ($495), and more.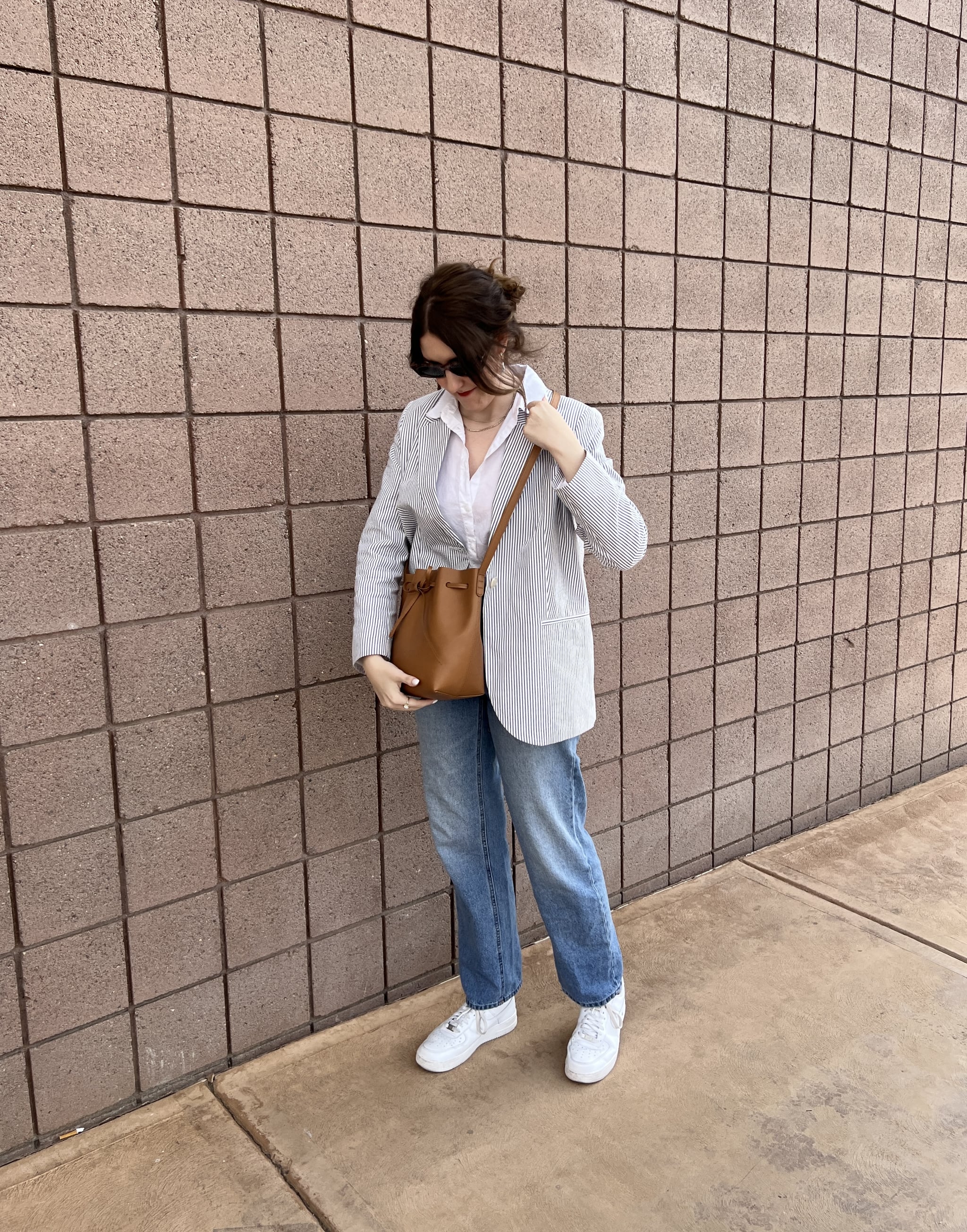 Image Source: POPSUGAR Photography / Kyley Warren
Additional Details
This bucket bag is made from a 100 percent apple-leather material that's sustainable, luxurious, and even waterproof.
The accessory pays homage to Mansur Gavriel's staple bucket bag and was debuted in part to celebrate the brand's 10-year anniversary this month.
While I tested the bag in a warm brown shade (noted as Cammello/Sun, on the brand's site), the bucket style is also available to shop in other colorways like a deep black, a jade green, and a dusty-rose shade.
Rating:

Image Source: POPSUGAR Photography / Kyley Warren