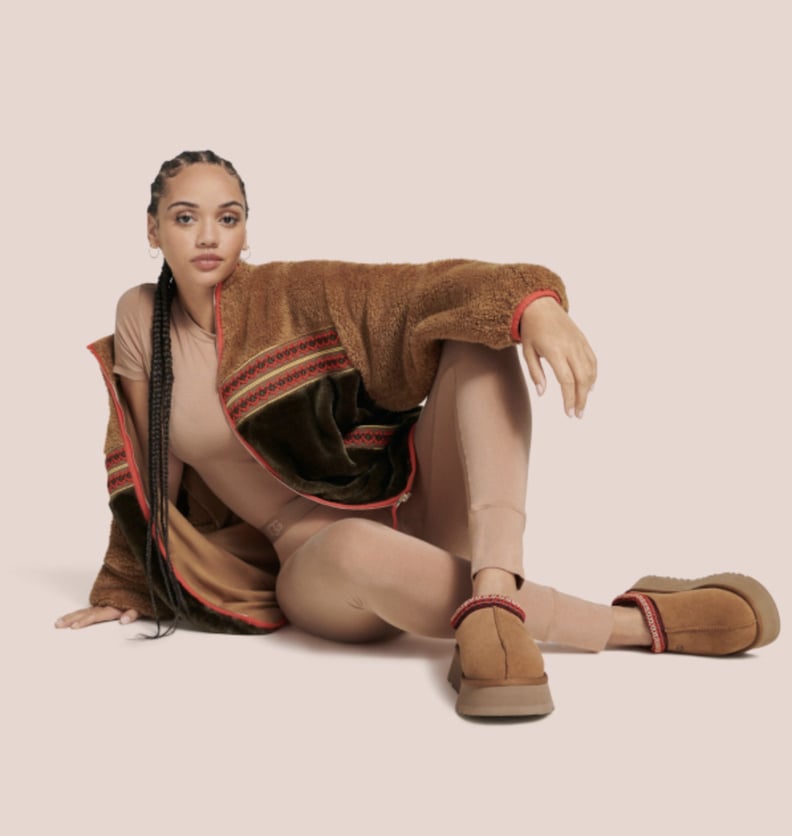 UGG
UGG
As POPSUGAR editors, we independently select and write about stuff we love and think you'll like too. If you buy a product we have recommended, we may receive affiliate commission, which in turn supports our work.
If TikTok fads and celebrity streetwear aesthetics are any indicators of what's popular in fashion (spoiler: they absolutely are), then UGG slippers might just be one of the most coveted styles on the planet right now — and for good reason. While there are a lot of pandemic-related things I'd love to forget, comfy fashion certainly isn't one of them. And over the last few years, UGG has maximized on this cozy trend in ways that few brands have.
The label's plush slippers and soft ankle boots have been splashed all across my social media feed for months, and the bestselling UGG Tazz Slipper has quickly become the ultimate off-duty staple for supermodels and celebrities alike. Jennifer Lopez, Bella Hadid, Hailey Bieber, and Megan Fox have all been spotted in their own variations of UGG's most popular slippers, including those quirky Fluff Yeah Slides. And after attempting to snag a pair of my own, I realized just how impossible it is to actually shop for UGG slippers while they're still in stock.
I was fortunate enough to scoop up the famous UGG Tasman Slippers back in December, but if you (like me) have been trying and otherwise failing to invest in a pair for your wardrobe, I went ahead and rounded up the best UGG slippers that are comfy, colorful, and well-stocked — at least for a limited time. Trust me, if you're looking to treat yourself right about now, this is a purchase you can feel good about.
— Additional reporting by India Yaffe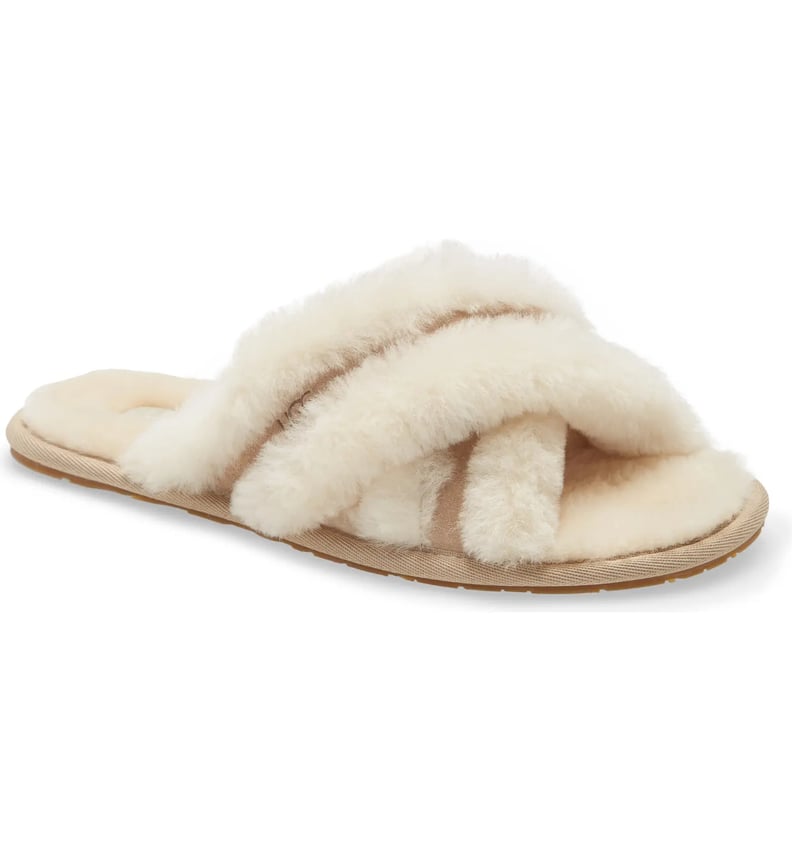 Best Overall UGG Slipper: UGG Scuffita Genuine Shearling Slide Slipper
With temperatures warming up, you'll want an open-toe slipper that combines total comfort with an elevated airflow to ensure your feet don't feel too warm. This UGG Scuffita Genuine Shearling Slide Slipper ($90) is a great style to lounge around in while you're at home. You could also take a page out of Hailey Bieber or Sydney Sweeney's fashion book and don the shoe while en route to your next Pilates or hot yoga class.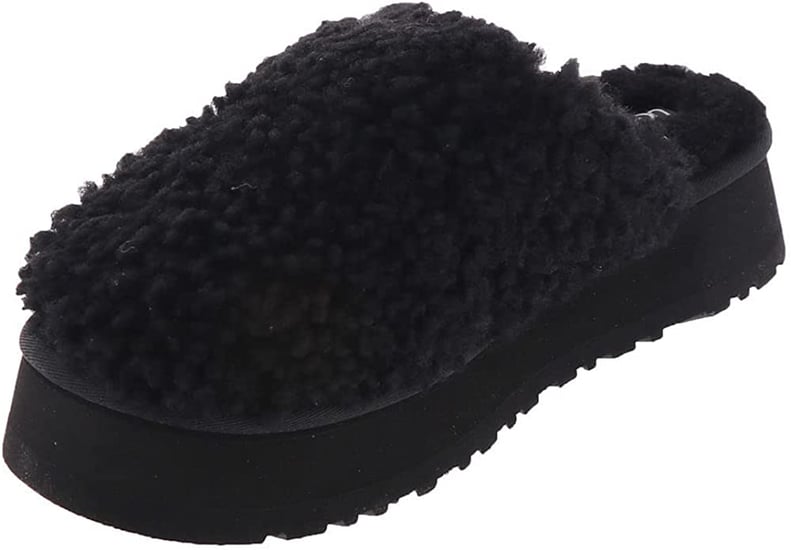 Best Platform UGG Slipper: UGG Maxi Curly Platform Slipper
This UGG Maxi Curly Platform Slipper ($65, originally $130) is bound to take your slipper game to new heights — literally. The platform style features a two-inch, rubber sole base that's easy to clean, making it one of the best slippers to wear outdoors.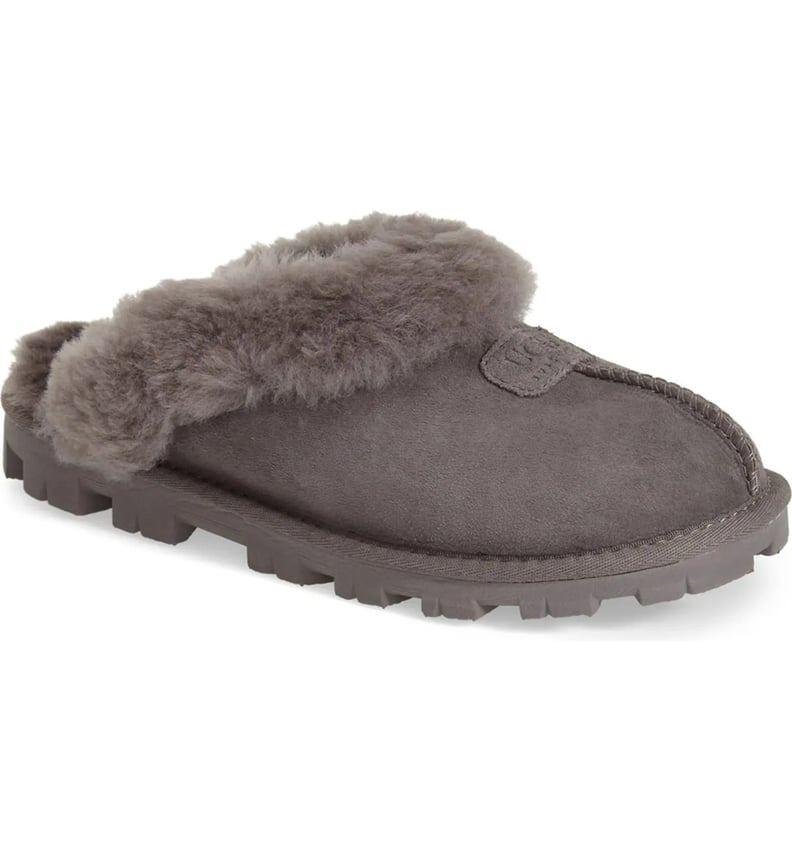 Best UGG Slipper For Outdoor Wear: UGG Coquette Shearling Lined Slipper
This UGG Coquette Shearling Lined Slipper ($120) isn't your average, wear-around-the-house slipper — in fact, it's way more durable. The shoe is fitted with a synthetic, ribbed outsole that's as durable as it is stylish. Plus, with a shearling lining, it's sure to keep you feeling warm and cozy, regardless of the outside temperatures.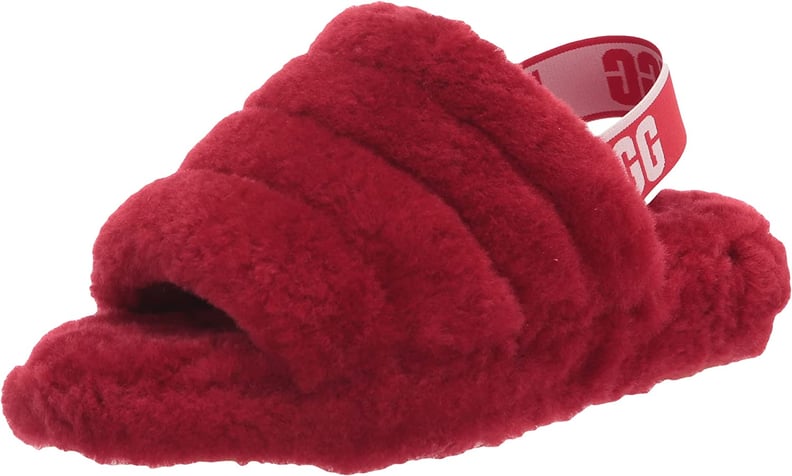 Best UGG Slipper Slide: UGG Fluff Yeah Cali Collage Slipper
Few UGG slippers have a celebrity fan base as extensive (and, frankly, as impressive) as this UGG Fluff Yeah Cali Collage Slipper ($100). The eclectic and puffed-out shoe has been spotted on stars like Megan Fox and Gigi Hadid. It's available to shop in a variety of colors but also rarely in stock — so you'll want to scoop it up ASAP!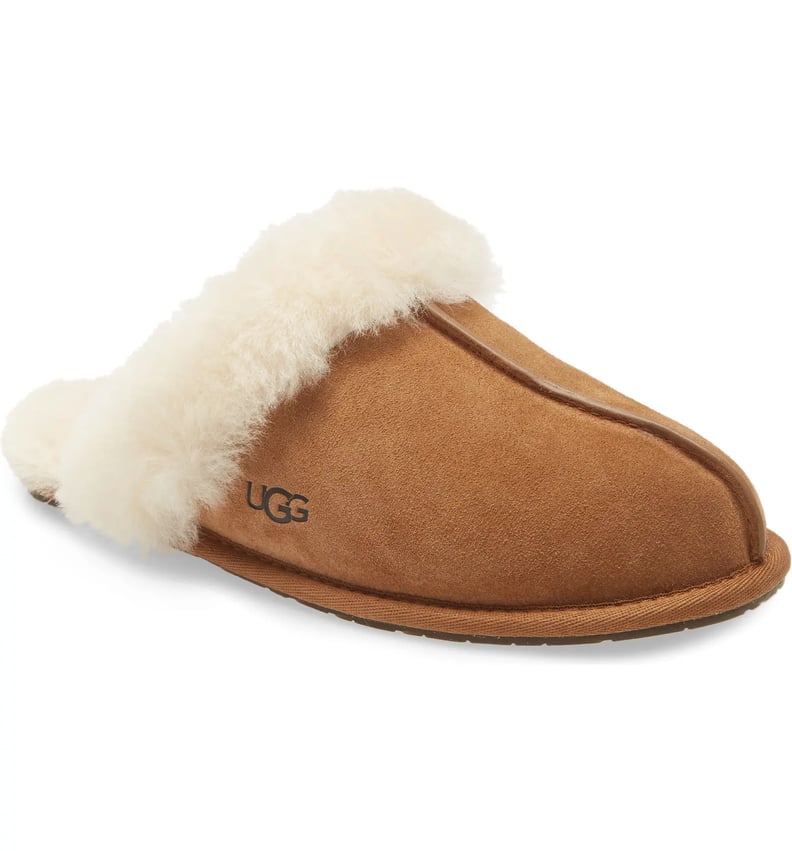 Best Classic UGG Slipper: UGG Scuffette II Slipper
Stick to the classics, and opt for this UGG Scuffette II Slipper ($95). The traditional shoe might not be as colorful or statement-making as its other slipper counterparts, but it's a wardrobe staple nonetheless. This particular UGG style is also water resistant, so you can feel good knowing it'll remain a go-to shoe in your closet for years to come.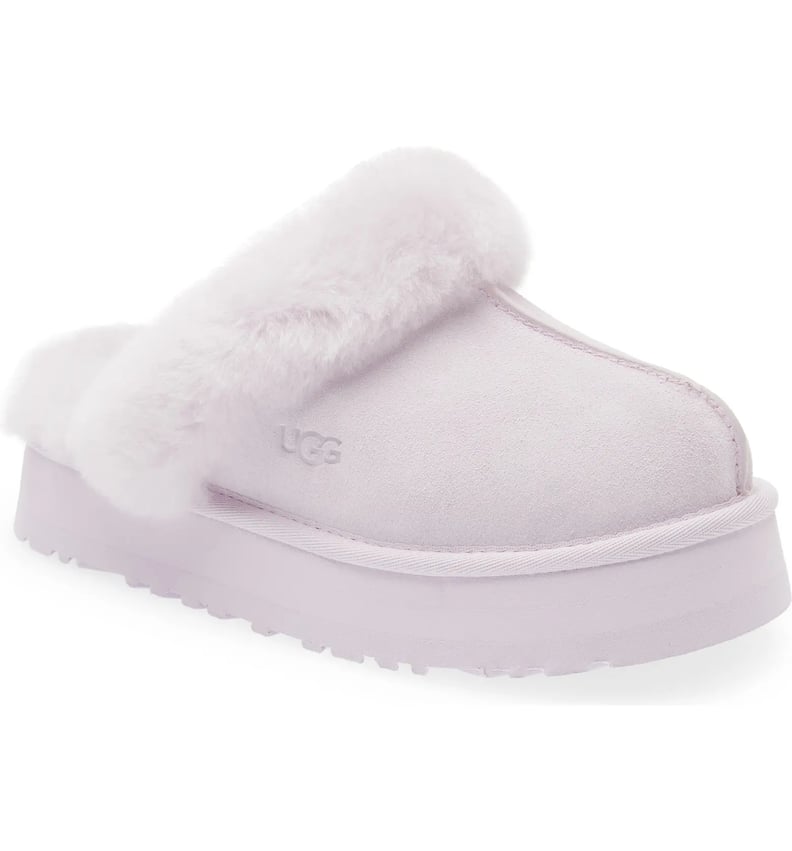 Most Stylish UGG Slipper: UGG Disquette Slipper
What's not to love about this UGG Disquette Slipper ($110)? From the delicate lavender color and the sky-high platform frame to the shoe's water-resistant suede trim and breezy slip-on design, this shoe ticks all of my style boxes. If the purple isn't your vibe, the slipper is also available to shop in chestnut brown and gray.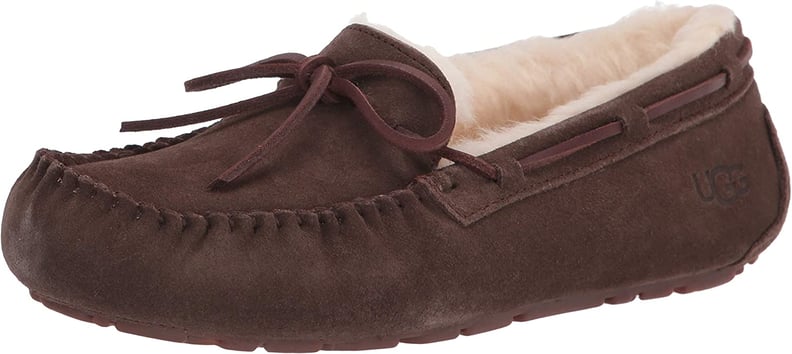 Best UGG Moccasin Slipper: UGG Dakota Slipper
Everything about this UGG Dakota Slipper ($110) just screams cozy. The moccasin-style slipper is primed for at-home wear, and whether you're someone who works from home or just likes to enjoy lounging around, you'll want to wear these wool-lined slippers on repeat.
Best Editor-Loved UGG Slipper: UGG Tasman Slipper
I personally own this UGG Tasman Slipper ($120) in the chestnut-brown coloring and can confirm that it's absolutely worth all of the internet hype. I've basically been living in these shoes nonstop for the past few months while working from home and even sported them outside of the house on my morning walks and weekly errand runs. They provide endless comfort, and I love that the style wraps around the back of my foot so I don't have to worry about them slipping off as I walk.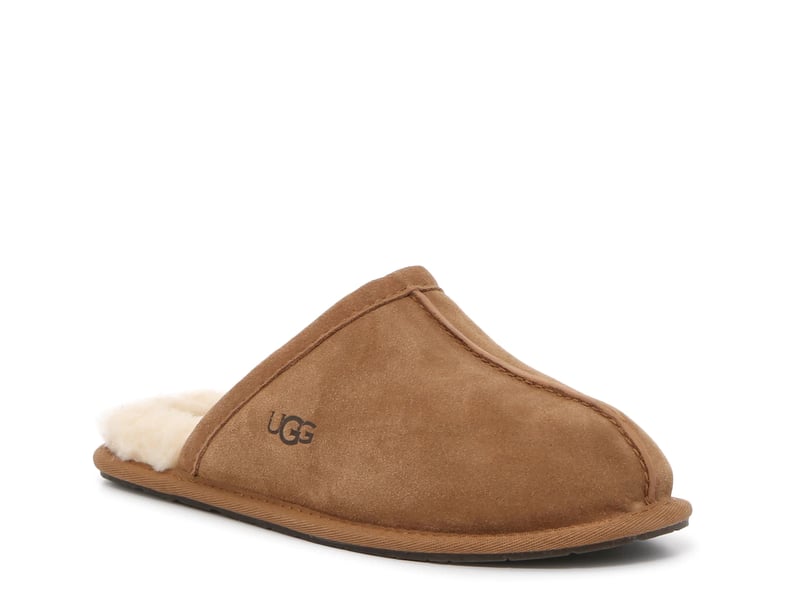 Best Slip-On UGG Slipper: UGG Pearle Slipper
Unlike the UGG Tasman Slippers, if you prefer a shoe with a breezier fit that you can easily slip into or take off, you can't go wrong with this UGG Pearle Slipper ($80). The flat style features a full sheepskin lining, so every inch of your foot will feel warm and well-supported.