As POPSUGAR editors, we independently select and write about stuff we love and think you'll like too. If you buy a product we have recommended, we may receive affiliate commission, which in turn supports our work.
Megan Thee Stallion's worn her fair share of cutout latex bodysuits, harnesses, and lace-up corsets in her music videos, but we can't say we were expecting something quite as intricate as the chain-mail mini she rocks in DJ Snake's "SG," a collab with Ozuna and Blackpink's Lisa. The look is courtesy of Natalia Fedner Haute Couture, which is a vegan and sustainable label based out of New York and LA. Natalia's crafted pieces for the likes of Beyoncé, Cher, Alicia Keys, and Chloe x Halle, all of which can be described as wearable art.
"In addition to being dyed and being chain, the look had an extra cool component of fitting like a second skin."
The blue dip-dyed dress that drips off Megan's curves in the video is composed of white chains from Natalia's signature patented technology — she's actually achieved a 100 percent metal textile that feels and acts stretchy! It molds to the body within 15 seconds, and it's easy to tell that it's comfortable enough to perform in, too. Natalia talked to POPSUGAR about planting the seed for the look with Megan's stylist Zerina Akers:
"Initially, we were planning to do a look that involved crystals for a water scene, but we also wanted to use the color blue and have side slits. When I came to a fitting with Megan Thee Stallion for the now famous Sports Illustrated 'naked' dress, I wore a 'black widow' spiderweb technique silver chain top, and it caught both of their eyes. Zerina asked if I could update the music video look to be made from this technique, and we both decided to nix the crystals as it was no longer necessary since the technique had so much texture," she said.
Natalia also shared an Instagram celebrating the outcome of Megan's one-of-a-kind design, writing, "The shades of blue really pop in the video. Gradient dyeing chain was a challenge - a lot went into making the perfect shades of blue and a dye that would permanently stain the chain. Thank you @zerinaakers for thinking of me for this amazing project - and for allowing me to pitch you a totally new concept - and then actually letting me do it! Your trust in me is everything. I can't wait to keep pushing the chain dyeing technique further - stay tuned for future collections ❤️‍🔥."
Ahead, see some close-ups of the incredible chain-mail DIY project, courtesy of Natalia; take a gander at one of her brand's signature RTW designs that retails for almost $3K; and shop some similarly sexy numbers if you now have your Halloween outfit a bit more firmed up in your mind.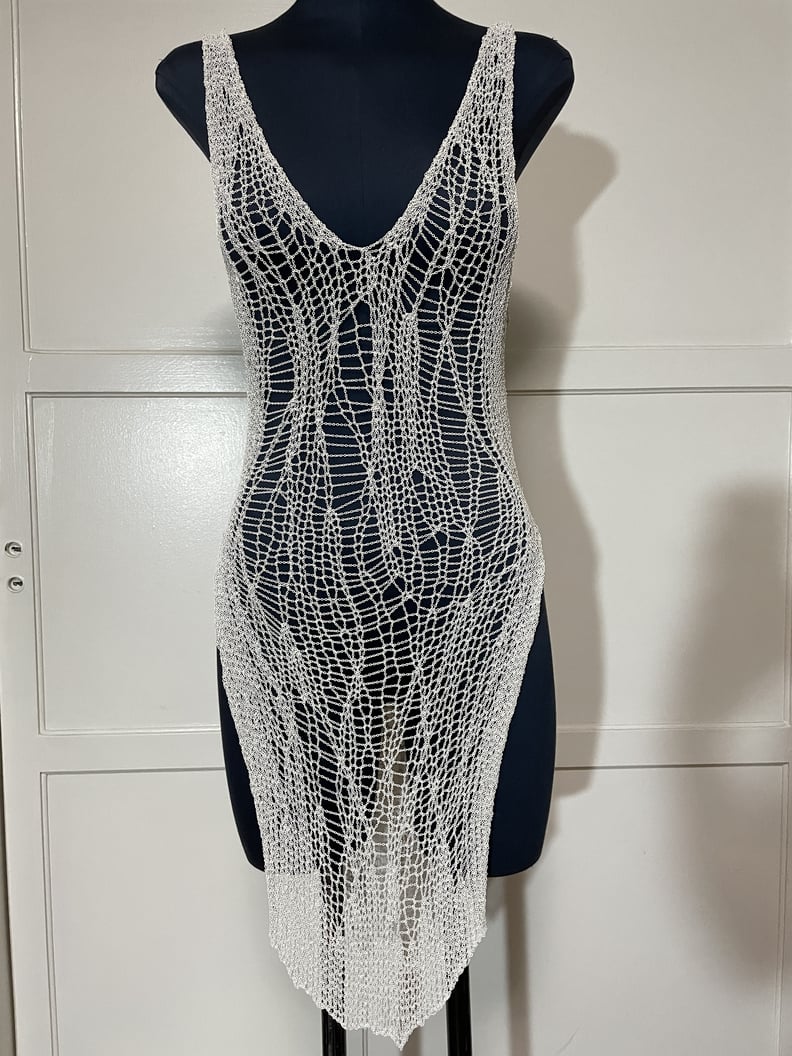 Megan's Dress Before the Dip-Dye
"My patented metal textile, which I lovingly call 'stretch metal,' takes on the shape of the wearer like a second skin through its six-way stretch — which I think is a perfect style fit for a performer like Megan. So in addition to being dyed and being chain, the look had an extra cool component of fitting like a second skin," Natalia said.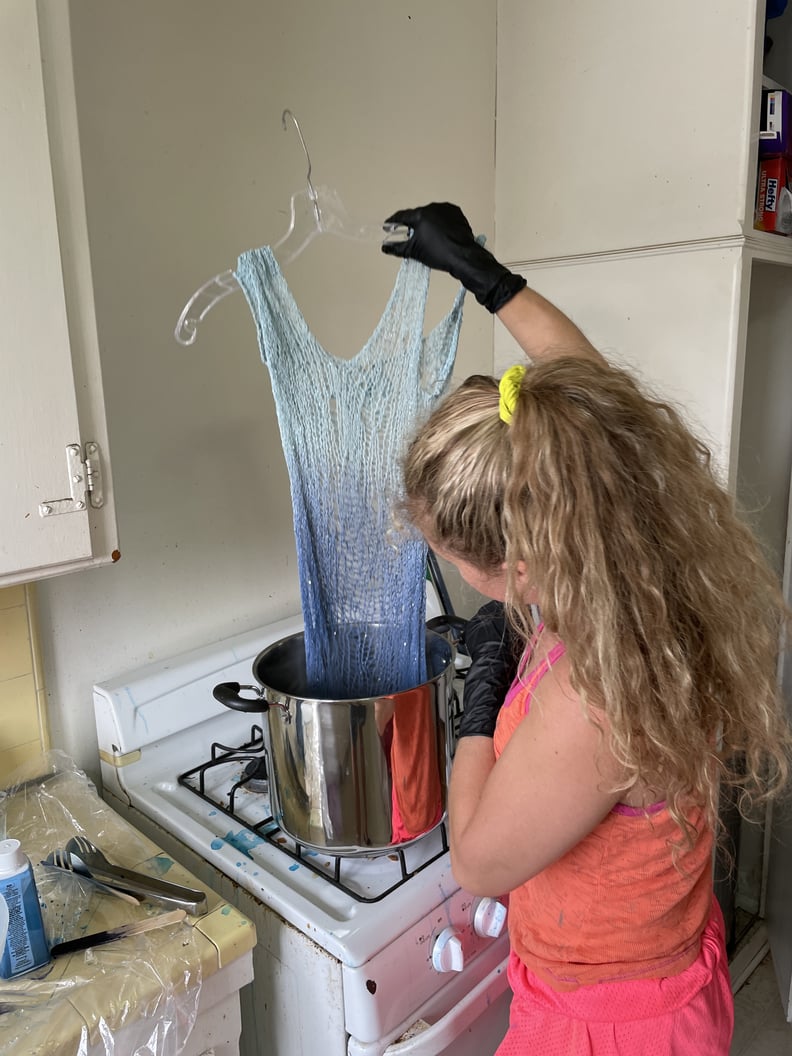 The Dip-Dye Process
"I had just recently figured out how to dye chain. I realized that the white color on white chain was likely some sort of acrylic polymer coating, and I knew that Rit dye has a series of dyes that can dye polyesters/acrylic products. So I boiled some water and gave it a shot — and it worked instantly! I used several products to make it happen, including a Rit fixative and vinegar. When I made the MTS dress, I first dyed the whole dress a really light shade of sky blue. After that dried, I created a new dye bath and dip dyed it to create a gradient effect using a darker blue. So the dress goes from sky blue to a deeper royal blue."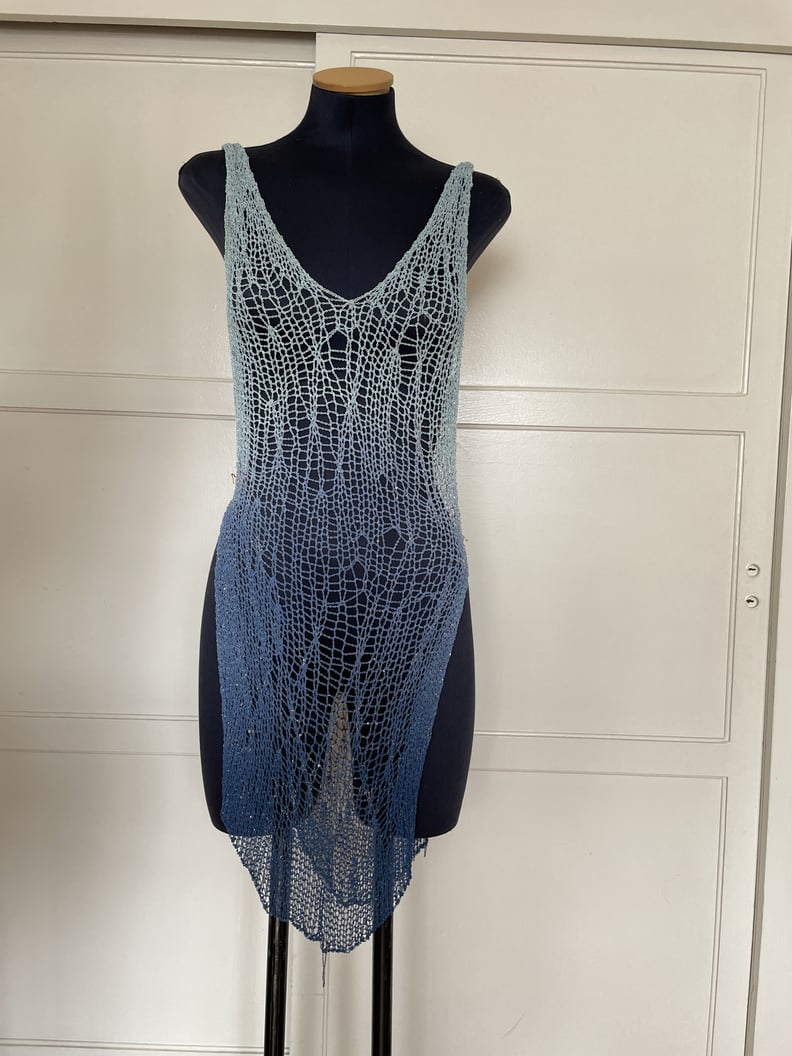 The Finished Product
"Zerina [Akers] and I have known each other for a long time now, so when I pitched her the idea of a blue gradient dress made from chains, it didn't sound unusual or undoable to her. She gave me the green light to proceed with my idea. I was definitely going for an ombré look — I love a beautiful gradient."
Watch the "SG" Music Video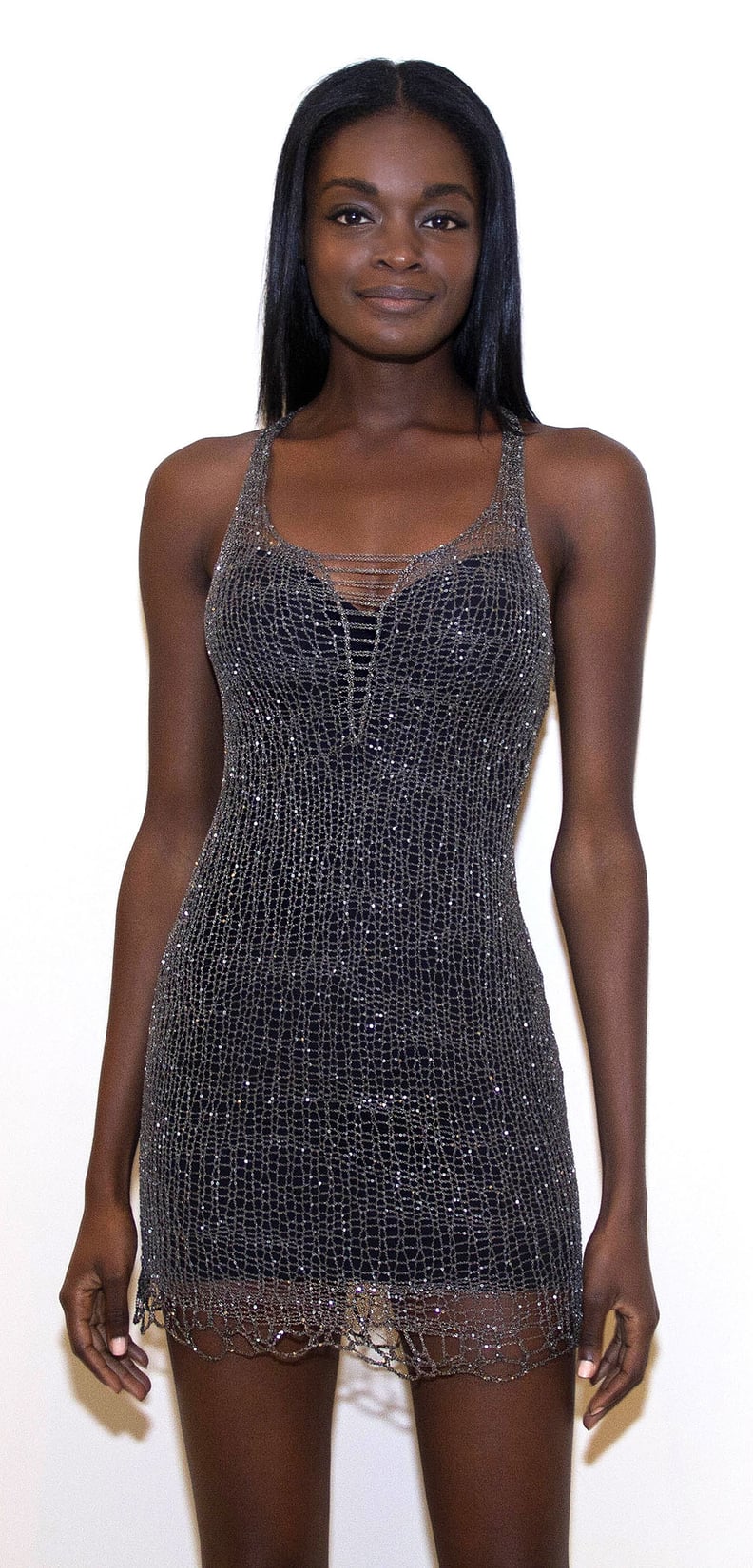 A Similar Metal Minidress From Natalia Fedner Haute Couture
Lovers and Friends Fiona Dress in Rose Gold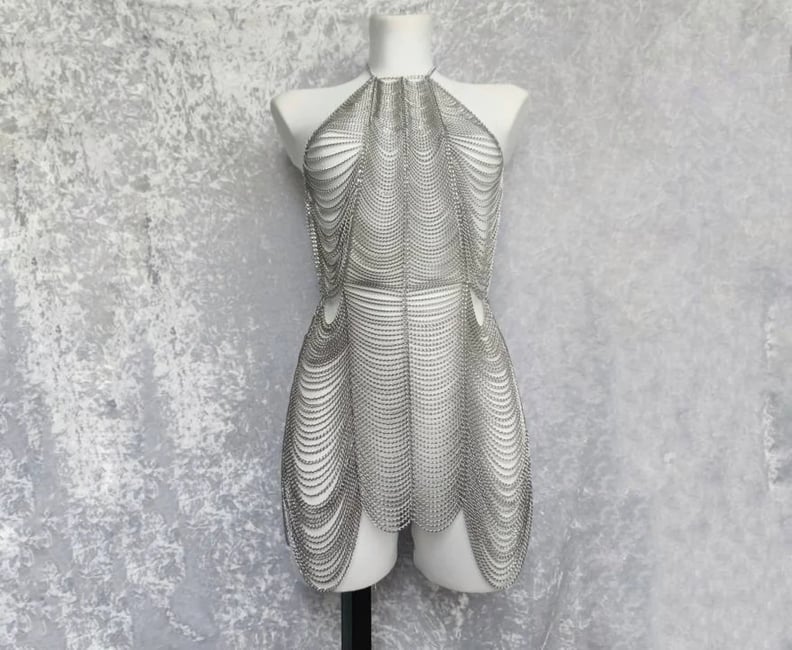 Chainmail Dress of Body Chain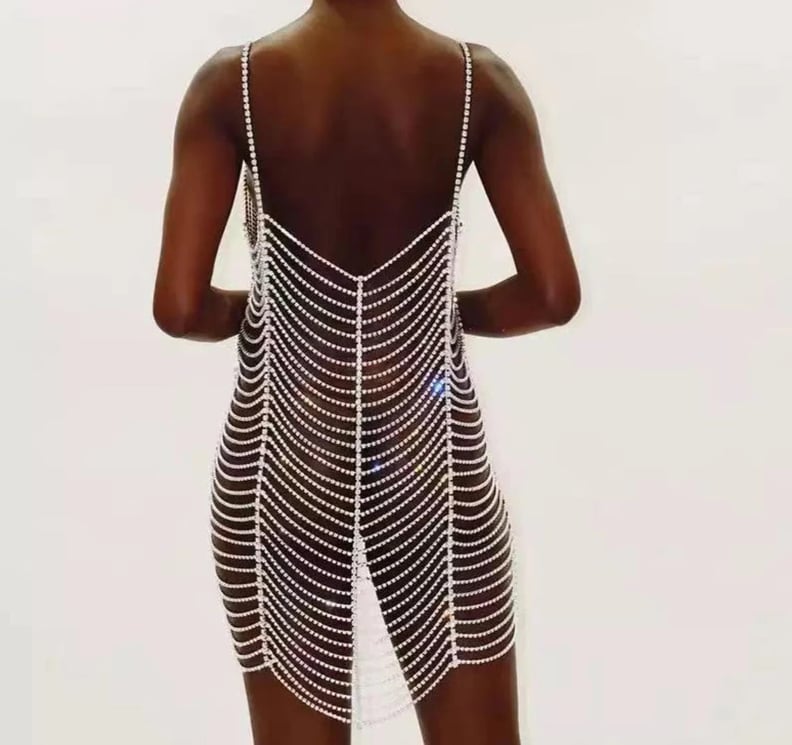 Sexy Rhinestone Body Chain Dress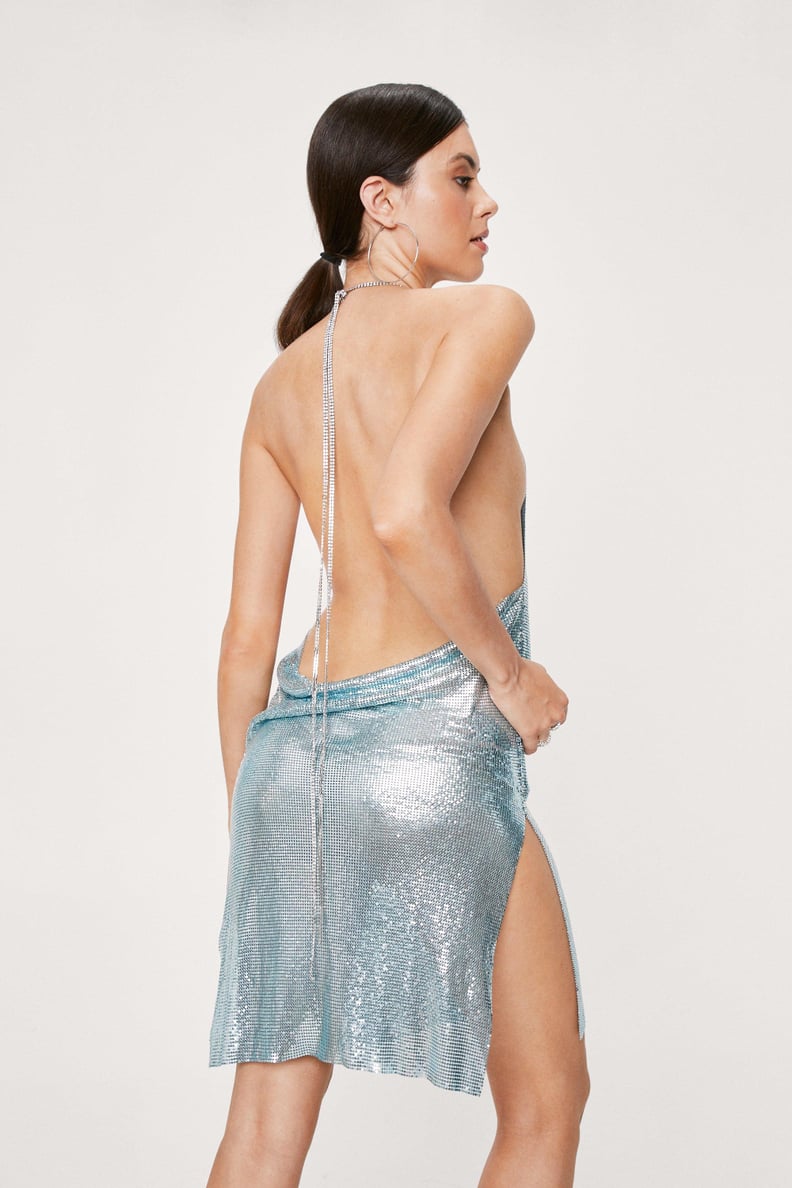 Nasty Gal Chainmail Cowl Neck Relaxed Minidress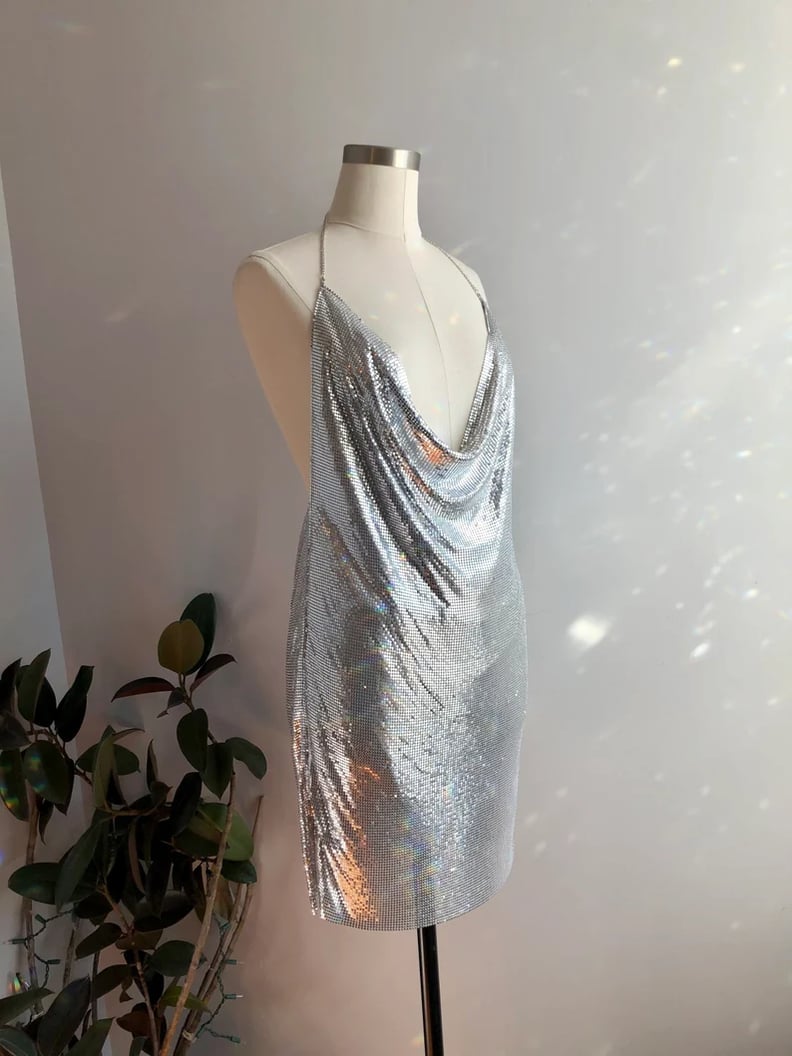 Vintage Y2K Chainmail Silver Metal Mesh Slip Dress