Bow Down to Megan Thee Stallion's Red Queen Outfit in Her New "Don't Stop" Music Video
Did I just take a tumble down the rabbit hole? Because Megan Thee Stallion's new "Don't Stop" music video has me feeling like Alice in Wonderland. The colorful video, inspired by the Lewis Carroll classic, is set in a whimsical land and features Megan in a variety of outfits inspired by characters from the original 1951 film, including the Cheshire Cat, the Red Queen, Alice herself, and more.
Unlike the original, Megan puts her own badass spin on each outfit. The Red Queen's heart-shaped hairdo, Alice's lace-up bodysuit, and the Cheshire Cat's sexy latex makeover make these looks stand out like the Mad Hatter at a tea party, and we're all about it. The video only gets curiouser and curiouser when Young Thug appears in his Edward Scissorhands ensemble. Serve yourself a slice of Upelkuchen cake and enjoy a close-up look at all of Megan's Alice in Wonderland-inspired outfits here.
We Start Off With This Bedazzled Face Mask Reminiscent of a Diamond-Covered Beehive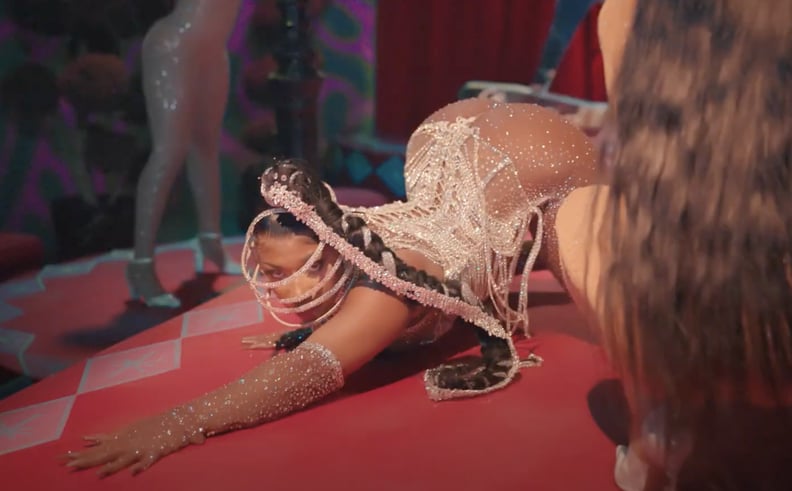 The Intricate Diamond Details Trail Down the Front and Back of Her Corset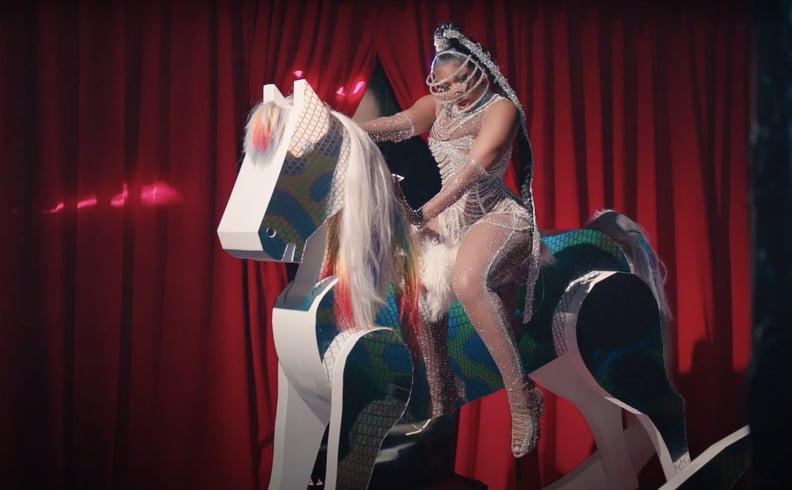 Whoa! Even Megan's Horse Is Bedazzled!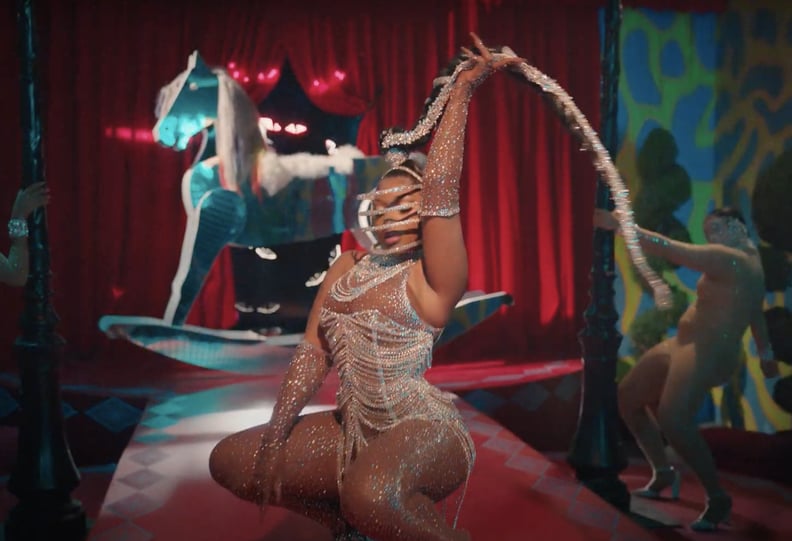 Of Course, She Completed the Look With an Extra-Long Bejeweled Braid to Match
Now Presenting the Cheshire Cat Reimagined!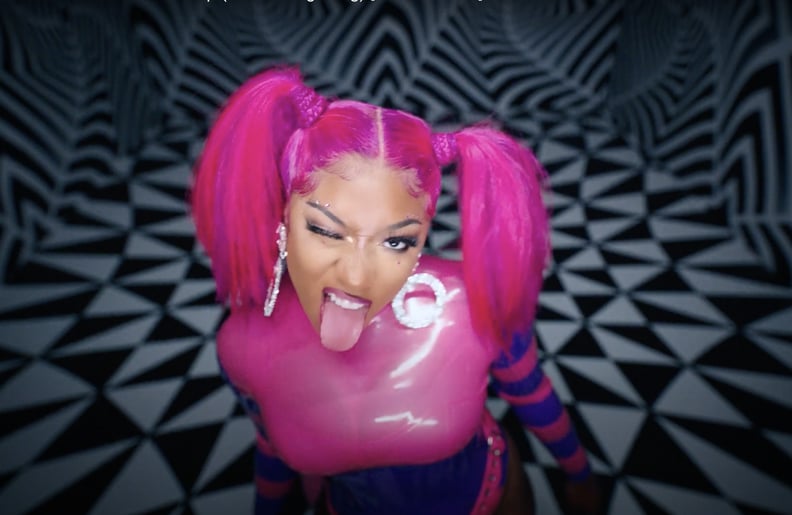 The Pink Pigtails and Hoop Earrings Give This Look Major Spice Girls Energy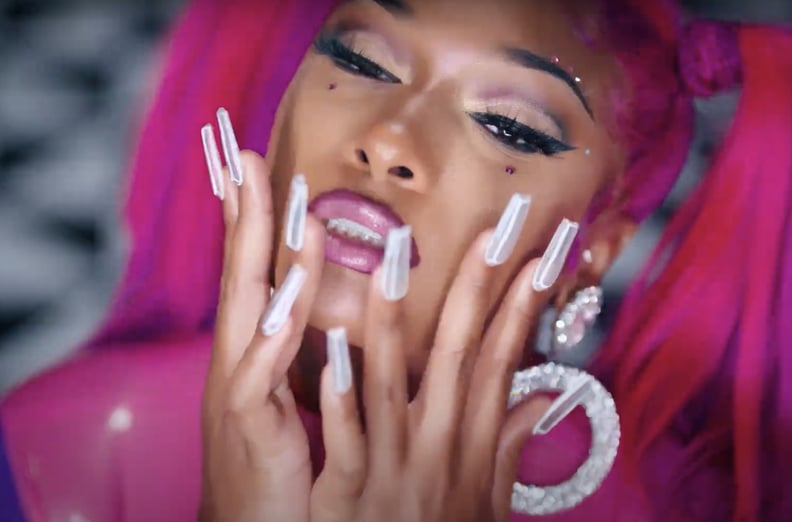 Oh? Did We Forget to Mention Her Mirror-Finish Manicure?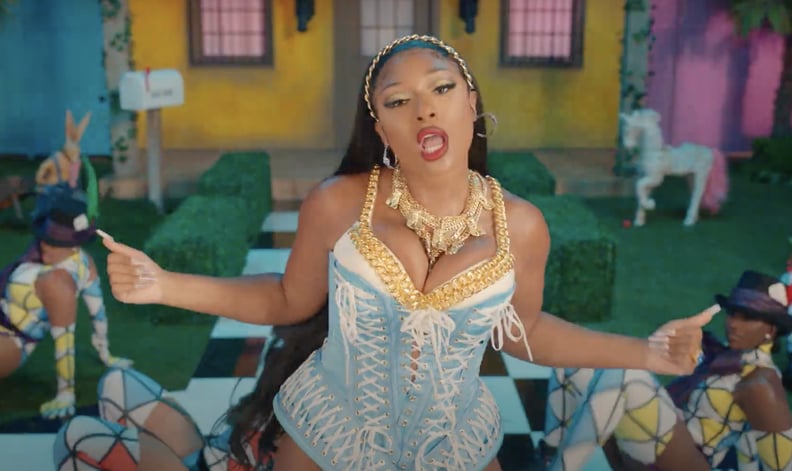 Introducing Megan Thee Stallion as Alice, aka the True Queen of Wonderland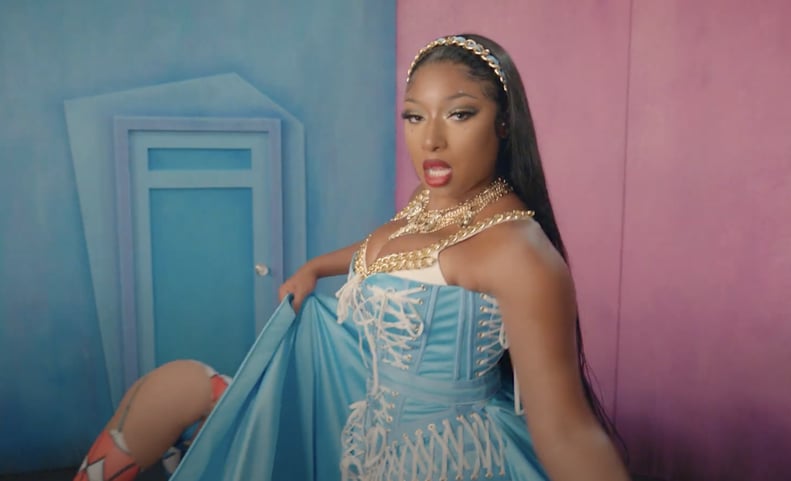 She's So Regal in That Laced-Up Bodice and Dazzling Layers of Gold Jewelry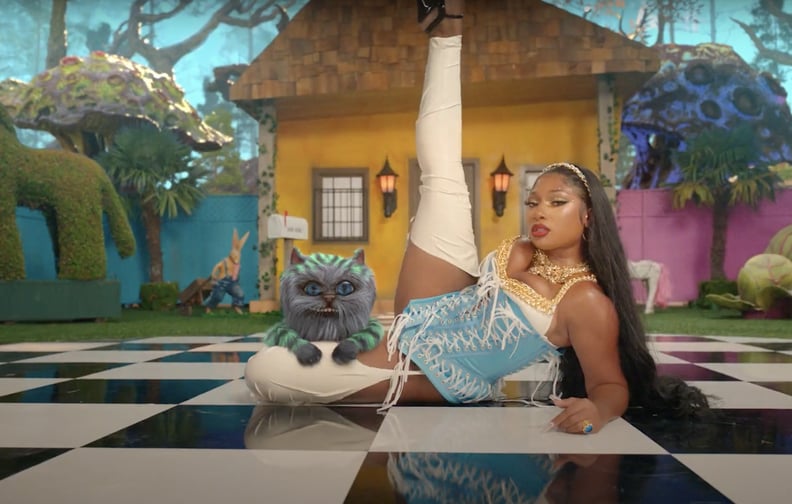 She Paired the Look With Black Heels and White Garter Leggings to Play Off Alice's Original Outfit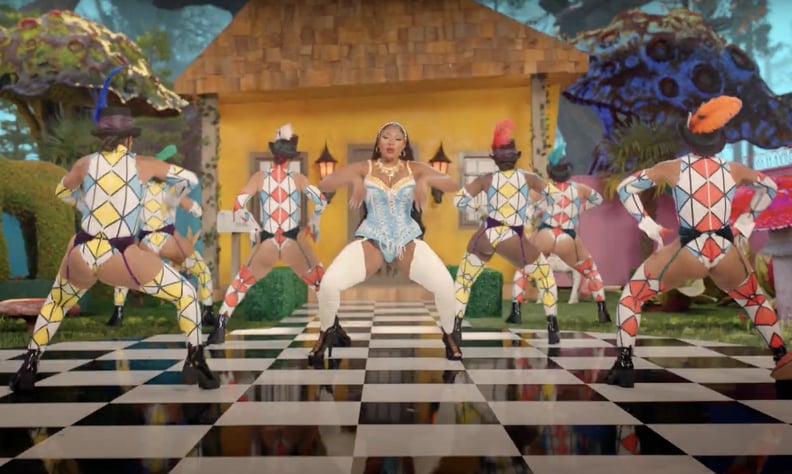 Even the Background Dancers Were Decked Out in Colorful Playing Card-esque Outfits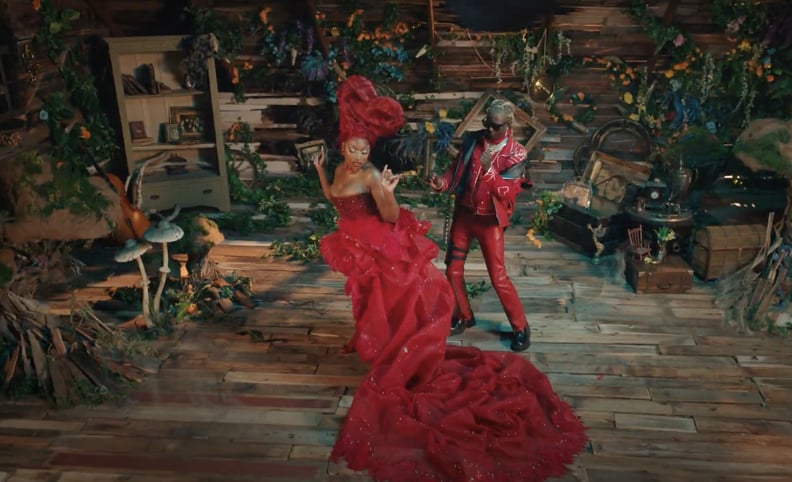 Move Over Alice, Because the Red Queen Has Arrived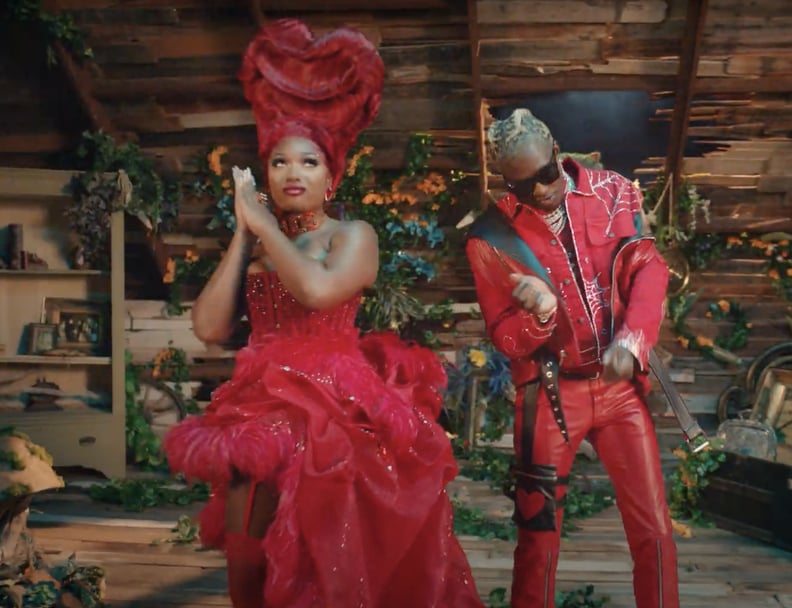 She's the Queen of Hearts, So, of Course, Her Hair Is Heart-Shaped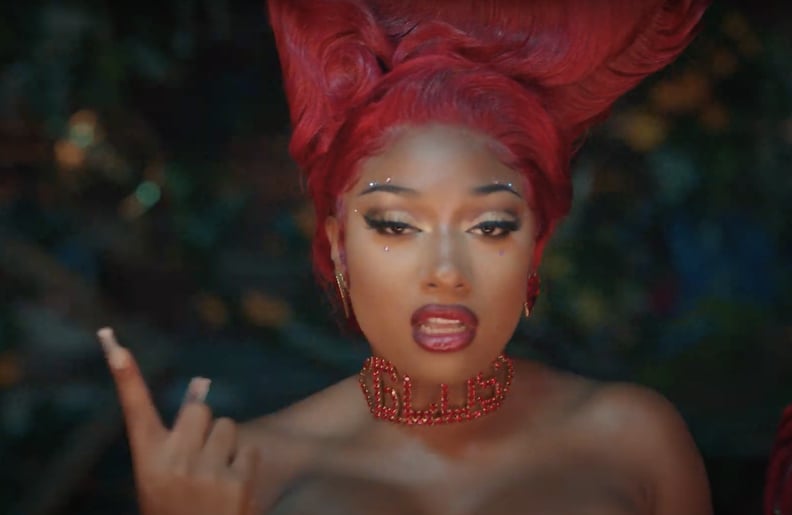 Don't Worry — Megan Didn't Forget to Add a Little Extra Bling. Her Eyebrows Are Glam!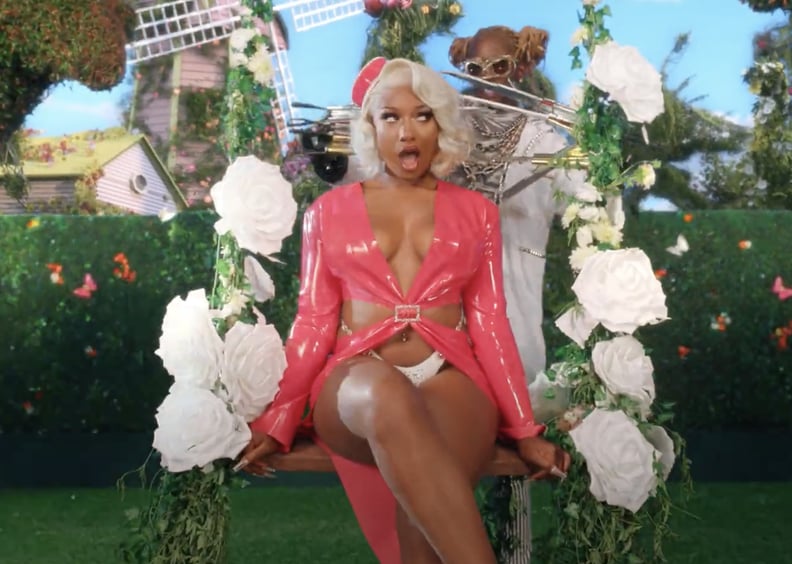 Megan Added a Playful Twist to the Video With This Rouge Cropped Jacket and Matching Hat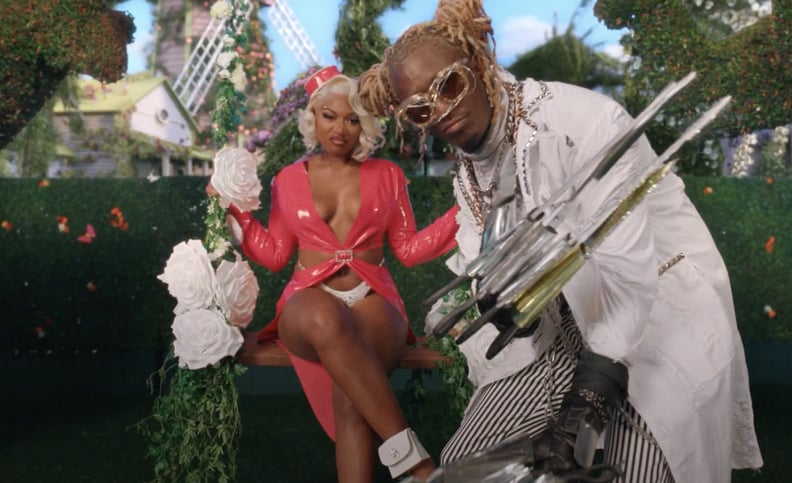 And Young Thug Brought This Modern-Day Edward Scissorhands Look to the Party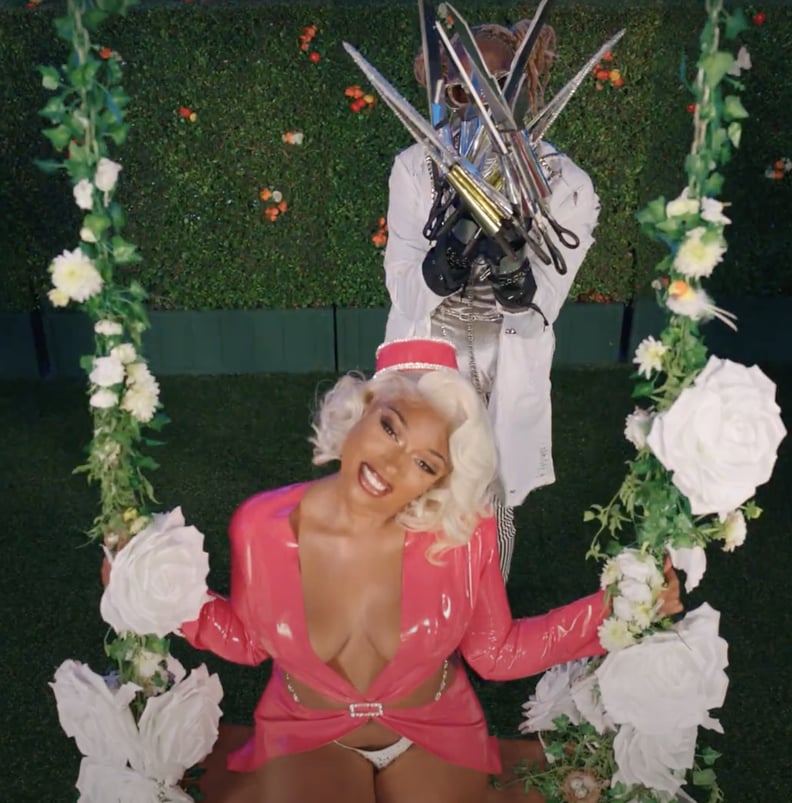 She's Smiling at the Camera Because She Knows She Looks Amazing
Watch Megan Thee Stallion's "Don't Stop" Music Video feat. Young Thug