Mindy Kaling Is Hosting At-Home Fashion Shows on Instagram, and We're Here For It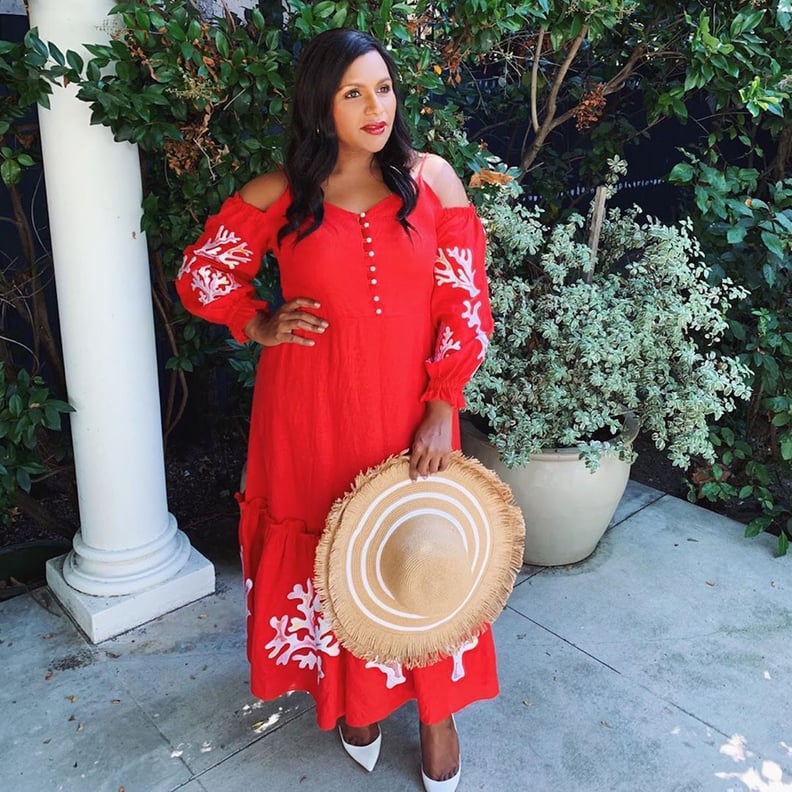 On top of being an actor, writer, producer, and director, Mindy Kaling has some serious style, and she often uses Instagram to give her followers a behind-the-scenes (or in-the-closet) look at her outfits. She loves fashion and has an incredible designer wardrobe filled with names like Oscar de la Renta, Gucci, and Alexander McQueen.
Kaling posts photos of her looks for award shows, perfectly curated down to the purse, shoes, and jewelry, and she shares her enviable day-to-day style, too. Whether she's rocking a bikini and Dolce and Gabbana jewels, a crocheted maxi dress, or a floor-length embroidered gown, Kaling's style is always on point. It was hard to limit ourselves to just 20 of her best looks, but we rounded up our favorites ahead.
Mindy Kaling in a Nautical Navy Swimsuit
Kaling is too cute in a navy one-piece that's printed with tiny green sailboats. Plus, who doesn't love a sun hat? Part accessory, part sun protection.
Mindy Kaling's Summer Evening Look
Sadly, we couldn't join Kaling on this adorable summer outing, but at least we can snag her Tory Burch sandals! This outfit also features earrings by Jenny Bird, a dress by Mara Hoffman, and a handbag by Serpui.

Mindy Kaling in a Summer Dress
We're officially obsessed with Kaling's strawberry earrings, which were designed by Colombian fashion and jewelry designer Mercedes Salazar. Her trendy tiered dress from Tanya Taylor is bright, colorful, and perfect for summer, and we love her bright Chloé handbag and Paloma Barcelo shoes.

Mindy Kaling's Birthday Outfit
It's hard not to celebrate when you look this stylish, even from the back. Kaling wore this ruffly tiered dress for her 41st birthday. She gets major bonus points for the rare cameo of her adorable daughter, Katherine.
Mindy Kaling's Pride Flag Dress
We love Kaling's style, and we love her even more for supporting causes that matter. She shared this look in June to support Pride Month, and you can match it for just $23 at Walmart.

Mindy Kaling's Home Fashion Show
Kaling shared this red carpet-worthy look for Earth Day at home, and we love her even more for putting on her own quarantine fashion show. The look was complete with Celine shoes and an Alexander McQueen dress. With that adorable chevron floor, who needs a red carpet?
Mindy Kaling in a Pink Trench Coat
Is Kaling stunting on us or just stunning us? Either way, we wish our WFH attire was half this fashionable. Kaling didn't tag a single brand in this post, and that's OK, because we couldn't rock this outfit like she does anyway.
Mindy Kaling in a Crochet Dress
Seriously, Kaling can pull off anything. Why limit yourself to a trendy crocheted top when you can wear an entire maxi dress?
Mindy Kaling in a Pleated Skirt
Mindy, will you be our valentine? We love the pairing of color, texture, and pleat in this photo. Her Theory top and Cartier accessories are too cute. We also adore her double-hearted Gucci bag, which is tragically sold out everywhere. And trust us, we looked.
Mindy Kaling in a Floral Maxi
We love the bold pattern pairing of Kaling's Tory Burch dress and Rachel Roy sandals. You can snag her adorable mini handbag from Tods, but what we really want to share with her is that mimosa!

Mindy Kaling in a Zebra-Print Set
Is there smoke wafting off Kaling, or is that just the illusion of the zebra print? As far as we're concerned, this outfit is so hot, and it's a shame that the Marni shoes, Celine bag, and Chanel jewelry only graced her backyard. Would you believe us if we told you that she's wearing wool, and that you can grab the Victor Glemaud top and skirt from Shopbop for $246?

Mindy Kaling in a White Button-Down Dress
We're not quite sure if this masterpiece from Ramy Brook is a dress or a coat, and honestly, we're not concerned. Either way, Kaling is crushing it. Sadly, her monochromatic Alexander McQueen bag is out of stock, but you can try out the clutch version for $1,478 (originally $1,642) or a red and black twist on hers for $1,192 (originally $2,980).

Mindy Kaling in a Gucci Dress
Stunning, shimmering, glowing, or all of the above? Without question, Kaling is outshining this eye-catching Gucci dress.
Mindy Kaling in a Ralph Lauren Dress
Kaling might as well be a human sunbeam in this bright Ralph Lauren dress paired with strappy Stuart Weitzman heels.
Mindy Kaling in a Black Dress
We love this black Alex Perry dress on Kaling, and the coordinated sparkles between her Jimmy Choos and Oscar de la Renta earrings are what really steal the show.
Mindy Kaling in an Oscar de la Renta Gown
Mindy Kaling couldn't look more glamorous in this embroidered Oscar de la Renta gown, which she paired with Stuart Weitzman shoes and a bracelet from XIV Karats.
Mindy Kaling in a Little Black Dress
We love the slit in this one-shouldered Toni Maticevski number. Kaling keeps it monochromatic with Chopard jewelry and a Jimmy Choo bag and shoes.
Mindy Kaling in a Green Maxi Dress
We can't decide which we prefer: Kaling's green dress or the tropical background. This classy maxi is from Indian designer Anita Dongre and is paired with sandals by Tory Burch.
Mindy Kaling in a Red Embroidered Dress
Kaling is on top of the embroidery trend in this colorful coral number from Lee Pfayfer. Her white Louboutins and Cappelli Straworld sun hat make the outfit extra summery.
Mindy Kaling in a Yellow Swimsuit
Kaling is absolutely stunning in this suit from Solid and Striped. And her Dolce and Gabbana jewels in the pool? Iconic.