When Jeremy Scott hosts runway shows, they become parties. For his Resort '18 collection, the designer drew inspiration from a Las Vegas road trip, setting the stage with Vegas-themed memorabilia. Models walked down the runway in prairie dresses and cowboy boots, show girl costumes, and of course, there were references to sin city with iconic Playboy outfits and a "lucky 8" bra. The outfits were a spectacle for sure, though not completely unwearable.
While the runway was a tribute to Vegas, the front row was decidedly Hollywood. Stars like Joe Jonas mingled with Sarah Hyland, Fergie, and Kate Beckinsale. Kaia Gerber was on hand to support her brother Presley, who walked. The model siblings even posed with Scott during the show, proving how cohesive the LA-to-Vegas vibes were. Scroll on to see everything that went down at Moschino.
The Moschino Resort Show Was Based on a Roadtrip From L.A. to Vegas
Ashley Graham Wore Her Moschino Finest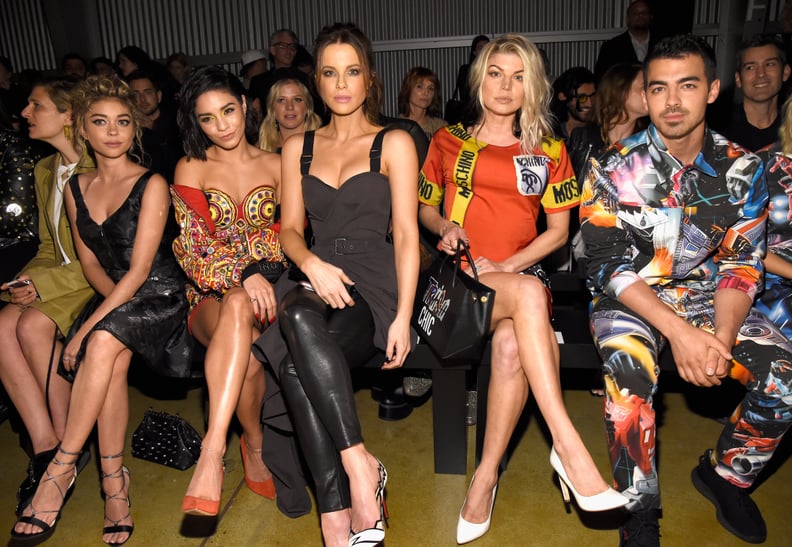 The Front Row Drew a Mixed Crowd
Sarah Hyland mingled with Vanessa Hudgens, Kate Beckinsale, Fergie, and Joe Jonas.
Newly Married Miranda Kerry Was There, Too