Naomi Campbell's Bikini Collection Belongs in a Museum . . . or Maybe Your Closet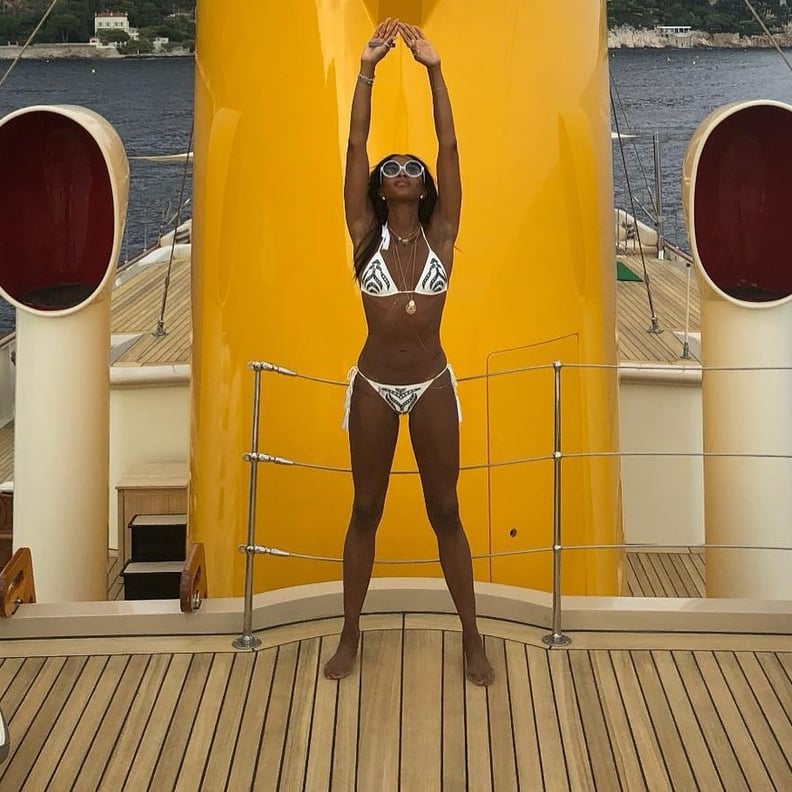 After spending three decades at the top of her fashion game, Naomi Campbell is more than just a supermodel. She's a force of nature, and that becomes all the more apparent when the 48-year-old heads off on vacation. Naomi has turned wearing a bikini into an art form, and when we see her travel snaps, we immediately want to throw out every single two-piece we own and invest in classic, luxury buys in black, white, and shades of pink.
Naomi's swimwear collection is a lesson in timeless glamour. She keeps her silhouettes simple and skimpy for optimum sun-worshiping and plays around with cover-ups and accessories instead. While her bikinis may be simple, they're not complete without some extra additions. From a chic turban and designer shades to delicate body chains and bejeweled sandals, it's really no surprise that Naomi looks like she's stepped out of the pages of a fashion magazine whenever she goes on vacation. Keep reading to get a lesson in less is more from a true pro. Now all you need to do is locate a rich friend with a yacht.
Always Coordinate With Your Surroundings
Naomi's white triangle bikini had a contrasting black design.
A Look Is Not Complete Without a Turban and Dark Sunglasses
Tie Sides and a Straw Hat Are Perfect For Boat Trips With Fashion Pals
Naomi chose a triangle bikini and a tan hat when she hung out with Vogue UK Editor Edward Enninful.
There Is Simply Nothing More Classic Than a White Triangle Bikini
If You Love It, Buy It in Every Color
As well as owning the illusion triangle bikini by Adriana Degreas in black, Naomi also has it in a light color.
Never Be Afraid of Print
You definitely don't have to be a supermodel to pull off a sexy bikini like this . . . but it helps!
Wear Your Faves on Every Vacation
Naomi's not afraid to lather, rinse, and repeat.
One-Pieces Can Be Sexy Too
She may be the queen of the sexy triangle bikini, but Naomi looks just as good in a plunging one-piece.
Bling Definitely Works at the Beach
Naomi amps up her look with gold pendants, anklets, and a body chain. Because if you can't be extra on vacation, when can you be?