Nicola Coughlan, who plays Penelope on Bridgerton, has been working with stylist Aimée Croysdill for just over a year. But from the looks of their brilliant outfit collaborations, it certainly seems like it's been longer than that. The 34-year-old Irish star has such a way of carrying gorgeous gowns and unbelievable statement jewelry that you just know she's a style savant. No, it's not just an act (despite her career path indicating that she's obviously good at that, too).
"Penelope's wardrobe is so incredible, it's likely we were inspired by her."
I talked to Croysdill about just how involved Nicola is when it comes to choosing dresses and dreaming up fashion moments for events, from the Golden Globes, where she wore a yellow tulle masterpiece of a Molly Goddard gown with a dainty little black cardigan (below), to virtual press, for which she chooses from the likes of Batsheva, The Vampire's Wife, and Simone Rocha. Ahead, see some of Aimée and Nicola's most striking moments and learn more about their teamwork.
POPSUGAR: How long have you been working with Nicola?
Aimée Crosydill: We started working together a year ago, but our red carpets got canceled in the first lockdown, so we didn't properly get to make any fashion moments till November/December 2020, when we started the press tour for Bridgerton.
PS: Nicola seems to love voluminous ruffles and Victorian-inspired dresses. Do you feel like she has ties to period dressing because of her role on Bridgerton?
AC: I think perhaps we were subconsciously inspired. We never set out for it to be that way, but Penelope's wardrobe is so incredible, it's likely we were inspired by her.
PS: Penelope, Nicola's Bridgerton character, is known for wearing yellow throughout the series. Does Nicola tend to favor any specific colors?
AC: We don't have any favored colors. Nicola has the most amazing complexion and can carry off anything.
PS: Do you ever take influence from iconic actors, musicians, or figures from past decades while styling Nicola's looks?
AC: Nicola quotes iconic actors a lot like Shirley MacLaine, Jean Harlow, Little Edie, etc. I love the references she sends my way. We collaborate on everything, and it's such a fun process.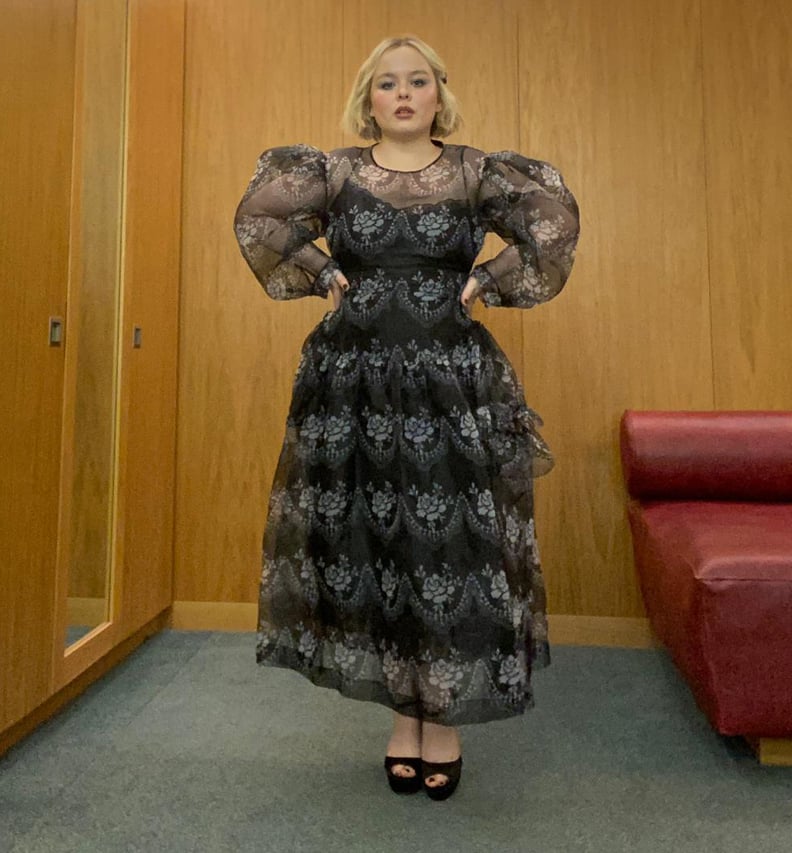 PS: Do you have a favorite look you've styled of Nicola's?
AC: So far my favorite is still the Simone Rocha look from The Late Late Show With James Corden [above] and another Simone look for London Fashion Week. The Golden Globes Molly Goddard look probably comes in joint first. Nicola serves looks so well. She's the dream.
PS: Any upcoming projects or events you're styling Nicola for that you can foreshadow?
AC: We are doing something very sugary pink and bespoke, and I can't wait for you all to see it!
Nicola wearing a Batsheva dress with Completedworks earrings.
Nicola wearing a minidress from The Vampire's Wife with Christian Louboutin heels.
Nicola wearing a Dolce & Gabbana dress with Joanna Laura Constantine earrings.
Nicola wearing a Cawley Studio dress with vintage earrings and a Gucci ring.
Nicola wearing a Borgo de Nor dress with Miu Miu shoes and Gucci jewelry for the virtual premiere of Bridgerton.
Nicola wearing JW Anderson for an appearance on The Graham Norton Show.