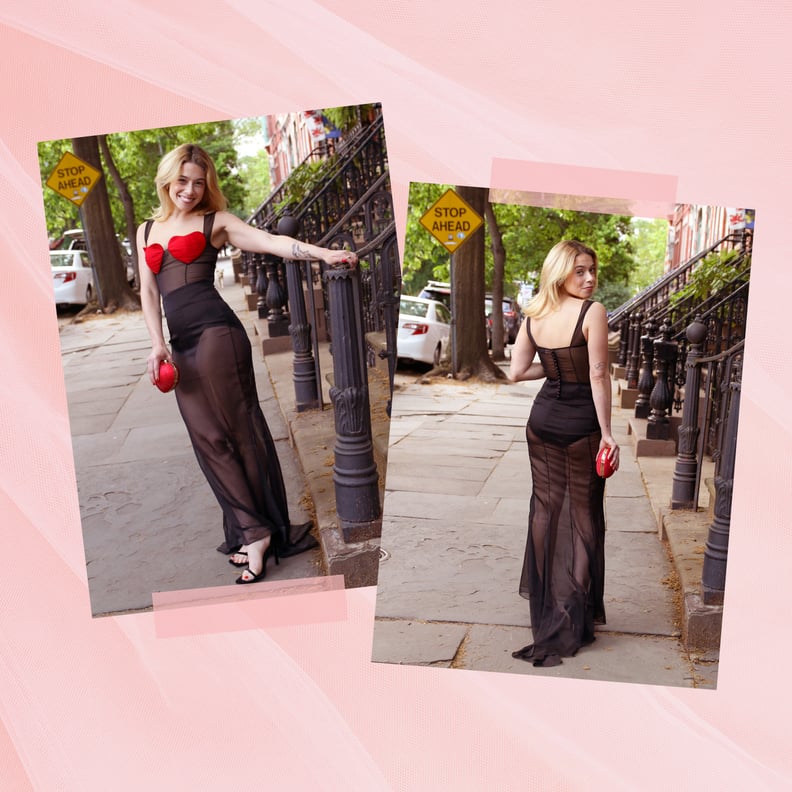 Cristal Rojas
Getty | Eun KYoung Jung
Photo Illustration by Michelle Alfonso
Cristal Rojas
Getty | Eun KYoung Jung
Photo Illustration by Michelle Alfonso
As POPSUGAR editors, we independently select and write about stuff we love and think you'll like too. If you buy a product we have recommended, we may receive affiliate commission, which in turn supports our work.
Have you ever thrown a birthday party for yourself solely so you could wear an outfit? Just me? All I know is that when I scrolled past a reel of model Chloe Lecareux wearing Onarin's Ms. Hearts bustier and fishtail skirt a few months ahead of my birthday month, the wheels started spinning. By the end of the week, I had at least five different restaurants in mind and a guest list of my closest friends at the ready. Maybe it was the Taurus in me, but I was hell-bent on pulling off this set — and it was only after I ordered the look that I really began to process just how sheer the silk-chiffon fabric actually was.
I was excited to deliver the shock factor; to bravely show off my curves when I hit the street the way celebrities do on the red carpet.
"Welp, I guess I'm trying this whole naked dress thing," I thought to myself as I pulled up Commando's site to track down the right underwear. In preparation, I placed an order for the classic control thong and shaping brief, unsure just how cheeky I might go in this decidedly revealing, ultrafitted ensemble. The Stolen Stores team assured me that the retail site's in-house made-to-measure team would develop a personalized size for me, so the co-ords would fit me just right. But at the end of the day, they were still see-through. I was Florence Pugh at the Valentino show! I was Jennifer Lopez at the "Shotgun Wedding" premiere! I was Kendall Jenner at the Met Gala afterparty! People were going to see my underwear, and I was probably going to feel pretty naked.
Truthfully, I thought this all to be a fun, timely experiment, especially since the naked dress trend has become standard among celebrities and mere mortals alike. Sheer fabrics are a common detail, and I think there's something to be said for having the confidence to show off your body — however much or little you like. When the Onarin pieces finally arrived, I abandoned my doubt and slipped into the outfit, only to find that both separates were a little snug. (Quick tip: if you're already thinking about ordering the set, add an inch to your usual measurements upon placing your order.) Luckily, the exchange for a new, customized size was coordinated in more than enough time for my birthday dinner. I was excited to deliver the shock factor; to bravely show off my curves when I hit the street the way celebrities do on the red carpet.
Ahead, see how I ended up accessorizing my look and read my final review of the Onarin naked dress.
How to Style the Naked Dress
Outfit: Onarin Ms. Heart Bustier ($329), Onarin Classic Fishtail Maxi Skirt ($229), Maidenform Shaping Brief ($15), Nina Amorie Minaudière Bag ($59, originally $78), and Zara Heeled Velvet Sandals ($70)
A few days before my birthday, when accessories were finalized — Nina had the perfect heart-shaped clutch with rhinestones to play up the bust and Zara a luxurious, strappy velvet heel — I excitedly showed my new boyfriend the look. While he loved it (as he does everything I wear), he did offer the comment, "That's really see-through," after seeing the model on the product page in a G-string. The man was simply stating facts.
Moments later, I found myself on Amazon ordering a thicker high-waisted brief by Maidenform, just in case I ended up wanting more coverage the night of. Let's just say I'm very glad I did. For naked-dress first-timers who are slightly nervous about the big reveal like I was, I can promise that panties with more fabric will offer security and structure. I tested out the skirt with all three undergarments, and the Maidenform silhouette looked the most proportional and modest as a foundational layer.
Finally, be sure to wear a shoe you're comfortable in. I tend to play by the following rule: when you're skeptical about one part of your outfit, leave the rest up to familiarity.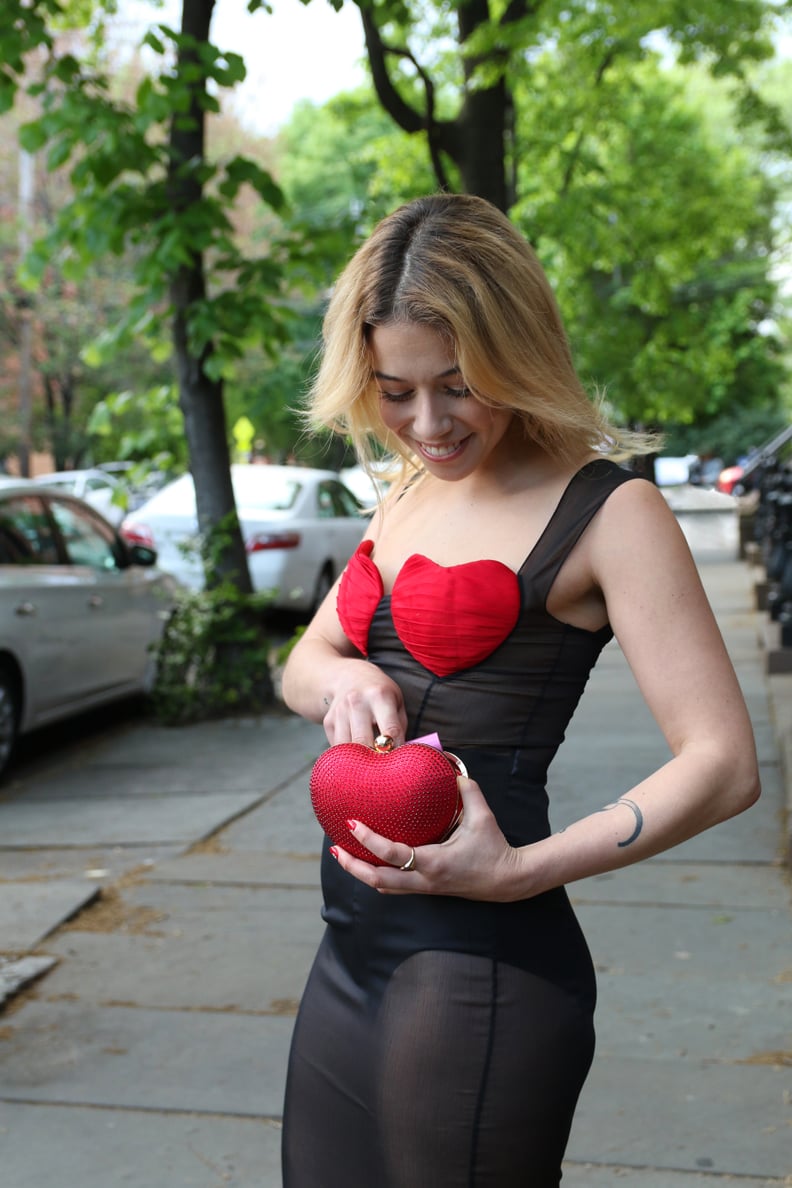 Naked Dress Trend Review
Ultimately, I received compliments all night long on the Onarin naked dress, and I never for an instant felt too exposed or awkward. While I do wish I could have graced my party guests with a booty as famous as J Lo's, that is honestly my only regret. As to whether or not I'd try out the naked trend in the wild again, the answer is as clear as day (just like my underwear) — sure, why not?