This Fashion Month Belonged to '90s Supermodels
Fashion's first supermodels aren't going anywhere. For a few years now, brands have enlisted the original '90s supermodels — from the smiley Christy Turlington to the perpetually chic Kate Moss — in their runway shows. This past fall 2023 season, however, was especially focused on bringing back the industry's most famous faces, honoring their careers and contributions to fashion as a whole. The recognition is well-deserved, of course, but what makes this the right time for such a resurgence?
The obvious answer is the new Apple TV+ docuseries "The Super Models" — a shiny exploration into the illustrious careers of Naomi Campbell, Cindy Crawford, Linda Evangelista, and Turlington. With recent fashion seasons criticized for leaving behind its mainstays for industry outsiders and influencers, nostalgia is somehow a timely solution. This resurgence has also perhaps been brewing since Versace brought together five '90s icons for the grand finale of its spring runway show in 2018.
This year's shows also lifted up their legends: Campbell graced several runways, even debuting her own 70-piece collection with PrettyLittleThing. That's not to mention her happy front-row reunion with Moss at the Fendi show during Milan Fashion Week. Claudia Schiffer, meanwhile, closed the Versace show in an homage to the late Gianni Versace, as she was one of his original muses.
Edward Enninful, British Vogue editor in chief, also recently brought the supers together for his very last September issue. "What better way to celebrate than with four women who have, over the course of more than three decades, come to define the very idea of fashion itself: the original supermodels," he wrote. The cover story went on to point out these women's "rock star moves," with Campbell speaking out about racial discrimination, Evangelista breaking records with Steven Meisel, and Crawford seamlessly navigating the tumultuous road from modeling to television. Without social media, they accrued supermodel status simply by acting like superstars.
Advances in social media prompted major — and debatably unwelcome — shifts in the cultural zeitgeist. Now, with fashion influencers facilitating major sales, the front row might look a little different than it used to. "Why spend money promoting on a billboard when you don't know who's driving past that billboard?" fashion content creator Ellie Zeiler prompted HuffPost in 2022. "You can just hire a fashion influencer and know that people are specifically going to that page for fashion content."
Still, it's a tough sell. If everyone has a platform, everyone has the chance to make it into Fashion Week, undermining the industry's historic exclusivity. Think pieces debating whether or not influencers are ruining fashion for good only reemphasize this point. While publicists might be dealing with an increasingly flooded inbox, the fashion world was long overdue for a change.
Despite it all, the supermodel title transcends. Bringing the legends of the early aughts back to the runway signals a longing for the glamour of pre-social-media runway culture. In combination with the increased inclusivity made possible by the influencers of today, fashion might be on to something really super.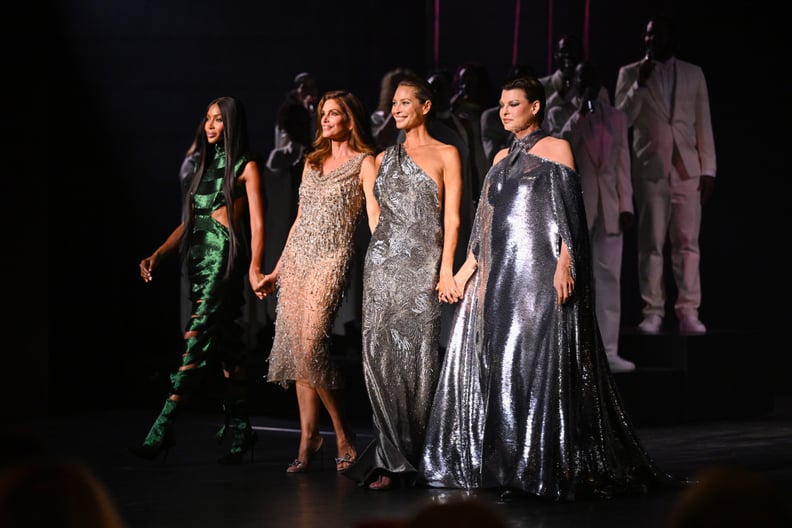 Naomi Campbell, Cindy Crawford, Christy Turlington, and Linda Evangelista at Vogue World: London