38 Superchic Maternity Outfits to Help You #StyletheBump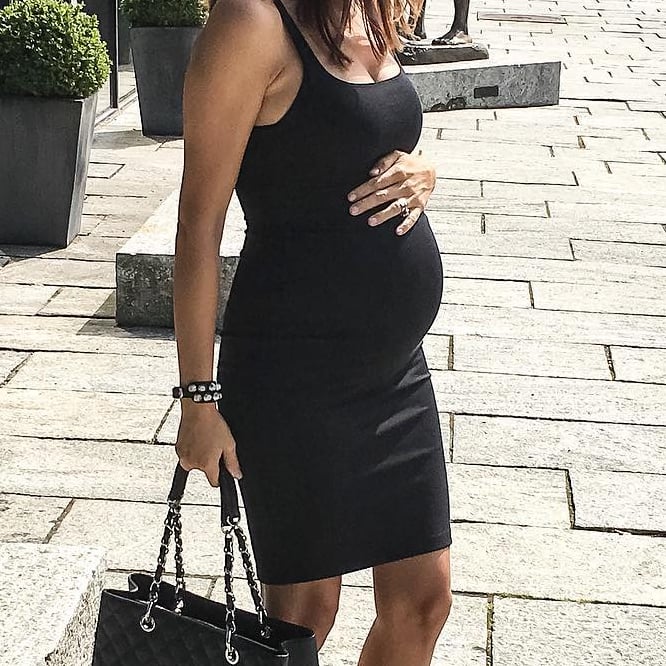 One thing you can likely expect when you're expecting? An ever-changing, ever-growing body, complete with a brand-new baby bump you now have to style around. It can be tricky for sure, combining comfort and fashion in one superflattering look. But like most fashion dilemmas, bloggers have come to the rescue.
Ahead you'll find 38 outfits to inspire your everyday outfit, from formfitting dresses to breezy shirts and loose pants. Click through to find something you'd like to try.
01
A White Sundress, a Denim Jacket, and Espadrille Flats
02
A Knotted Tee and Maxi Skirt
03
A Graphic T-Shirt, Boyfriend Jeans, Sneakers, and a Blazer
04
An LBD, Leather Shoes, and a Leather Jacket
05
An Off-the-Shoulder Top, Loose Pants, and Loafers
06
A Ruffled Dress and Ankle-Strap Heels
07
A Sweater Dress, a Jacket, and Sneakers
08
A Flowy Dress and a Fedora
09
A Printed Dress and Knee-High Boots
10
A Solid Shirt, a Lace Pencil Skirt, and Statement Shoes
11
A Loose Shirt, Leggings, and Platforms
12
An Off-the-Shoulder Dress and Slip-On Sandals
13
A Patterned Dress, Statement Boots, and a Sweater
14
A Collared Top, a Black Midi Skirt, and a Statement Bag
15
A Jumpsuit and Statement Flats
16
A Long-Sleeved Tee, Shorts, Sneakers, and a Cap
17
A Curve-Hugging Striped Dress, a Leather Jacket, and Lace-Up Flats
18
Overalls, Block Heels, and a Wide-Brim Hat
19
A Cropped Sweater Over a Midi Dress
20
A Shirt Over a Fitted Tee, Stretchy Bottoms, and a Hat
21
A Ruffly Dress and Sneakers
22
A Fitted Striped Tee and Jeans
23
A Fitted Shirt, Joggers, Sandal Heels, a Plaid Shirt, and a Turban
26
A Jumpsuit, Block-Heel Sandals, and a Bandana
27
A White Minidress and Platform Sneakers
28
A Striped Dress and Knotted Jacket
29
A T-Shirt, Comfy Shorts, and Gladiator Sandals
30
A Solid Top, a Printed Skirt, and a Light Jacket
31
A Colorful Maxi Dress and a Headband
32
A Sweater Dress and Over-the-Knee Boots
33
A Breezy Black Dress and Platforms
34
A Patterned Dress Over a Long-Sleeved Top
35
A Printed Dress, Booties, and a Leather Jacket
36
A Printed Dress, a Denim Vest, and a Wide-Brim Hat
37
A Black T-Shirt Dress, Leggings, Flats, a Kimono Jacket, and a Turban
38
A Shirt Dress, Statement Sandals, and a Hat
39