These Women Might Just Convince You That Flares Are the Most Flattering Jeans on the Planet
As POPSUGAR editors, we independently select and write about stuff we love and think you'll like too. If you buy a product we have recommended, we may receive affiliate commission, which in turn supports our work.
If you've spent the past few years religiously living in your skinny jeans, you aren't alone. But there's a new style on the rise — the flare. With the return of '70s style, they are back and better than ever.
Still, around our office, we've heard many women exclaim that flares "aren't their style" or "just aren't flattering." As a fashion editor, I felt it was my duty to at least try to change their minds. So I turned to Loft, which just released an entirely new line of denim, and challenged five different women, with a range of body types, to give them a try. Curious to know how the flared jeans fared? Read on to find out.
Check out more original POPSUGAR features:
My Husband Dressed Me For a Week, and It Changed the Way I Dress Myself
These 5 Women Just Made Over-the-Knee Boots Totally Wearable IRL
5 Foolproof Ways to Pair a Dress With Sneakers
01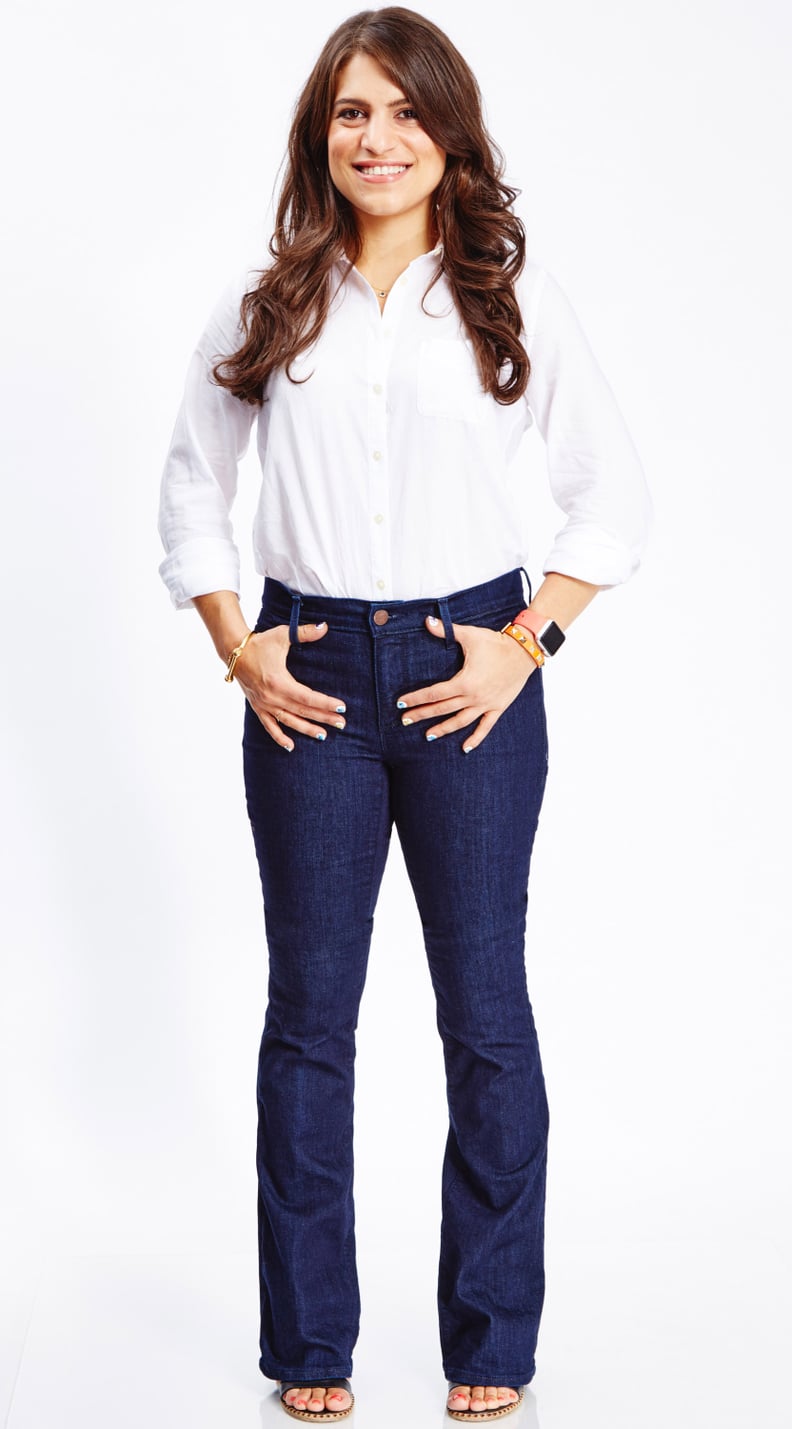 Lauren Levinson, Beauty Editor
Height: 5'2"
Before: Before the shoot I was already a fan of flares, but this pair made me even more enthused about the Fall denim trend.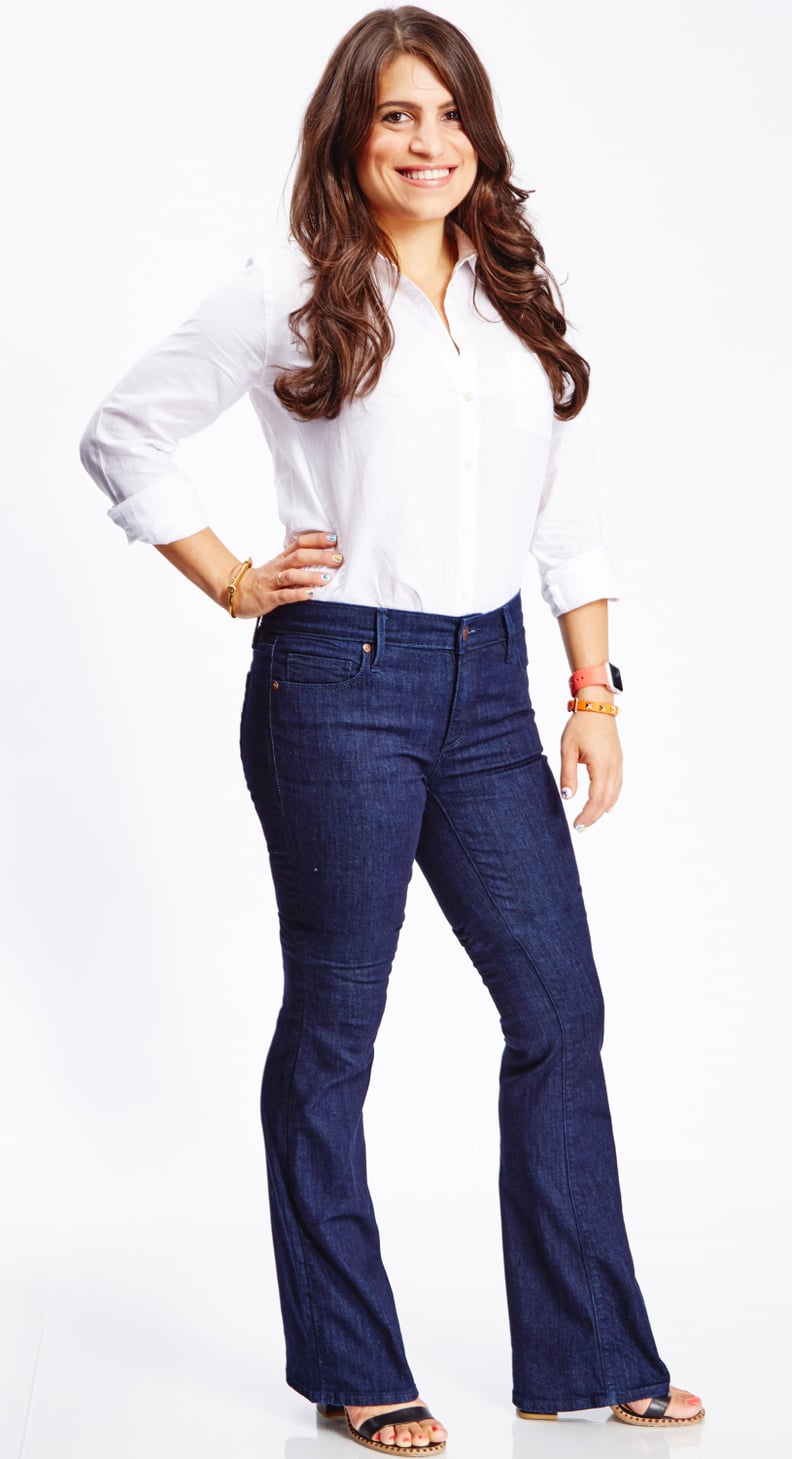 After: The jeans were a chic dark wash, making them work-appropriate for those in creative fields. And as Goldilocks would say, "they're juuuust right" — the bell is not too wide or too narrow, the waist not too high or too low, the texture not too loose or too stretchy. It doesn't hurt that they make your booty look perky!
02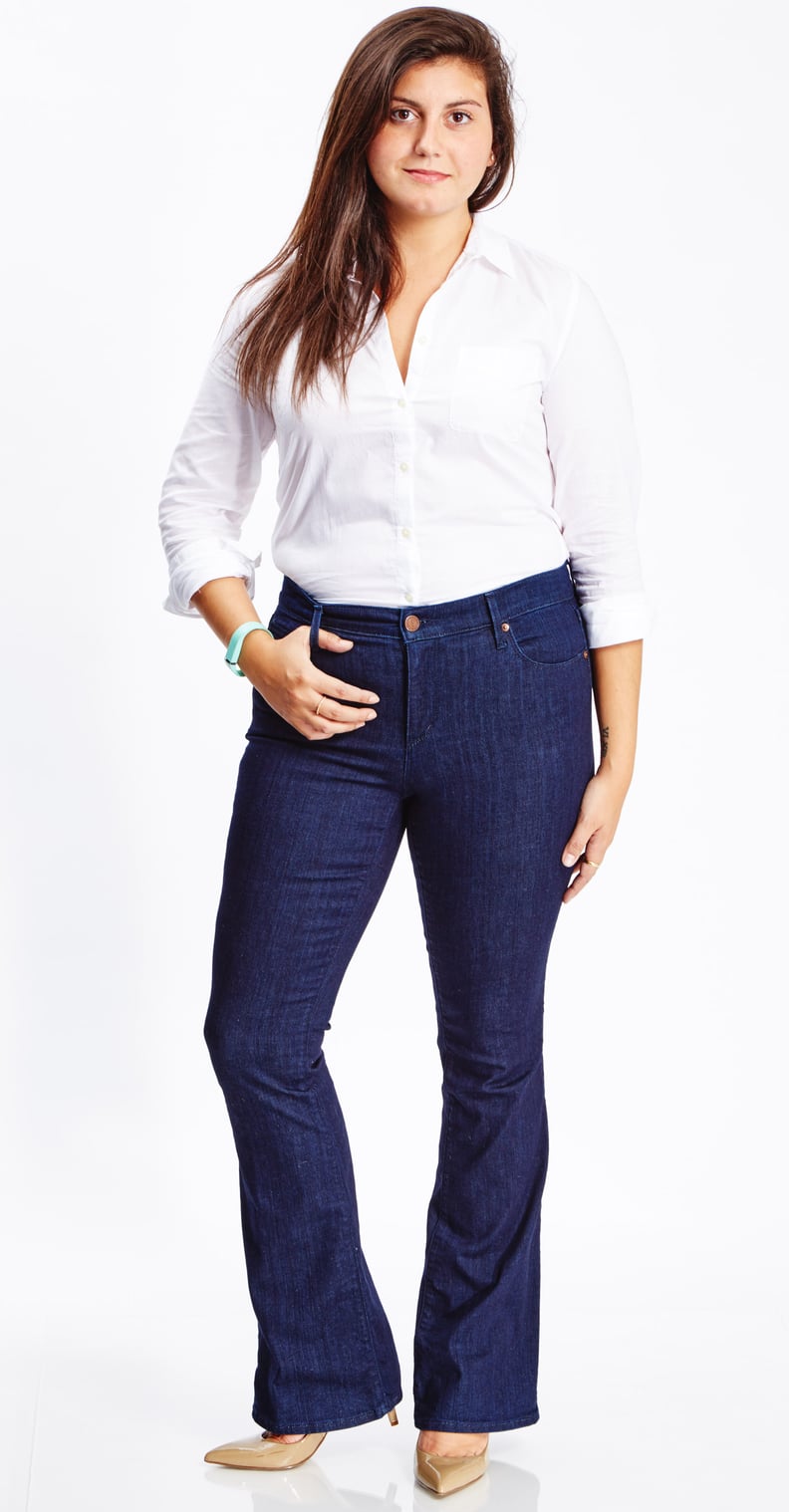 Alessia Santoro, Moms Assistant Editor
Height: 5'7"
Before: I'll admit that when I was initially asked to do this shoot, my knee-jerk reaction was to say no. Not only am I not the most fashion forward, but I'm also 5'7" and buy extralong-length jeans — so I went into this assuming that I would look awful and that the hem would come to my ankle by default.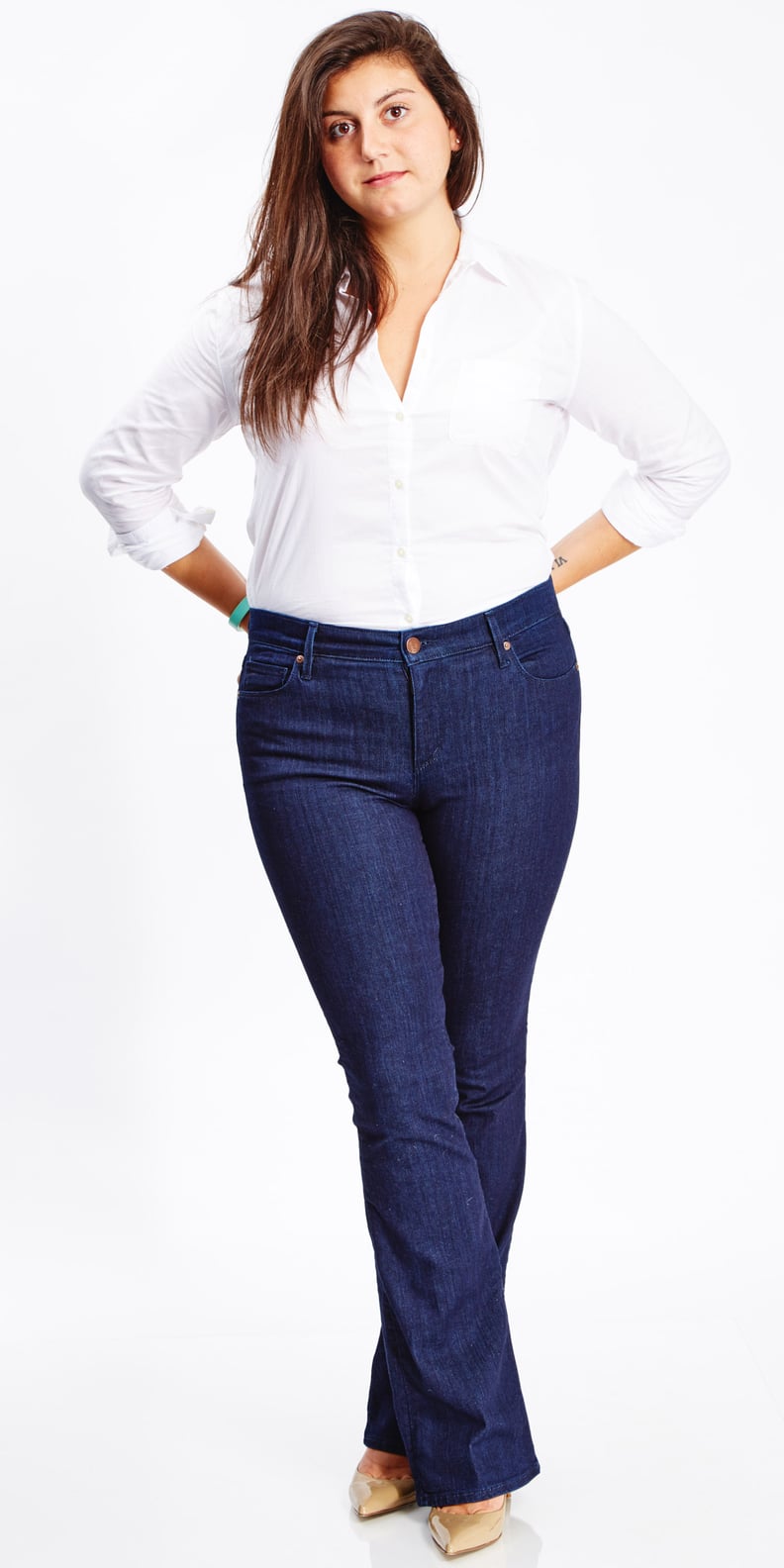 After: I was pleasantly surprised not only with the length, but the fit as well. The flare was subtle, and even though I had to whip out my John Travolta à la Saturday Night Fever moves to poke fun at the jeans just once — OK, more than once — I liked the way I looked overall.
While I'm not sure I'd ever purchase a pair of these bad boys to strut my stuff down the streets of NYC in, I was complimented by fashion editors who know their sh*t — so I guess I didn't not like them.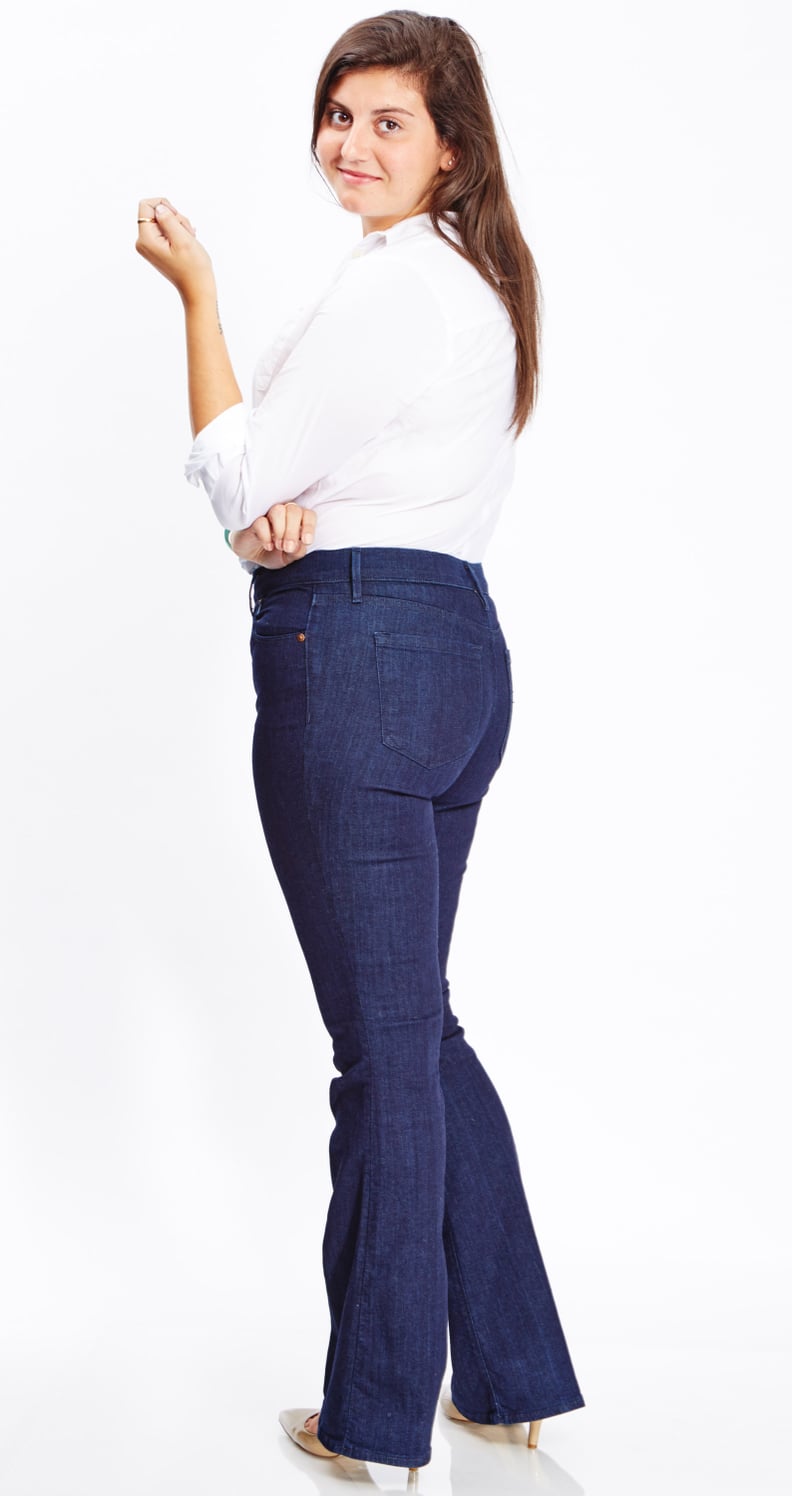 03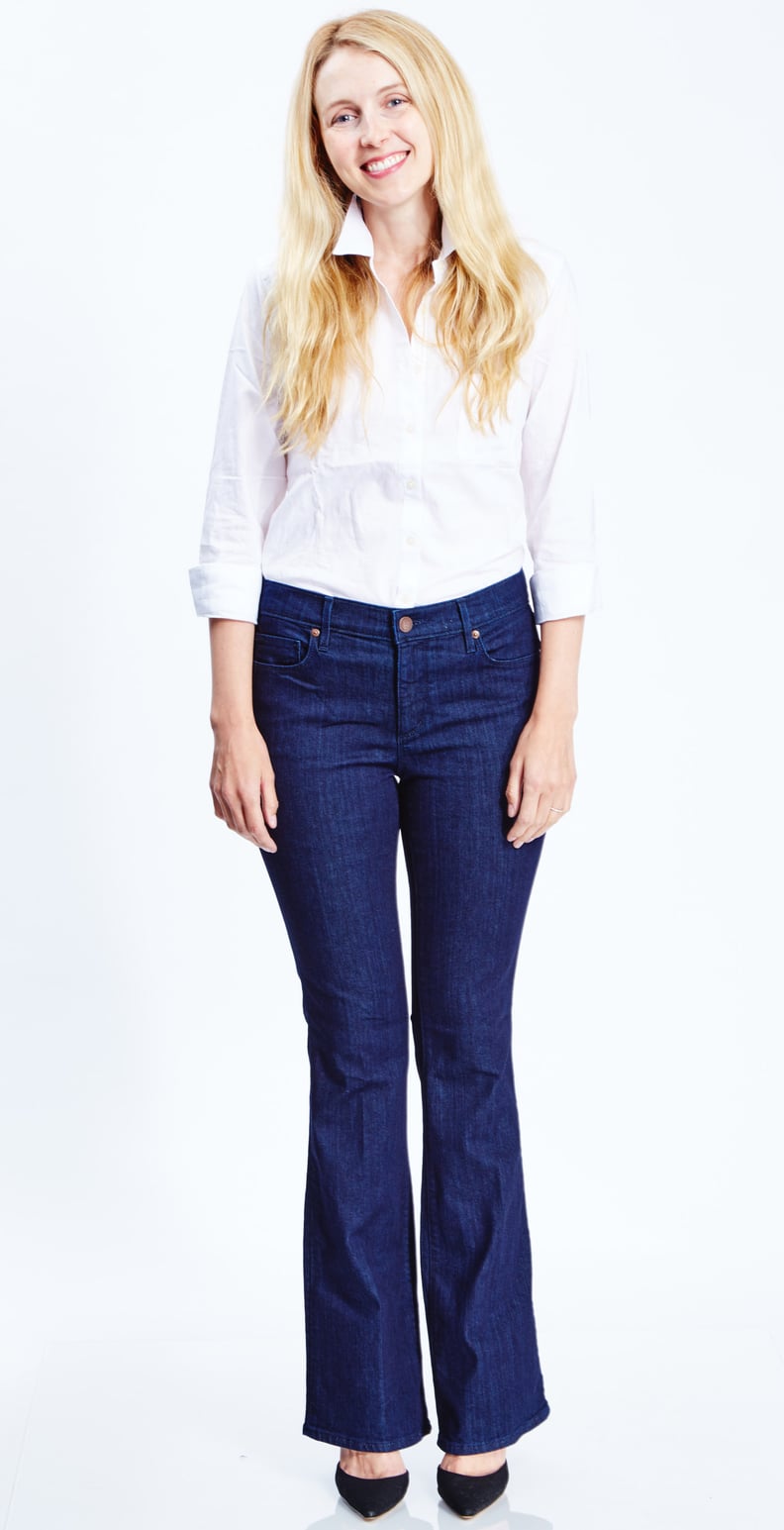 Allie Merriam, Editor
Height: 5'9"
Before: I've already witnessed at least one full trend cycle of flared pants in my lifetime, and I didn't think the style did much for my body type back then. But I've been told that it's a good thing to keep an open mind in life, so that's what I attempted when it came to wearing flares for this shoot.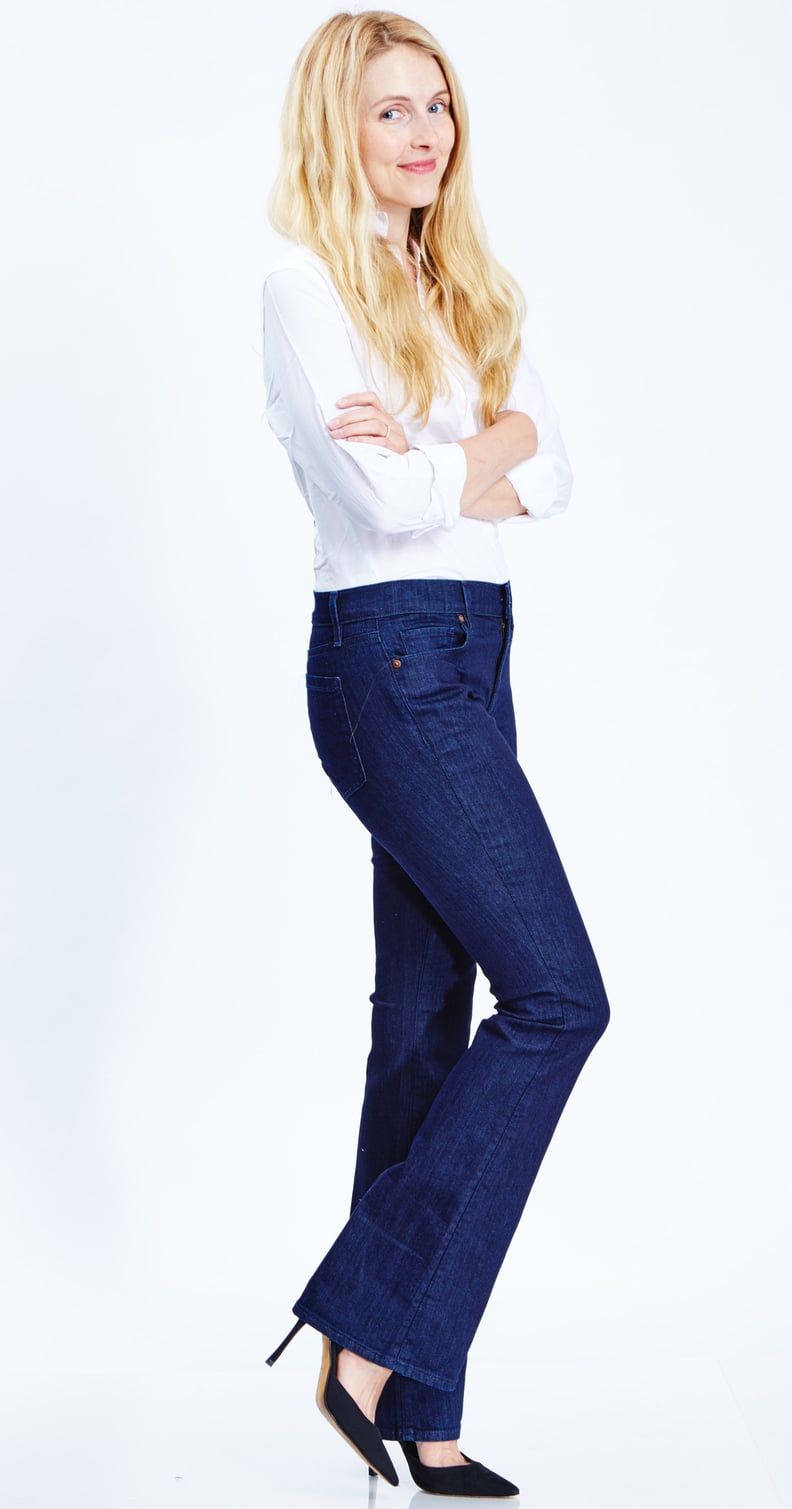 After: Imagine my surprise when I found the flares to not only be flattering, but actually — shockingly — fun to wear, especially with heels. I didn't think anything could get between me and my skinnies, but flared jeans just might see regular rotation in my Autumn wardrobe.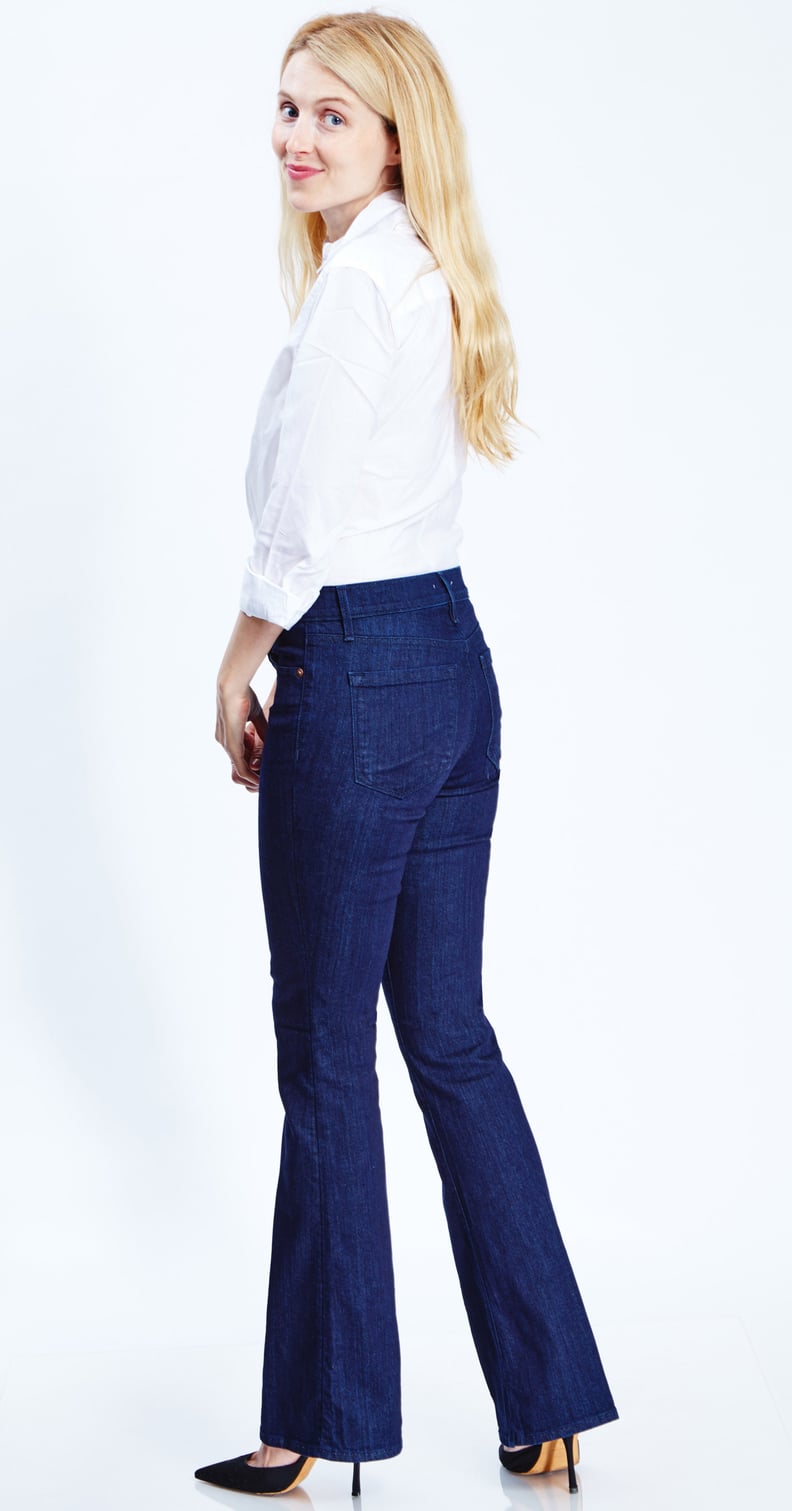 04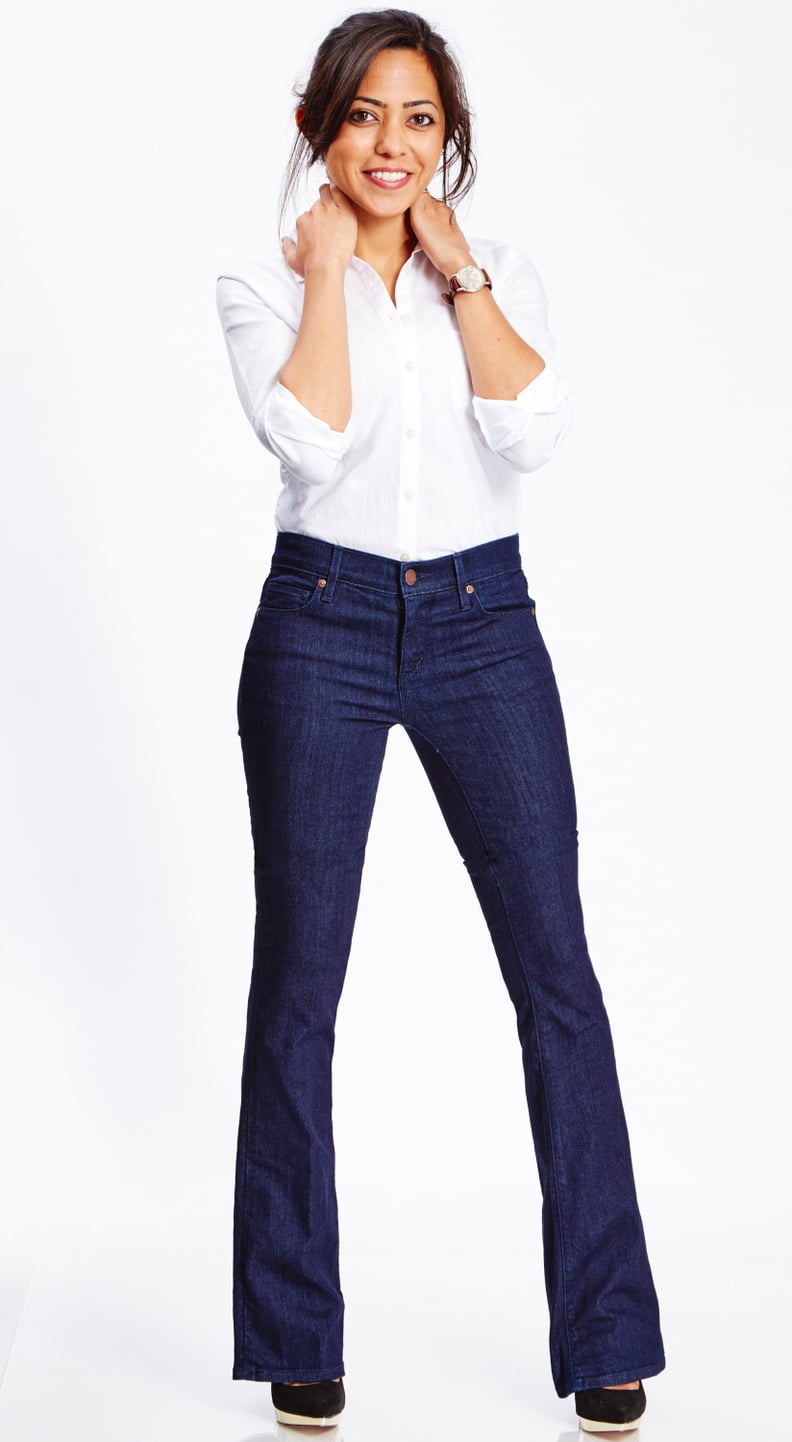 Zareen Siddiqui, Operations Coordinator
Height: 5'2"
Before: I was a little apprehensive wearing flared denim for a couple reasons: I'm a shorty and I thought the jeans would make me look even shorter, and I haven't worn any denim styles but skinny and boyfriend jeans in so long that I forgot they make other styles!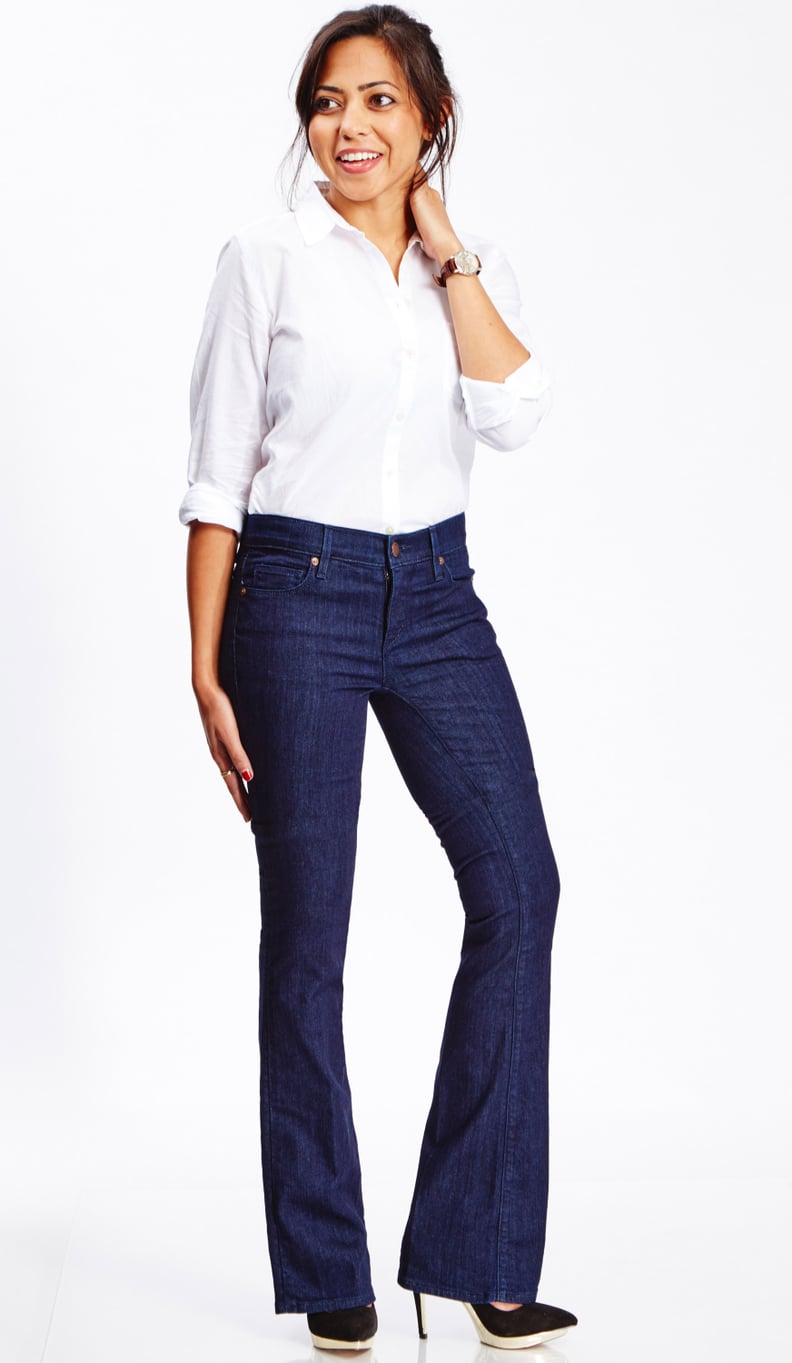 After: The flared denim actually ended up making me look like I have long legs, and I would definitely wear them again with the right shoes. I think flared denim is an easy way to change things up, but you need to have the right shoes or everything just falls apart!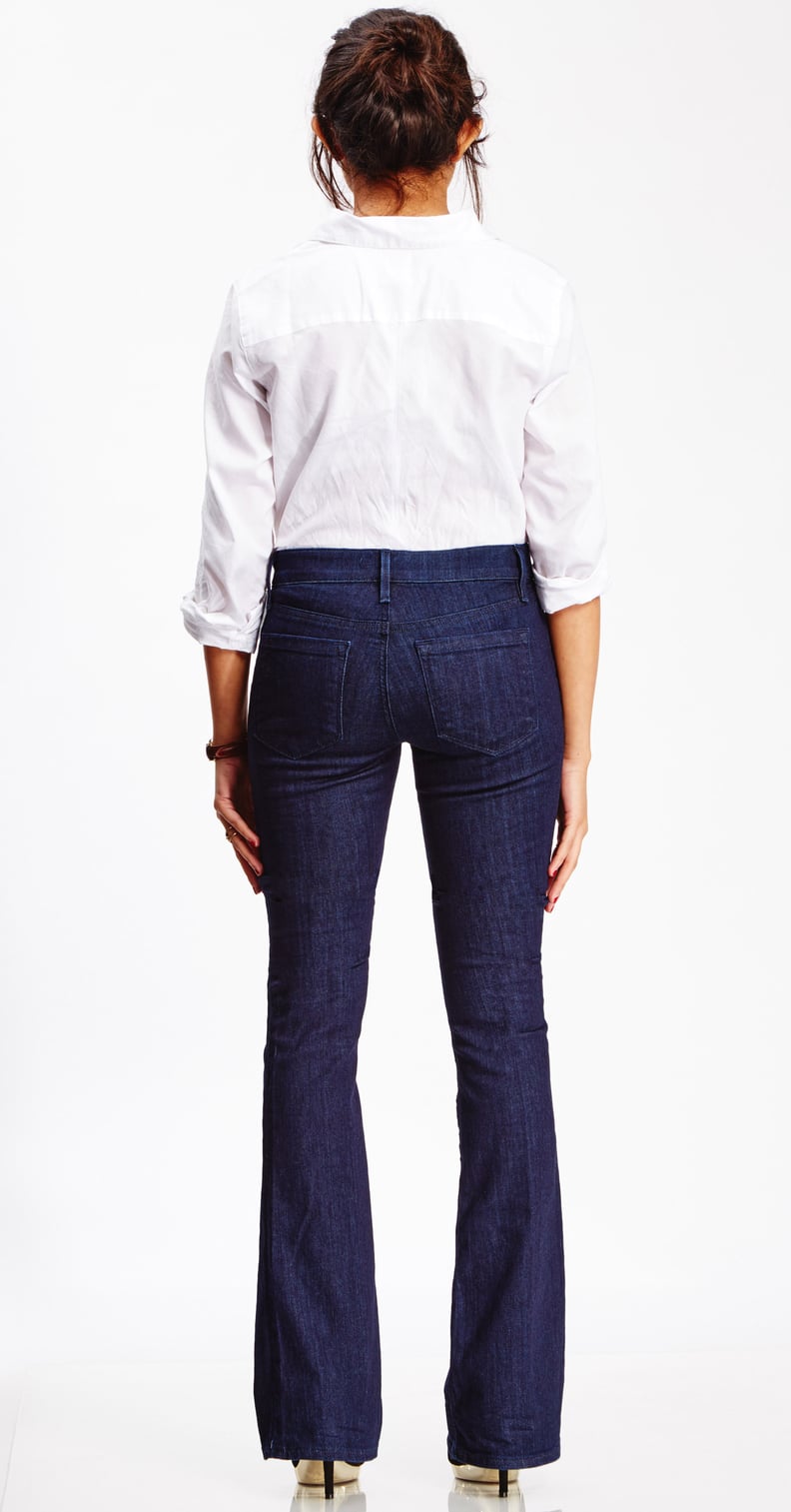 05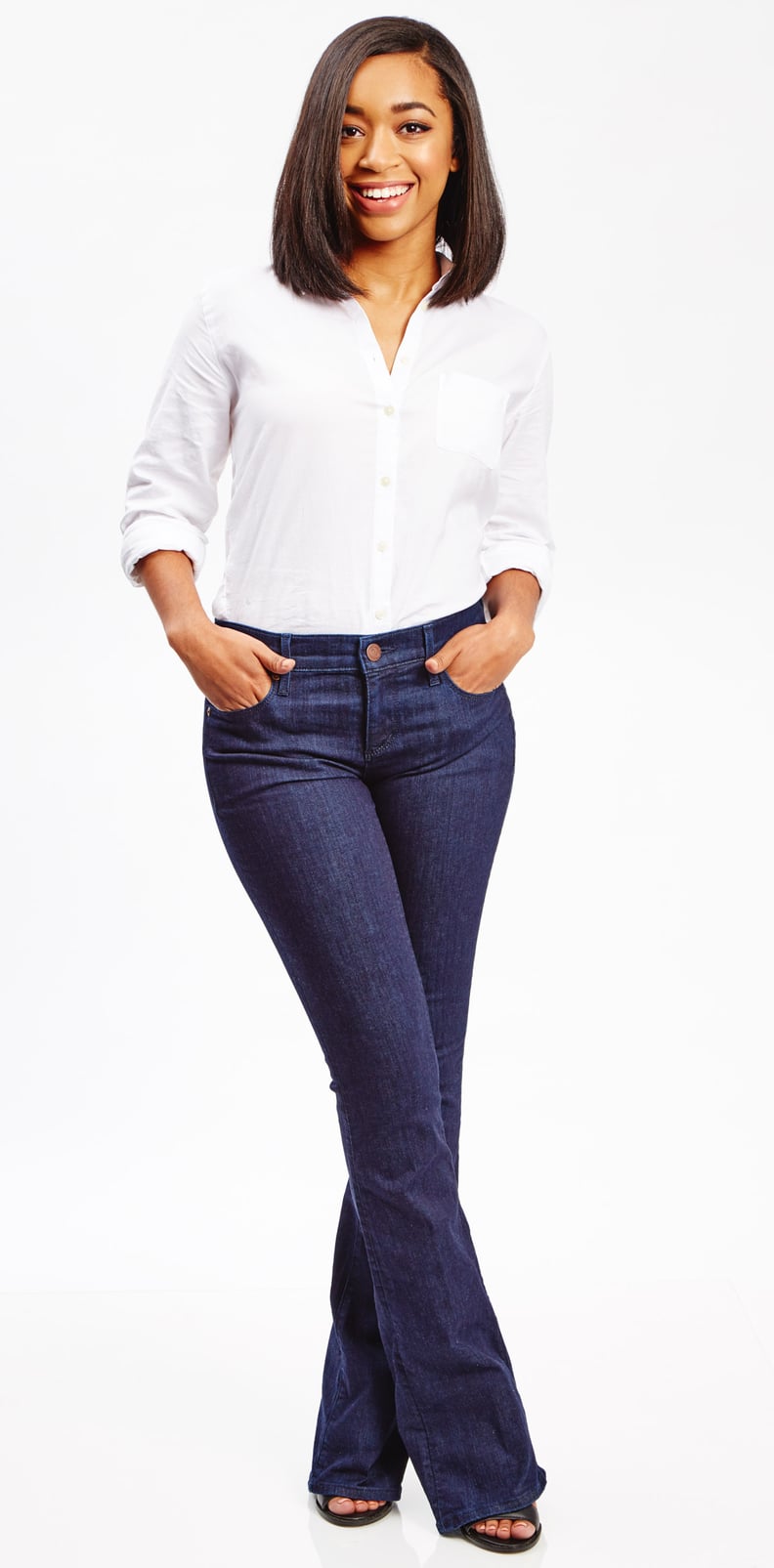 Aimee Simeon, Editorial Intern
Height: 5'3"
Before: When it comes to denim, I avoid anything flared — at all costs. I've recently been open to experimenting with different styles, and I saw getting to model these jeans as the perfect opportunity to give flares a fair shot.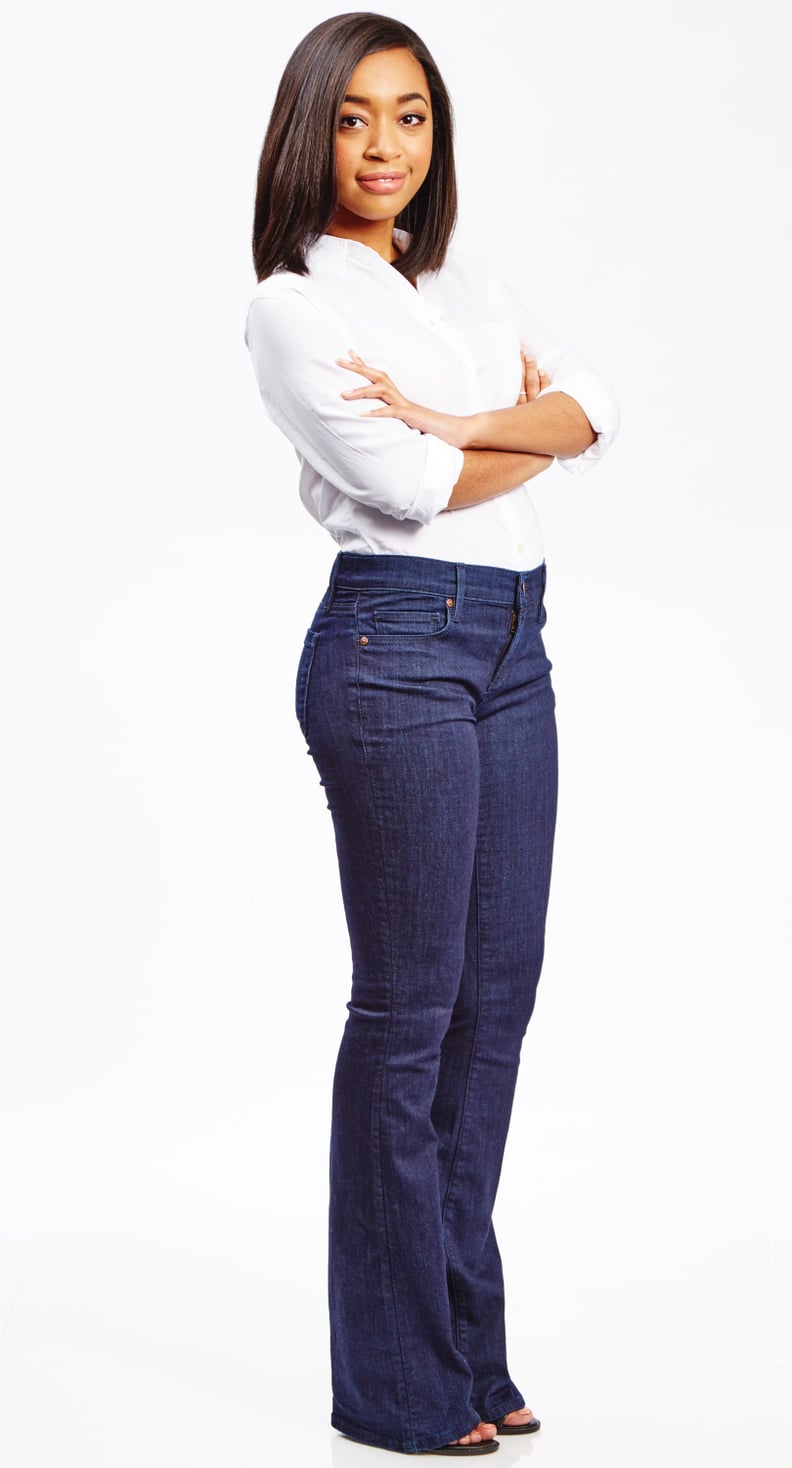 After: When I first tried them on, my initial thought was "holy crap, I'm going to look super tiny and ridiculous in these." But when I looked at myself in the mirror, I saw hips, and a butt I didn't know existed. While I loved the way the jeans accentuated my curves, when I zoomed into the flared bottoms, I felt like they were eating up the rest of my tiny legs. I stand at only 5'3" and I frequently wear flats and sneakers, so in the end I felt like I could only pull these off if I wore heels. I probably won't go out and purchase tons of flared jeans for my wardrobe, but I definitely don't mind switching out of my skinnies for flares and heels every now and then.