Celebs Are Runway-Strutting Their Way to the Polls to the Beat of Lizzo's "Vote" Song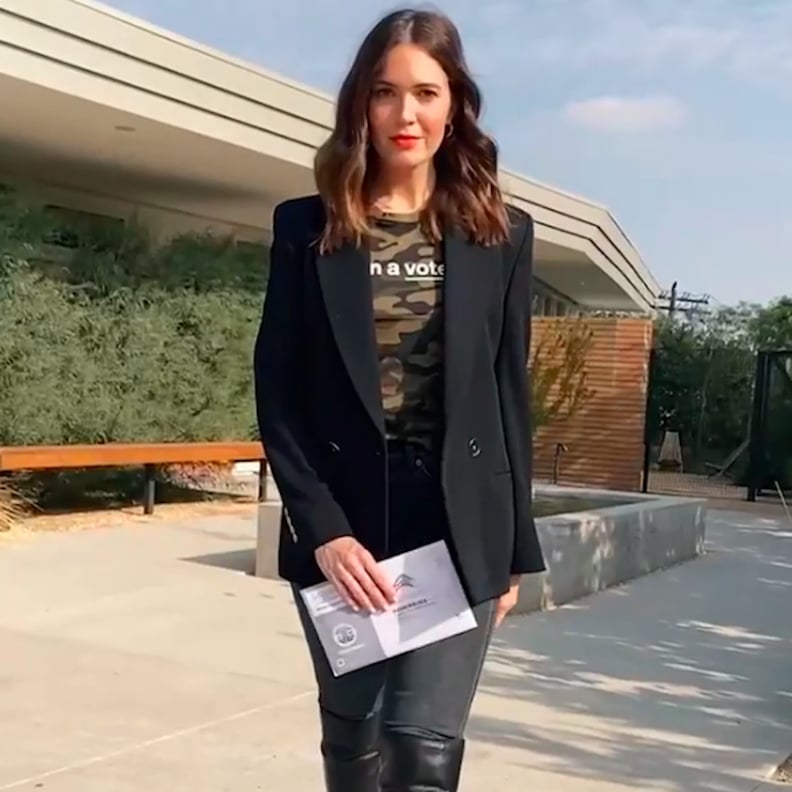 The CFDA and Black in Fashion Council have teamed up with I am a voter. to launch the #RunwayToThePolls Instagram reels challenge, inspiring everyone to register to vote and vote early in the upcoming 2020 election. What's more, they've enlisted plenty of celebrities and influencers to hype up the trend, and worked with Lizzo to provide music for her original "Vote" song.
To the beat of Lizzo's track, Mandy Moore, Aimee Song, Prabal Gurung, and heck, even Will Ferrell show off the stylish outfits they wore to drop off or mail in their ballots. Will pretty much wore the same thing we did while carrying out our voting plans — track pants, a baseball cap, and New Balance sneakers — but Mandy Moore totally one upped him in her Stuart Weitzman "VOTE" boots, also notably worn by Dr. Jill Biden when she accompanied her husband Joe Biden to the Delaware polls weeks ago.
As you might expect, every celebrity runway strut is unique in its own way. "It is inspiring to see talent, influencers, and designers continue to utilize their platforms to increase civic engagement," said Tiffany Bensley, co-founder of I am a voter. Enjoy all the great posts when you scroll down after the jump. But first, make sure you're exercising your own right and register now.
Mandy Moore's #RunwayToThePolls Reel
Will Ferrell's #RunwayToThePolls Reel
Prabal Gurung's #RunwayToThePolls Reel
Sophia Bush's #RunwayToThePolls Reel
Aimee Song's #RunwayToThePolls Reel
Stacey Bendet's #RunwayToThePolls Reel
Debra Messing's #RunwayToThePolls Reel
Josie Maran's #RunwayToThePolls Reel
Tina Leung's #RunwayToThePolls Reel