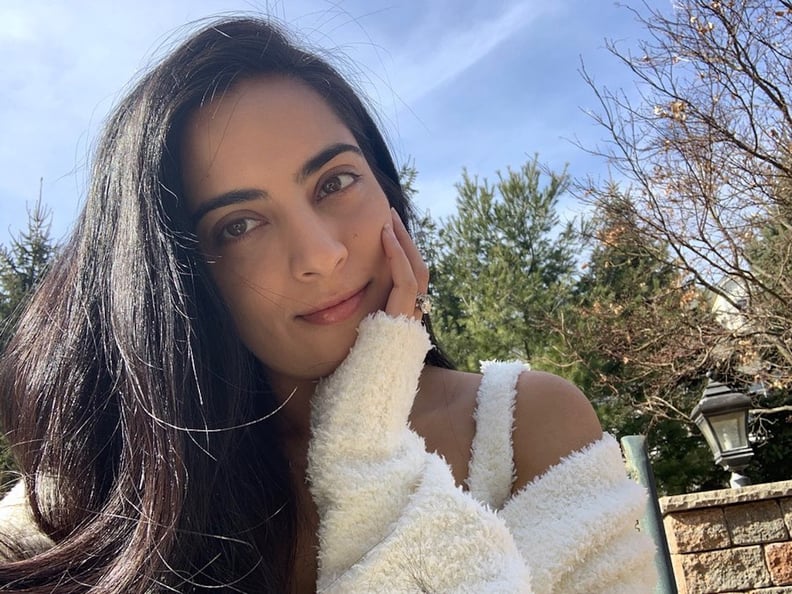 POPSUGAR Photography | Nikita Ramsinghani
POPSUGAR Photography | Nikita Ramsinghani
As POPSUGAR editors, we independently select and write about stuff we love and think you'll like too. If you buy a product we have recommended, we may receive affiliate commission, which in turn supports our work.
I've been following Kim Kardashian's foray into the shapewear industry since the start, but my interest truly sparked when I heard about the launch of the Skims Cozy Collection back in December 2019. No matter the occasion, my number one goal when it comes to dressing is always comfort. You'll almost never find me in anything super formfitting, unless you consider leggings formfitting! For that reason, I was interested in giving this one a try, since it was designed specifically with comfort levels in mind.
The collection, which is available in sizes XXS to 5X, features four luxe lounge pieces made from breathable boucle yarn: a Knit Robe ($128), Knit Pants ($88), Knit Shorts ($58), and Knit Tank ($52). Like past Skims collections, the pieces are also available in tonal shades like bone white, dusk, onyx, and cocoa. I opted for the tank top and knit robe in the bone white hue since I thought I'd wear it the most. As for the sizing, I opted for my regular sizing and chose a small for the tank top and robe.
My initial reaction when I got my hands on the pieces was to check out the fabric to see if it really was that "cozy." Turns out, it was. All I could think of was the scene from Despicable Me where Agnes screams, "It's so fluffy!" It kind of felt like I was wearing a hug, if that makes sense. Both pieces were very stretchy and fit true to size. Keep in mind, the robe is a bit on the longer sider when it comes to the length. I styled the designs with my favorite pair of worn-in mom jeans to break up the pieces. Over the next few weeks, I found myself reaching for the pieces on more than one occasion when I wanted something a bit dressier than a sweatshirt but with the same amount of comfort. Read on to see how I wore the pieces and shop the collection if you're feeling inspired too.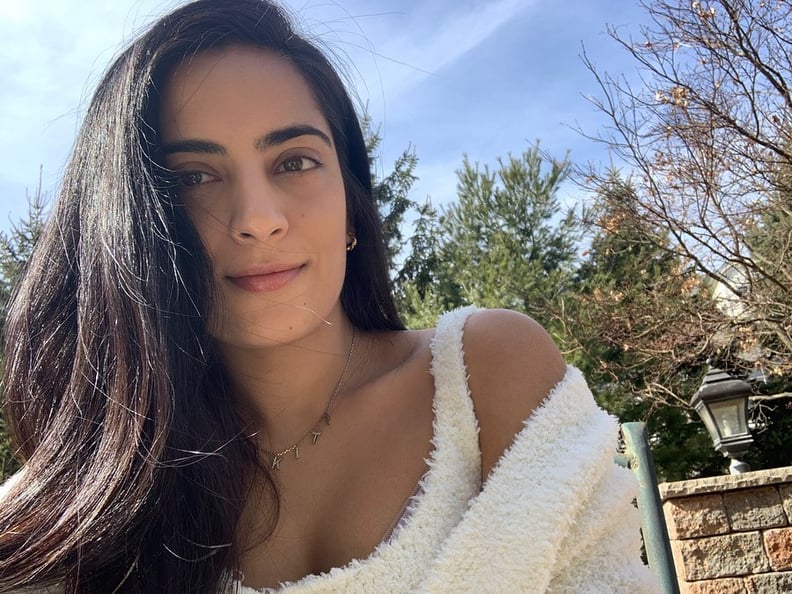 Does Skims Fit True to Size?
I opted for my regular sizing and chose a small in the tank top and robe — it fit true to size.
Is Skims Comfortable?
IMO, I was shocked by how comfortable pieces from the Cozy Collection were. The material was very soft, stretchy, and durable.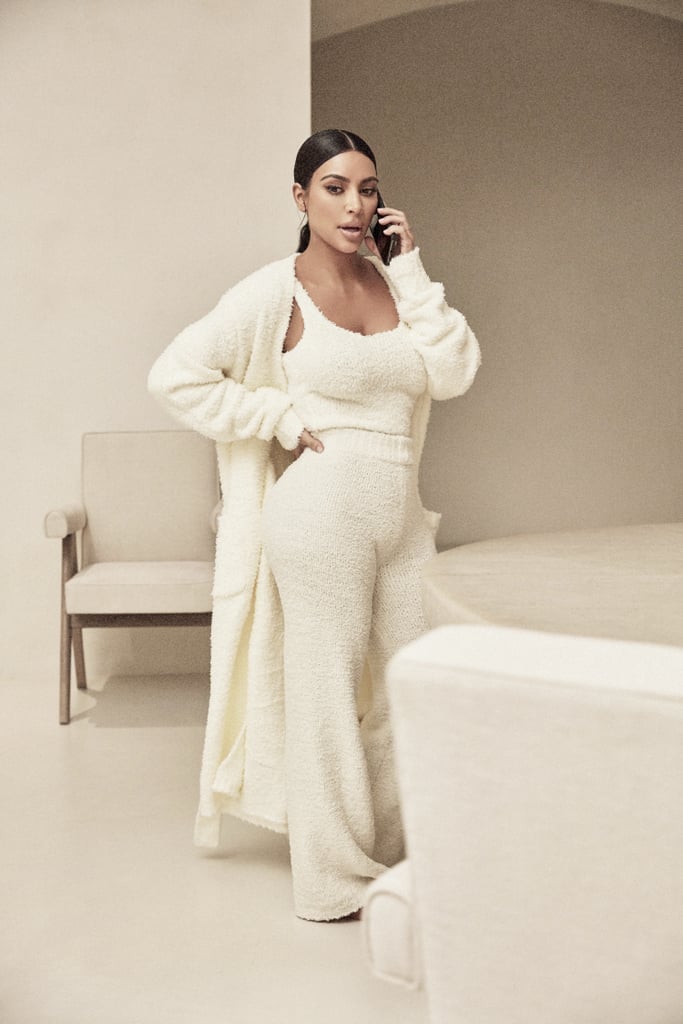 Where Is Skims Sold?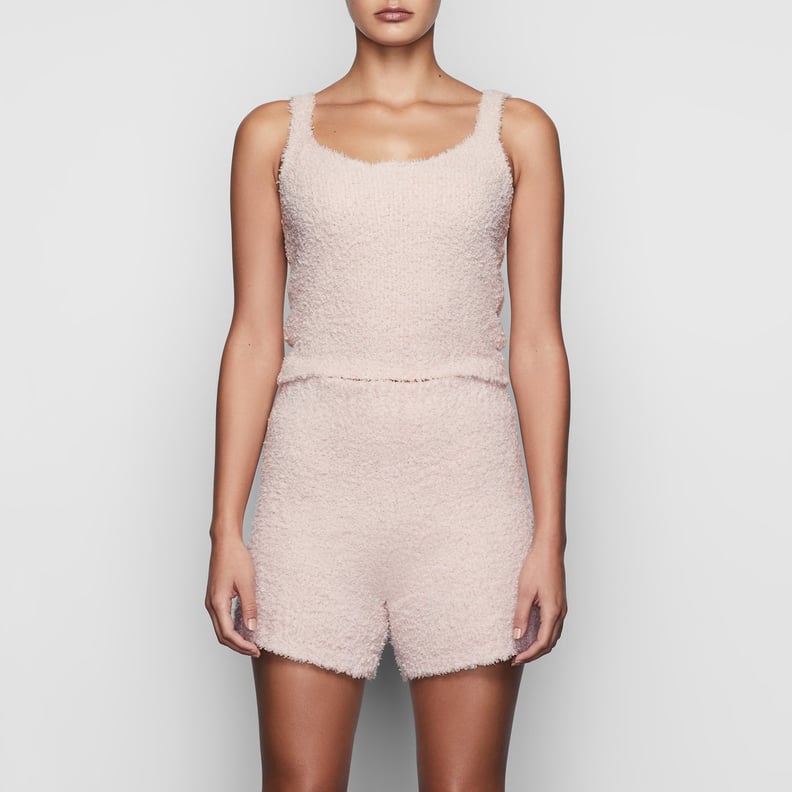 Skims Cozy Knit Tank - Dusk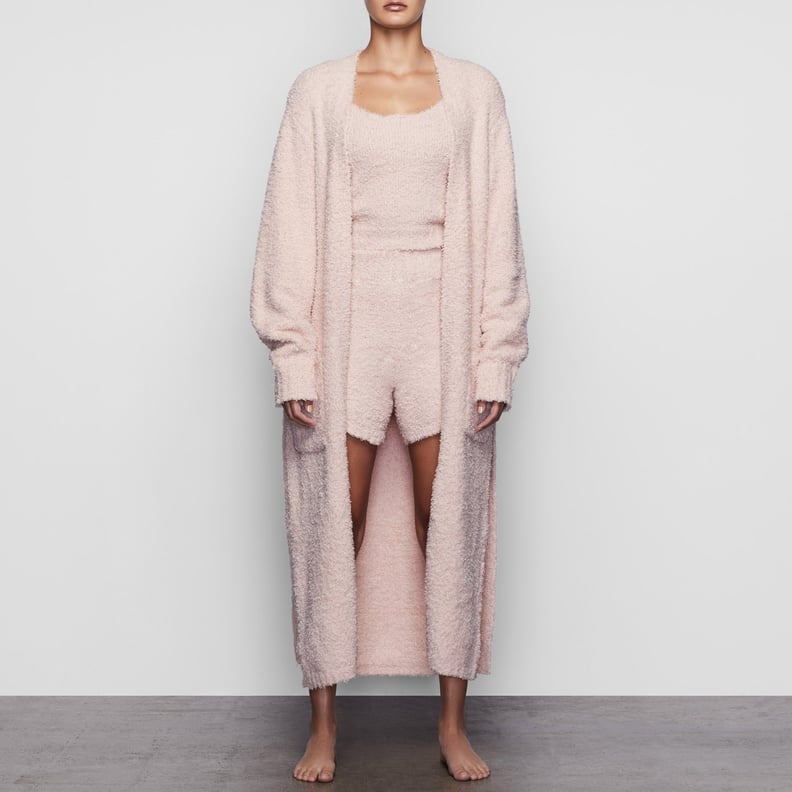 Skims Cozy Knit Robe - Dusk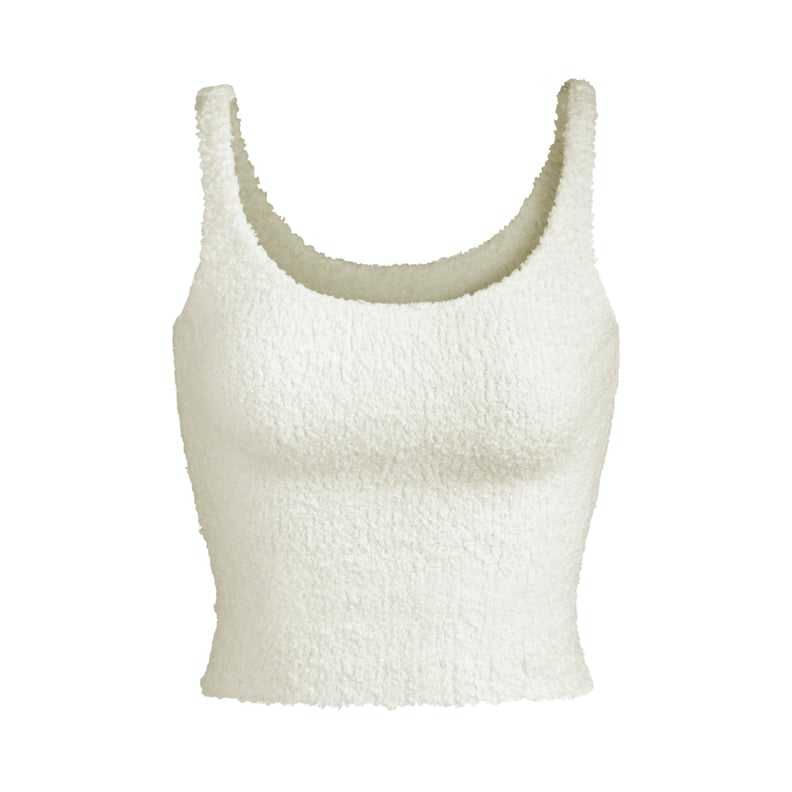 Skims Cozy Knit Tank - Bone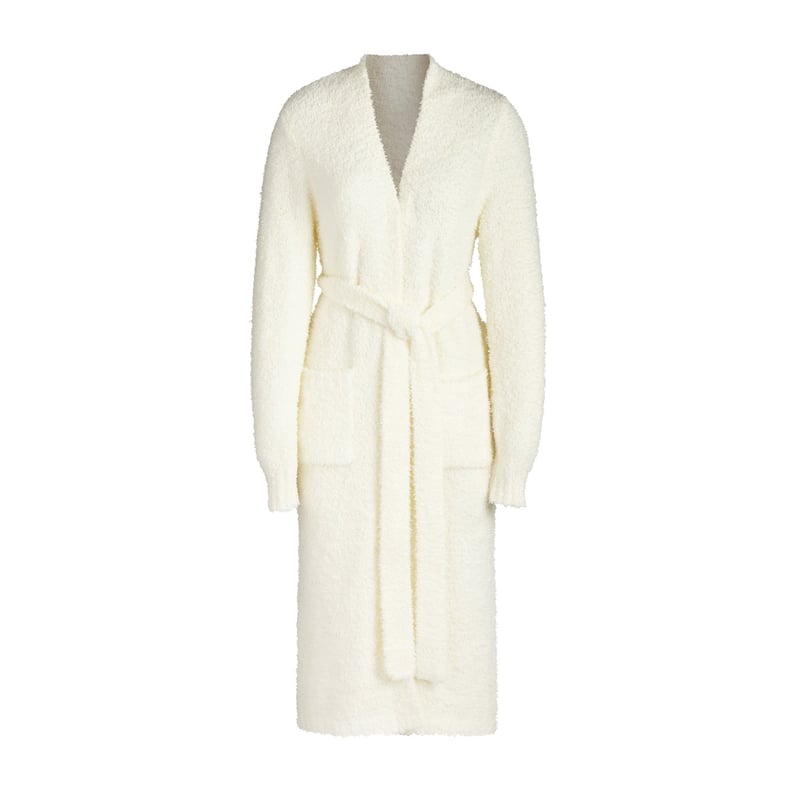 Skims Cozy Knit Robe - Bone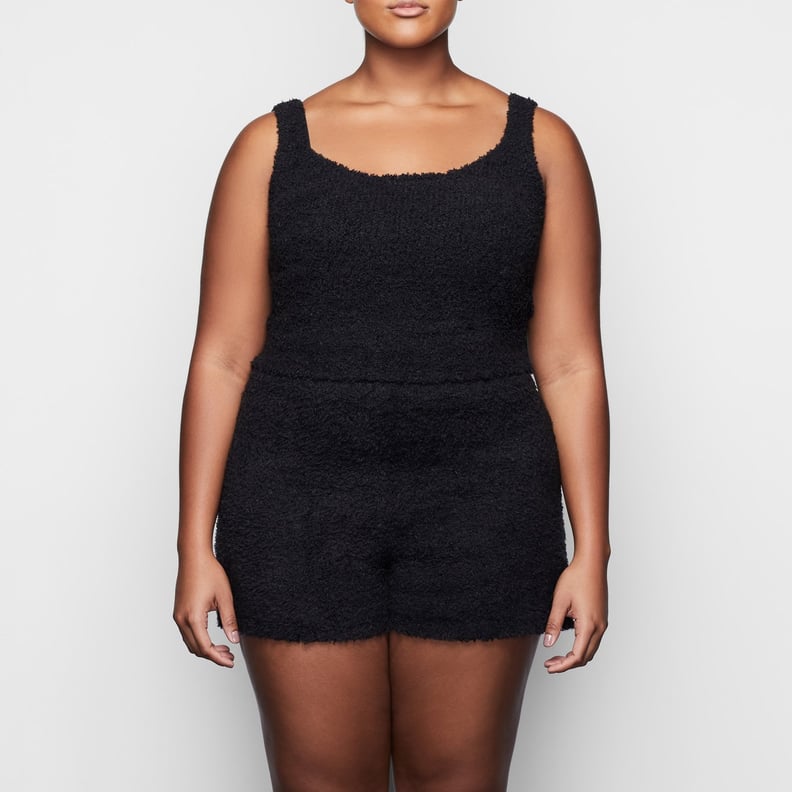 Skims Cozy Knit Tank - Onyx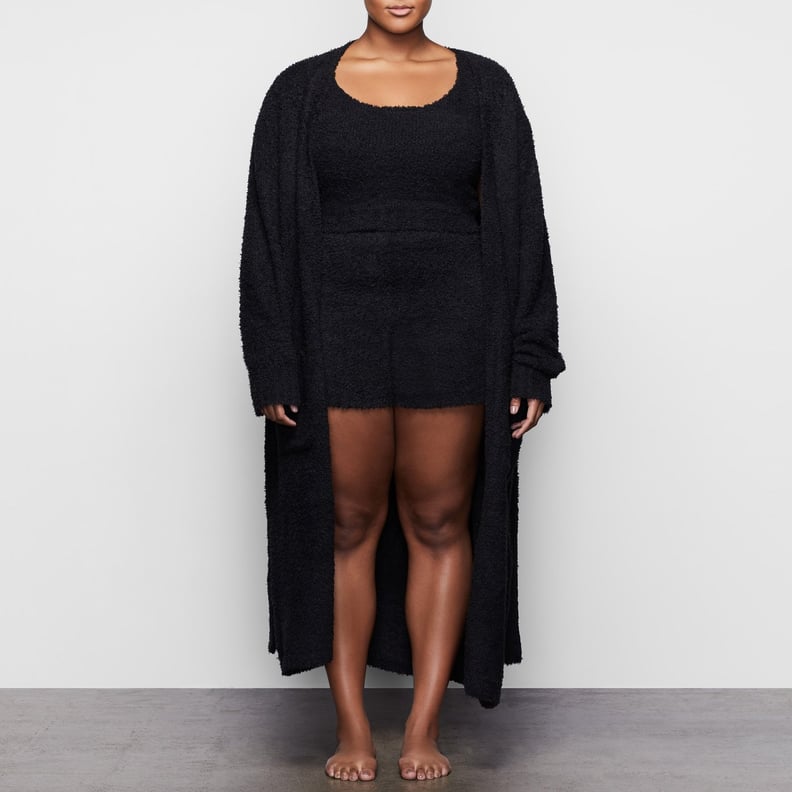 Skims Cozy Knit Robe - Onyx