The Most Stylish "OMG, I'm Engaged!" Wedding Ring Instagrams — Ever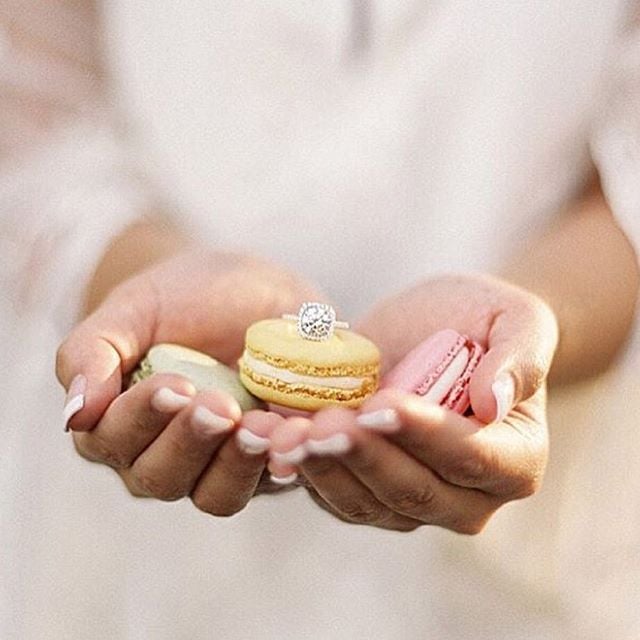 The moment you accept your stunning engagement ring, you want to snap a photo and show it off — what else? But the ladies ahead took a moment to breathe, admired every little detail, and considered the right light for showing off their unique stones.
These brides-to-be didn't just hold up their left hand and upload a quick pic to their feeds. From the way they displayed their sparklers — lightly grasping their fiancé's wrist or fashioned with additional jewels — it's clear they kept style in mind.
Read on for the 32 most fashionable engagement ring photos we could find on the 'gram, all of which scream personality and speak to a highly sophisticated taste, the same way a standout outfit would.
01
Sparkles Brightest With the Right Shades of Polish
03
Double the Rings, Double the Style
04
Designed With a Crafty Eye
05
A Rare Cut That Speaks For Itself
06
A Unique Way to Scream It Loud and Proud
07
Calm and Cool Over Cappuccinos
09
Pretty Petals and Pic-Stitched
10
So Pretty, It's Kiss-Worthy
11
A Sparkler Sprinkled With Snow
12
Found in Nature — and Keeping It Forever
13
Rocking It With Red Nails
14
'Tis the Season to Take It to Tinseltown
15
Denim on Denim With a Little Extra Dazzle
17
Champagne With the Girls Just Got More Stylish
18
An Emerald Anyone Would Say "Yes" To
19
With a Little Lady by Her Side
20
A Mighty Mug, and a Mightier Ring
21
Colored It On For the Coordination
23
Let Them Know With a Bell Sleeve
24
These Diamonds Are Forever
25
A Circle That Gives the Prettiest Snowflakes a Run For Their Money
26
Shimmering Right Through the Shadows
30
Classic With a Splash of Stripes
31
A Band to Brighten Your Day
32
The Finest Stone to Let Everything Else Fall Away