How to Refresh Your Spring Wardrobe, According to Tan France
Tan France's Tips For Refreshing Your Spring Wardrobe Are Game-Changing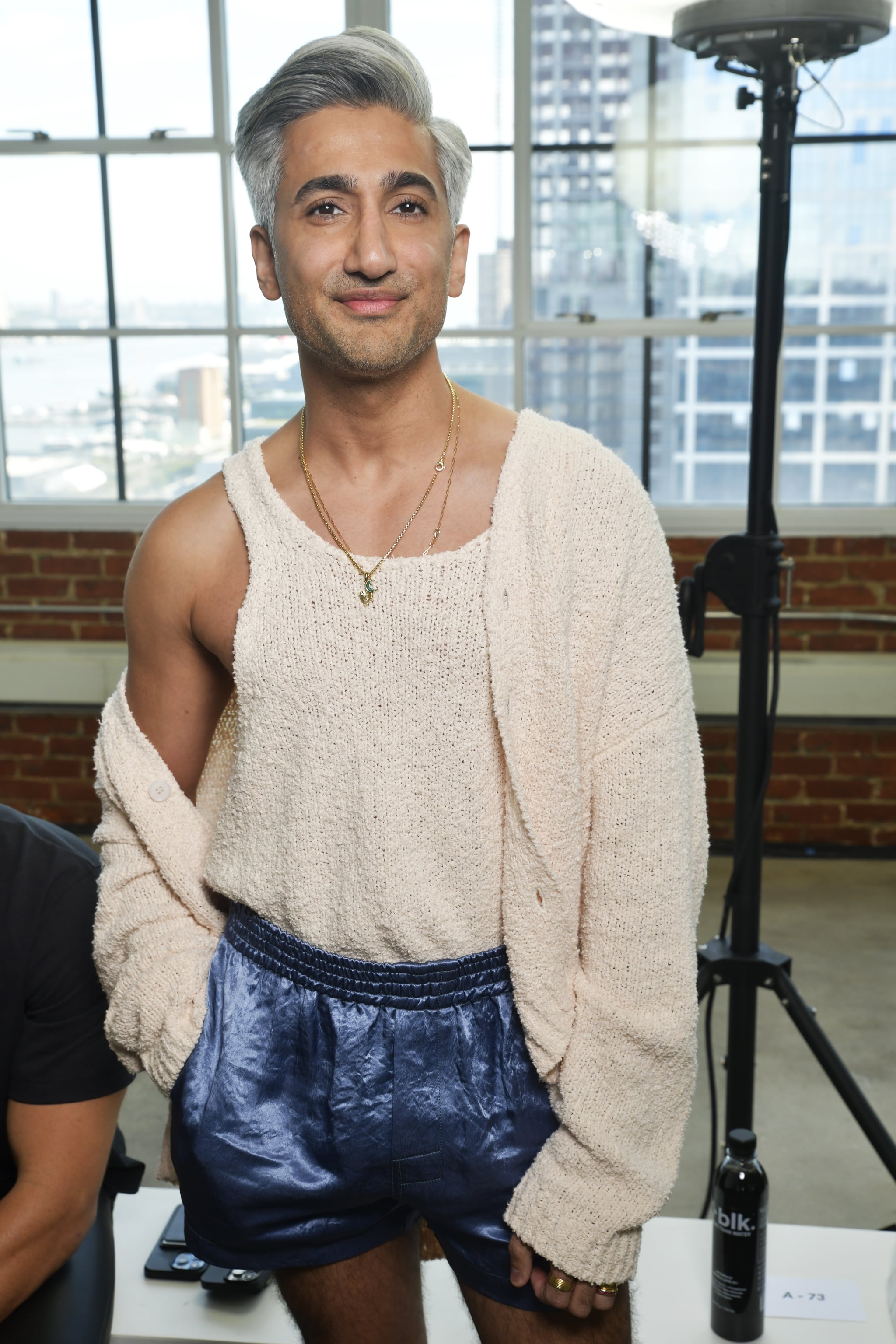 The Fashion Week runways are filled with models showcasing the hottest trends of 2023. If those colorful prints and bold silhouettes have inspired you to revamp your spring wardrobe, allow "Queer Eye" and "Next in Fashion" star Tan France to share some helpful fashion advice. Speaking with POPSUGAR as part of his new Spring Refresh campaign with Starbucks, France divulged his go-to spring styling tips, fashion trend predictions, and personal must haves.
On Refreshing Your Spring Wardrobe
"Don't feel like you have to have a massive overhaul if you're not the most comfortable with reinventing your style."
Giving your closet a complete makeover every season can feel overwhelming, which is why France advises going at your own pace. "Don't feel like you have to have a massive overhaul if you're not the most comfortable with reinventing your style," France says. "Go for really easy swap-outs. If you're the kind of person that always lives in black, maybe go for not a bright color, 'cause that's going to be too much of a shock for your system. Maybe a really dark jewel tone or a navy, or maybe graduate to a brighter look. Start with something that feels relatively close to what you're used to but not massively — a hop, skip, and a slight jump."
If you're someone who lives in sweatshirts, consider swapping out your go-to pieces for a sophisticated sweater, "maybe a cashmere." Similarly, if denim jackets are a staple piece of outerwear in your wardrobe, experiment with overcoats and blazers to elevate your personal style. "That's the one thing that people are always going to see when you're out and about. If nothing else, at least make that good," France continues. "[These are] easy swap-outs that make you feel like it's still you and you're not trying to be somebody that you can't possibly be."
Contrary to popular belief, replacing your standard pieces doesn't necessarily mean saying goodbye to the old ones forever. As a more sustainable alternative, France suggests hanging onto pieces that have the potential to make it back into your everyday rotation at the turn of the season. "I do hate the thought that every three to six months, we're like, 'OK, well, let's throw all of those things out that I spent so much money on, that people worked so hard on, that the whole world embraced for three months, and now I'm going to get rid of it as if it didn't matter,'" he says. "I actually like the idea and the fact that we keep our clothes a little bit longer."
So what's the litmus test when it comes to determining whether a piece is salvageable? France says, "Don't feel like it's something you have to throw away; if it's a piece that you might wear in the next year, give it another shot."
On Owning His Personal Style
For France, the journey to embracing every aspect of his personal style hasn't always been easy, especially when it came to incorporating elements of his Muslim Pakistani culture.
"When I was younger, I really wanted to fit in with the community that I lived in, and it was very, very, very white," he recalls. "[My mom] was so frustrated, saying, 'We have so much beauty in our culture and our clothing. Why don't you wear that more proudly?' As a kid, I was like, 'Yeah, I'm not keen to hear that.' I just wanted to fit in at school and not be made fun of for being so different from everybody else. It's so interesting how that stuck with me. Now, I'm like, 'Oh yeah, Mom, you are absolutely right. Why shouldn't I show that off proudly?' I am really proud to be Asian. So I really try and wear Asian clothing, Asian accessories as much as I can on the shows that I do, on red carpets, so that people see, 'Oh yes, there is major beauty in our culture, and there's nothing to shy away from.'"
"I am really proud to be Asian. So I really try and wear Asian clothing, Asian accessories as much as I can."
Now, as an expert in all things fashion, the "Queer Eye" style specialist always has his sights set on the latest trends. While he's not a fan of '90s miniskirts or the controversial low-rise trend making a comeback, he is excited to see more classic clothing "with a modern twist." "No one style ever truly dies," he says. "I think that there's no such thing as it's just gone away. It might have a break for a moment, but we cycle through trends quicker than ever because of social media."
When it comes to his personal style, the "Next in Fashion" star has two go-to accessories that complete every outfit: a chic bag and a stylish pair of shoes. "Over the last couple of years in particular, I always like a smaller bag, like a mini," he says. "A bag I will always throw on and I will rotate throughout the year. There are bags that feel much more spring/summer, and there are bags that feel definitely more winter."
In terms of footwear, France says, "There are certain things that just make so much sense for summer. Footwear I keep for years and years and years. I don't care if anyone thinks that's not the style anymore. If I like it, I'm going to wear it. So my bags and my footwear are on constant rotation depending on the season."
Beyond revamping his wardrobe, the designer revealed that he loves to give his mind and body a refresh with "me moments" like hiking and spending time with his family. "I am all about refreshing for spring," he says. "I spend time with my husband where we will just sit on the sofa and watch a show that we are excited about. My me moments are often with my son, which brings me so much more joy than anyone could ever imagine."
Between filming his many fashion-forward series and spending time with his family, France also enjoys winding down with a cup of coffee. "Multiple times a day, I have a routine involved around [making coffee]. It's a full-on routine. I do a french press, it's a moment," he says. As part of his partnership with Starbucks, France is offering himself up for a one-on-one coffee date with the winner of the brand's Spring Coffee Break sweepstakes. "[The winner can] sit and have coffee with me and chitchat about whatever they want," France says, adding that he's happy to discuss everything style and beyond (almost).
On Working With Gigi Hadid
As we mentally prepare to give our wardrobes a much-needed update, France is preparing for three upcoming TV releases. In addition to "Queer Eye" season seven, which does not have an official release date, France will also make his debut as the new UK host of "Say Yes to the Dress" on March 4. "Big year for the Tan France fan group, which I'm very excited about," he says.
Also, season two of "Next in Fashion," which France cohosts with Gigi Hadid, will premiere on March 3. On working with Hadid, whom he describes as "one of my best friends, a girl I absolutely love so much," France says filming never really felt like a job when they were together.
"If somebody was to ask you what it's like working with your sibling, you're like, 'I don't know, I'm just hanging out with my sibling.' That's what it felt like with Gigi," he says. "I've known her for so long that it didn't feel like work. It was like somebody put a camera on us just pissing around all day. So it was amazing." France adds that he and Hadid were deeply in tune during filming and had fun encouraging the designers to do their best work. He says, "It was easy, lovely."