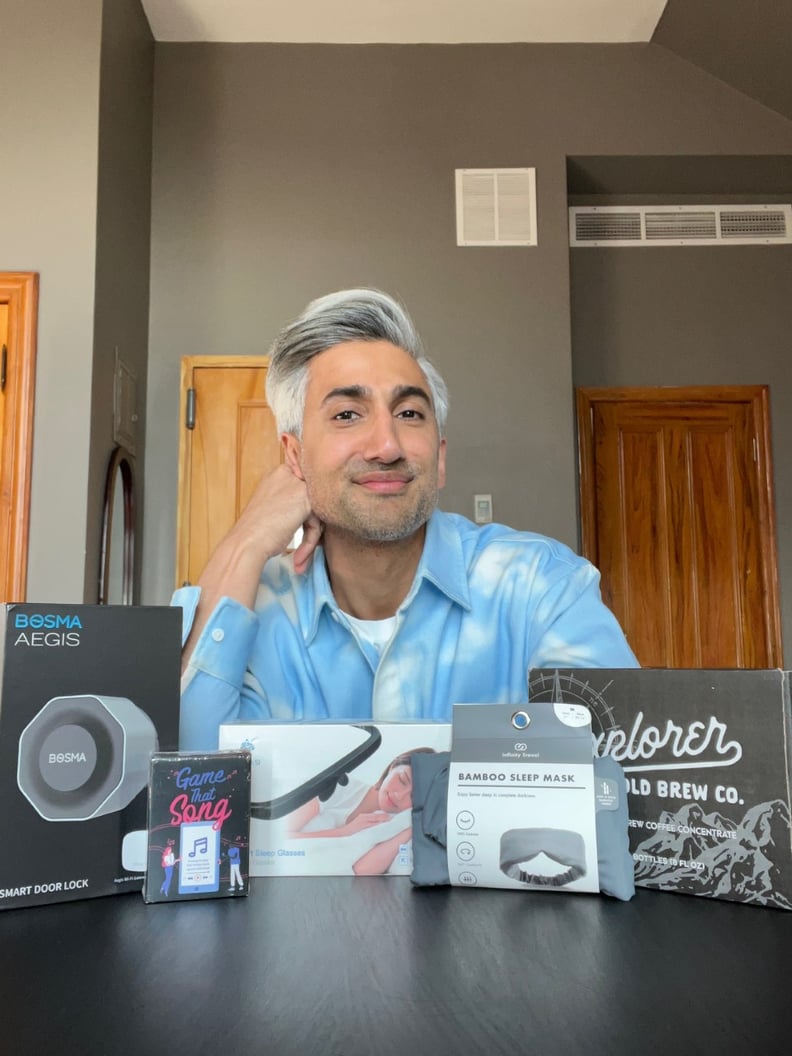 Tan France is best known for his expertise on style, but he's now devoting his energy to a whole new challenge: fatherhood. From what the "Queer Eye" star tells POPSUGAR about his first year as a dad, it sounds like it's been a transformative time.
"Gosh, he's brought so much joy into our life," France says over the phone of his son, Ismail, who was born on July 10, 2021, and whom he shares with his husband, Rob France. "I would love to say that my husband and I [are] possibly the happiest couple I've ever known. We've been together for almost 15 years. I love that man more than life itself. And then this baby came along and I realized, wow, I don't think I really understood how deep love can go. Not to diminish my love for my husband; I just don't think it's possible to love another adult the way you love a baby . . . it's just mind-blowing."
Of course, new fatherhood comes with its own set of struggles. "[The] biggest challenge is probably a lack of sleep and being sick all the time when my baby's sick," he says, going on to marvel at the extreme difficulty of something as commonplace as parenthood. "How do people do this all the time? I don't know how they did it in the old days. I don't know how my mom had so many kids . . . I can barely handle one."
France is fortunate to be surrounded by friends who are helping him on the journey. Gigi Hadid, his costar on "Next in Fashion," has given him plenty of parenting advice, as has Emma Stone. "We've been close for a while, a few years," France says of Hadid, adding that they were together "quite a bit" while filming their show.
"Just watching and learning by example is really important for parents. I don't think I realized just how much of a community one builds when you have a baby," he adds, mentioning a close friendship with Bumble executive Selby Drummond. France says only one of his "Queer Eye" costars has met his son: Antoni Porowski and his partner, Kevin Harrington. "Antoni and his partner, Kevin, are the only people who have stayed in our home since COVID two years ago," France says. "It was really cute to see my son with Antoni. He's one of my very best friends in the world. . . . It brought me so much joy. And I would like [to think] that it has encouraged Antoni to also consider maybe having kids one day."
Just as he and his costars do with their fixer-upper projects on "Queer Eye," France and his husband are teaching their child to live life with humility and kindness. "Honestly, I just hope that he's a good, kind person in a sense where he's good to everybody, not people that just look like him or who are on the same social circle," France says. They're also trying to ensure that their child grows up with a sense of perspective. "I grew up poor; we didn't have money. We were immigrants," he says. "We lived in a very poor neighborhood, and the thought that my kids might never understand what it feels like to struggle for money — I don't know what that does to a kid. It is nerve-racking, thinking about what we teach our son and the person he might become."
France is working to live his own life according to those same values, centering inclusivity and giving back in his work. He recently launched a gender-neutral outerwear line. "I've always said that I couldn't care less what gender somebody designs," he says of the initiative. "I wanted it to be clear that it doesn't matter how you identify when it comes to gender. If you'd like one of my pieces of outerwear, I want you to wear it and feel great in it. What I wear, especially in the public space, is so often traditional women's wear. If it makes me feel good, that's all that matters."
France is about to celebrate his very first Father's Day, and in honor of that, he's lent his good taste to a specially curated Amazon Launchpad storefront full of suggestions for the perfect Father's Day gifts. "The products that I've selected are from small brands and startups," he says. "I was a small-business owner, and that was the point that really excited me about this."