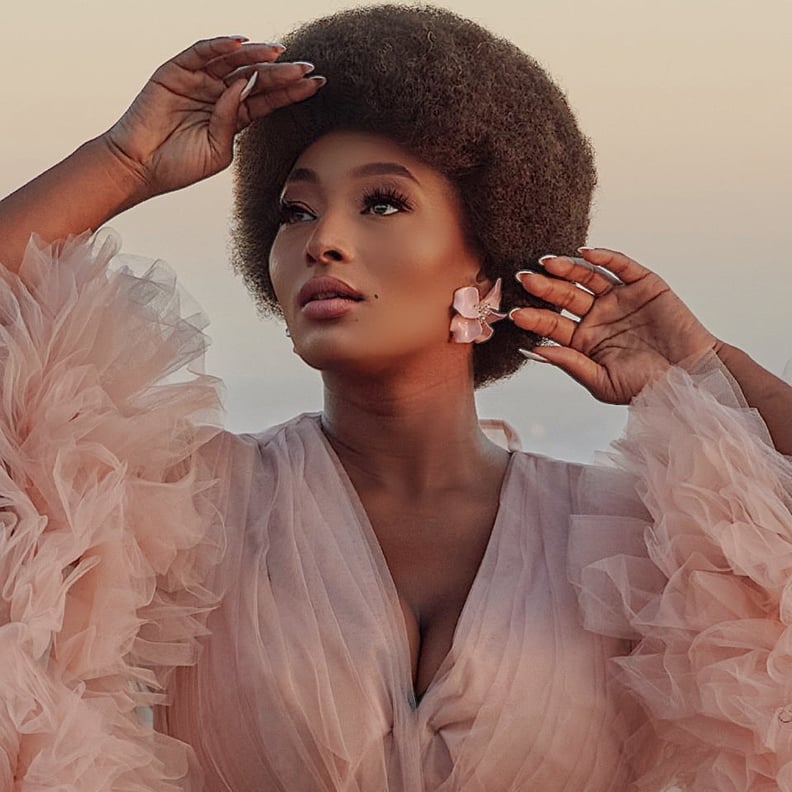 Thick House | The Shade Room
Thick House | The Shade Room
I've been a Toccara Jones fan since the early aughts of America's Next Top Model, when she was the show's very first "plus-size" contestant. I have made my love for this woman no secret and credit her as one of the first people I saw on television that celebrated her beauty and body in an unapologetically real way. To me, Toccara redefined what a model could look like, despite the seemingly universal beauty standard of being very thin, and oftentimes, very white. She famously proclaimed in her ANTM casting that she was (and certainly still is) "big, black, beautiful, and loving it," and that energy, paired with her undeniable beauty, has stuck with me since the show aired back in 2004. It was the representation for me!
Fortunately, since Toccara's reign, other curve models have come onto the fashion scene who continue to break down the barriers that have long existed in fashion. Now that size inclusivity is more visible on the runway and in retail, it makes a lot of sense that Toccara is now the host of The Shade Room's Thick House, a new competition show in search of the next curve model sensation, airing exclusively on Facebook Watch tonight. She'll be joined by judges including celebrity stylist EJ King, fashion blogger and stylist Kelly Augustine, and Glee star and Dancing With the Stars alumna Amber Riley as a special guest judge.
I finally got the chance to live out my teenage dream and catch up with Toccara on Zoom to get the tea on her new show, her journey from being a model competition contestant to becoming a host, and everything in between. Read ahead for the full conversation!
POPSUGAR: First off, your Instagram is filled with so many fabulous swimsuit photos — you're always giving us very zen glamour at the beach. What are some of your favorite brands, and what silhouette do find the most flattering for curvy girls?
Toccara Jones: Girl, yes! First of all, I'm a Pisces. I love the water. The water is my happy place. I like all water activities: I love snorkeling, I love boats, I love floating, I love swimming. I've really been on my own spiritual journey, just tapping into myself, my wellness, my health, and my spirit. The water is very serene and brings you very close to God. If you're trying to impress me or woo me, take me to the water, honey! As far as swimsuits, it's always really hard for me to find [swimsuits] because I am a naturally big-busted woman. Most of the bikinis you see are custom-made, but I'm actually coming out with my own swimsuit line in the next few weeks — I just picked up samples yesterday! It's for naturally big-busted women, so I'm staying in my niche.
PS: Have you always been interested in holistic self-care, or are you newly leaning into it?
TJ: Are you familiar with @queenafua and @queenofgreen? Queen Afua is a healer and the Queen of Green [Lauren Von Der Pool] is a vegan chef. We have an ashram, which is a healing place where people come and heal. I'm actually a licensed massage therapist, so I can practice healing touch. They come in, and we're not only healing ourselves — we're healing others, too. We're always on a journey, but being aware of the journey and accepting the journey is like being baptized. I think it really hit me maybe five years ago.
PS: How is Toccara Intimates doing right now?
TJ: Since I'm an entrepreneur, I'm doing all these things by myself. I didn't have a big company back me when I took on [Toccara Intimates]. How many young Black girls do you know who have a bra line? It was one of the hardest things I probably could have picked! I should have done lipstick or a waist trainer. I have one style of bra, but I have 25 sizes in that one style, and I have to make sure that my D cups fit just like my J cups. It's a very technical thing. I'm still doing intimates — it's just little more taxing and a little more tedious.
"The average size of an American woman is a 14."
PS: The Ford Mustang shoot on ANTM lives rent-free in my mind because they did not have clothes that fit you. I vividly remember watching that and thinking how wild that was. Thankfully, the industry seems to finally be starting to celebrate different body types and becoming more inclusive. Do you still face some of those obstacles today? Has it gotten better or worse, in your opinion?
TJ: Personally, I am still on the border [of curve sizing]. I'm a 10-12, naturally busty, and more top-heavy than bottom-heavy. I'm shapely — I got that hourglass thing going on in real-life — I just need a lil' more hips. I like to call it "the sweet spot." When I'm doing photo shoots and people are styling me, sometimes they underestimate me because they think I'm a little too small than I actually am, or a little too big. It's a hit-or-miss thing. Then, for my plus-size girls who are actually 12s and 14s and 16s, I think we have a lot of options. There are great boutiques and staple department stores that are carrying plus-size clothes. We have come a long way. The demand is out there because we are the consumers. The average size of an American woman is a 14. She is the one making money. These are her dollars being spent in this economy, so we better cater to her!
PS: How did your experience on ANTM influence your approach to Thick House?
TJ: Even if I wasn't aware of it, it still would have [influenced me], because that's where I come from. It was such a pleasure to be a part of something like this, and it's been a long time coming. When I was on Top Model, everyone said I should have won and how they need to have a plus-size competition. I am so grateful and so blessed that The Shade Room reached out to me — I would have been so mad if they picked somebody else! It was wonderful because, as a former contestant, I understand how the contestants feel. It brought back memories of auditioning and doing the competition, and just the camaraderie between the girls. My judges were absolutely awesome — it was so genuine, and we fed off each other. It wasn't scripted, and I tip my hat off to the production company and The Shade Room for that, because they allowed us to be our authentic selves. There was nobody in our ear. It was 100 percent real, and that is what is going to really make this show a hit.
PS: Besides the fact that the show is centered on curve models, what do you think Thick House does that other model competition shows haven't already done?
TJ: The "besides" is everything. I'd say the fact that we have eight contestants and they are all women of color between a [size] 12 and [size] 18 with all-natural bodies. It don't get no better than that! We haven't seen that. I'm not trying to say anything negative about women getting their bodies done, but when we use the word "thick," we are conditioned to think that means fake breasts, fake hips, a fake ass, and a small waist. When I was reading the comments [after the show's announcement], I saw a lot of people [saying] that they hoped these girls are not the kind of thick that has stretch marks, rolls, fat . . . whose t*tties don't hang. We have women you can identify with. If people were able to see themselves in me when I was on Top Model, they're going to be able to see themselves in these eight different body shapes, in these eight different women, and that's amazing.
PS: What do you hope viewers take away from this show?
TJ: First, I hope that they are entertained. I hope that they fall in love with one of the contestants and get themselves a new lil' Instagram hottie that they can follow. Most importantly, I hope that they're inspired to follow whatever their dream may be, whether it's being a model, working in the entertainment industry, singing, dancing, schooling . . . just being inspired. Documentaries always inspire me. When you see someone's story and you see them fighting to be the best that they can be, it should strike some kind of passion in you and encourage you to do your best, too.
Toccara Jones With Judges Kelly Augustine and EJ King
PS: Is there any advice you would give to your younger self, if you had the opportunity?
TJ: Kids are our future, and they tell you that the truth comes out of the mouth of babies. Toccara in 2021 looks back at Toccara in 2005 and she gets inspiration from her. Because, did you see her?! Toccara back then came busting on the scene. I watch her and get excited. No wonder they liked you, I like you too! She is just so authentic and so real. She came in and was like, "I'm here! I'm big, black, beautiful, and loving it! I'm kicking 200 and above. I want America to know that! You can be beautiful!" Toccara [back then] was giving me life, honey. I love watching her; there's nothing I can tell her. She had it together. Listen to her, she knew! That's my friend. When I feel some kind of way, I just go back and listen to that Toccara.
PS: Many think ANTM didn't age well, especially some of the harsh commentary from the judges. Did that make you want to do things differently on Thick House?
TJ: I have been hearing that too. One of the contestants that we eliminated DMed me, and I don't remember saying what she said I said, but if I did, don't listen to me, be all you can be! You should never let anybody tell you what you can't be. I don't care if it's me, your mom, or anybody else; you discard that. Don't listen to that bullsh*t. With Tyra [Banks] and America's Next Top Model, and even with our show, we have to say good things and we have to say bad things, and that's life. We're making TV. You can do magic with editing. In my personal experience in the modeling industry, going to the agencies is just as rough. They are going to tell you you're fat. They are going to tell you to lose weight. They're going to tell you to cut your hair. They're going to give you constructive criticism, and it may be mean, but that's just the industry. Top Model was a reflection of that. There are real Janice Dickinsons out here. You gotta have thick skin in this industry. Today, with social media, the way people get at you behind this little screen, you don't even have a face to it! That's life.
PS: As a judge on Thick House, were you thinking of judging the competition like the modeling industry judges you in general?
TJ: We have to give our honest opinion. I wasn't trying to be fake or phony or make it more or less than what it was. We were all authentic and we were all invested in the models. Because I didn't win America's Next Top Model but still went on to be a successful model in this industry, I want each girl to go on and be great, whether they win or whether they're the first to go home. We are invested and want them to do well regardless. Sometimes you have to give tough love. You gotta get your experience somewhere. You gon' learn today, baby!
PS: What's next for you? Do you hope to do more on-screen work?
TJ: Actually, when I get off this call I have an audition for a movie, so let's keep our fingers crossed. I am out here in Hollywood doing what all actresses do. You gotta come out here and beat the pavement. People think that things happen overnight, or that people give it to you. I just tell people you got to stay here. It's that staying power. It's what you do in the meantime, the in-between time, because your time is going to come. Trust and believe that. So when it comes, you've gotta be ready for it. Are you prepared for it? I'm eating the right foods, keeping my body in shape, keeping my mind together, keeping my spirit together, keeping my heart together, keeping myself together, so when I go out on these auditions, they don't get me down and I don't get discouraged.
Thick House premieres on Facebook Watch tonight.
This interview has been edited and condensed for clarity.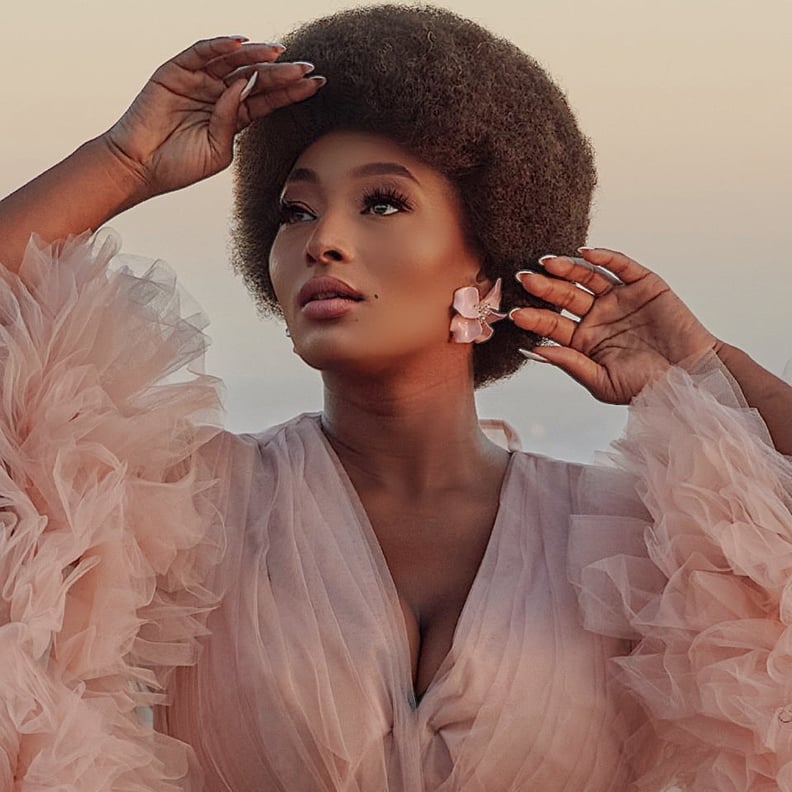 Toccara Jones