How to Wear Your Classic Button-Down Right Now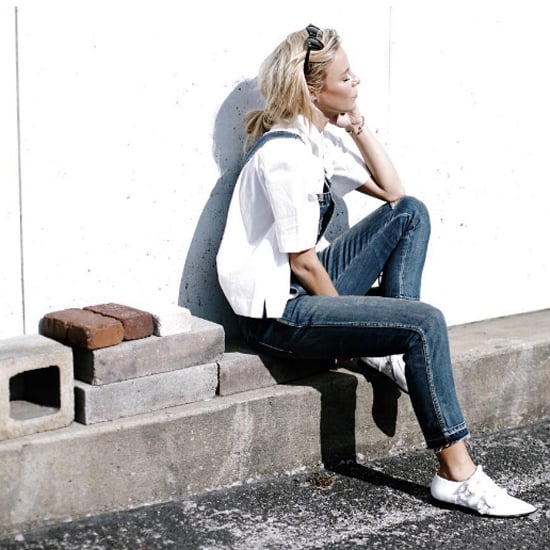 We definitely think of our button-downs as basics in our wardrobe, but there are plenty of not-so-basic ways to wear them. Since most of our collared shirts come in neutral colors or standard prints like pinstripes and checks, they go with virtually any bottom we pull out from our drawer, making for an effortless yet polished look.
But when you're wearing such a trusty staple, there's got to be a way for you to stand out from the crowd and show off your personality with a quirky touch. Lucky for you, we found plenty of hacks for twisting and tying up your button-downs, plus inspiration for what to wear with it as is. Read on to style your next unique outfit, and get ready to loosen up those buttons, babe.
01
Oversize as a Dress With Sandals
03
Backward
Twist a collarless style around and unbutton all the way down your back.
05
With the Sleeves Undone, to Create a Bell Shape
06
Under a Sweater to Add an Unexpected Pattern
07
To Mix Navy and Black at the Office
08
In a Casual Knot With Boyfriend Jeans
09
Untucked With Flared Pants and Mules
10
Undone But Tucked Tightly Into Your Cutoffs
11
With the Sleeves Rolled and Complete With Sneakers
12
Tied Around Your Waist — Just to Add More Color
13
As an Off-the-Shoulder Top
15
To Add a Modest Touch to a Sexy Slitted Skirt
16
To Add a Preppy Twist to an Edgy Leather Vest
17
To Create the Perfect Canadian Tuxedo
18
With Distressed Shorts and Sandals
19
Under Your Favorite Patterned Dress
20
With Pinstripe Slouch Shorts For Maximum Tailoring
21
Under a Military Green Parka
22
Creating Contrast Sleeves For Your Trench Coat
23
With a Button-Front Skirt and Heels
25
Undone Just at the Bottom
26
With Rolled Skinnies and Slingbacks
27
To Show a Slip of Lingerie Underneath
28
With a Drop Choker That Extends Below Your Buttons
29
Open at Both the Top and the Bottom to Create a Triangle Shape
30
With a Tie, Because There's Nothing Sexier Than Menswear
31
Looped Up Into a Crop Top
33
Long With Over-the-Knee Boots
34
To Form a Totally Neutral Outfit