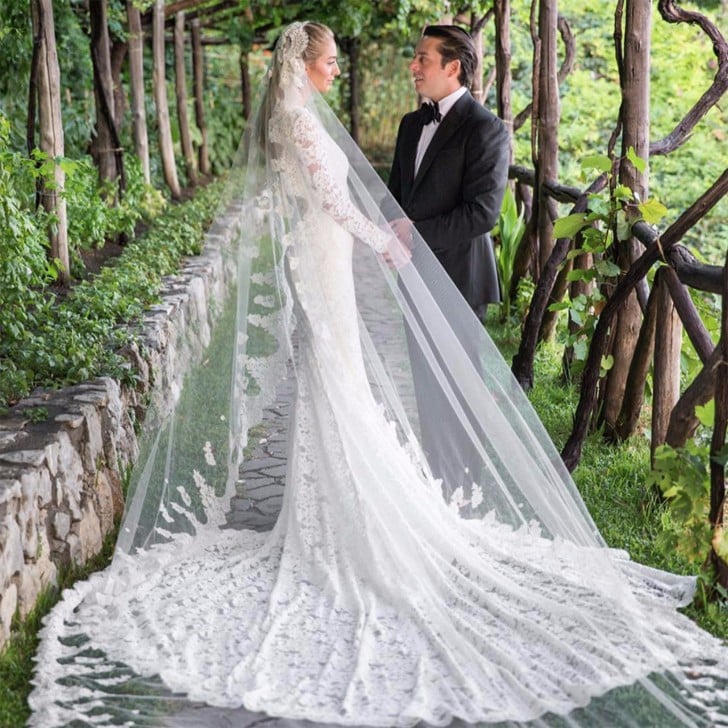 Bumble founder Whitney Wolfe got married in Postiano, Italy, and had the type of wedding you'd expect to find on Pinterest. The three-day celebration kicked off with Whitney in designer dresses and dinner under lemon trees. On her actual wedding day, the bride wore a long-sleeved lace gown by Oscar de la Renta. The dress hugged Whitney's silhouette and fanned out at the bottom into a beautiful array of lace. She wore a matching veil with lace embroidery and carried an Edie Parker monogrammed clutch.
But this wasn't the bride's final look. Postceremony, Whitney changed into a fringed Naeem Khan fringe number, which she called her "dancing dress," followed by another change into a silver, metallic gown that also hugged her figure. The bride's wedding wardrobe for the weekend was so spectacular, you'll have a hard time picking out your favorite look. Read on for a glimpse at Whitney's wedding.
Bumble Founder Whitney Wolfe Got Married to Michael Herd
The Couple Held a Destination Wedding in Positano, Italy, at Villa TreVille
The Bride Wore a Lace Oscar de la Renta Gown
The Train of Her Dress Swept Across the Floor
Whitney Accessorized With a Matching Lace Veil
A Close-Up of the Lace Bodice
The Dress Looked Stunning in Photos
Guests Also Wore Their Best Gowns For the Occasion
It Was Hard to Pick Favorites
Guest Dined With This View
For the Reception, the Bride Made a Quick Change
Into a Silver Strap Dress
Congrats to the Happy Couple!