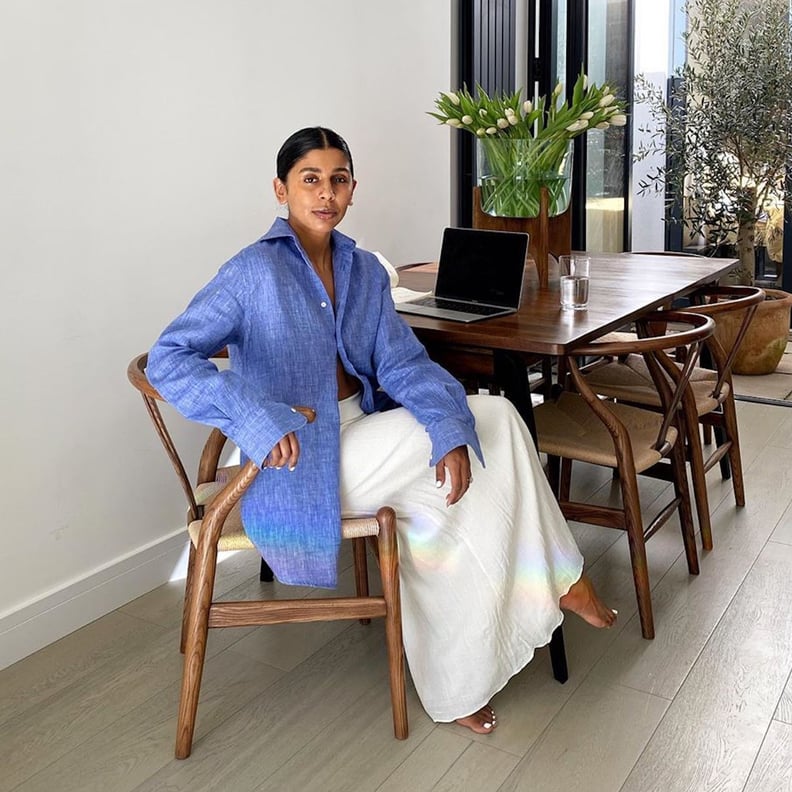 The beauty of working from home is that you have a little extra time in the morning — all to do things like work out, remember to take your dinner dish out of the freezer to thaw, and oh, I don't know, maybe read your horoscope. You can also maximize your time choosing an outfit and minimize your time perfecting your makeup if you so choose. If that's not a silver lining to setting up at your own personal desk, I don't know what is.
But just because you have the extra hour to get dressed instead of commute, doesn't mean styling a look magically becomes easier. In fact, it can be even more difficult. How do you construct an ensemble that's equal parts chic, luxurious, and mood elevating? Do you debut that new ivory blouse even though no one will be able to see it in full via video conference?
I did a little research for you and uncovered what your personal style vibe should be based on your zodiac sign. Even if you're not the type of person who delights in a morning horoscope the second the alarm sounds, I promise you this fashion report will benefit your day.
Aries (March 21-April 19)
The Aries is the most active of the signs, always energized and on the go. They're also confident, and while they might reach for a red silk slip on a night out, they're cool with an elevated workout look when they're putting their all into a project, simply because it gets the job done.
Taurus (April 20-May 20)
Tauruses are known for their stubbornness, and when it comes to shopping, that extends to their choice in clothing. As in, if they're familiar with a quality brand, they'll shop it time and time again. They're also sensual and reach for luxurious fabrics, so work from home vibes can range from oversize linen blouses and free-flowing skirts to butter-soft, velvet pantsuits.
Gemini (May 21-June 20)
Geminis are the print mix masters. Their closets are filled with graphic patterns and expressive colors, and they like to play around with accessories and mis-matched looks. Geminis will impress, even over video chat. Think: statement earrings and bright blouses that are major conversation starters.
Cancer (June 21-July 22)
This sign is all about the romance. Cancers love feminine silhouettes, and their favorite dresses make them feel dreamy. Since they're so intuitive, they can read a room and are well-aware that outfits directly affect mood. Trust that they'll always be in something whimsical, from head to toe.
Leo (July 23-August 22)
Leos are all about the drama. Their outfits are expressive and out-of-the-ordinary when it comes to texture and silhouette. Of course, they also love color. Leos are ahead of the game when it comes to knowledge about fashion and art, so expect them to be wearing an up-and-coming designer you've never even heard of. They'll definitely be ready to chat about what they're wearing when they enter the video conference.
Virgo (August 23-September 22)
Virgos are practical in the sense that their outfits are pretty no-fuss. That said, they're not sloppy. Virgos like to get down to business, so they'll be in something next-level chic that doesn't distract from the job and is likely sensible for getting work done. If there's a big to-do list, you won't find them in a sweat suit — put it that way. Think: well-fitted trousers, loafers, and streamlined purses.
Libra (September 23-October 22)
Libras have an elevated, designer-heavy wardrobe, and there's no denying it. Even when they're working from home, they'll pull out an excellent suit and logo belt. Even though their style is rather refined (in the sense that they're not sitting at a work desk in a floor-skimming Valentino maxi dress), they're still trendy. So pantsuits have prints and mules are a luxe, chocolate brown instead of plain black. When in doubt, Libras just might stalk Rosie Huntington-Whiteley's feed for WFH inspiration.
Scorpio (October 23-November 21)
Above all else, Scorpios are resourceful. They will probably end up looking pretty darn cool most of the time, but believe it or not, their focus was not on their outfit when they woke up; they were probably thinking about their to-do list. Scorpios tend to wear a lot of black, and their confidence exudes from within. Even though they might sign on from home in the same tough leather jacket every day, trust that their hearts are bursting with color.
Sagittarius (November 22-December 21)
The Sagittarius loves to make a statement. They'll wear that exaggerated sleeve or eccentric top people always shy away from. The Sag is the very definition of the multicolor sequin minidress on a night out, but while working from home, they'll be the ones in the maxi that deserves a mirror selfie for sure. Always expect the Sag to stack on plenty of jewelry, too.
Capricorn (December 22-January 19)
Capricorns usually have a uniform. So, even if that means jeans and a t-shirt for a day spent typing away at the home desk, it's fitted like so: tucked in top, statement necklace, and heels. Sure, accessories may vary, but think of their WFH outfit as one-two-three chic.
Aquarius (January 20-February 18)
The Aquarius is unique in their own right, and they don't follow trends. They wear just what they like, and mood definitely affects what that might be on any given day. They're the type of person who can throw on a mishmash of pieces — like a bright blue jacket, sweats, and colorblock sneakers — that just works. And you're sitting there conferencing with them on FaceTime like, "What? How do you look so cute in that?!"
Pisces (February 19-March 20)
Ah, the bohemian queen. The Pisces dresses like they're attending a music festival, even when just lounging in bed. The Pisces is forever wise, so no one questions their long, embroidered ivory gown on a rainy day. In fact, their wardrobe doesn't get much more casual than this. Even pajamas have intricate details, so just acknowledge that they're in tune with nature and let their spirit shine.