100-Burpee Challenge
Get Stronger Every Day With This 100-Burpee Challenge
I was shocked when I walked into CrossFit and the WOD (workout of the day) said "100 Burpees." I had never done that many in my life at one time, and it did not sound fun. I wasn't even sure I'd be able to do it.
But after having gone to CrossFit five times a week for three months, I was in pretty good shape. And guess what? It didn't suck as much as I thought, and it only took me about 10 minutes. The coach said this is a great workout to do in your hotel room while traveling or if you're short on time. My heart was pumping, I was dripping sweat, and my muscles felt worked! Now I'm kind of loving the 100-burpee workout!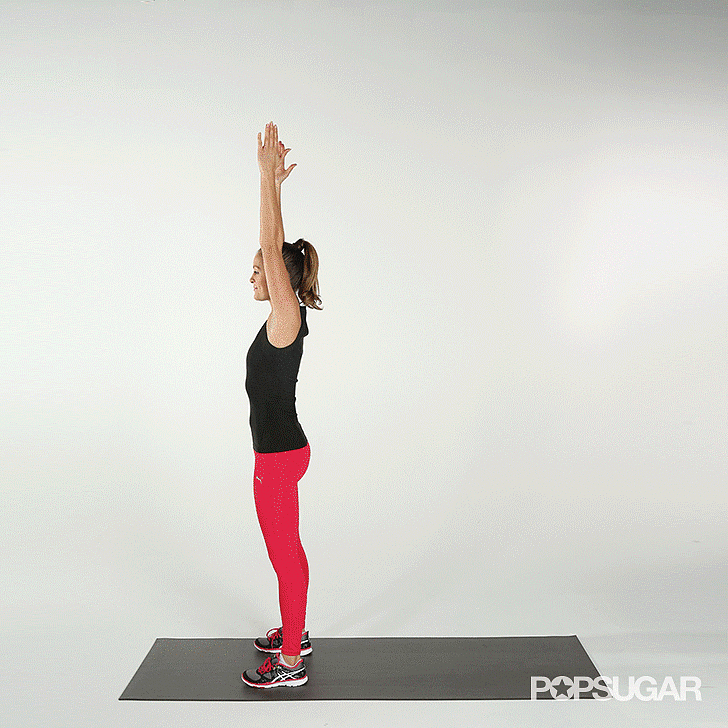 I realize this isn't something anyone would want to just jump right into, so here is a four-week plan to get you up to the full 100. Aim to do 25 by the end of the first week, 50 by the second week, and so on until you make it all the way to 100. Follow the plan below. Not ready to commit to a month? We have a two-week burpee challenge for you to try.
How to Do a Basic Burpee
Begin standing with the feet hip-distance apart.
Lower into a crouching squat with your hands on the floor.
Do a squat thrust by jumping your feet back into a plank position.
Do one basic push-up, bending the elbows, touching the chest to the floor, and then straightening back to plank.
Step or jump the feet forward to the hands and come into a squat.
Do an explosive jump straight up, getting as much height as you can.
The Plan
| Day of Month | Number of Reps |
| --- | --- |
| Day 1 | 8 |
| Day 2 | 11 |
| Day 3 | 14 |
| Day 4 | Rest |
| Day 5 | 17 |
| Day 6 | 21 |
| Day 7 | 25 |
| Day 8 | Rest |
| Day 9 | 30 |
| Day 10 | 35 |
| Day 11 | 40 |
| Day 12 | Rest |
| Day 13 | 45 |
| Day 14 | 50 |
| Day 15 | 55 |
| Day 16 | Rest |
| Day 17 | 60 |
| Day 18 | 65 |
| Day 19 | 70 |
| Day 20 | Rest |
| Day 21 | 75 |
| Day 22 | 80 |
| Day 23 | 85 |
| Day 24 | Rest |
| Day 25 | 90 |
| Day 26 | 95 |
| Day 27 | 100 (you made it!) |
| Day 28 | Rest (you deserve it!) |
Image Source: POPSUGAR Studios