1,400-Calorie Meal Plan
A 1,400-Calorie Meal Plan That Will Keep You Full All Day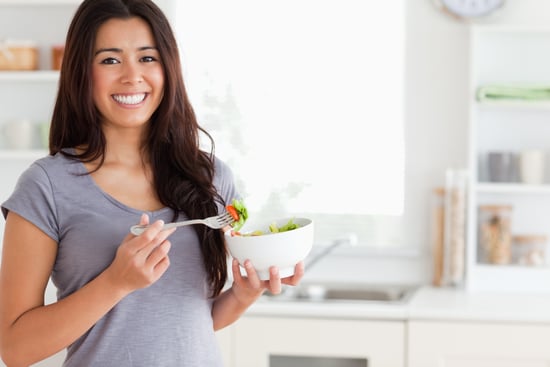 Source: Thinkstock
If you're trying to lose weight, understanding how many calories you're eating in a day can really help. But if you think that you have to deprive yourself and your grumbling stomach all day long in order to see the scale drop, think again. The following meal plan clocks in at 1,400 calories and is full of healthy, whole foods that will keep you full and help you get the important nutrients you need every day. Use this plan as a guide if you are looking to reduce calories safely.
Breakfast: Antioxidant Chia Berry Smoothie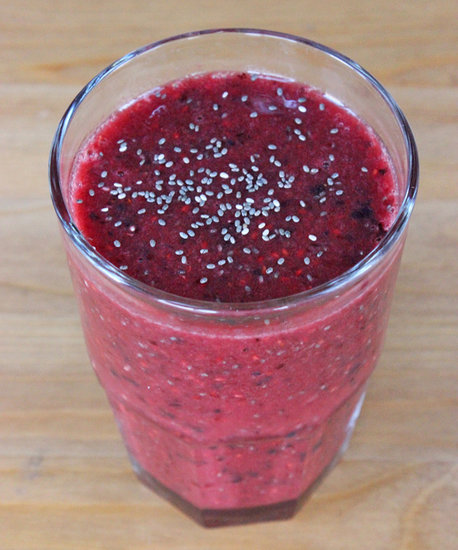 Photo: Lizzie Fuhr
Start your day off right with this fiber-rich mixed berry, pomegranate, and chia smoothie, which will keep you full and energized.
Calories: 233
Midmorning Snack: Grapes and Apples With Peanut Butter Greek Yogurt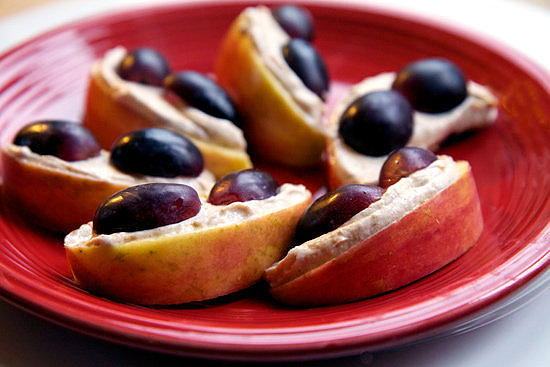 Photo: Jenny Sugar
If a late-morning hunger attack hits, don't make a vending machine trip. The creamy peanut butter and Greek yogurt spread in this recipe is a cinch to whip together and is a lower-calorie option than just dipping in regular peanut butter. Make these grape and apple snacks in the morning to take with you to work.
Calories: 150
Lunch: Chard Veggie Burger Wraps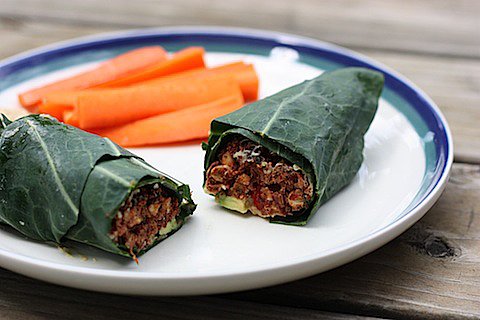 Source: Eating Bird Food
A leftover veggie burger is perfect for lunch the next day. This recipe for chard veggie burger wraps takes almost no time at all to prepare but is filled with different textures and flavors to keep you satisfied. If you make it with these 202-calorie quinoa veggie burgers, your wrap will be around 316 calories total. Add a side salad of mixed baby greens with homemade oil and vinegar dressing (around 100 calories) to round out your meal.
Calories: 416
Get the rest of the plan after the break.
Evening Snack: Spicy Black Bean Hummus and Carrots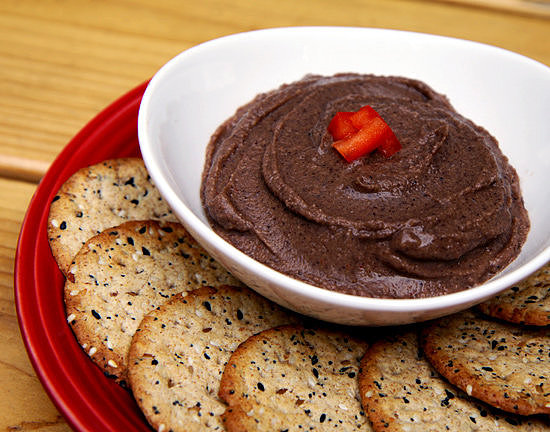 Photo: Jenny Sugar
You've finally made it home after a long day, and dinner isn't for another hour. To help tide you over, keep a container of hummus and cut veggies in your fridge for an easy snack. This spicy black bean hummus is a good alternative if you're sick of your hummus routine. Serve two tablespoons of this black bean hummus with three ounces of baby carrots (about six to 10 carrots) for a total of 83 calories.
Calories: 83
Dinner: Creamy Penne Notka
Photo: Lizzie Fuhr
A comforting bowl of whole-wheat pasta fills you up and hits cravings, so if you're in the mood for pasta night, make this lightened-up penne alla vodka recipe, which uses less cream and no alcohol to keep calories low. If you'd like to add meat, a half-breast of roasted, skinless chicken will add 141 calories to your dinner's total, so you can swap it for your late-night snack (below) if you are trying to stay under 1,400 calories.
Calories: 324 (without chicken)
Dessert: Chocolate-Covered Frozen Banana Bites
Photo: Jenny Sugar
Craving something creamy, cold, and chocolatey? You'll thank yourself for making a batch of these chocolate-covered banana almond butter bites before you make dinner. Just pop them in the freezer and enjoy them after dinner's done. Each sandwich is 49 calories; savor one to satisfy cravings.
Calories: 49
Late-Night Snack: String Cheese and Honey Crackers
Photo: Jenny Sugar
If you've gotten into the habit of eating before bedtime, make sure the snack you choose doesn't undo your hard work from the day. A snack that's under 150 calories, like a mozzarella stick and honey crackers, can fill you up the right way. Check out this and more 150-calorie snack ideas here.
Calories: 144
Total calories for the day: 1,399