Adam Rippon Short Program Routine Olympics 2018
People Are LIVING For Adam Rippon's Total Diva Performance at the Olympics (Judges Included)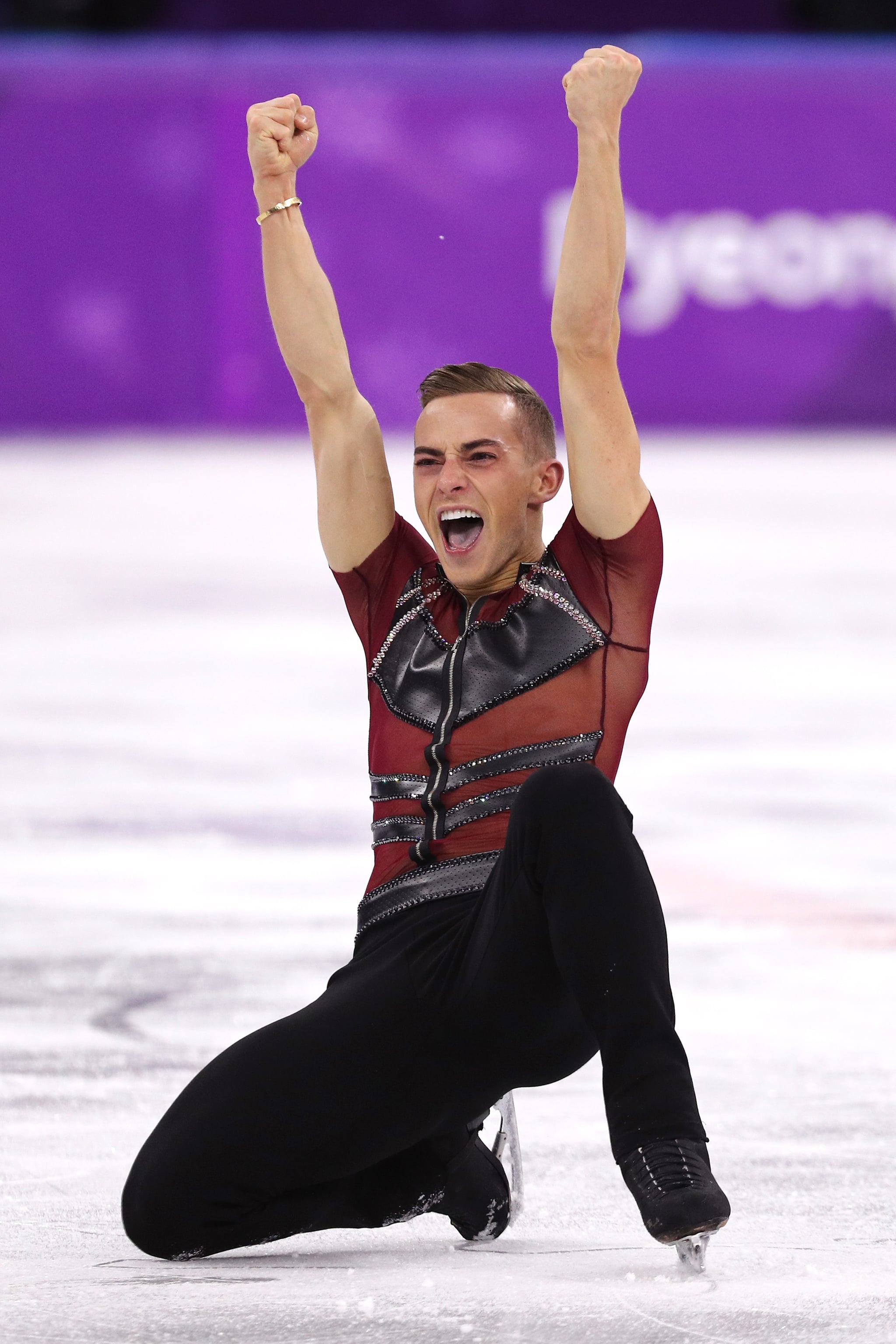 "I may not be the best, but I'm the most fun," Adam Rippon told NBC live on-air before he took the icy stage for his men's short program performance. And fun was an understatement, because holy sh*t, he slayed. It was like watching someone fabulous turn up in the club, but in the most elegant and flawless way . . . and with blades strapped to the bottoms of their feet.
The judges were apparently picking up the diva vibe Adam was putting down, too: they gave him one of the highest scores of the night, 87.95, which temporarily launched him into first place.
Adam Rippon probably dedicated this short program to Reese Witherspoon. #WinterOlympics https://t.co/fmMl0BMYXF pic.twitter.com/gu22IoSjMk

— NBC Olympics (@NBCOlympics) February 16, 2018
For reference, here's the full routine he performed in Pyeongchang (this video is from earlier this year).
And, of course, everyone in the crowd and on the internet is living for it. Here are some of our favorite reactions (so far):
. @Adaripp with the Ida Corr remix, flashy top, and not a hair out of place 👌🏻

— Lindsey F (@lphish) February 16, 2018
after watching @adaripp skate:
my skin is clear
my crops have been watered
my depression has been cured
i have 20/20 vision
my rent is paid
my college retroactively awarded me a 4.0 gpa
i got at least 8 hours of sleep#OLYMPICS pic.twitter.com/gzarjIDzgx

— Quinn (@QuinnKeaney) February 16, 2018
If @Adaripp had a weekly show, WE WOULD WATCH IT HUNNI👏🏻👏🏻👏🏻👏🏻🇺🇸🇺🇸🇺🇸🇺🇸⛸❤️⚡️🙌🏻🙌🏻🇺🇸🇺🇸🇺🇸🇺🇸🇺🇸👏🏻🙌🏻🙌🏻❤️⚡️🇺🇸🇺🇸🇺🇸🏳️‍🌈🏳️‍🌈🏳️‍🌈🏳️‍🌈⚡️👏🏻❤️⛸🇺🇸🏳️‍🌈❤️⚡️ pic.twitter.com/Kp653C2tIX

— Mike Kelton (@mikekelton) February 16, 2018
@Adaripp YOU ARE AMAZING! Just watched your short program...WOWZA! I'm on my feet screaming. You are an American treasure!

— LeeAnne Clark (@LeeAnneWrites) February 16, 2018
SLAY, QUEEN! #AdamRippon #Glamazon

— Susan Arendt (@SusanArendt) February 16, 2018
ALL RAVES WILL NOW BE HELD AT ICE SKATING RINKS IN ADAM RIPPON'S HONOR

— Julia Alonzo (@juliaalonzo_) February 16, 2018
How did he land that axel?! @Adaripp that was amazing!!!! Loved it, so worth being up at 350am for!

— helsinkibaby (@helsinkibaby) February 16, 2018
@Adaripp you SLAYED that ice baby. You deserve that GOLD! Slay baby slay! You inspire me. #AdamRippon #myabsolutefavorite #TeamUSA

— Danielle Smitty (@daniismitty) February 16, 2018
Holy hell. @Adaripp you skating to what we dance to in the gay bars is what I could have used as a young gay kiddo. Thank you for being YOU and being amazing these #Olympics

— Lindsay S-K (@GeeketteLindsay) February 16, 2018
This is the closest I will ever get to dancing in da club with #AdamRippon gosh darn it. #Figureskating #Olympics

— David B. Connor (@DannyCinicic) February 16, 2018
I dont like Adam Rippon as much as some of the other Olympians but he just fucking rocked that

— Austin (@NotDWright) February 16, 2018
Can I just say @Adaripp just slaying out on the ice. Like damn!! Jaw dropping performance!! 😍😘🙌

— Cat Huang (@Aero_Saber) February 16, 2018
there's no thinking about it @Adaripp is a TREASURE and his 🤫 right in front of the judges was so saucy #Olympics #TeamUSA

— Sherry (@slchen_) February 16, 2018
@Adaripp FUCKING LIVING FOR YOU RIGHT NOW 😭😍 literally the greatest program I've ever watched in my whole 23 years of life

— sliz (@slizander) February 16, 2018
Image Source: Getty / Maddie Meyer