The Best Dairy-Free Yogurts
If You Miss Eating Yogurt, These Are the 6 Best Dairy-Free Options
When going dairy-free, the number one food most people mourn over is their loss of cheese, but a close second is yogurt. Creamy, sweet, and easy to find, it's a great source of protein and probiotics, and your spoon can't help but feel sadness when it has no more yogurt to dip into.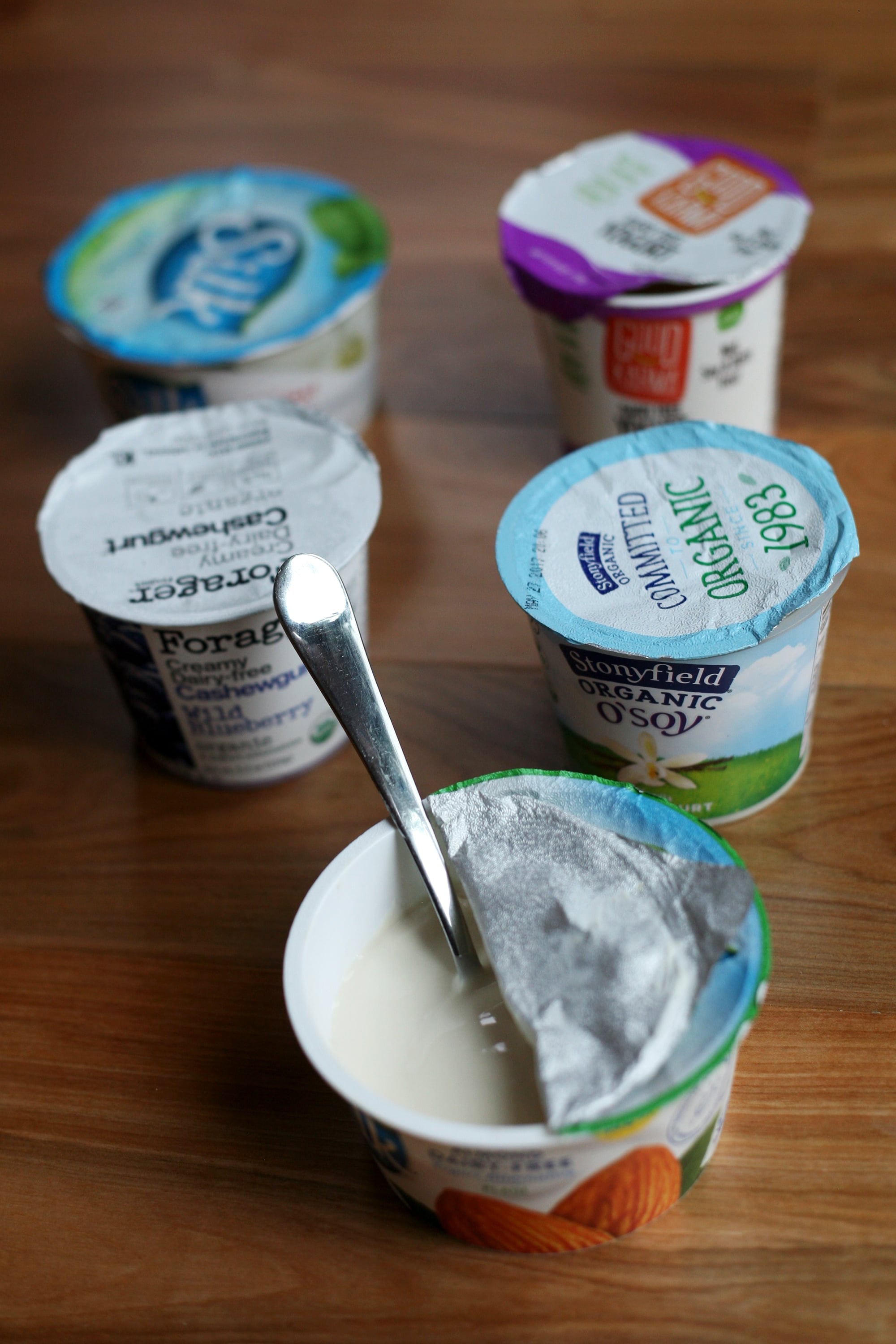 But there are dairy-free alternatives! As a vegan, I've searched and taste tested just about all of them. I spent a ton of money because these babies aren't cheap and these six dairy-free yogurts are my absolute faves. They taste delicious — like they-could-pass-for-real-yogurt-and-they-fooled-my-husband-and-kids kind of delicious!
Silk Almond: The Plain has been my go-to. With 180 calories, 10 grams of carbs, six grams of sugar, and six grams of protein, this yogurt has an amazingly creamy texture and is sweet enough (I'm usually a vanilla girl but have been trying to cut back on sugar), and a great mild-tasting yogurt that's soy-free. It even offers three grams of fiber, which is almost unheard of in a yogurt. Just a heads up that this yogurt is not sugar-free, even though it's plain. But it's comparable to a nonfat plain Greek yogurt, which has four grams of sugar.
Silk Soy: If you're looking for a sweet, creamy, vanilla-flavored yogurt, this is the one to buy. With 140 calories, 20 grams of carbs, 16 grams of sugar, and six grams of protein, the Vanilla flavor offers more calcium than Greek yogurt (20 percent vs. 15 percent for Greek). It tastes absolutely delicious on its own, but also freezes well for these banana pops and bakes well in this banana protein bread. If you're into flavored yogurt, the Peach & Mango is amazing. On a side note, the Silk Vanilla Almond is pretty good too, but it has 200 calories, 17 grams of sugar, and only five grams of protein, so if you aren't soy-free, I'd go for the Vanilla Soy.
Kite Hill: Every flavor of this almond yogurt is outstanding. The Plain is 160 calories and has five grams of carbs, five grams of sugar, and six grams of protein. With a slightly thicker consistency than Silk, you may prefer it if you're a Greek yogurt fan. It's also just as delicious, but since it's slightly more expensive, I usually only buy it if Silk Almond Plain is sold out. It also has no calcium as compared to the Silk Plain Almond that has 15 percent. Kite Hill does offer some unique flavors that are totally worth buying like Key Lime and Caramel. Kite Hill also offers Unsweetened Plain that I have yet to try, but since their other flavors are so yummy, I'd bet money that this is, too.
Forager Project Cashewgurt: I recently tried the Wild Blueberry flavor and was floored by how creamy and sweet and delicious this tasted — love the real whole tiny blueberries mixed in. With 130 calories, 20 grams of carbs, 12 grams of sugar, and two grams of protein, it's not as protein-packed as the above yogurts but would make a great postdinner dessert. It's an amazingly creamy yogurt alternative if you're off dairy, soy, and gluten. I'm itching to try the Vanilla Bean flavor.
Good Karma: This yogurt is made from flaxmilk! I'm a fan of the Strawberry, which has 130 calories, 24 grams of sugar, 18 grams of sugar, and five grams of protein. It's creamy and sweet, and has bits of real strawberry mixed in. The Plain flavor tastes OK, not nearly as good as the Silk Plain Almond and the Kite Hill Plain, but I love that it's only 90 calories and has six grams each of sugar and protein.
Stonyfield Farms O'Soy: This yogurt tastes pretty good, not outstanding, but pretty darn good. I put it on the list since it's the brand I see at the most stores, even basic supermarkets. The Vanilla flavor is organic and has 130 calories, 20 grams of carbs, 18 grams of sugar, and a whopping seven grams of protein — the most out of any on this list. It's very creamy and probably the least expensive out of all of these, so that's another bonus. Their other flavors are equally delicious.
Honorable mention: So Delicious Coconutmilk: Creamy and sweet, this yogurt definitely has a strong coconut flavor and a somewhat waxy, oily texture, so it's not my favorite, but I know people who love it, especially since it's soy-, gluten-, and nut-free and offers 45 percent of your daily vitamin B12. With less than one gram of protein, the Vanilla is 110 calories, has 12 grams of carbs, and less than one gram of sugar.
I know what you're thinking. These yogurts don't contain as much protein as Greek yogurt. You can fix that! Just DIY your own dairy-free Greek yogurt by stirring in some plant-based protein powder.