BluePrint Cleanse Pineapple Mint Cocktail
An Easy Way to Make a Mojito Healthier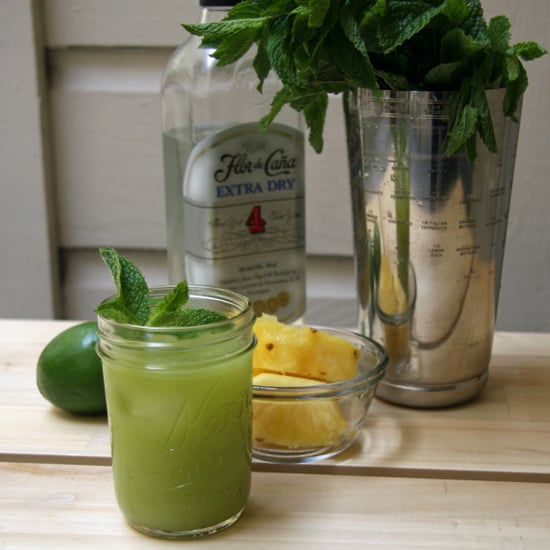 If you've had BluePrint Juice's refreshing concoction of pineapple, green apple, and mint (P.A.M.) and thought to yourself how good it would be in a cocktail, you definitely have the makings of a bartender in you! BluePrint's P.A.M. has everything you want in a great Summer cocktail — a balanced flavor profile of sweet and tart with just a little something extra from the fresh mint. All it takes is one sip to be transported to a tropical beachside destination. Adding to its taste appeal are of course P.A.M.'s many nutritional benefits: it's made from raw, live juice, and pineapple and mint are both known for their detoxing and debloating benefits.
First we set out to hack BluePrint's P.A.M. recipe for ourselves, which was a success in its own right. But after mixing it up with a little rum, we may have even improved on the original.
P.A.M. Mojito
From Michele Foley, POPSUGAR Fitness
Notes
This drink tastes equally good when served up and can also be made in big batches for a group. To make a larger batch, just follow this ratio: 1 part lime juice, 3 parts rum, and 6 parts P.A.M. juice.
Ingredients
Ice
1 1/2 ounces white rum
3 ounces P.A.M. juice
1/2 ounce fresh lime juice
Sprig of mint, for garnish (optional)
Directions
Fill cocktail shaker with ice; add rum, P.A.M. juice, and lime juice. Shake ingredients together until chilled, strain into rocks glass filled with ice, and enjoy!
Information
Category

Drinks, Cocktails

Cuisine

North American