Busy Phillips Workouts for Mental Health
Busy Philipps Explains Why She Works Out For Her Mental Health: "It's Just Not a Choice"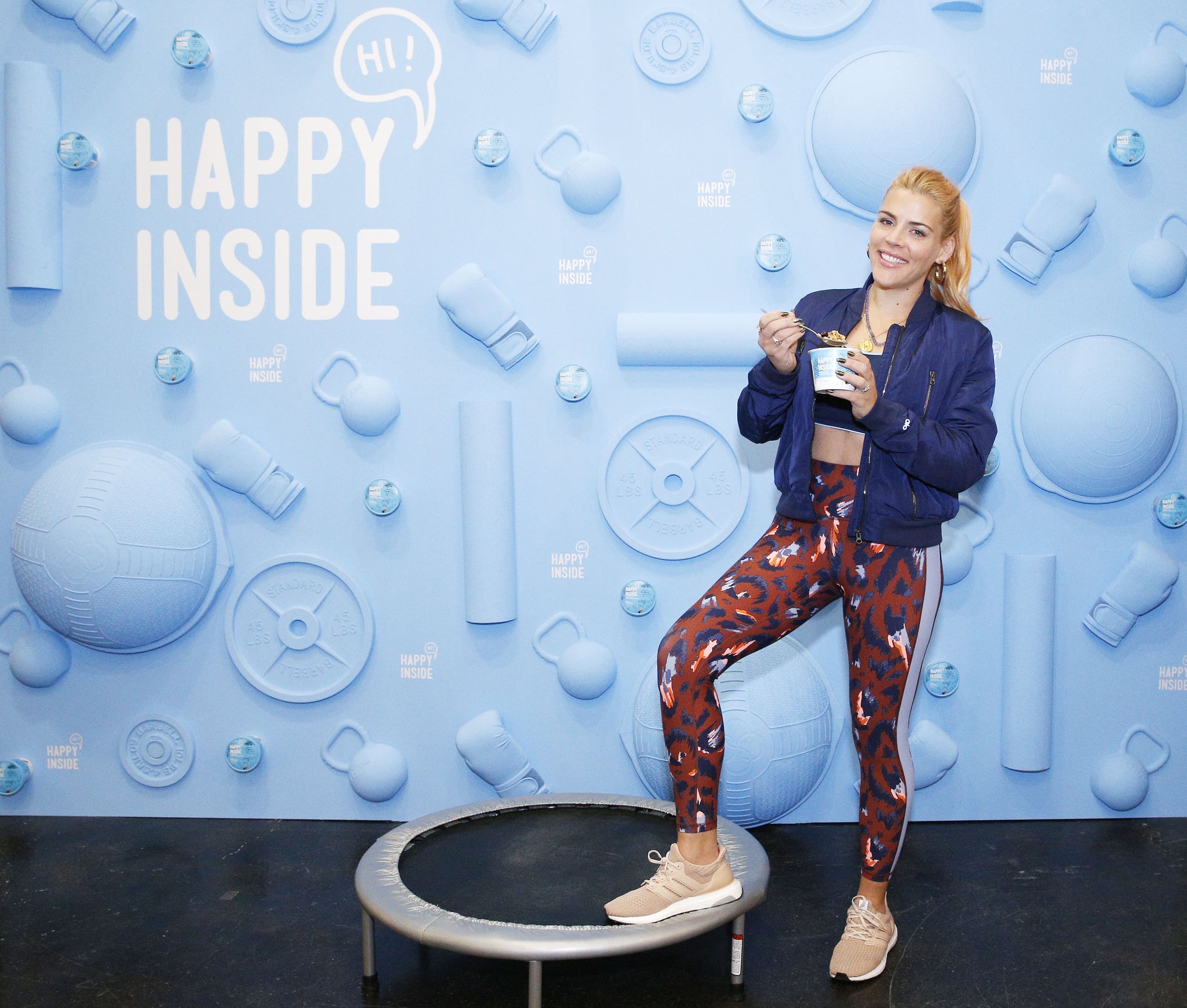 Busy Philipps cracks us up on her E! late-night talk show Busy Tonight and with her silly Instagram posts. But when it comes to her health and fitness plan, Busy takes it very seriously. As in, she rarely misses a workout. And it's not for any aesthetic reasons; for her, getting in her exercise is non-negotiable.
"It's not about motivation; it's just not a choice," Busy told POPSUGAR at the "Gut Check Gym" event in NYC on Jan. 25 to promote Kellogg's new probiotic, prebiotic, and fiber-packed cereal HI! Happy Inside. "There's no, 'Oh, I'm glad I feel better,' or, 'My body's going to be so hot.' That's not propelling me at all. It is literally just, I have no choice. I have to do this thing."
One main reason she does work out, though, is for her mental health. Even though she said she knows you get feel-good endorphins when you exercise, she knows it's tough if you're feeling particularly anxious or depressed.
"I've had moments in the last few years where I've been hysterically crying in my car in front of my workout, and I'm looking at the clock, and then I just get out of my car, and go in, and do it, and then afterwards of course I'm like, 'This feels amazing. I feel so much better,'" she said. "Even if it's not 100 percent gone . . . I've cried through workouts. I've really pushed myself in that way, and I've just made the decision of just getting myself in the door, even if I didn't want to, just getting myself in the door."
Over the last few years, Busy has made going to work out in the morning part of her daily routine, so much so that she doesn't even question it any more. "If you are a person, who the cloud settles in your brain, and you can feel it, and you get the anxiety, or depression, or whatever . . . the routine takes over, and so it's not even a question," she said. "It's like, 'Well of course, I don't want to get out of bed,' but the routine sort of forces you to go."
Busy's workout of choice is LEKFit, a trampoline-based workout in Los Angeles. "I love it because it's low-impact and I have a lot of knee issues," she said. "You get a really intense, really hard workout but I don't feel the impact on my lower body in terms of my knees hurting or my hips hurting." She also likes to do Y7, the hot yoga studio, when she's in New York and hikes near her home in LA.
Busy's commitment to fitness is inspiring, especially because she's not concerned with looking a certain way. The mental and physical health benefits of exercise are so prolific, it's important to just show up — even if you don't feel like it.