CBD Chocolate Review
CBD Chocolates Are Here to Kick Your Anxiety's Ass (in the Healthiest Way)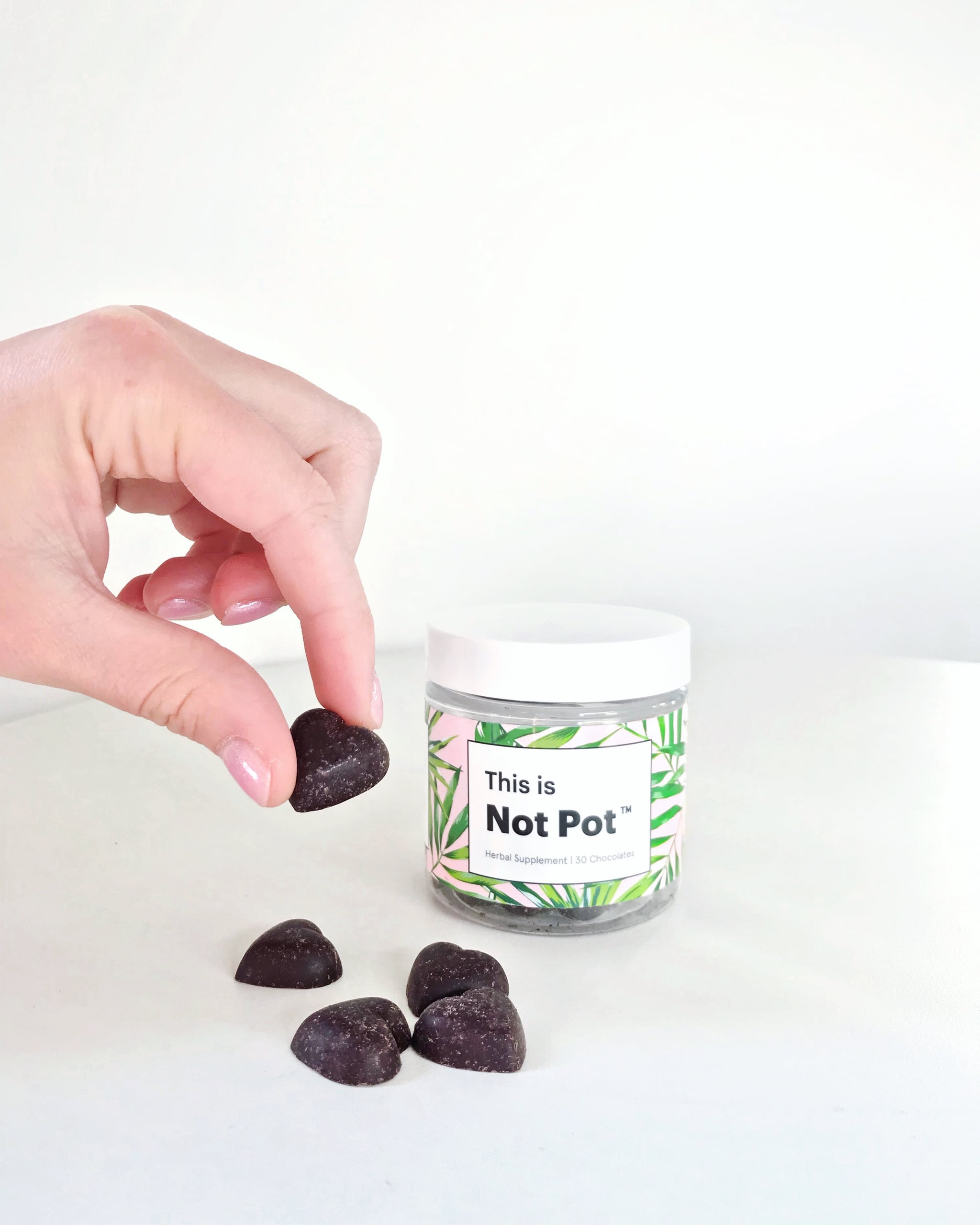 Ready for an all-natural self-care treat that you'll soon be obsessed with? Cool. Same. Let us introduce you to Not Pot's CBD Chocolate Hearts — not only is the packaging freakin' adorable, but they are also a real treat. Let's go over everything you need to know.
Ingredients
With organic raw cacao, maple sugar, and ashwagandha, these little hearts are dairy-free, soy-free, vegan, and all-organic. You might as well sell this at Whole Foods or at Moon Juice in Venice Beach, CA.
Dose
Though not printed on the label or listed online, Not Pot told POPSUGAR that each heart has two milligrams of CBD. This is a very light dose and a great idea for someone who is just easing into CBD. For reference, one dropper full (one serving) of the medium-strength Charlotte's Web Hemp CBD Oil is 25 milligrams. Not Pot recommends one heart a day.
Taste
Love dark chocolate? You'll love these. Because, well . . . they're dark chocolate — and, from what we taste, really good quality. There's the subtlest, almost unnoticeable touch of herb, which might be the hemp but also might be the ashwagandha. It's so subtle that you may not, in fact, taste it at all. To me, they taste just like dessert (read: my organic dark chocolate bar from Trader Joe's). Compared to the CBD oil and hemp extract (which I still love), this is such a treat, because despite the fact that I still take the oil, it tastes kind of like an ashtray.
Price
The adorably palm-printed pink jar will run you $30 for 30 hearts, making it about 50 cents per CBD milligram. They're pricey — but delicious. Maybe that's just the price of self-care.
Effects
As aforementioned, it's a very low dose. I tried this with POPSUGAR editor Brinton Parker, and both of us needed about three chocolate hearts to feel the effects. That said, once we felt them, it was exceptionally relaxing. We brought this up with the peeps at Not Pot, who suggested that this product is "meant to build up over time." One reviewer on the brand's website noted that they "felt calmer in a week's time." I'll have to take them more consistently day after day to see if I can log a more considerable difference vs. my "take three and chill" experiment.
Verdict
Would I use these to replace Ativan or Xanax? No — I'll probably stick to CBD oil for that since it's such a higher concentrate and has the more immediate, more potent effects I'd need to stave off a panic attack. Would I have one of these little hearts each day to create a sense of calm and lower my stress levels overall? Absolutely! An organic, natural product from Mother Nature that tastes great and combats anxiety? I'll take 8,000 units, please. Plus, it's chocolate — you don't have to twist my arm to get me to eat chocolate every day.