Carrie Underwood Quick Workout Routine
If Carrie Underwood Can Fit in a Killer Workout in 15 Minutes, You Can Too — Here's How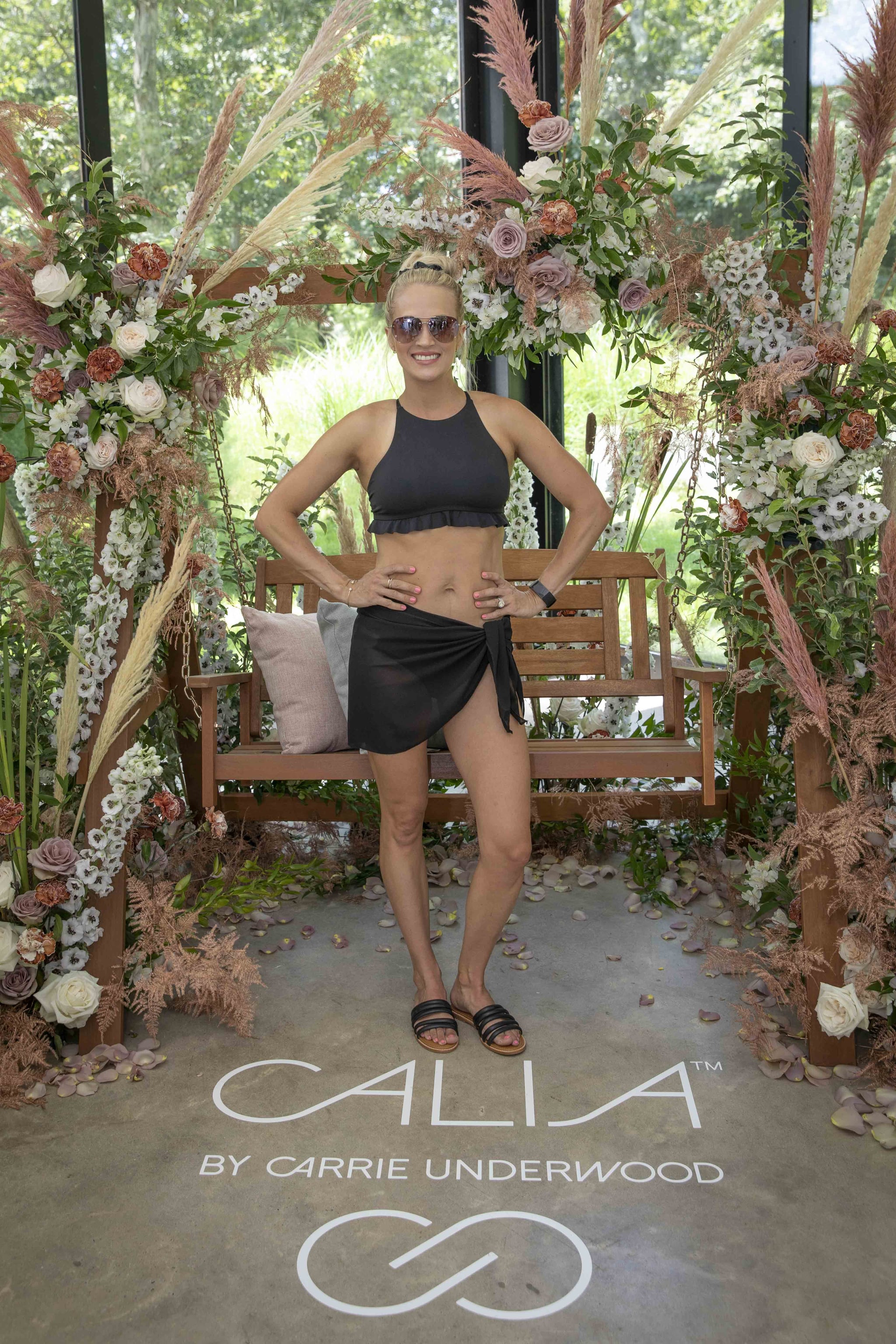 These days, fitness looks a lot different for country superstar Carrie Underwood. "I feel like 10 years ago, before kids and everything, [working out] was all to reach an external goal," she told POPSUGAR at the CALIA by Carrie Underwood Summer House event in East Hampton. The event showcased CALIA's new swimwear line, of which Carrie is the lead designer.
"Now, obviously, I have two kids and a tour and we're doing things like CALIA — it is a bit more of a challenge to work things in." That doesn't mean she lets fitness fall by the wayside; she still makes it a priority, she just has to change her strategy. "I try to make the most of my time. I have changed my focus," she said. "Instead of just trying to get those external results that I wanted, my goals have changed. I want to be stronger, I want to live longer; those are the things that I want now other than just, 'I want to fit into that.'"
Part of that means squeezing in workouts whenever she can. With two little boys — Isaiah, 4, and Jacob, who turns 6 months on July 21 — plus a busy tour schedule and juggling her successful music career with her duties as CALIA lead designer, Carrie doesn't exactly have a lot of free time. She credits her husband of nine years, Mike Fisher, who she said will watch their kids so she can work out ("I don't need massages, I don't need fancy getaway vacations . . . if you can give me an hour in the morning, that's all I need in life," she joked).
But when she doesn't even have an hour, Carrie still likes to break a sweat and doesn't need an expensive gym or fancy equipment to do it. She's all about efficiency — "I always try to move; I do not waste time, I'm not good at sitting still" — and if she gets a spare few minutes, she'll make the most of it.
How Carrie Underwood Works Out When She Has 15 Minutes
Carrie enjoys running, and said she has a long driveway so she can run and go check the mail and come back sweating. She also likes putting together a Tabata workout. Tabata is a four-minute method that alternates between 20 seconds of all-out exercise with 10 seconds of rest. Carrie said you can make it work with a few simple bodyweight moves and dumbbells, if you have them.
"You don't need to think of too many exercises, you can just pick a few," she said. Some of her go-tos are jump squats, curtsy lunges, and step-ups on a large step or sturdy surface while holding dumbbells. If you need some inspo, grab some from this guide of the 100 best bodyweight exercises. And more proof celebs are just like us: Carrie uses a free Tabata app she found for her phone to count down the workout: it beeps at you, 20 seconds on, 10 seconds off for eight rounds.
In addition to working out, Carrie makes sure to find little moments for self-care, whether that's putting a face mask on, savoring her coffee in the morning, or sticking her feet in the bathtub when her kids are taking a bath. She understands it's not something other moms are good at doing, but finding some time to take care of yourself, even if it's only for a few minutes, is important.
"You should put yourself near the top of your list," she said. "You don't have to be at the very top all the time, because that's impossible, but it's not just for you. It is for your children as well and setting a good example for them." We couldn't agree more!
Image Source: AP Images/ Ann-Sophie Fjello Jensen