Chicken Fajita Bowl With Quinoa Recipe
Get Your Tex-Mex Fix With This High-Protein Chicken Fajita Bowl

Chicken fajitas have long been my go-to order at Tex-Mex restaurants. The main components are relatively light (at least by Tex-Mex standards), and, since they're presented as an assemble-yourself sort of situation, I can choose to go heavy on the chicken, vegetables, guacamole, and salsa for a high-protein and -fiber meal. (Not to mention, they're bold in flavor and pair great with a margarita.)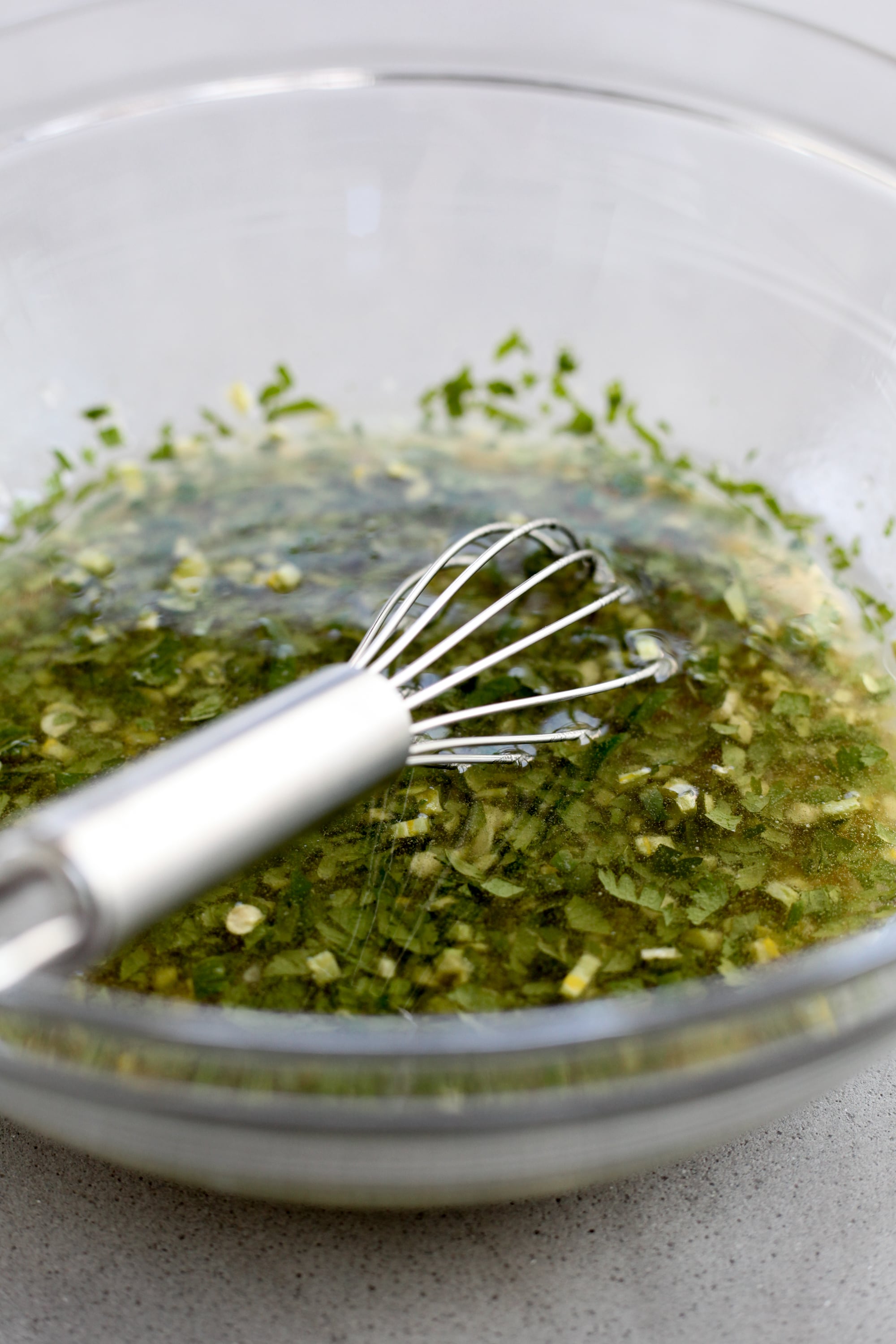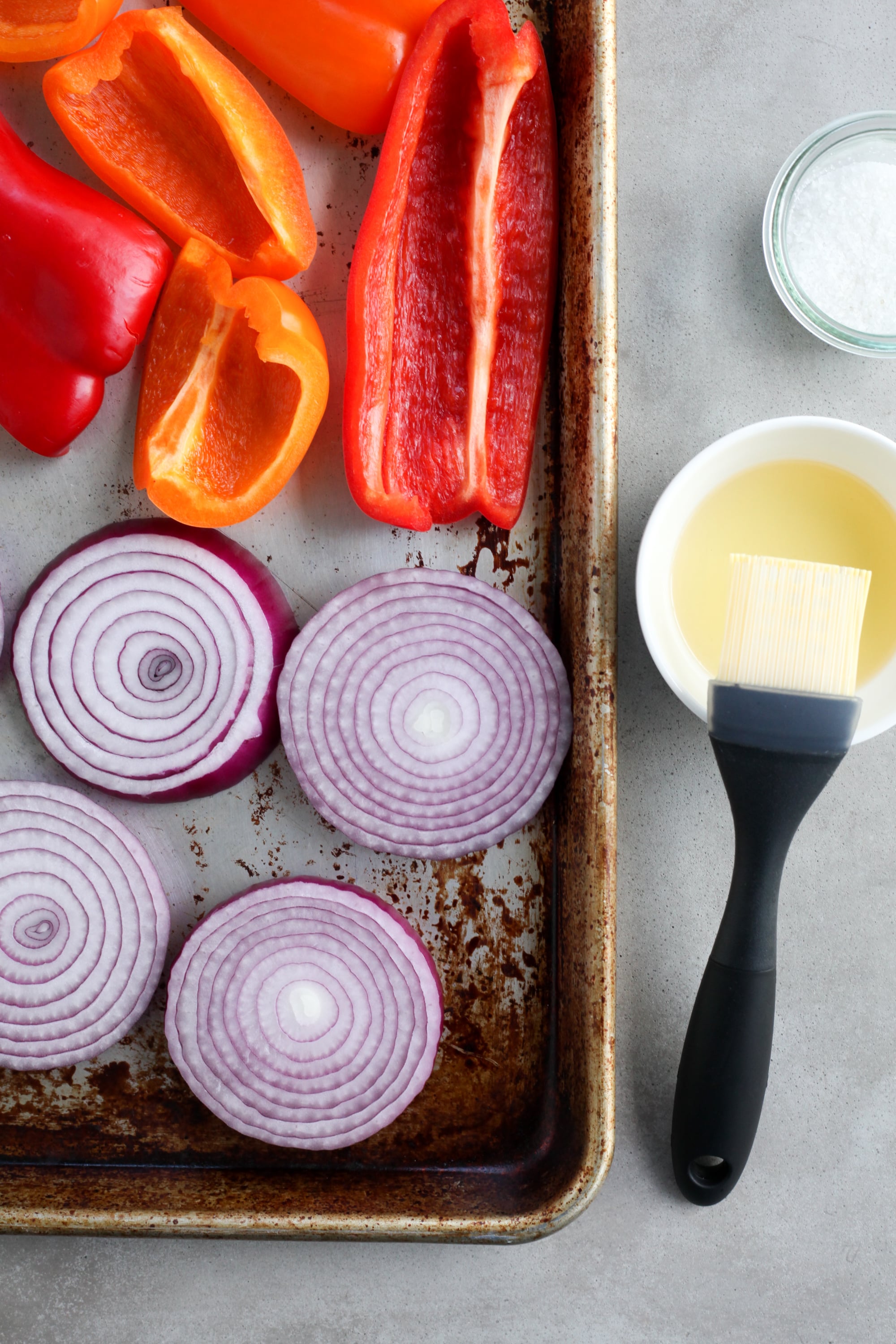 Until somewhat recently, I hadn't tried making them at home, but I quickly realized they're an ideal meal to cook yourself, especially when preparing a meal for a handful of friends or family who may have different dietary preferences (again, the assemble-yourself situation is a winning choice). This clever recipe from Cook's Illustrated saves time and effort by employing one zesty sauce to both marinate the chicken and season the vegetables and chicken after they're cooked. It further simplifies matters by broiling the vegetables on a half sheet pan as the chicken is seared in a skillet to minimize stovetop multitasking.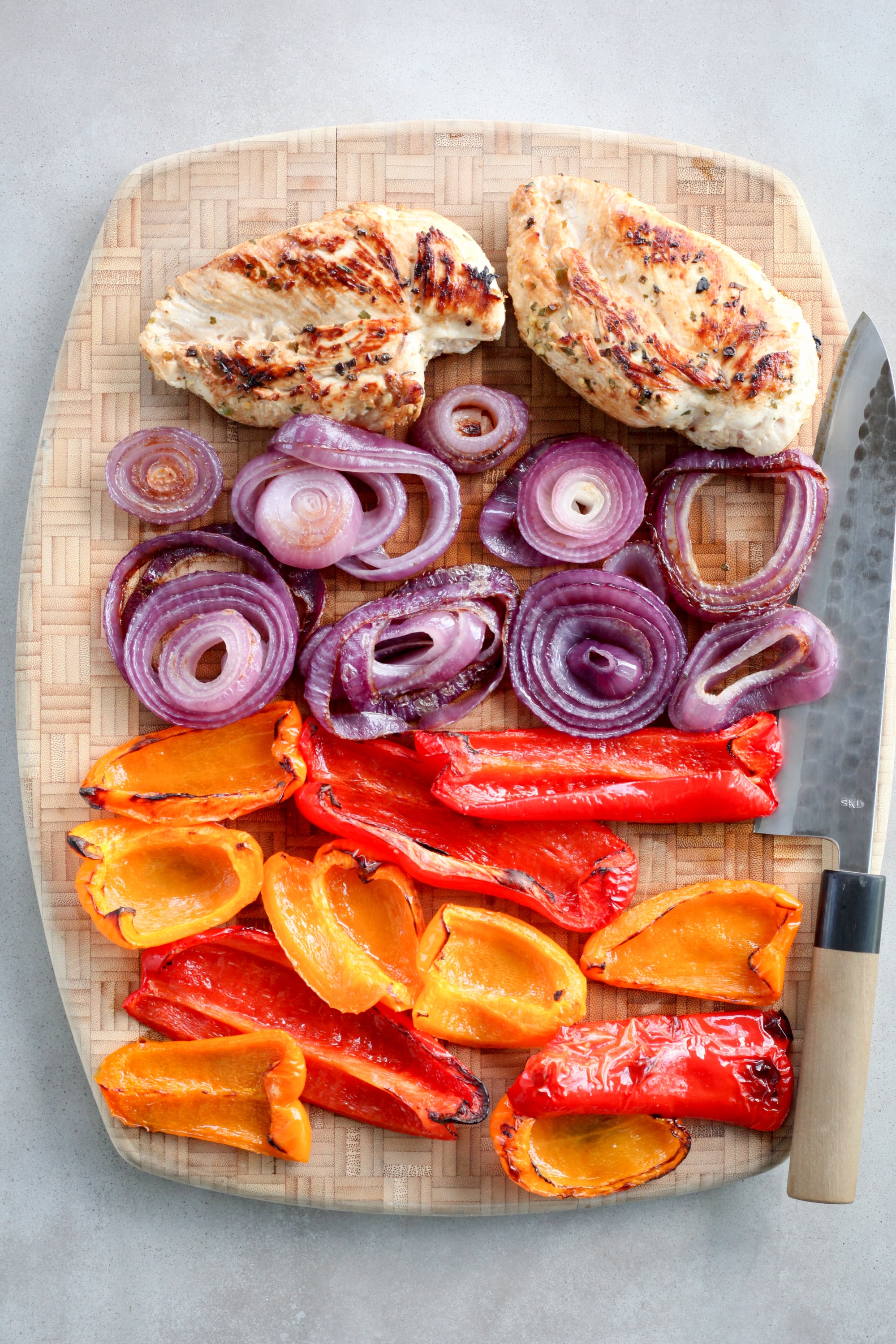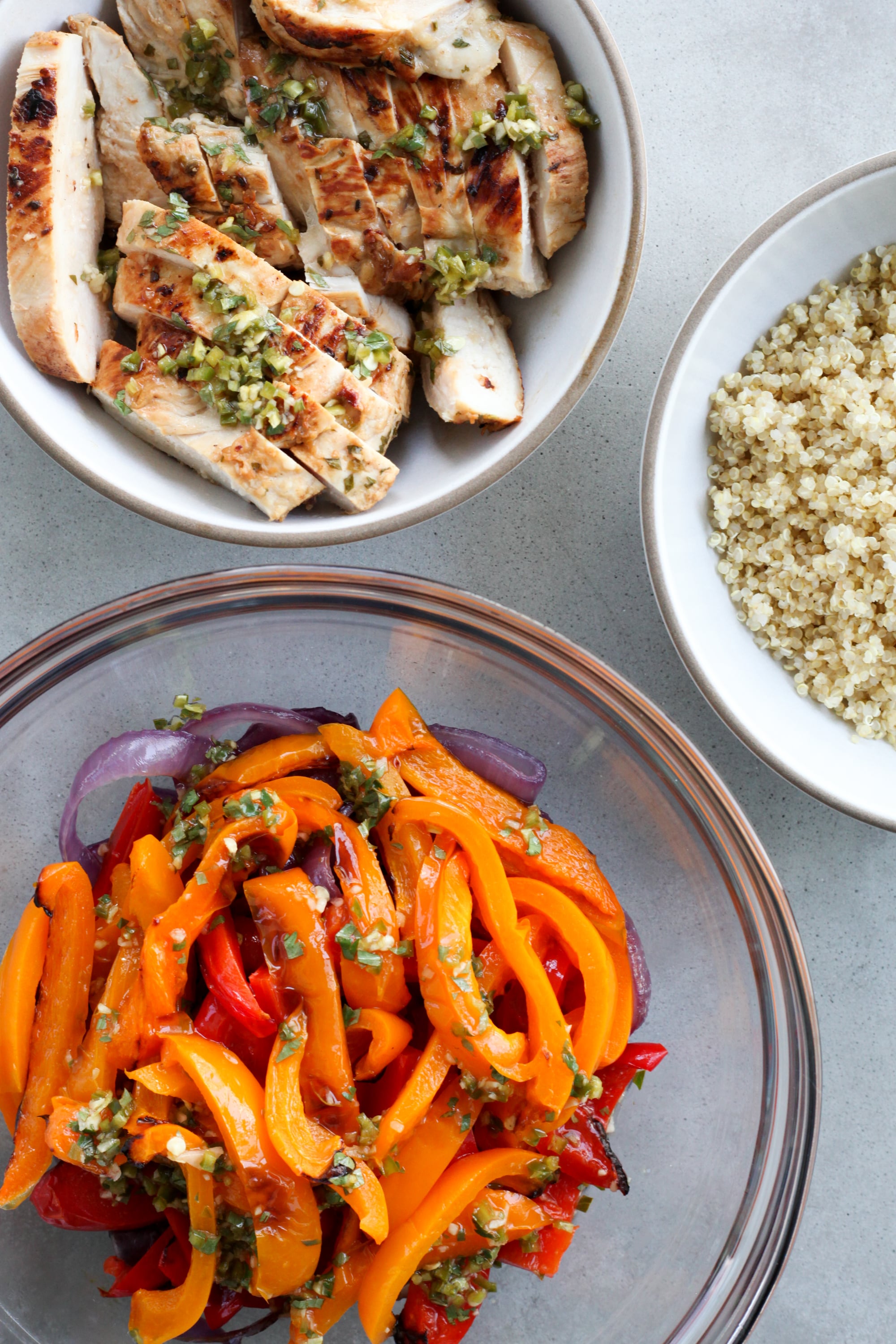 By skipping the traditional flour tortillas and instead serving these fajitas as a quinoa bowl, it becomes an even healthier, more satiating option. The quinoa adds extra fiber and protein and serves as a stellar base. I like mine with a dollop of homemade guac and a squeeze of lime, but you do you.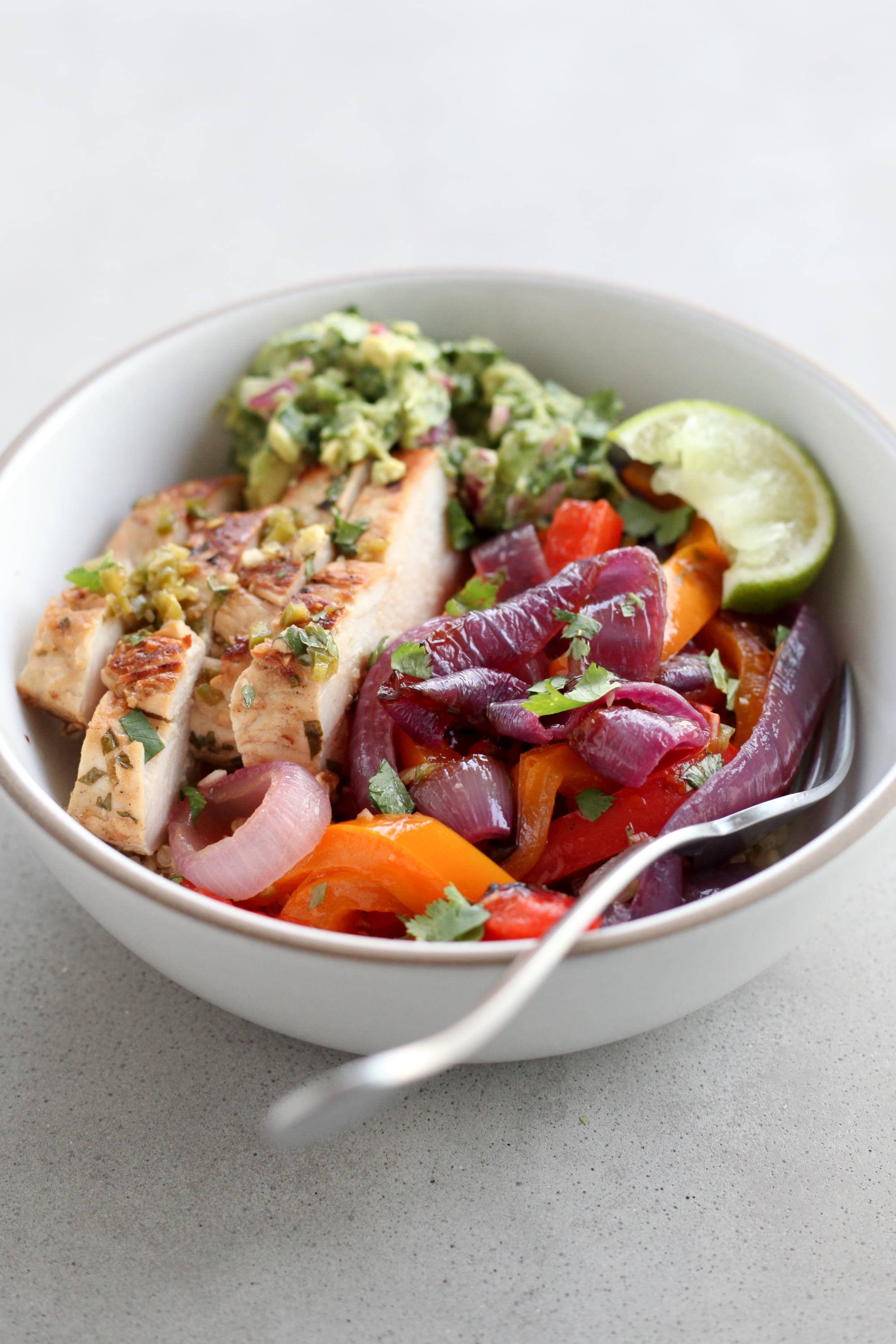 More stories from Cook's Illustrated:
Avocado Gadgets: Do They Really Work?
Why You Need Tinga Tacos in Your Life
Sap Water, Meat Bars, and More: 6 Hot Trends in the World of Food
Notes
Thanks to the flavorful marinade, this chicken reheats much more nicely than leftover cooked chicken breasts tend to, making it a good brown-bag lunch option. (For best results, pack the chicken, quinoa, and vegetables in one microwave-safe container; if you plan to top with guacamole or salsa, pack those in a separate container so that they can be added after reheating.)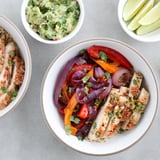 Ingredients
1/3 cup lime juice (from 2 to 3 limes)
7 tablespoons neutral oil, divided
3 medium cloves garlic, minced (about 1 tablespoon)
1 tablespoon Worcestershire sauce
1 1/2 teaspoons brown sugar
1 jalapeño chile, minced
1 1/2 tablespoons minced cilantro, plus more for garnish
Kosher salt
1 1/2 pounds boneless, skinless chicken breasts (2-3), trimmed of fat, tenderloins removed, breasts pounded to 1/2-inch thickness
1 large red onion (about 14 ounces), peeled and cut into 1/2-inch-thick rounds (do not separate rings)
2 large bell peppers (about 10 ounces each), quartered, stemmed, and seeded
2 cups cooked quinoa
Guacamole or salsa, for serving, optional
Directions
In a medium bowl, whisk together the lime juice, 4 tablespoons oil, garlic, Worcestershire, brown sugar, jalapeño, cilantro, and 2 teaspoons salt. Set aside 1/4 cup of the marinade in a separate small bowl. Add another 2 teaspoons salt to the remaining marinade. Place chicken in the marinade; cover with plastic wrap and refrigerate 15 minutes.
Adjust one oven rack to the upper-middle position (about 8 inches from heating element); heat the broiler on high.
Brush both sides of the onion rounds and peppers with 2 tablespoons oil and season with salt. Arrange the onion rounds and peppers (skin sides up) in a single layer on a half sheet pan.
Remove the chicken from the marinade and pat dry with paper towels; discard the marinade. Heat the remaining tablespoon oil in a large cast-iron or nonstick skillet over medium-high heat until it is just beginning to smoke. Swirl the oil to coat the skillet, then arrange the chicken smooth side down in the skillet in a single layer; cook without moving the chicken, until it is well browned, about 3 minutes. Using tongs, flip the chicken; continue to cook until the second sides are well browned, about 2 minutes. Reduce heat to medium and continue to cook, turning the chicken once or twice, until it is no longer pink when cut into with paring knife or and instant-read thermometer inserted into the thickest part registers 160°F, 3 to 5 minutes longer. Transfer the chicken to a plate and let rest 5 minutes.
While the chicken is cooking, place the half sheet pan with vegetables in the oven on the upper rack. Broil until spottily charred and the peppers are crisp-tender, 6 to 8 minutes. Using tongs, transfer the peppers to a cutting board. Flip the onion rounds and continue to broil until charred and tender, 2 to 4 minutes longer.
Separate the onions into rings and add to a medium bowl; slice the bell peppers lengthwise into 1/4-inch strips and add to the bowl with the onions. Add 2 tablespoons reserved unused marinade to the vegetables and toss well to combine. Slice the chicken into 1/4-inch strips and toss with the remaining 2 tablespoons reserved marinade in a separate bowl.
Add 1/2 cup quinoa to each bowl, divide the chicken and vegetables between the bowls, and garnish with chopped cilantro. Serve with guacamole and/or salsa, if desired.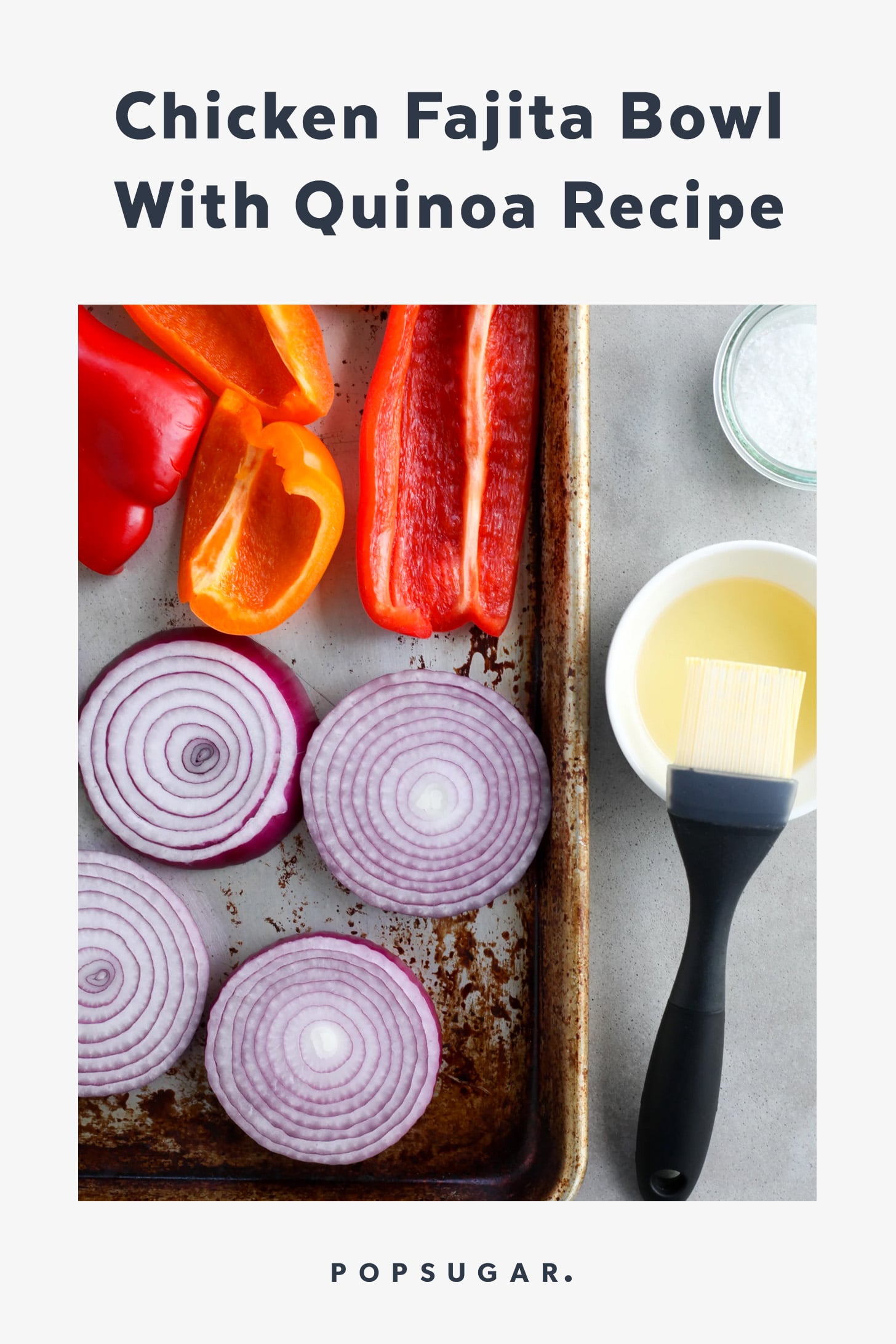 Information
Category

Main Dishes

Cuisine

Mexican

Yield

4 servings
Image Source: POPSUGAR Photography / Nicole Perry