Easy Half-Marathon Training Plan
If Running a Half-Marathon Is Your Goal, You Need This 6-Week Plan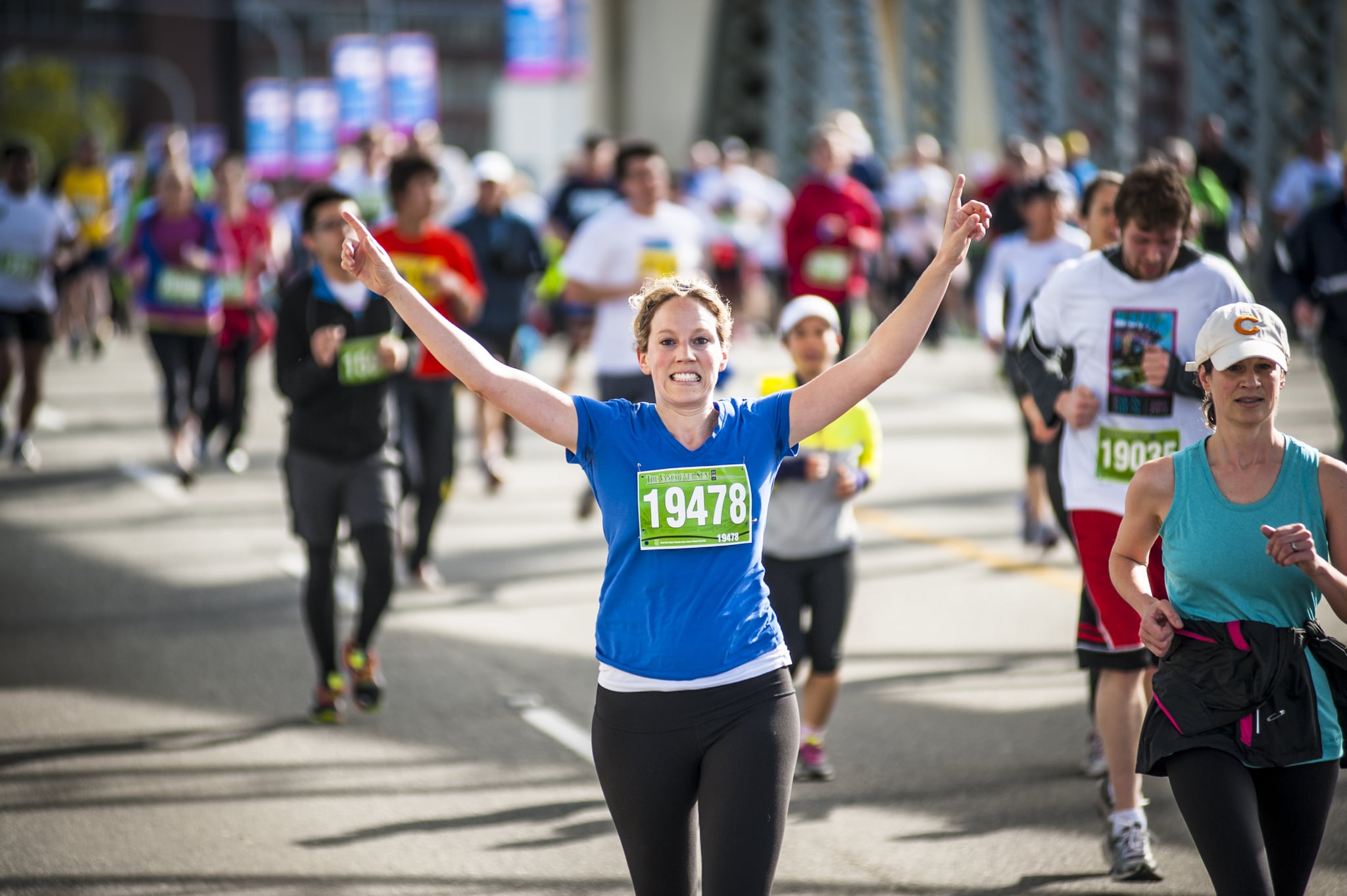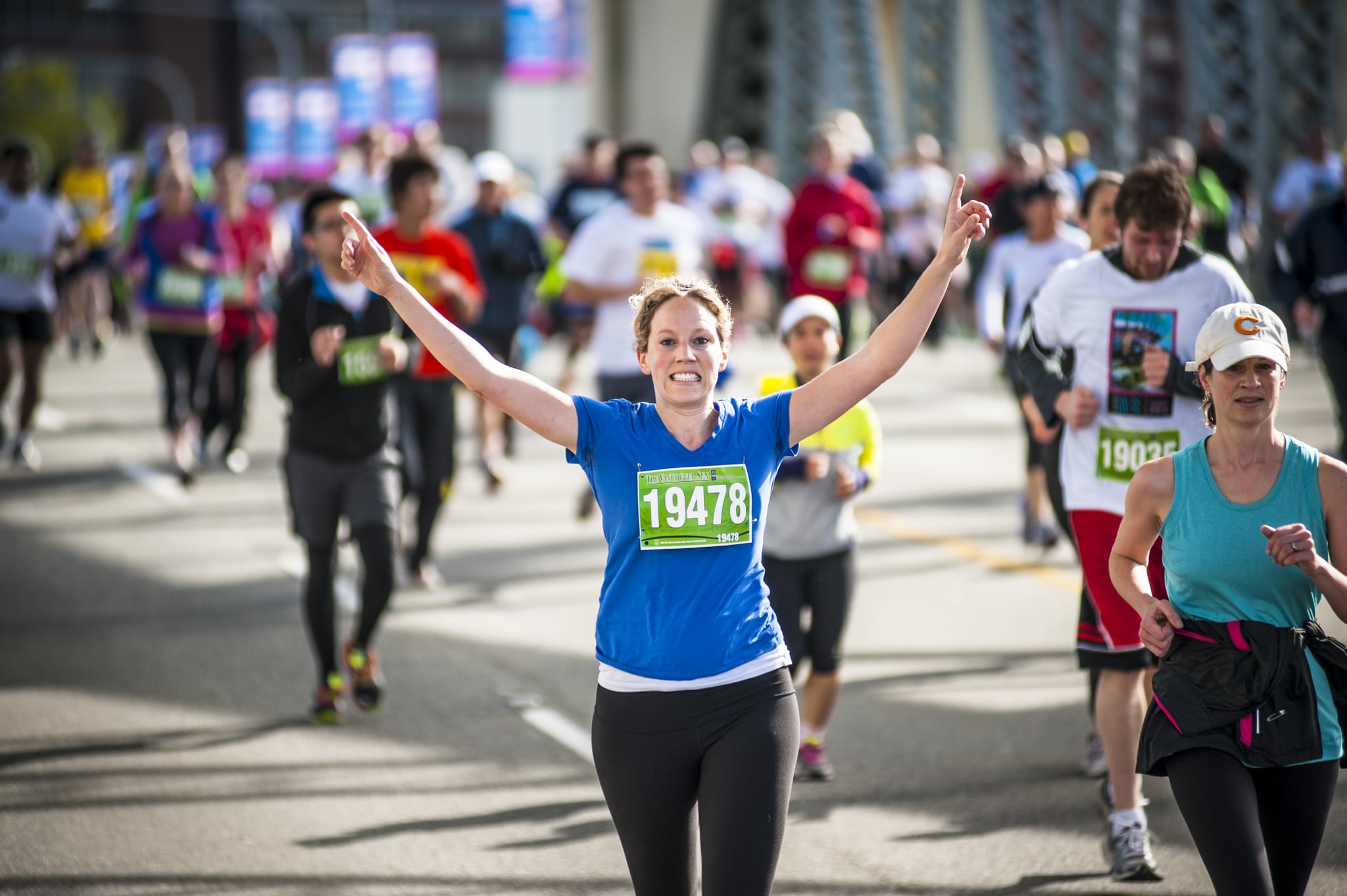 Sure, you like to clear your head with a Saturday run, but do you scoff when someone calls you a runner? That's no reason to not sign up for a race, says Olympian and running coach Nick Symmonds. In fact, there's no need to be a serious runner to complete a race goal; as long as you run "on a semi-regular basis," he says, you can follow this six-week half-marathon plan with success. "The most important goal of all is to enjoy the process," Nick told POPSUGAR. "Try to recognize that you are doing something new and exciting and also something that is good for your body." While Nick advises allotting longer amount of time to train if possible, this shortened plan is still perfect for a less-serious runner who seriously commits to these six weeks. If you've ever thought about signing up for a race, check out this doable race training plan below, and then get going!
Before you begin, remember these notes from Nick:
Jogging should be at a pace that is comfortable enough to maintain a conversation with running partners.
Running should be at a pace that is slightly uncomfortable and requires extra focus to maintain an honest pace.
Most runs are written in minutes. Run your own pace, and don't be overly concerned with how many miles you cover.
Long runs are written in miles. Take your time with them, and run them at your own pace.
For intervals, easy running should be slightly challenging but not too uncomfortable. Hard running should be very challenging.
Always make sure to listen to your body. Make sure to rest when your body tells you to. If you do not feel challenged enough, feel free to add cross training or weights to supplement the mileage.
On the day of competition, wake up at least two hours before race time and try and put faith in all the training that you have done!
| | Monday | Tuesday | Wednesday | Thursday | Friday | Saturday | Sunday |
| --- | --- | --- | --- | --- | --- | --- | --- |
| Week 1 | 30-min jog | 20-min jog | Rest | 20-min jog | 30-min jog | 5-mile jog | Rest |
| Week 2 | 35-min jog | 10-min jog warmup, 8x1-min hard running with 1-min walk/jog recovery between intervals, 10-min jog cooldown | 20-min jog or rest as needed | 35-min jog | 10 min jog warmup, 10-min easy running, 10-min jog cooldown | 7-mile jog | Rest |
| Week 3 | 40-min jog | 10 min jog warmup, 4x2-min hard running with 2-min walk/jog recovery between intervals, 10-min cooldown | 30-min jog or rest as needed | 35-min jog | 10-min warm up, 15-min easy running, 10-min cooldown | 8-mile jog | Rest |
| Week 4 | 40-min jog | 10 min jog warmup, 3x3-min hard running with 2-min walk/jog recovery between intervals, 10-min jog cooldown | 30-min jog or rest as needed | 40-min jog | 10-min jog warmup, 2x10-min easy running with 3-min walk recovery between intervals, 10-min jog cooldown | 10-mile jog | Rest |
| Week 5 | 40-min jog | 10 min jog warmup, 3x4-min hard running with 2-min walk/jog recovery between intervals, 10-min jog cooldown | 35-min jog or rest if needed | 40-min jog | 10 min jog warmup, 20-min easy running, 10-min jog cooldown | 8-mile jog | Rest |
| Week 6 | 30-min jog | 10-min jog warmup, 2x5-min easy running with 2-min walk/jog recovery between intervals, 10-min jog cooldown | 30-min jog or rest as needed | 10 min jog warmup, 5x1-min hard running with 2-min walk/jog recovery between intervals, 10-min jog cooldown | Rest | 20-min jog | Race Day! |