How Much Turmeric Should You Take a Day?
Exactly How Much Turmeric to Have a Day to Reap Its Anti-Inflammatory Benefits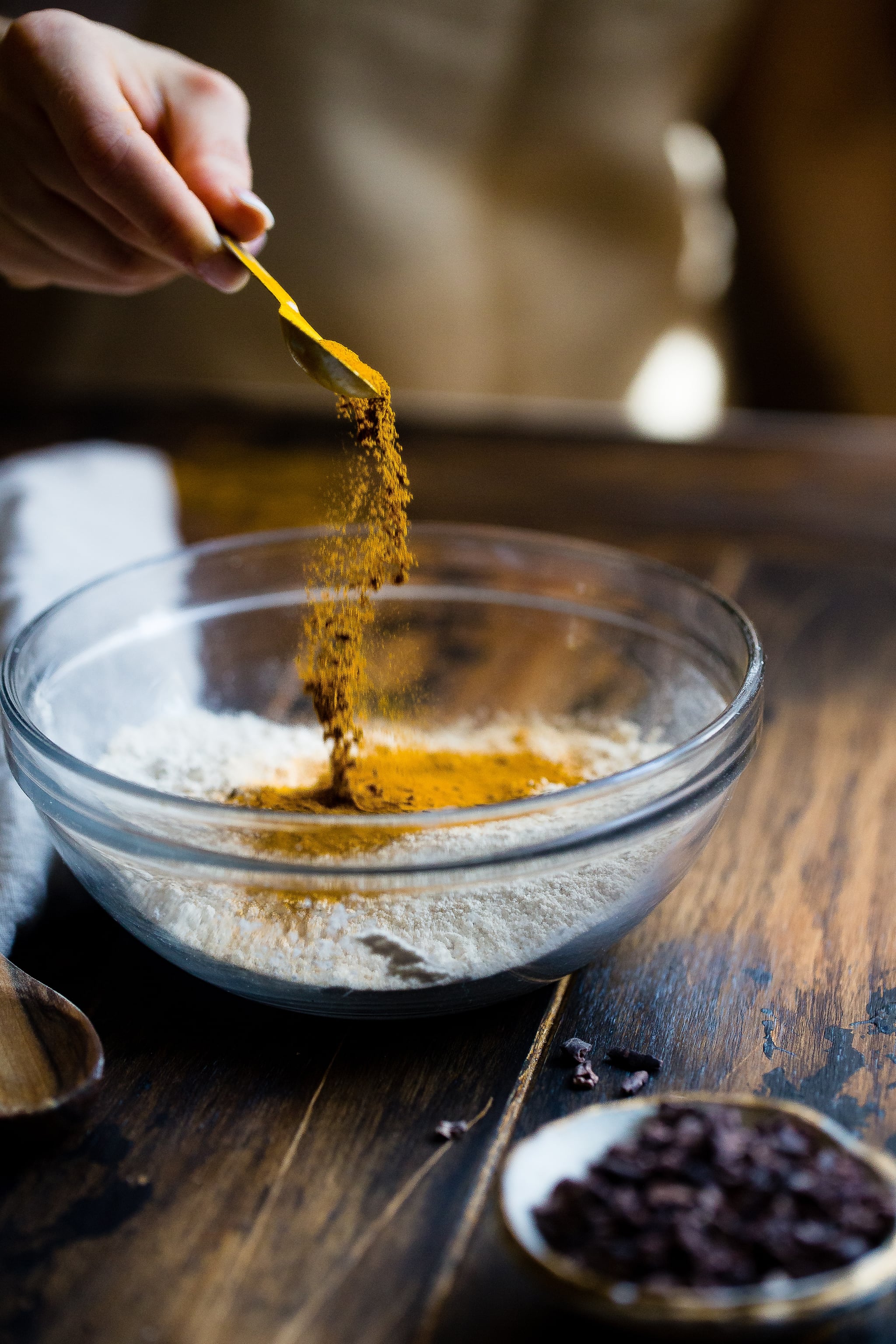 Turmeric, a spice you probably see in your local grocery store, is often found in recipes everywhere from the Middle East to Asia and India and is the main component of curry powder. There are a lot of reasons to love it — it adds delicious color and flavor to many foods, after all — but it also has pretty incredible potential health benefits.
Turmeric root has been used for centuries in Ayurvedic medicine and is most noticeable as the bright yellow coloring in curry powder. "Its ability as an anti-inflammatory agent first gained attention in the study of people who ate curry at least once a week and who had very little risk of Alzheimer's disease, in Indian and Indonesian studies, despite these populations having a high percentage of diabetes," said Dr. Steven Gundry MD, one of the world's top heart surgeons and author of The Plant Paradox. "It was determined that two of the spices in curry powder made all the difference: turmeric and black pepper."
Turmeric, in turn, became known as the wonder spice. "Turmeric is recommended for many patients with inflammatory conditions such as Crohn's disease, ulcerative colitis, autoimmune conditions like psoriasis, rheumatoid arthritis, osteoarthritis, Parkinson's disease, Alzheimer's disease, dementia, and cancers. Curcumin is the compound found in turmeric," said Atlanta-based integrative medicine physician Dr. Bindiya Gandhi.
Arguably, the most powerful aspect of curcumin is its ability to control inflammation. "The journal Oncogene published the results of a study that evaluated several anti-inflammatory compounds and found that aspirin and ibuprofen are least effective, while curcumin is among the most effective anti-inflammatory compounds in the world," said Dr. Josh Axe, DNM, CNS, DC, bestselling author of Eat Dirt. "This news should have reached every household in the world after the study was conducted, because inflammation puts people at risk for almost every disease process known to man," he said.
You can find turmeric in powder culinary spice form and in its whole root form, as well as in tincture, tablets, and capsules. "A good starting dose for its anti-inflammatory benefits is 400 to 600 mg of standardized powder or curcumin turmeric extract three times a day as tolerated," Dr. Gandhi said. "Cut-root dose is 1.5g-3g per day, dried powdered root 1g-3g per day, and tincture (1:2) 15-30 drops up to four times per day, as mentioned by University of Maryland Medical Center."
When taking it for GI issues, you need to find a formula with black pepper or piperine in it, because it is better absorbed. The black pepper stops the turmeric from breaking down as quickly, which keeps it in your system longer. When taking it for any autoimmune issues, you can take the turmeric by itself.
Caution with turmeric should be noted since it can act as a blood thinner and should be avoided before surgery. It can also cause GI upset in some patients and can reduce blood sugars in diabetic patients. "It can increase gallbladder contraction, which is not a good idea for patients suffering with gallstones. I discourage my patients trying to conceive [from taking] it since it can actually act as contraception and advise my nursing and pregnant mothers to use it with caution since it may stimulate uterine contractions," said Dr. Gandhi, who encourages patients to cook with it daily for anti-inflammatory effects, but encourages a supplement if looking for a higher dosage.
"Cooking with spices is perfect, but you need a higher dose if you're targeting a specific ailment. I am a big fan of turmeric golden milk latte, as well as turmeric ginger teas," Dr. Gandhi said. You can also try an iced golden milk latte.
But that's not the only option out there; in fact, the options are endless. "I prefer turmeric used fresh," said Ariane Resnick, author, certified nutritionist, and celebrity chef. "I like it best as a tea made exactly as you would ginger (slice then boil in water), sipped throughout the day. This method has helped so many people with chronic pain who I've worked with. You can make the tea as a concentrate then add just a tablespoon or two to each glass of water you drink. In this manner, one root will last up to several days," she said.
Whether we are using it in our lattes or teas, or using it as an addition to our curries and soups, it seems turmeric is something we should be stocking up on fast this Winter season.