Macro Diet Plan For Weight Loss
Losing Weight Is Easier (and More Delicious) Than Ever With This Ingenious Plan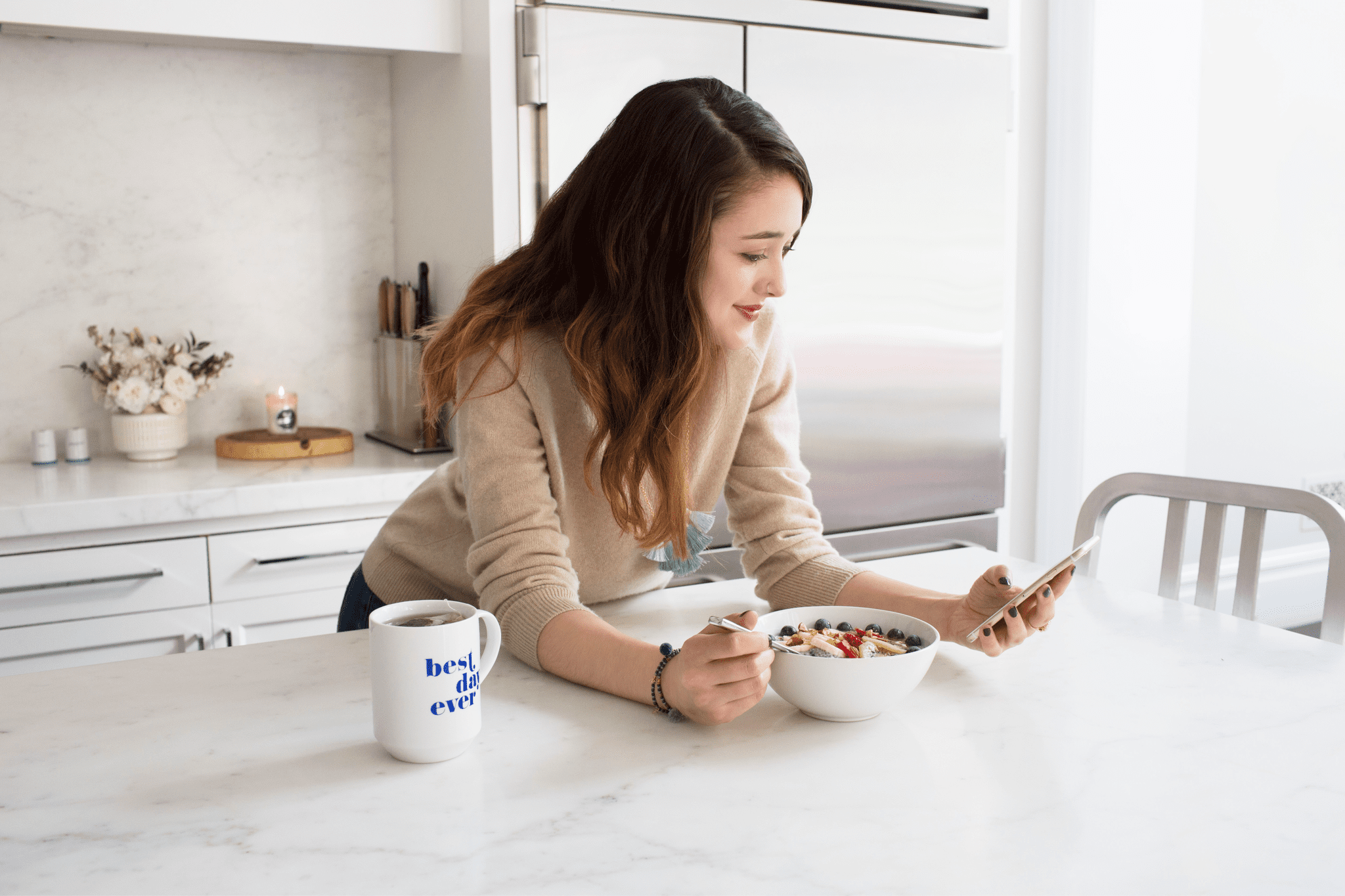 We're loving the shift from calorie counting to macro counting, which ensures you're getting the right kind of calories every day. While it's still important to be aware of your caloric intake, counting macros helps you focus on the quality of the food you're eating, which can ultimately teach you better eating habits for a more sustainably healthy life.
Our macro guru, trainer Carrie McMahon — and author of Why You Should Count Macros, Not Calories — created a meal plan specifically for weight loss, centered on the macro proportions for cutting fat and losing weight.
Keep in mind: these meal portions are not on-the-dot amounts, and portions vary based on your height, weight, caloric intake, and goal. To get started on that, and get a brief tutorial, read up on counting macros for weight loss first.
Here's your daily macronutrient proportioning (these numbers apply to everyone!): your food should add up to 40 percent carbohydrates, 35 percent protein, and 25 percent fat. The breakdown of every single meal and snack varies, but try to stay on target to those proportions. Here are some examples of what those ratios look like, in some delicious recipe suggestions from Carrie.
Breakfast
These meal ideas are: 28 percent fat, 37 percent carbohydrates, 35 percent protein
Protein oats: 1/2 cup of oats, 1 tablespoon of almond butter, 1 scoop of protein powder, and 1 teaspoon of honey
Simple smoothie: 1 banana, 1 cup of fat-free Greek yogurt, 1 tablespoon of peanut butter, 1 tablespoon of chia seeds, 1 cup of unsweetened almond milk
Eggs, fruit, and toast: 2 eggs plus 4 egg whites, 3/4 cup of blueberries, and 1 slice of whole-wheat toast
Lunch
These meal ideas are: 28 percent fat, 37 percent carbohydrates, 35 percent protein
Tuna, veggie, quinoa salad: Mix 2 cups of mixed lettuce, 1 cup of cherry tomatoes, 1 cup of raw mushrooms, 1/2 cup of cooked quinoa, 1 can of tuna, 1 tablespoon of fat-free mayo, 3 tablespoons of sliced almonds, and apple cider vinegar or balsamic vinegar for dressing
Chickpea salad with avocado: 1/2 cup of canned chickpeas mixed with 1 cup of Greek yogurt, 1 tablespoon of sliced almonds, soy sauce to taste, lemon juice, and salt and pepper atop a bed of lettuce with 1/4 avocado
Protein-loaded sweet potato: 1 sweet potato (about 5 inches long), 1 can of tuna, 1 sunny-side-up egg (to put on top), 1/4 avocado, and tomato and cucumber slices
Pre-Workout Snack
These snack ideas are: 1.5 percent fat, 48 percent carbohydrates, 36 percent protein
Banana and mug cake: 1 banana, protein mug cake (1/2 to 1 scoop of protein powder whisked in with 1 egg white; microwave for 20 to 30 seconds). Optional: mash banana into mug cake.
Cinnamon cottage cheese and fruit: 4 ounces (one standard-size container) of low-fat cottage cheese, mixed with cinnamon and 1 cup of berries on top or on the side
Post-Workout Snack
These snack ideas are: 1.5 percent fat, 48 percent carbohydrates, 36 percent protein
Strawberry mango smoothie: 1/4 cup of frozen mango, 1 cup of frozen whole strawberries, 1 cup of unsweetened almond milk, 3/4 cup of fat-free Greek yogurt, and up to a teaspoon of honey, to taste
Jerky and fruit: 1 Caveman Foods Primal Jerky Bar, 1 plum or 1 kiwi (small fruit)
Dinner
These meal ideas are: 28 percent fat, 37 percent carbohydrates, 35 percent protein
Stuffed pepper and veggies: 100 grams (3.5 ounces) of cooked roasted chicken breast, mixed with 1/2 mashed avocado, salt, pepper, and lemon — stuff mix into a bell pepper, eat with 2 cups of steamed broccoli or vegetable of choice on the side
Lean burger: 100 grams (3.5 ounces) of 95 percent lean ground beef (made into a patty), 1/4 cup of crumbled blue cheese, and sliced tomato, lettuce, and onions, on a small whole-wheat bun or sandwich thin. Side of 1 cup of steamed vegetables.
Tofu, noodles, and veggies: 1 cup of tofu (measured raw), marinated in soy sauce, mix with desired spices and cooked on a pan with 1 egg and 2 egg whites; serve over 1/2 cup cooked spaghetti, with 2 cups steamed vegetables
Image Source: POPSUGAR Photography / Sheila Gim