Matcha Brownie Recipe
These Matcha Brownies With Green Tea Frosting Are Good Enough to Eat Every Single Day
Using Paleo-friendly ingredients, our friends at PaleoHacks created a recipe for rich, matcha brownies.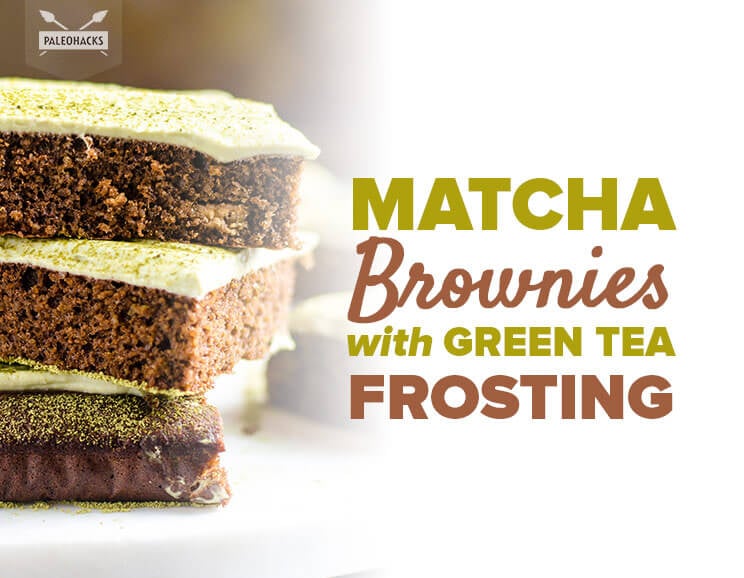 Whip up these heavenly matcha brownies covered in a velvety smooth matcha frosting.
In this recipe, matcha adds a sweet, deep flavor to the rich chocolate brownies. You can find matcha powder at your local health store, many Asian supermarkets or online — just make sure to buy a culinary grade matcha to get the best flavor.
If you've never used matcha before, don't worry, it's super easy to add to your favorite desserts! Matcha is a stone-ground powdered green tea used in Japanese tea ceremonies. Packed with a huge amount of antioxidants, matcha is associated with reducing stress and boosting metabolism. This powdered green tea is also a great alternative to coffee, and is known for giving you energy without the jitters.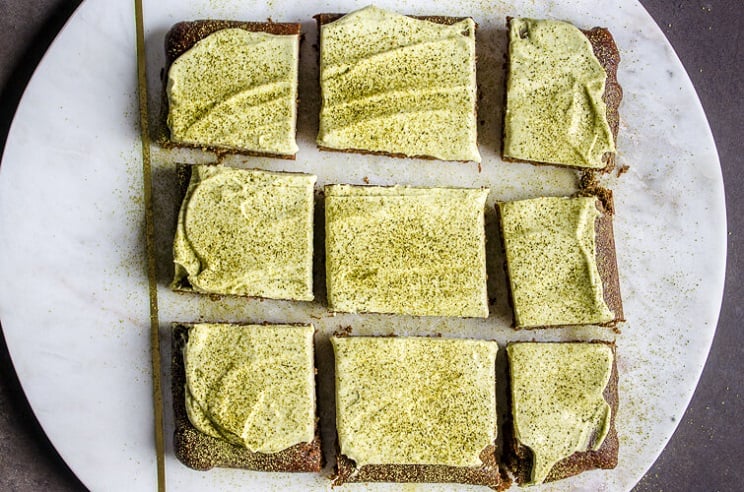 To make these matcha-powered brownies, simply combine the wet and dry ingredients in separate bowls. Mix both into a smooth batter and then pour into a baking pan lined with parchment paper. Note: Let the parchment paper hang over the sides of the pan so when you remove the baked brownies, all you need to do is grab the hanging parchment paper as "handles" and lift them out. Let the brownies bake for 25 minutes, then remove from the oven and let them cool to room temperature.
While the brownies are baking, you can prepare the matcha frosting by mixing coconut cream, honey and matcha powder. Make sure the brownies are fully cooled (if they're too warm, the frosting will melt), then spread the frosting over the brownies using a spatula.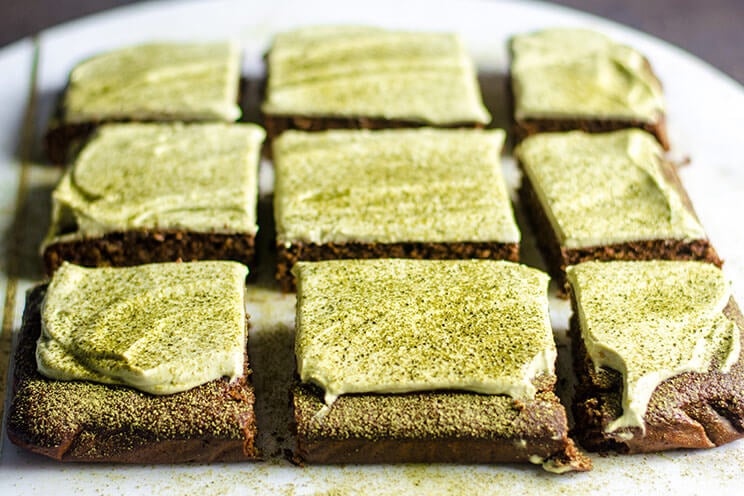 Matcha Brownies With Green Tea Frosting
Notes
Tools:
8x8 Baking pan
Parchment paper
Electric mixer or a handheld whisk
Tip:
If you've cooked with matcha powder before and you enjoy its deep flavor, then add 2 tablespoons. If you'd like a more subtle taste, then just add one tablespoon.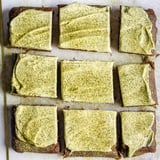 Ingredients
For the Brownies:
1/2 cup raw cacao powder
1 cup almond flour
2 tablespoons matcha powder
1/4 cup almond butter, softened
1/4 cup coconut oil, melted
1/3 cup honey
3 eggs
1 teaspoon vanilla extract
1 teaspoon matcha powder for dusting (optional)
For the Matcha Frosting:
1 cup coconut cream, chilled
1 tablespoon honey
2 teaspoons matcha powder
Directions
To make the brownies, preheat the oven to 325°F. Line an 8x8 inch baking pan with parchment paper, allowing the sides to hang over the edges.
In a medium bowl, mix together raw cacao powder, almond flour and matcha powder.
In a separate large bowl, whisk the almond butter, coconut oil, honey, eggs and vanilla extract.
Add the wet ingredients to the dry ingredients and mix until smooth and well combined.
Pour the batter into the prepared baking pan and bake for 25 minutes. Allow the brownies to cool in the pan to room temperature.
To make the matcha frosting, combine the coconut cream, honey and matcha powder in a medium-sized bowl. Whip using an electric mixer or a handheld whisk until smooth and creamy.
Remove the brownies from the pan and place them on a cutting board. Spread on the frosting using a spatula.
Using a sharp knife, cut the brownies into 9 squares, dust with matcha powder and enjoy!
Information
Category

Desserts, Brownies

Cuisine

North American

Yield

Makes 9 squares

Total Time

34 minutes, 59 seconds