Mizuno Wave Paradox Review
Supportive and Lightweight, Why Mizuno's New Wave Paradox Could Be For You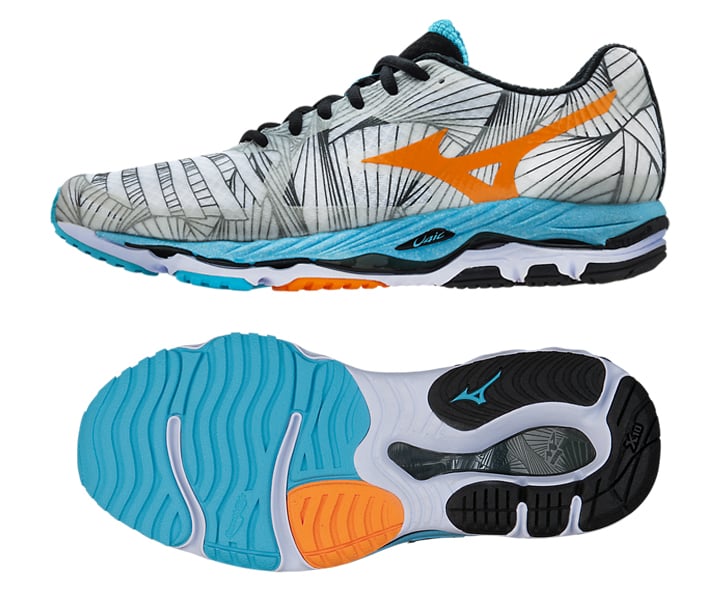 After training for several half marathons and marathons, I've come to know pretty well what my feet need to help them power through the miles. And while breathability is important, there's one thing I always feel is lacking once I hit over six miles — support. Luckily, my flat feet are happy again with the lightweight and supportive Mizuno Wave Paradox ($135).
The Wave Paradox is the newest available model in the Wave family, known for its impact dispersion and flexible cushioning. The Paradox's claim to fame is a lighter weight, breathable material, with the support that overpronators need to help prevent injuries and discomfort. Out of the box, I had to agree: like supportive running shoes, the Paradox feels sturdy, but not overwhelmingly so.
Over several six- to nine-mile runs as well as shorter jogs on the treadmill, I never once experienced knee or foot pain, which happens to me when wearing lighter-weight, less-supportive shoes during similar runs. In fact, wearing the Mizuno Paradox made me feel more confident as soon as I slipped them on and started running — they have a snug fit at the midsole and a wider toe box, another important feature that I've come to appreciate after several runs with numb toes. With the Mizuno Paradox, I have freedom for my forefoot and toes to move, but my mid foot always feels safe and secure.
The other aspect of the Mizuno Paradox, as you might guess from its name, is its surprisingly lightweight. While I've run in my share of minimalist shoes over the years — popularized thanks in part to the barefoot running trend — I've always gravitated toward the shoes that could offer support. Minimalist supportive shoes like the Brooks Running Pure Cadence or the Adidas Adistar Boost always helped me feel great no matter how far my run. In fact, the Paradox is made for severe overpronators, so don't expect to feel like you're not wearing any shoes at all, which can be a selling point for many lightweight shoes. But even though these shoes are a little more substantial than other lightweight options, the trade-off is worth it; the Paradox does an amazing job offering stability without making it feel like I'm wearing orthotics.
My one complaint about the Paradox would be the snug fit. While I appreciate the midfoot support — especially when running through the park on somewhat rocky trail — the fit can be a little too tight on my normal-width feet. I find that it takes a couple minutes of loosening my shoelaces just so to find the right fit. However, the Paradox is available in wide- or narrow-foot sizes, which is great if you need different options.
I've had Mizunos since my first trip to the running shoe store, and while I've found other brands that I love as well over the years, I always appreciate the options Mizuno carries for runners who need more support. With the Mizuno Paradox, I know that I will be wearing them for many races to come.