Oatmega Cookie Taste Test
Are Protein Cookies the New Protein Bars?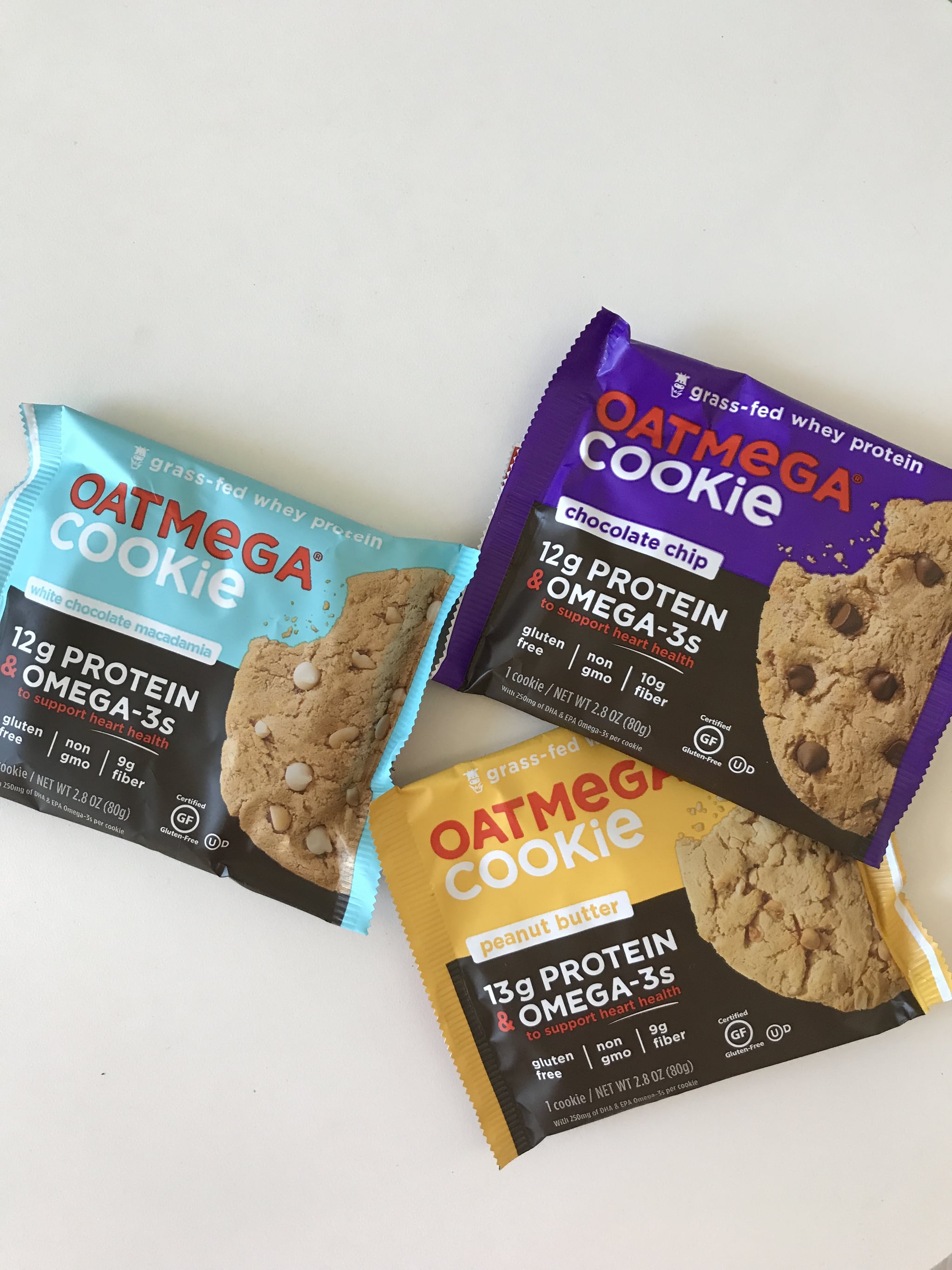 Sometimes you don't want a protein bar, but you need fuel. Other times you might want a cookie, but you know you need to get a little more nutrition. In either of those cases, you might want to reach for an Oatmega Cookie (according to our taste testers, reach for the peanut butter variety).
Each 340-calorie, gluten-free cookie has 15-17 grams of fat, 12-13 grams of protein, 12-13 grams of sugar, and 40-41 grams of carbohydrates. It also offers a substantial amount of fiber (9-10 grams — roughly 40 percent of your daily intake) with about 25 percent of your vitamin C and 15 percent of your daily calcium. The cookies are also enriched with omega-3s (from "responsibly caught fish oil") to aid in a healthy heart and boosted mood.
The base of these cookies are gluten-free oat flour and grass-fed whey protein, meaning they're not dairy-free or vegan, but they're loaded with bioavailable protein. The cookies are non-GMO, and all three varieties contain almond butter, sugar, brown sugar, and other recognizable ingredients you'd see in a regular cookie.
Our in-office taste testers were big fans of the peanut butter ("Tastes amazing!" was a big descriptor) but less into the chocolate chip and white chocolate macadamia flavors (two reviewers said the white chocolate one tasted "very orangey" . . . ). Here are a few bits of feedback:
"Definitely not as good as a regular cookie, but way better than any protein bar — especially the peanut butter flavor."
"I'd definitely eat this after a tough workout, but it's also good as a protein-packed dessert when a sugar craving hits."
"Each day we stray further from God's light."
"Love it! Tastes amazing."
Thinking of giving these a try after a hard workout? Definitely grab the PB!
Image Source: POPSUGAR Photography / Dominique Astorino