Review of Tru Women Protein Bars
I Tried TruWomen Protein Bars, and They Taste Like Dessert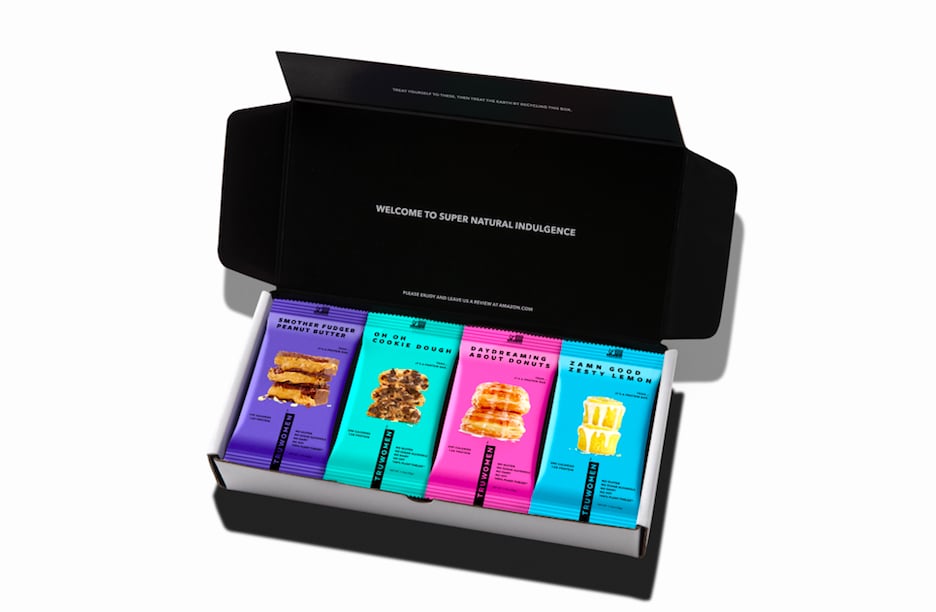 The protein bar industry is worth more than $800 million. The little prepackaged treats are the ultimate convenience and often claim to be a healthy alternative to a real meal while on the go. I, luckily enough, have tried just about every bar on shelves and am constantly claiming I found "the one" that provides all the things: as few ingredients as possible, high protein, low carb content, and good taste. It sounds near impossible, but the all-female company TruWomen set out to perfect this intricate formula.
TruWomen prides itself on providing plant-based bars and protein powders that are equally dedicated to both health and flavor. That means its products are soy-free, dairy-free, and gluten-free, as well as free of GMOs and sugar alcohols. Best of all, the flavors of the product line are inspired by dessert, and they all clock in around the magic 200-calorie mark with 12 grams of protein. In fact, the company's founders, Rafferty Jackson and Karyn Gayle, consider their bars "indulgent nutrition."
The bars — Oh Oh Cookie Dough, Daydreaming About Donuts, Smother Fudger Peanut Butter, and Zamn Good Zesty Lemon — taste like no other bar I've ever tried. The usually chalky texture and taste of most protein bars was nonexistent. In fact, each tasted more like a real treat because of the sweetness and brownie-like texture. As a serious peanut butter enthusiast, the Smother Fudger was my absolute favorite, but if you're one to go for something fruitier, the Zesty Lemon is a very refreshing option for a post-workout snack.
I incorporated the bars into my usual fitness regimen or just when in dire need of an on-the-go snack. The best part? I didn't have a bloated feeling or a pang of hunger I can get after eating an unsatisfying bar. These bars are sweet and delicious but made without artificial sweeteners or sugar substitutes.
For me, protein and sugar aren't the only important factors when it comes to finding a bar. Ingredients, too, are so crucial for keeping healthy while steering away from anything overly processed. These bars aren't quite as simple as RXBars, which boast only five ingredients, but they don't go overboard either. The Donuts bar, for instance, contains the following: cassava flour, brown rice protein concentrate, roasted almond butter, cane sugar, palm oil, natural flavors, sea salt, sunflower oil, and sunflower lecithin. Not too shabby considering how tasty the bar is.
With convenient snacks, I do worry that by noshing on a chocolate-flavored bar, I'm actually masking my desire for a real sweet treat, like a brownie, rather than a less-delicious version in a package that's fortified with protein. "Something I see pretty often is clients eating so many 'light' versions of something, that when you look at it calorie-for-calorie, they may as well have just had the original thing they were craving," explained New York registered dietitian Jessica Cording, MS, RD, CDN. TruWomen, however, is fully aware of its bars being a "substitute" for unhealthy, high-calorie treats, which may or may not be the solution for a lot of consumers. The founders explained, "Women are fully formed functioning people who make their own decisions all day long. We just wanted to go into the marketplace to add to their lives, and this is something that's convenient and delicious and also good for you."
The company also makes it a point to be a brand by women, for women. So TruWomen is, according to its founders, "not just marketing to women, but this is who we are. We have women at the table and we prioritize women when we're making business decisions." That's something I feel good about sinking my teeth into.