Sarah Jessica Parker's Diet and Exercise
Happy 48th Birthday, Sarah Jessica Parker — See SJP's Fit Philosophy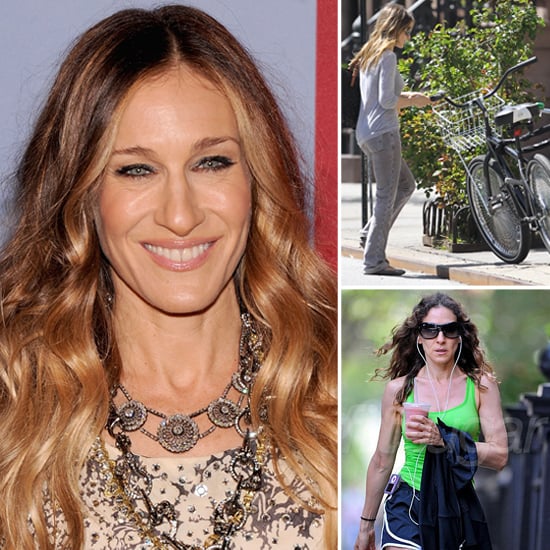 Birthday girl Sarah Jessica Parker, who turns 48 today, is a shining example of how to stay fit and fab well into your 40s! Keep reading to see how Sarah Jessica stays healthy, toned, and sane under the pressure of being a busy actress and devoted mother of three.
Fitness as a priority: You don't get arms like Sarah Jessica's from lifting three-pound weights. Next to Cameron Diaz, Sarah Jessica has some of the strongest guns in the business, sculpted by her daily personal training sessions and regular yoga classes. Sarah Jessica told Good Housekeeping, "I do like feeling fit and healthy. When you're young, you can run around and not really care about what shape you're in because you wake up every day feeling OK. But now that I'm older, I need to do more for myself." Want arms like Sarah Jessica? Check out this push-up variation that Sarah Jessica learned from trainer Marc Santa Maria.
She doesn't deprive herself: Sarah Jessica does not hide the fact that she loves food, and counts pasta, bacon, and cheese as some of her favorite indulgences. Like Gwyneth Paltrow, Sarah Jessica lives to eat and makes up for it with her regular fitness routine. It's not a total junk-food fest, however, as she's also followed the Hamptons Diet of lean meats, healthy fats, and low carbs during those times that she's needed to drop a few pounds.
Being active isn't just about working out: We've all seen the photos — Sarah Jessica Parker walks everywhere! Whether she is picking up the kids from school or running errands, she prefers to hit the pavement rather than rely on a car to get her everywhere. And when distances are too far, she's also been known to hop on a bike to get her where she needs to go. Besides being a moderate-calorie burner, walking can help elevate your mood and ease digestion and is also a great way to catch up with a friend. It can also act as the gateway drug to running: check out this eight-week plan to go from walking to running in no time!