Starbucks Pumpkin Spice Latte Is Not Vegan
Warning: Your Almond, Soy, or Coconut Milk PSL Isn't Actually Dairy-Free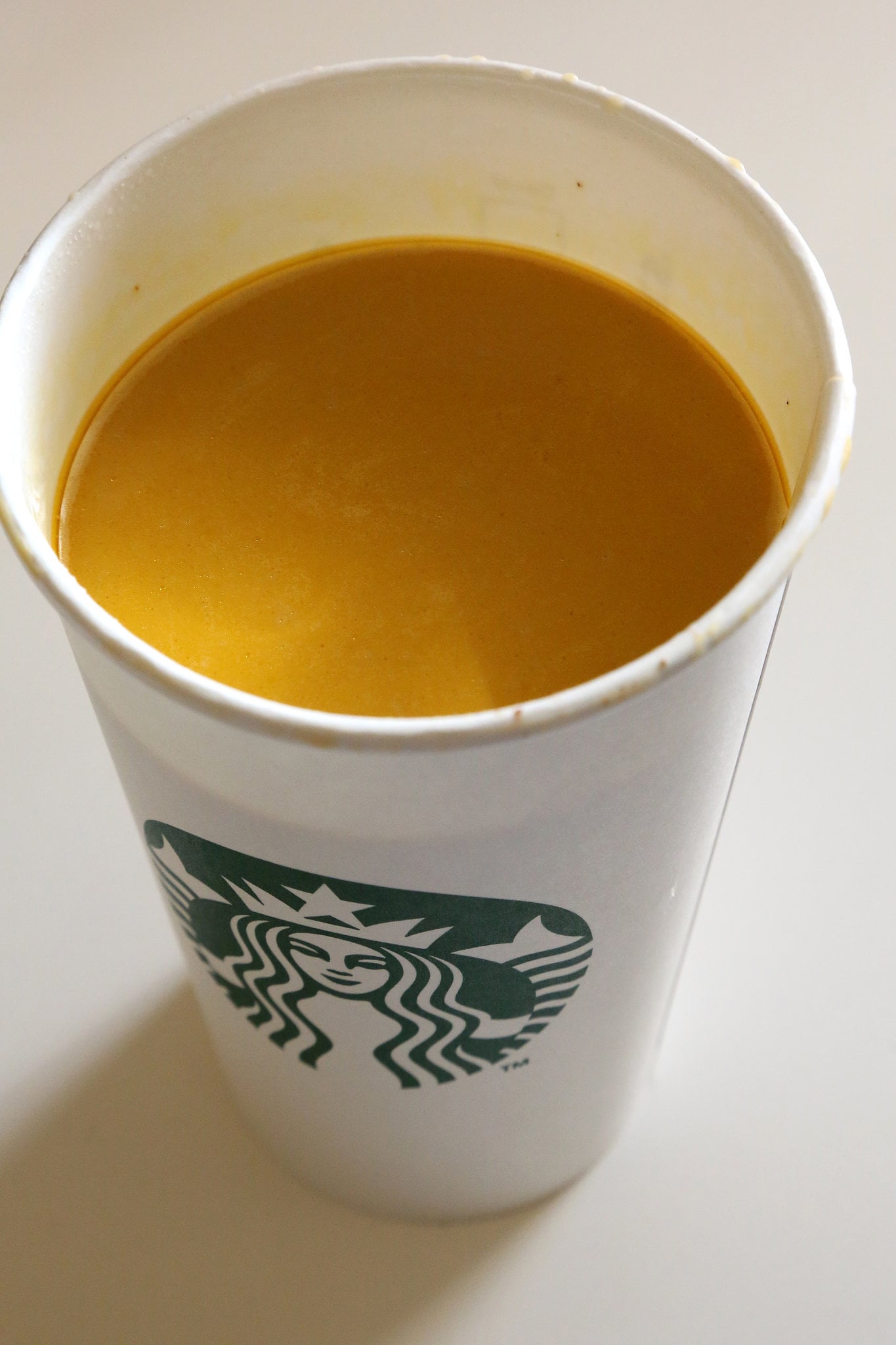 I had a horrifying realization last week: there's a sneaky dairy ingredient in one of my favorite coffees. After my doctor told me to try two weeks without dairy in my diet, I said, "no sweat!" and moseyed on over to Starbucks to get what I thought was a dairy-free pumpkin spice latte. After all, why would coffee flavorings have dairy in them? I was wrong. There is dairy.
As I ordered my coconut milk PSL with no whip, I went about my day feeling great. "This is awesome!" I told myself. "I'll just eat the same stuff but with plant-milk substitutes. No problem!" But problem is there's condensed milk in the pumpkin spice syrup at Starbucks. It's the second ingredient on the list. *Cue me, shaking fists at the sky, screaming, "why?!"*
I felt so betrayed. And I had only been off dairy for two days. I can't imagine how this feels to vegans and people who are actually lactose intolerant. You shouldn't have to think so hard about these things — it's coffee, for crying out loud! What's worse is there's no alternative to create a dairy-free PSL; since the milk is in the syrup, you can't even hack the menu to make something pumpkin-flavored but milk-free.
Starbucks isn't the only culprit for sneaky dairy in its beverages. Dunkin' Donuts also uses skim milk in its pumpkin coffee flavoring, and although there's no information on the Coffee Bean & Tea Leaf site, its flavored lattes are almost always made with vanilla powder, which, as you may have guessed, is made with dairy (dried milk).
So where can you turn when you're desperate for the pumpkiny flavors of Fall but can't deal with dairy? Peet's Coffee actually uses vegan pumpkin spice syrup that doesn't have a drop of milk products. You can also make your own dairy-free pumpkin spice latte if you've got a little time on your hands.
Beyond that, I'll be praying that my beloved Starbucks will come back with an option for the many patrons who just can't (and won't) do dairy but still love that tasty PSL flavor. Feel free to join me in my efforts.
Image Source: POPSUGAR Photography / Anna Monette Roberts