Vegan Berry Crumble Recipe From Moby's Restaurant
A Vegan Berry Crumble That's Totally Delish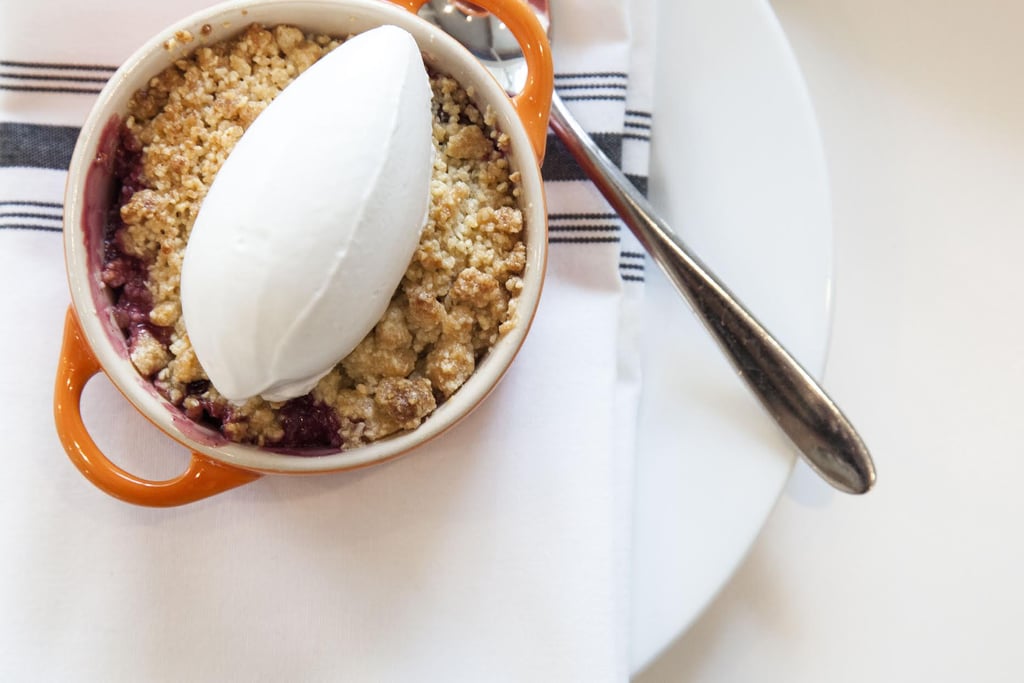 Madonna, Prince, Adele . . . there aren't that many people in the world who are recognized by their first name only. The world-renowned electronic music artist Moby makes the list. But not only is this guy a musical genius, he's also a diehard vegan, animal rights activist, and owner of LA's hottest new "effortlessly plant-based" restaurant, Little Pine.
Located in the hipster neighborhood of Silver Lake, Moby's bistro is a hub of creative Mediterranean- and California-inspired vegan and organic food, impressive organic wine and beer, community, architecture, and design. At this buzzing vegan eatery just a short bike ride away from his own kitchen, Moby dishes out nothing less than the food he would eat at home; plus, he donates 100 percent of the profits to animal rights organizations. We think that's pretty awesome.
We're also more than a little bit obsessed with the star of his dessert menu, an apple berry crumble. The best news? We got the recipe so that you can get a taste of what's cooking at Little Pine no matter how far you are from LA. This fruity yet decadent cobbler will wow your next dinner guests whether they're vegan or not. And the ingredients are so healthy that you can help yourself to a second (or third) serving guilt-free. Minus the optional scoop of vegan vanilla "ice cream," we'd go so far so as to say you could eat this dessert for breakfast if you so fancy.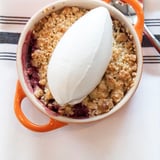 Ingredients
Filling:
2 cups diced apples
4 cups mixed berries (such as blueberries, raspberries, and blackberries)
1 tablespoon lemon juice
1 tablespoon vanilla extract or 1 vanilla bean, scraped
1/2 cup vegan granulated sugar
1/4 cup cornstarch
1/2 teaspoon kosher salt
Topping:
2 cups almond meal
1 cup sugar
1 cup all-purpose flour
1 cup rolled oats
2 tablespoons kosher salt
1 1/2 cups hard vegan butter (very cold), cubed (we recommend Earth Balance)
Directions
Preheat oven to 350ºF.
For the topping, mix almond meal, sugar, flour, rolled oats, and salt in a medium bowl. Add cubed butter, using your hands to crumble it into the dry ingredients until there are no pieces of butter any larger than a hazelnut. Refrigerate while preparing the filling.
For the filling, sauté diced apples in a dry pan until slightly soft, about 5 minutes. Mix the slightly cooked apples with the berries, lemon juice, and vanilla in a large bowl.
In a separate bowl, whisk together the sugar, cornstarch, and salt. Gently fold this mixture into the berry and apple mixture until thoroughly combined.
Portion the filling into oven safe ramekins or a large baking dish. Add a generous amount of topping, and bake for 12-15 minutes, or until the top is golden and the filling is bubbly. Serve with a scoop of vegan vanilla ice cream, if desired.
Information
Category

Desserts, Cobblers

Cuisine

North American

Yield

6 servings
Image Source: Melissa Danis