Why I Don't Work Out in the Front of the Class
Why I'll Never Be in the Front Row at SoulCycle
Everyone has their go-to spot when they walk into their workout class, but a select few enjoy being at the front. If you're one of the many who avoid the front at all costs, you will sympathize with the author of this article from Shape.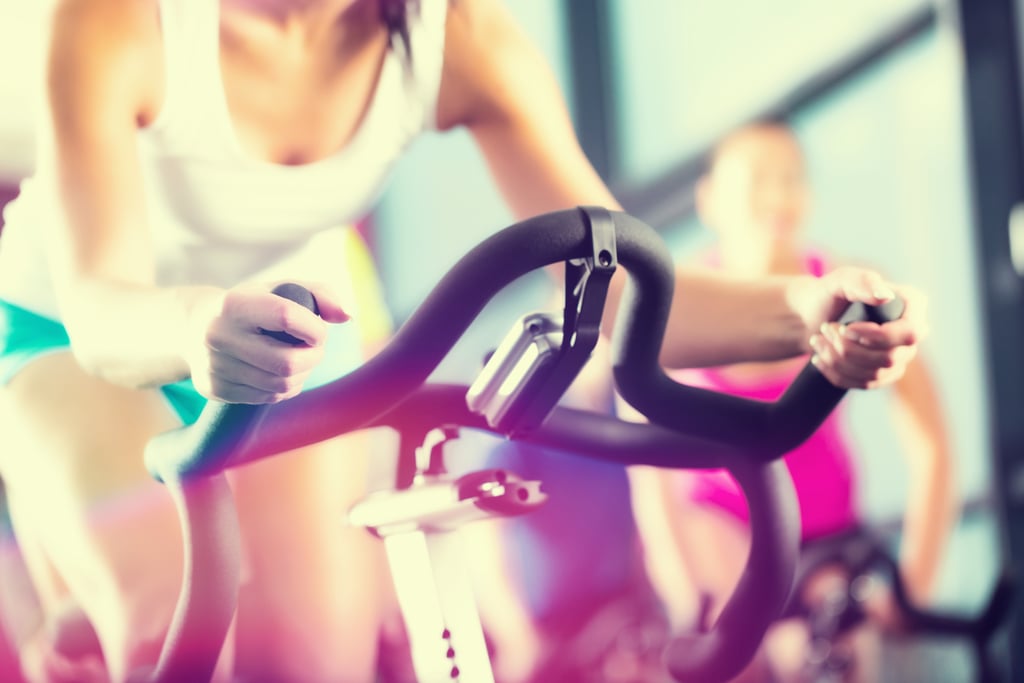 Once upon a time I was that girl: the girl who came in first, second, or third during the timed mile test in gym class. The one who could hold a flexed arm hang longer than any other girl. The person who never, ever came in dead last in any sport.
Don't get me wrong, I was hardly a Junior Olympian, but I was definitely a good athlete and working out came fairly easily — gymnastics, tennis, lacrosse. In workout classes, I usually hovered somewhere near the top of the heap or in the front row — and performance-wise, I was probably in the top 10 percent overall. I thought nothing of sliding into the front row in a spin class or at an intense bootcamp session. ("Are You Too Competitive at the Gym?")
Even as a 20-something, I signed up for running clinics, bootcamp classes, and other group fitness endeavors. And all along, I looked at the people who had could barely keep up, the ones hiding in the corner, the ones who came in at the end, panting and sputtering. Honestly, I felt sort of badly for them. I wondered what it was like to be the last to finish or to have to always opt for the "modifications" while working out . . . for it simply to be that hard to keep up. Is it lonely in the back row?
Well, these days — after a bunch of years, a few nagging injuries, and two little kids racing around at home — I am consistently in that last row. I have definitely come in dead last. I almost always opt for the modifications. I collapse out of plank about five times during a 90-second interval. When I clip in at SoulCycle or Flywheel, my sweet spot is whatever bike is closest to the door and farthest into the corner.
And while I used to think it would be a horrible — or at least defeatist — place to sit, I'm here to announce: it's perfectly lovely here in the back row. I am not lonely or embarrassed or angry at myself. Heck, I don't even particularly want to be in the front row anymore. ("What Makes You a Runner?" It's more than speed.)
I don't entirely know what shifted, beyond a general puncturing of my ego. I can chalk it up to getting older and wiser; I can also say that going through and coming back from two pregnancies is humbling and provides a new lens through which I saw my body. When you're sidelined due to injury or recovering from a C-section, and then have to start back at the bottom (or close to it), small achievements feel significant. I recently completed my first half-marathon since my second child was born, and it was definitely not a PR time-wise — but I felt damn good coasting in smack in the middle of the pack. I also signed up for another half-marathon and ended up skipping it; I just wasn't ready again because I hadn't really trained enough. The old, harder-charging version of me would have gone on a tear of self-recrimination, and while I do confess to feeling some pangs of frustration at my lack of follow-through (as well as smarting at how I forked over the entry fee and never used it), overall I just let it roll off my back. Then I set my sights on a shorter, 15K race a month or two later. (Turns out, "You Don't Have to Run Very Far to Reap the Benefits.")
I used to have one eye on all the other people around me; now, my focus is much more undiluted and way less worried. After all, it's my ride, my run, my body — and however fast or slow I'm going doesn't really matter to me so long as I'm showing up and trying hard. For some people, staying perfectly in sync in that front-row spot at SoulCycle is a badge of honor; I couldn't care less anymore. Being average, out-of-sync, and huffing and puffing like a maniac is fine with me — so long as I know I'm giving it my all. (If you can relate, you'll love "Why I Love Running, Even When I'm Slow.")
— Liz Krieger
Check out more great stories from Shape: