Woman With Ovarian Cancer Does Kayla Itsines BBG Guide
Meet the Young Woman Who Is Crushing Workouts AND Ovarian Cancer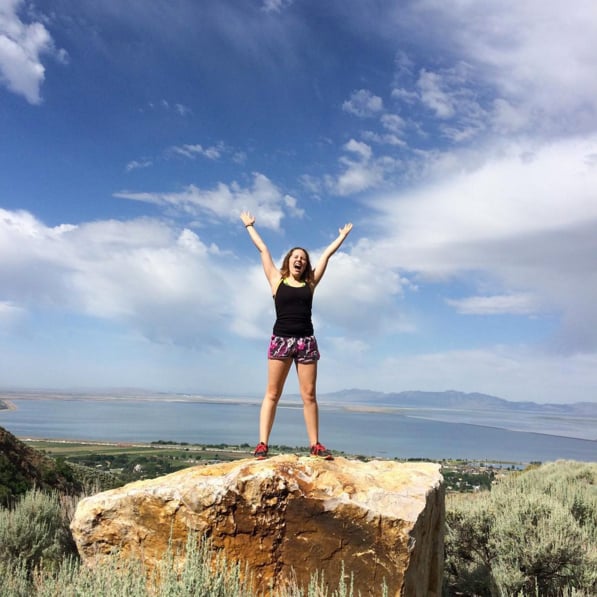 Those close to me (and anyone who's read my article about some of my favorite inspiring BBG girls on Instagram) know that I'm just a liiiiittle bit obsessed with Kayla Itsines. Her guides are intense but effective, and I religiously follow her instagram, blog, and healthy eating tips . . . and I may or may not have ordered the signature pink foam roller from Australia. It's fine.
The reason I love Kayla so much is because of how she has inspired and empowered millions of women. She's positive and encouraging and has fostered a phenomenal community of women on their fitness journeys — all of whom are inspiring in their own right.
While flipping through BBG hashtags, I found Cate — quite possibly the most inspiring young woman I've yet to see. And, through a little bit of scrolling (does this count as Instagram stalking?), I discovered that Cate is only 20 years old and fighting stage-3 ovarian cancer (cue several tears). She had a massive tumor removed, which for most people would be discouraging, but Cate used it as a turning point for her fitness journey with the goal of "toning up her tummy."
I had to think about that for a second — the Kayla guides are hard. But cancer and the Kayla guides together?! I'm in pretty decent physical condition, and I totally get my ass kicked by the Bikini Body Guide. Cate is going through chemotherapy and cancer treatment and still crushing workouts. WHAT?
Her cancer isn't the only thing she's had to face. Cate has had "67 ovarian cysts on the one ovary [she has] left," in addition to restrictive lung disease, endometriosis, an internal staph infection, and a failed galbladder.
One of Cate's recent captions said "I actually left my bed today… Yay!!! I was only able to do some cycling for 30 minutes, but that is better than nothing." Are you kidding, girl?! There are people in this world who haven't dealt with half the hardships you have, and they don't even have the motivation to get out of bed and go cycling.
Another caption posted from the hospital lamented about how she couldn't do her workouts but was still trying: "I walk like 30 laps a day on my floor and all the nurses call me the energizer bunny. Does that count as my #liss?" If your jaw is on the floor, it's OK, so is mine.
So what inspires her to stay strong? In her own words, the "lovely ladies in the #bbgcommunity that help keep my motivation going with your transformation posts and your little comments of encouragement. @kayla_itsines has truly created a magical community. 💕" Like I said, this BBG Community is powerful stuff.
Basically, Cate is owning life in every way — and in a way that makes me want to rethink what I'm doing with my life. She's super confident with her strong body (and booty progress; get it, girl!), making and eating healthy meals at home, doing LISS with her puppies, and kicking so much ass on these BBG workouts, and, to top it off, she has a great sense of humor.
Cate has reminded me to remember why I set out on my own fitness journey, which, much like hers, is still in its very early stages. She's reminding me to not take my health for granted and reminding me to keep going because even when things get tough, it's so worth it to keep pushing through.
And if you're reading this, Cate — you're a champion. You've got this. Keep being strong.