Meet the Pole Dancer Whose Mesmerizing Videos Are Going Viral on Instagram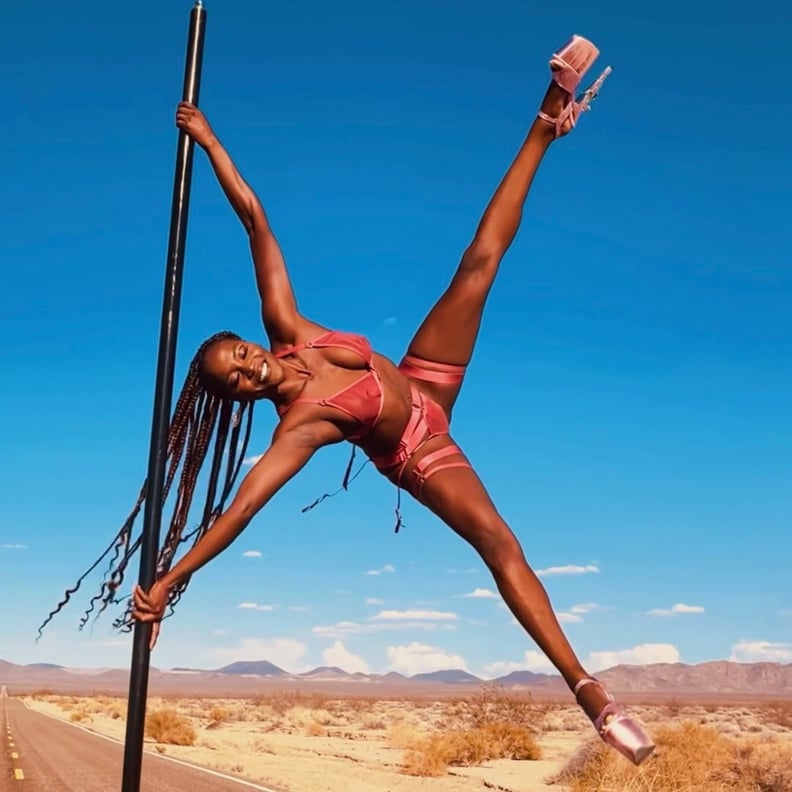 Adeola Heyman's version of a deadlift doesn't require a barbell: in pole dancing, the term is used to describe hoisting your entire body from a standing position to an inverted one while gripping a pole and only using your upper-body strength. It practically defies the laws of gravity, but that's standard for Heyman, a 30-year-old movement artist whose mesmerizing pole-dancing videos have earned her 28,000 Instagram followers and counting.
Heyman's most viral posts are her pole-dance routines done in tandem with anywhere from one to three other people. "It's like pole on steroids," Heyman tells POPSUGAR. "My friends and I always joke around that we're on 'X Games mode' during these kinds of training sessions." The practice requires not only coordination, but also immense trust, which comes surprisingly easily for Heyman. "Hi, I'm Adey, and now I'm going to hang upside down from your leg, and I completely trust you not to drop me," she says, mimicking how she starts the conversation with women she's training with for the first time.
Potential collaborators are often found via Instagram, which boasts a passionate pole-dancing community. "The pole world I have been exposed to so far has been extremely welcoming and has quickly become a safe space for me," she says. "Being in Los Angeles and belonging to a great community really shrinks the effects of what it feels like to live in a big city." She's taken her talents all over LA, performing at gallery exhibitions, art walks, and shows like PolePhreakz and Re:SRCH, which "are very high energy and embody stripper culture," she explains.
"I wish more people would know that pole is not as unattainable as they perceive it to be."
Heyman wants her followers to feel inspired to try pole dancing, even if they think they're "not strong enough." "I wish more people would know that pole is not as unattainable as they perceive it to be," she says. "A lot of people are scared to try pole because they think they won't be good. And yeah, no sh*t, it's your first time trying something, of course you're not going to be perfect at it." She continues, "I think adults shy away from being beginners at things out of fear of looking stupid or fear of failure. Pole dance takes a lot of training and a lot of time before moves look effortless. As a beginner, there were times when I wanted to give up on pole. . . . But it is attainable, and I truly believe anyone can pole dance."
Heyman's pole-dancing clips are set to catchy songs like Cardi B's "Hot Sh*t," SZA's "Love Galore," and Megan Thee Stallion's "Gift & a Curse" as she whips around the pole with movements as fluid as water. Prepare to be hypnotized as you watch our favorite videos ahead, and be sure to follow her on Instagram for your weekly dose of pole inspiration.