Aly & AJ Open Up About Their History With Mental Illness
Aly & AJ Started Taking Antidepressants in Their Teens — and They're Better For It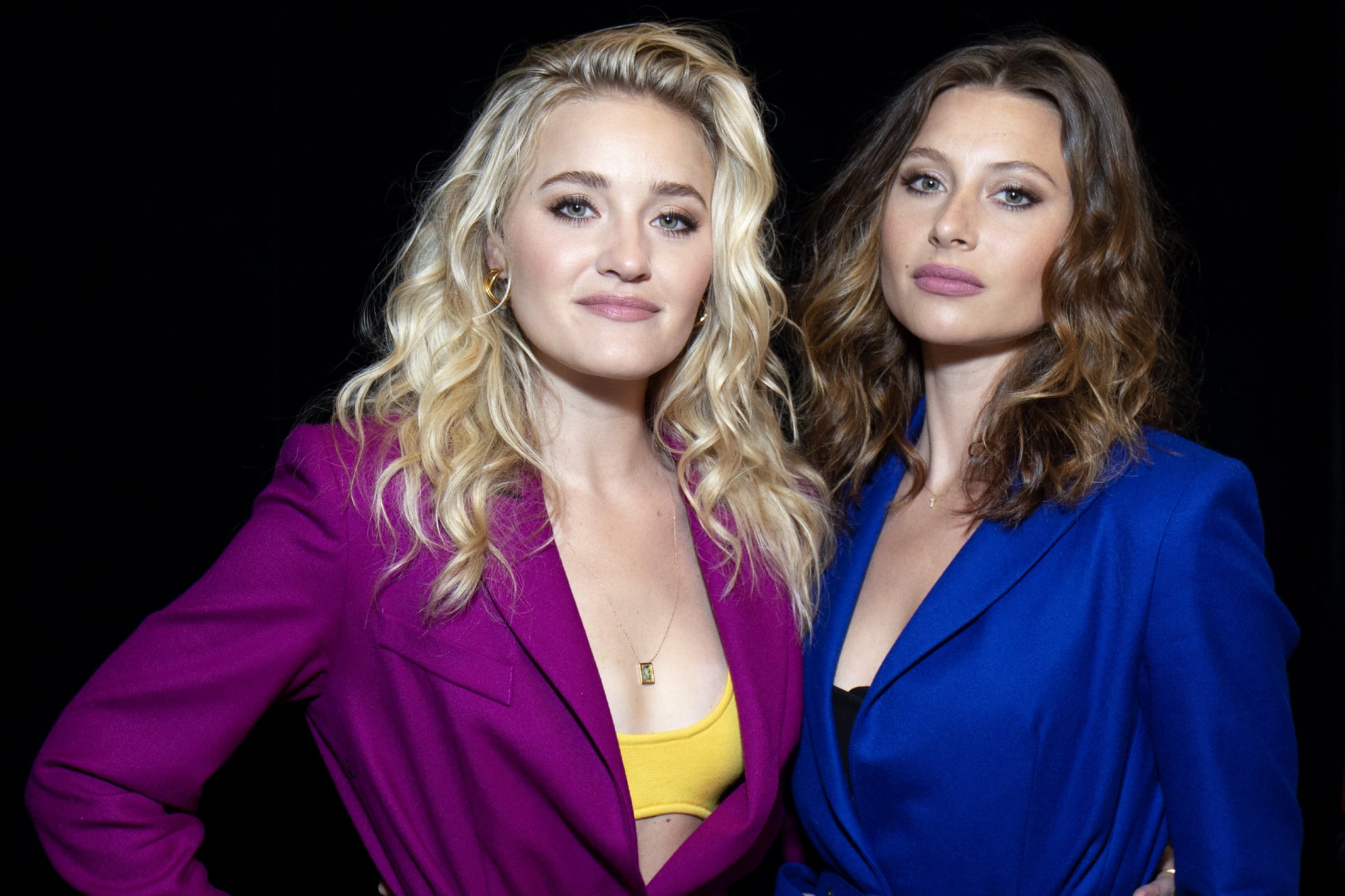 Image Source: Getty / Santiago Felipe
Speaking with Alyson (Aly) and Amanda Joy (AJ) Michalka over Skype, I can feel their bond. They feed off of each other's energy with a push-and-pull ease — and, yes, even finish each other's sentences. It's a sister thing. Both have been in the entertainment industry as actors and singers since they were in their early teens, and they make up the duo Aly & AJ, with past hits like the angsty, sing-into-your-hairbrush anthem "Potential Breakup Song," as well as "Rush," one of my personal favorites.
"People assume Aly and I do everything together because we're attached at the hip and we're two years apart and we work together and we lived together for a long time," AJ said. "But it's funny that also the path of our psychiatric journey has been very much on par with each other. Even that has been done as sisters." Anxiety and depression run in their family, and while Aly was the first to experience depressive symptoms during Disney Channel's Phil of the Future, AJ followed suit not long after.
Aly, 31, said that being on the Phil of the Future set for her first major part as an actress was overwhelming. At the time, she was around the age of 14 and had never worked that many hours every day consistently for an acting gig. She saw a psychiatrist who later prescribed antidepressants and helped her find more structure in her daily life to help combat the overload of stress. Consistency, she explained, was good for her mental health.
"Some people have a weird taboo idea of what medication is and that it can be evil, but I think that if you're doing it in a smart and respectable way, it's life changing."
"It helped that my mom was really easy to talk to about this subject," Aly, who has most recently held a role in the CW's iZombie, said. "She just saw me struggling on set, and I was being very open about what I was experiencing and that it was kind of coming out of nowhere." AJ, 29, currently starring in Schooled, a 1990s spinoff of The Goldbergs, further described what her older sister was going through: "When you're a young kid who's being asked to show up at a certain time every day on set and help lead a show, you kind of are the hub of that show. That pressure falls on you."
Aly was prescribed Zoloft, which she said worked well for her without compromising her personality (there's a fear that people feel numb on antidepressants, she noted). She changed up her medication over the years and has been on Cymbalta for about a decade now.
AJ said she's on the same medication and has been taking it just as long as Aly. She was diagnosed with anxiety, depression, and "pretty severe OCD," shortly after Aly. While Aly cited the stress of leading a show at a young age, AJ can't remember what triggered her symptoms. But because the medication worked for her sister, AJ was started on a low dose.
Both women are pleased with the way that medication has helped them cope with their mental illness, but Aly in particular noted how difficult it is to convince the outside world, even today, that antidepressants aren't bad if you're using them correctly. "It was very hard to describe what it is like on a daily basis if you are someone who does struggle with this, someone who has an imbalance in their life," she explained. "It can't just be all based on exercising, eating, meditating. All of those things help 100 percent, but I do think they also help with medication. Some people have a weird taboo idea of what medication is and that it can be evil, but I think that if you're doing it in a smart and respectable way, it's life changing."
"We were embarrassed. We didn't want to tell anyone in the industry, we didn't want to tell friends, and now I think our support system is a lot bigger because we've shared."
While their family was on the frontlines of their support system growing up, that support system has shifted a bit. Now their significant others are also included (Aly is married and AJ has a boyfriend). But for a long time, they only talked about mental health with those closest with them — namely, their parents. "We were embarrassed. We didn't want to tell anyone in the industry, we didn't want to tell friends, and now I think our support system is a lot bigger because we've shared," AJ acknowledged. "You can't get support if you're not honest with people."
Seeing her older sister work through mental illness and go through the process of finding the right treatment made AJ more comfortable in speaking up about her own symptoms when she was younger. "I think Aly kind of unveiling what we both were feeling is what made me go, 'Oh my gosh, there's hope,'" AJ recalled.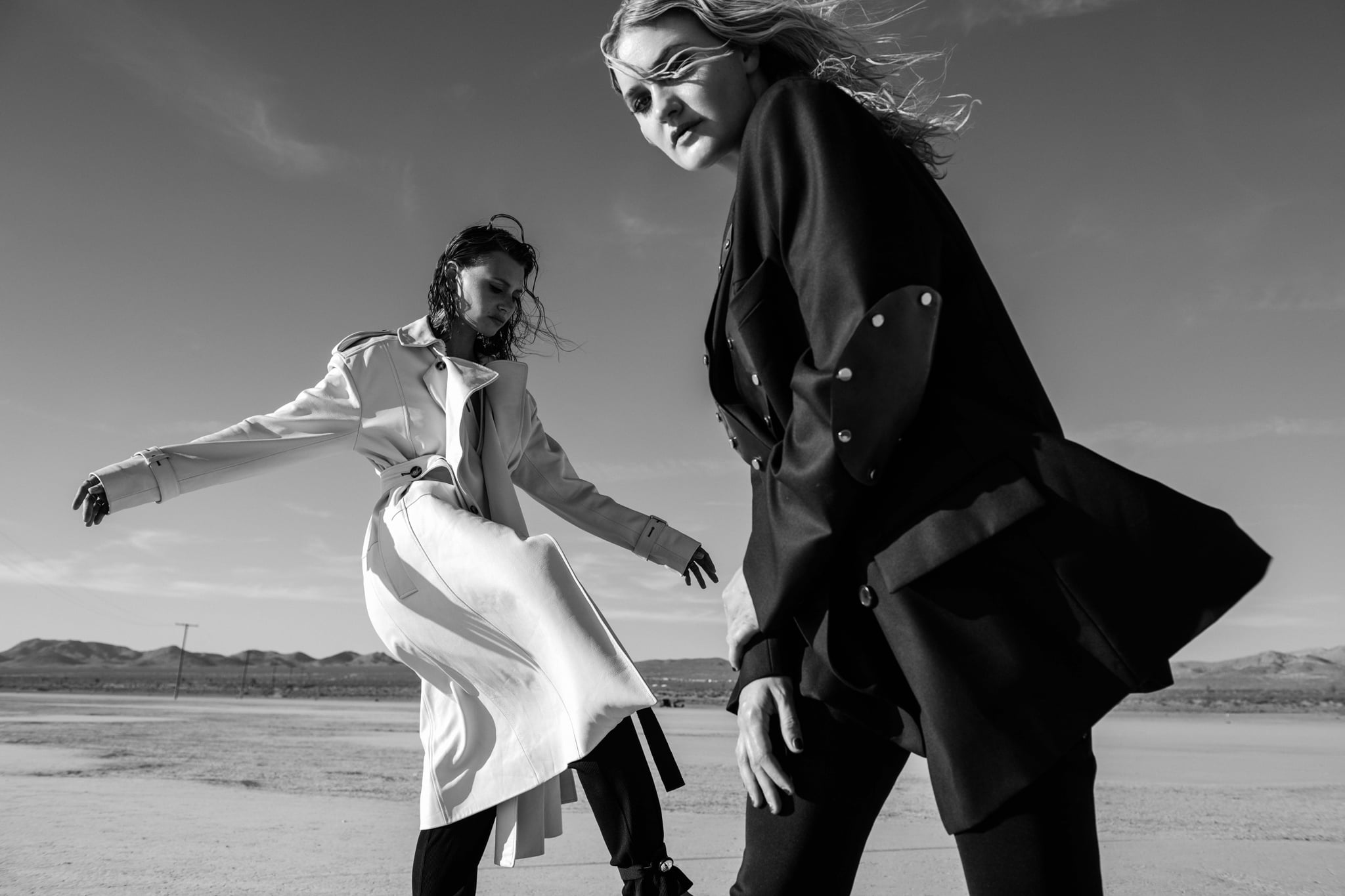 Image Source: Courtesy of Molly Cranna
Both artists went to therapy in the past as well, specifically around the time that their parents divorced. AJ said she tried it out again in her early- and mid-20s, but it never seemed to click. They admit, though, that they want to start therapy back up now, especially if they could go as a duo. "My big thing is, regardless of mental health, my goal is for Aly and I to preserve our friendship and our relationship," AJ said. "That's the forefront of our lives, as opposed to us as a band and partnership. I do think it would be smart to see someone, almost like couples therapy but for siblings."
When it comes to their music, Aly & AJ inadvertently sang about their struggles with mental illness in their earlier hits, though it was more so about embracing their imperfections as teenagers, they explained. You'll hear that in songs like "No One," "Sticks and Stones," and "Protecting Me," all from their 2005 debut album, Into the Rush. "'Protecting Me' is really asking for protection and safety and security from whoever it is in your life that can offer that to you," Aly said.
Their newest single, "Attack of Panic," with its deep techno sound and dark undertone that departs from their 2000s hits, is meant to feel like you're in that loop of anxiety, that state of panic. It's also meant, Aly said, to emphasize to the world that it's OK to struggle with the day-to-day and to "take away the stigmatizing aspect of mental health."
AJ specifically went through a period in her life when she had a series of recurring panic attacks. "I don't believe you can get ahead of the panic attack and stop it," she said. (In fact, you rarely see panic attacks coming.) "But I do believe, cognitively, there is a way to address like, 'I know that I could go down this road and I'm not going to. I'm going to spend time not looking at my phone for a moment, I'm going to breathe, I'm going to meditate . . . I'm going to take this moment to center myself.' There's been a couple times where I've had to check myself and do that."
"I'm not depressed when I'm on stage. I don't feel compulsive in any way, I don't feel anxious. When I'm on stage it kind of erases it all."
AJ remembers having at least three panic attacks one year, following a breakup in her late teens, that always left her drained. "That first one, it feels like you're going to die. It's horrible. And then you realize what it is and how common it can be," she said. "I don't have the same fear around it anymore that I used to because I know I'm going to come out on the other side OK."
Aly & AJ are planning to come out with a new album this year, and one of the themes they will delve into is depression. This will be their first full-length album since 2007. After a 10-year break from music where they focused on their acting careers, they released the first of two EPs, Ten Years, in 2017. Aly said that songwriting for them has been healing in a way that's different from acting. However, both agreed that the industry can impact their mental health negatively due to its lack of stability; you can work on a project for a while, then be without a job, they explained.
AJ added, "I think mental health thrives on consistency, and our industry doesn't really offer that. I think for the most part it can be hurtful, but the positive behind it is that creating is something that brings peace to all of it." She continued, "I'm not depressed when I'm on stage. I don't feel compulsive in any way, I don't feel anxious. When I'm on stage it kind of erases it all. I think that's why I feel so good when we're performing live."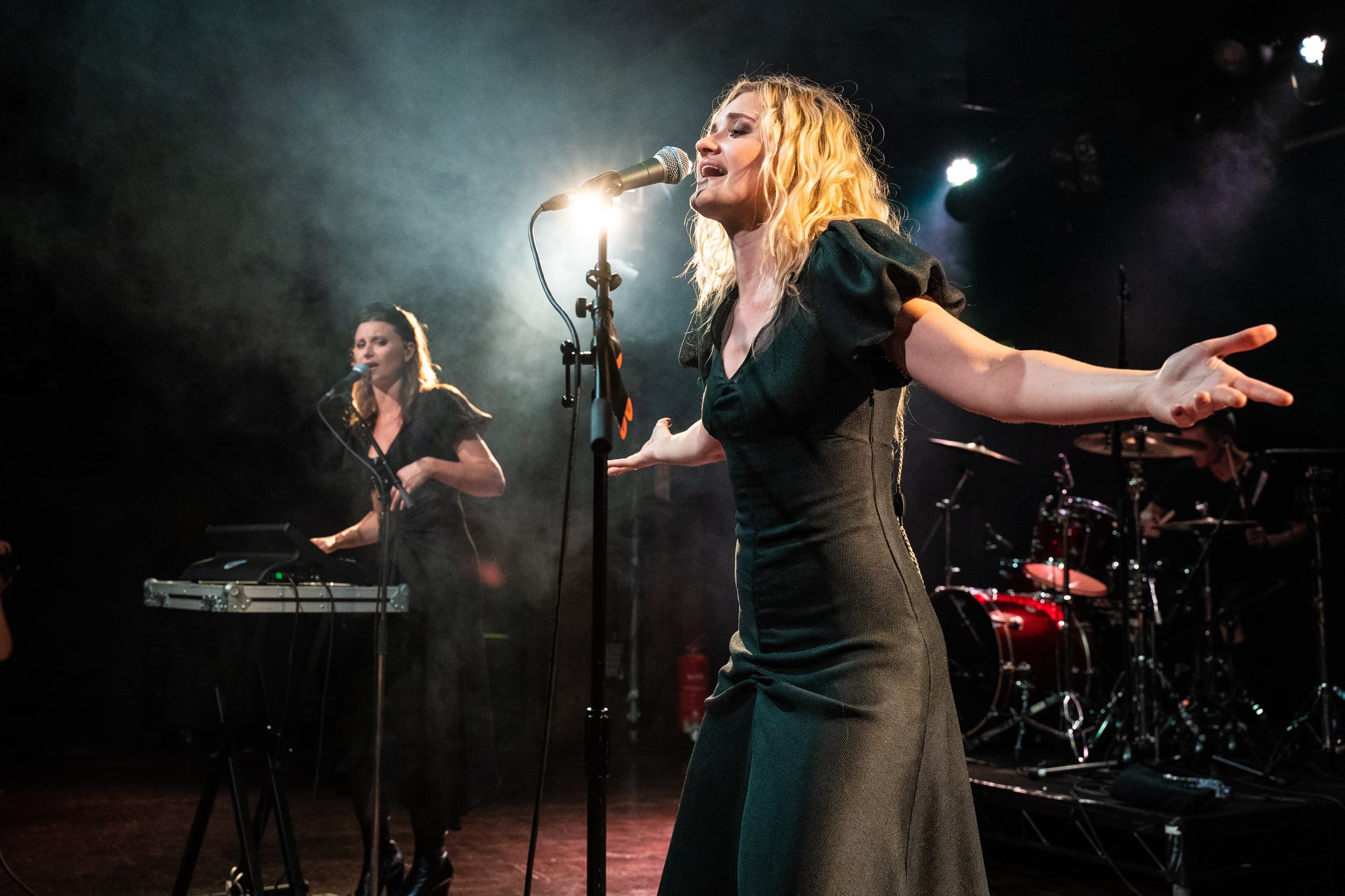 Image Source: Getty / Lorne Thomson
On Aly & AJ's most recent tour for their 2019 EP, Sanctuary, they raised over $60,000 for The Trevor Project, the suicide prevention nonprofit for LGBTQ+ young people. "We want to help in any way that we can," AJ said, noting that they hope to continue raising money. The duo also created an initiative through Propeller, where fans can support one of two causes — The Trevor Project and the Union of Concerned Scientists — and are put into a raffle to fly to LA and get an inside look at the new Aly & AJ album. (They noted that they may need to figure out a new raffle prize due to the novel coronavirus pandemic, but that is still up in the air.)
If one thing's clear, it is that Aly and AJ walk hand in hand through their careers, their personal lives, and their mental health journeys. They've learned to navigate anxiety and depression together and on their own. Aly has found a normal sleep schedule to be a big factor in her mental stability. AJ mentioned that, from a young age, psychiatrists instilled in them the importance of cutting out caffeine and keeping active to help their mental well-being.
Aly credits AJ for teaching her to avoid extra stress by not overloading her days with unnecessary tasks. "I think when you're an anxious person, you thrive off of to-dos and 'what did I accomplish today?' because it kind of feels like it tapers the anxiety a little bit," AJ said, explaining her view, "but all it does is actually internally ramp it up."
For AJ, Aly has taught her how to have more empathy. "Now that we talk about mental health so much, I see Aly's graciousness and patience toward other people that are experiencing issues with instability mentally," she said. "I feel like it's taught both of us an incredible amount of patience for others that are suffering." Aly agreed with her sister, adding, "And just have more empathy for people, whether it's mental health related or not."