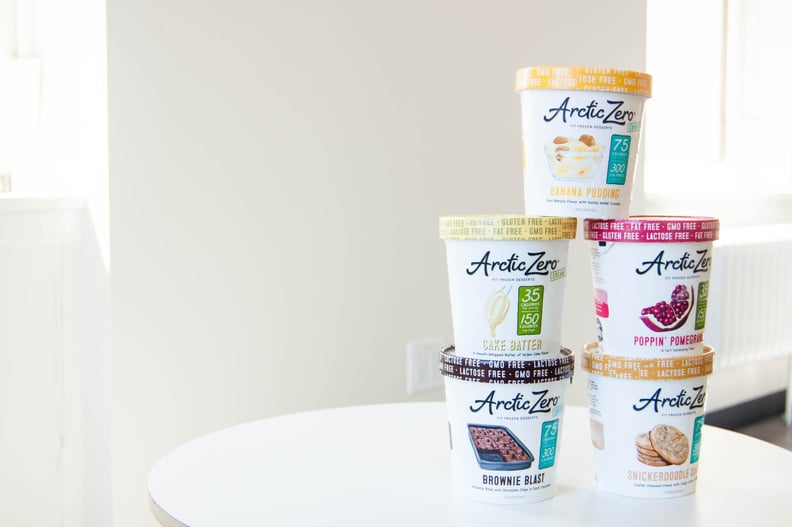 POPSUGAR Photography | Dominique Astorino
POPSUGAR Photography | Dominique Astorino
Our healthy ice cream delivery was greeted with so much excitement and anticipation — Arctic Zero showed up in our offices, offering flavors like Banana Pudding and Brownie Blast. And offering added protein with no lactose (yay for the lactose intolerant!), this "diet" ice cream packed in some serious nutritional benefits.
So how does it actually taste? We got some mixed results (pretty standard for a taste test), but the end game was this: if you're lactose intolerant or looking for a healthier alternative to your standard Ben & Jerry's pint, then check out Arctic Zero. Here's what everyone had to say about each flavor.
Brownie Blast
Per serving: 75 calories, 1.5 grams of fat, 8 grams of sugar, 3 grams of protein
Love the brownie bites; the "ice cream" part tastes like a melted Fudgsicle
Tastes like a melted Fudgsicle . . . not in a good way
Tastes sort of like a Fudgsicle, but not creamy like ice cream should be
Tastes like a Wendy's Frosty
Very icy and slimy
The best out of all the flavors!
Tastes watered down, but similar to a Wendy's Frosty
Best of all of them, but not the best chocolate taste
Yummmyyyyy!
Very good! Love it, not too sweet.
I like!!!
Are the brownie bites actually chocolate chips?
Tastes ok. Looks like poo.
Love the chocolate!
★★☆☆
Cake Batter
Per serving: 35 calories, 0 grams of fat, 5 grams of sugar, 3 grams of protein
Tastes almost exactly like the NY Cheesecake flavor at Golden Spoon Frozen Yogurt
Barf. Tastes like watery yogurt Cheese. F***ing gross!
Cake batter with extra eggs, really chewy
Maybe what boxed cake mix would taste like without the ingredients
Banana-like aftertaste, but overall OK
Ummm, OK
My favorite, I love cake batter!
★☆☆☆
Snickerdoodle Dandy
Per serving: 75 calories, 1.5 grams of fat, 8 grams of sugar, 3 grams of protein
Just the right amount of cinnamon
Tastes like watered-down ice cream
Me gusta
Slimy, flavorless
HORCHATA ICE CREAM!
Needs more DOODLE
More horchata than snickerdoodle
Cookie chunks make it bearable
Watery
Good flavor, weird consistency?
Light, cinnamony, and very similar to horchata. Like the cookie bits a lot.
★★☆☆
Banana Pudding
Per serving: 75 calories, 1.5 grams of fat, 8 grams of sugar, 3 grams of protein
AMAZING!!! I LOVE IT!
Not sure how I feel about this. Has the slimy texture of a banana.
Yum! Super tasty.
Not my fav, missing flavor
Yum!
I liked it!
Tastes like fake banana — almost like a Laffy Taffy
Like the banana-flavored Jell-O pudding mix
★★★☆
Poppin' Pomegranate
Per serving: 35 calories, 0 grams of fat, 5 grams of sugar, 3 grams of protein
Tastes like Jell-O
More like fro-yo than ice cream
This one is good — IF you like Jell-O
Nice and icy
Similar to sorbet
Velvety pomegranate sorbet
Seems to have a weird film aftertaste
Tastes Jell-Oy
K
★★☆☆