Beijing Winter Olympics Concerns and Controversies
How the Winter Olympics Helped Beijing "Sportswash" Its Human-Rights Record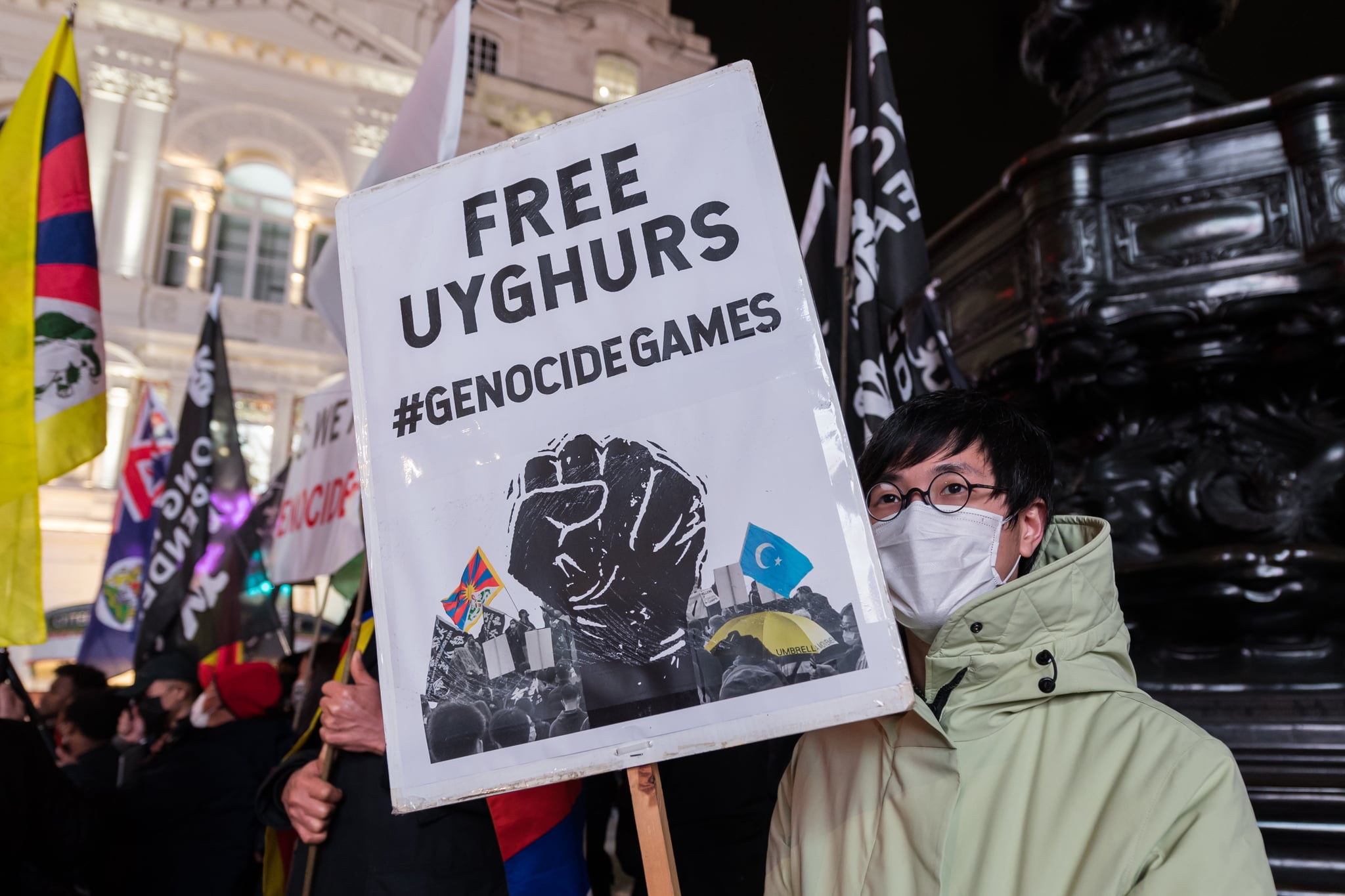 Image Source: Getty / Wiktor Szymanowicz / Future Publishing
Despite marking an unprecedented run for Beijing as host of both a Summer and Winter Olympics, the 2022 Games in Beijing have been shrouded in human-rights violations and mired in politics. Ever since the International Olympic Committee (IOC) chose Beijing to host the event in 2015 — defeating Almaty, Kazakhstan, by four votes — the choice signaled to observers that Olympics popularity would continue to overshadow real concerns.
While Beijing lacked any previously existing winter sports infrastructure, the International Olympic Committee quickly found that it had a partner willing to build an entire Winter Olympics from scratch. As the Games began amid the omicron surge, China took measures to ensure that COVID-19 did not disrupt the event. Athletes and officials were subject to strict COVID-19 screenings upon arrival, and organizers created a "closed loop" through which Olympic participants had no contact with the outside world.
According to IOC President Thomas Bach, China also met its goal of having 300 million participants in winter sports, thanks to its second Olympics.
Yet for all the sunny headlines about sporting prowess, the Beijing Olympics remain controversial. China's human-rights record and how sporting institutions have steamrolled over world issues are both still part of the conversation. Plus, headlines around the health and safety of Chinese tennis player Peng Shuai were quickly brushed over.
Critics say the Chinese government is participating in a trend called "sportswashing," through which large sporting events are used to legitimize regimes that participate in atrocities. Hosting the Olympics is not controversial, Minky Worden, director of global initiatives at Human Rights Watch (HRW), tells POPSUGAR. It's much more than that.
"It's established that China has committed crimes against humanity," she says. "The country has rolled back many of the advances of the previous 25 years. The country is now in the worst human-rights situation in the post-Tiananmen era."
The IOC says the Olympics exist outside of politics, presenting an idealized version of the world that we should all aspire to. All the while, Xi Jinping has made hosting the Games a cornerstone of his leadership and is expected to claim a third term as general secretary of the Chinese Communist Party next year.
Human Rights (or Lack Thereof) at the Forefront
Two months before the Olympics kicked off in Beijing, the US announced it would not be sending any government officials to the 2022 Olympics, marking a low point in relations between the countries.
Quickly, countries like Australia, Canada, and the United Kingdom announced their own diplomatic boycotts. Eventually, allies such as Japan and Germany announced they would also not be sending government delegations to the Games, even if they were not officially part of the US-led boycott.
According to White House Press Secretary Jen Psaki, the reason behind the move was the "ongoing genocide and crimes against humanity in Xinjiang." As early as 2017, officials in the far western province of Xinjiang in China began building detention centers to house members of the Uyghur minority group. Chinese officials say these camps offer reeducation opportunities for Uyghurs in the area, although international groups and news outlets have reported that these camps include forced labor and other forms of torture. Officials also claim these camps are erected in the name of Chinese national security, but both the US and United Kingdom say they are instead part of an ongoing genocide in the region.
"These are among the most serious human-rights crimes that exist, and holding the Olympics against this backdrop is really a new low," HRW's Worden says about the situation. The United Nations is currently finalizing a report on the situation in Xinjiang and faced criticism for not publishing the report sooner.
Since Xinjiang is a major cotton-producing region in China, many international brands have found themselves in a geopolitical tug-of-war, trying to ethically source cotton without alienating the world's largest consumer market. Two Chinese companies provided apparel for the IOC, and the organization recently said it conducted an audit into these companies and found no human-rights violations in the supply chain. Human Rights Watch found that difficult to believe.
"Credible supply chain auditing is impossible in the Uyghur region," said Allison Gill, forced labor program director at Global Labor Justice-International Labor Rights Forum, in a statement on behalf of the Coalition to End Forced Labor in the Uyghur Region (EUFL) with HRW. "In ignoring the significant risk of Uyghur forced labor in Olympic merchandise, the IOC shamefully put profits and political expediency over people and principles."
Beijing 2022 chose cross-country skier and relative unknown Dinigeer Yilamujiang to be part of the prestigious honor of lighting the Olympic cauldron to start the Games. Yilamujiang is an Uyghur athlete from Xinjiang whose inclusion is suspected to be in part a response to detention-center criticism.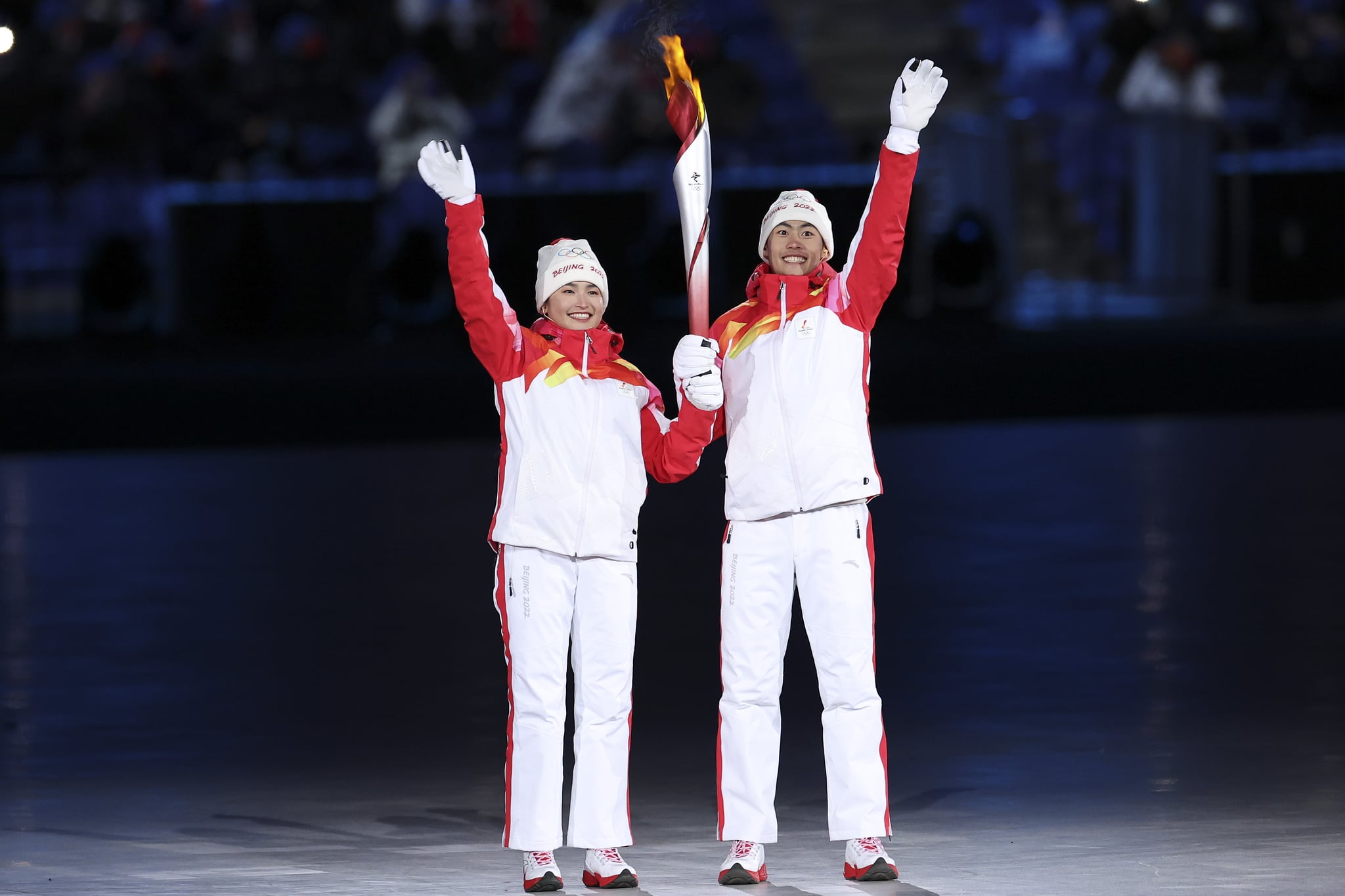 Image Source: Getty / Lintao Zhang
"That was one of the most shameful moments of the Olympics," Worden says, calling it "a giant insult to the many survivors of these so-called reeducation camps."
Another thing the Beijing 2022 Olympics have called attention to is the record amount of LGBTQ+ athletes participating in the Games. However, China's abysmal record regarding its own LGBTQ+ population has been papered over.
Same-sex relationships are not illegal in China, but its government has been cracking down on LGBTQ+ groups in recent years, including in the months leading up to the Olympics.
By and large, athletes did not speak out against the situation during these Games, as some did at the Sochi 2014 Olympics after Russia passed its "gay propaganda law." By not pressuring the Chinese government to protect the rights of LGBTQ+ Chinese citizens, the IOC is once again letting domestic politics trump human-rights concerns, Worden says.
"It's another shameful low, backtracking on the IOC's nondiscrimination policy and an example that pandering to a repressive host does not protect vulnerable populations and LGBT citizens or athletes, or allow athletes to be their authentic selves when they are competing at the highest levels," she adds.
Where Is Peng Shuai?
In a Weibo post on Nov. 2, 2021, Chinese tennis player Peng Shuai accused former Chinese Vice Premier Zhang Gaoli of sexual assault.
The post was quickly scrubbed from the platform, and Shuai disappeared from public view shortly after. Soon, fellow tennis players such as Naomi Osaka began asking, "Where is Peng Shuai?," and the Women's Tennis Association (WTA) pulled its tournaments from China until Shuai's safety could be guaranteed. The international sports world was abuzz, seeking answers about Shuai and asking if she had been punished by Chinese authorities. Weeks later, the IOC posted details about a video call it had with Shuai, despite WTA leadership still being unable to reach her.
Shuai gave an interview to French newspaper L'Equipe during the Beijing Olympics, where she has been spotted watching events with Chinese Olympic and IOC leadership. As part of the interview, L'Equipe had to submit questions beforehand, and a Chinese Olympic Committee official served as translator. During the interview, Shuai announced her retirement from professional tennis.
China's overall position on the #MeToo movement has been to shuffle out of sight activists and other women who speak up to protect powerful political figures. The fact that Shuai spoke about a former vice premier of the country was not lost on observers, though, who noted that the private lives of members of the country's political elite are rarely discussed.
"It's always good to see Peng Shuai, whether in an interview or attending the Olympic Games," WTA President Steve Simon said after a photograph of the interview was posted. "However, her recent in-person interview does not alleviate any of our concerns about her initial post from November 2nd."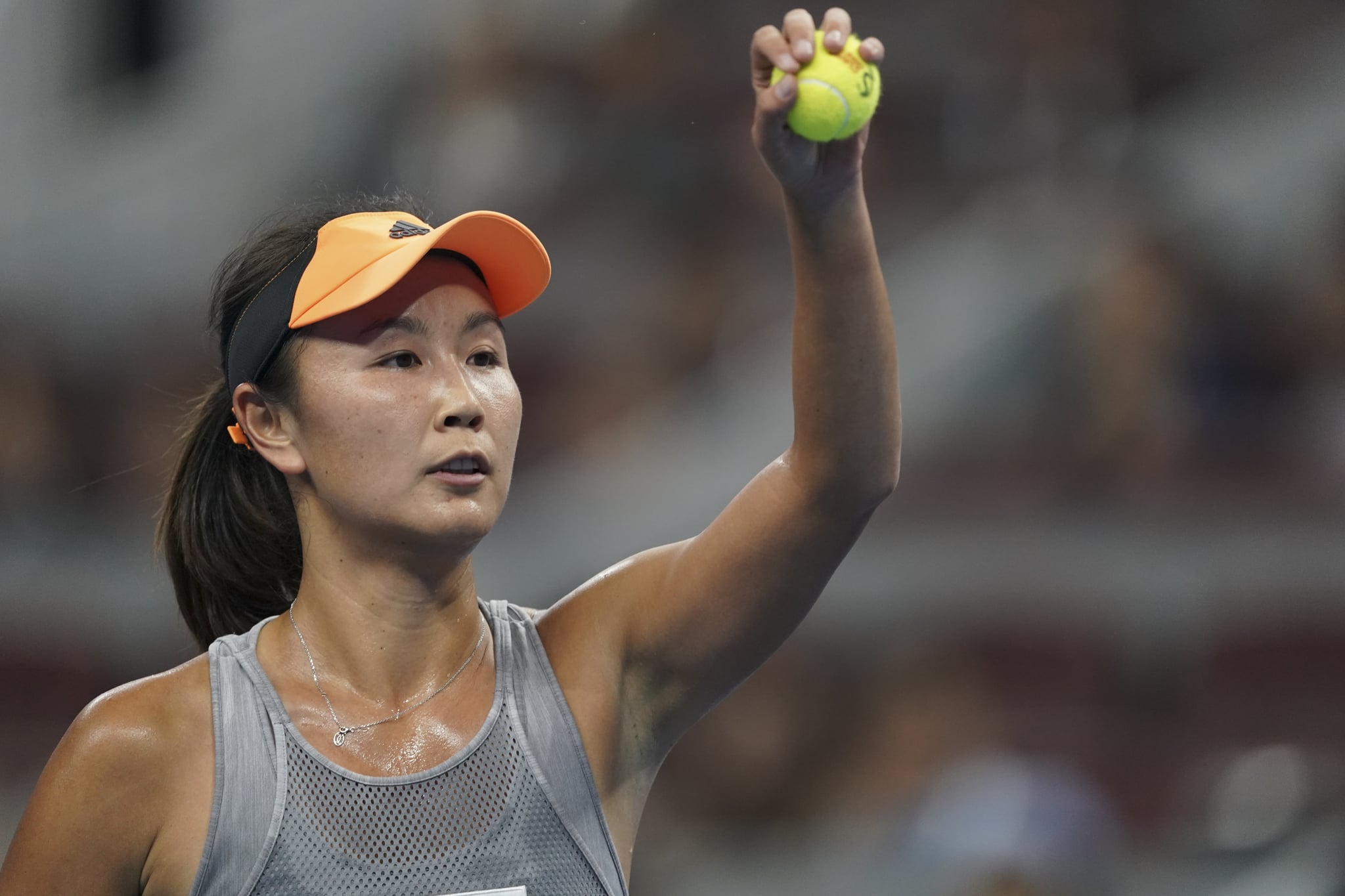 Image Source: Getty / Fred Lee
"Sportswashing" Xi's Rise
Beijing 2022 is not the first time China has engaged in "sportswashing" its reputation. The last Beijing Olympics in 2008 were seen as a "coming-out party" for the country as it joined Western peers on a global stage. China has also courted other major events such as the FIFA Club World Cup while also aggressively pursuing advertising in major sporting events for Chinese companies. Chinese ecommerce platform Alibaba is even a The Olympic Partner (TOP) sponsor of the IOC.
"Aided and abetted every step of the way by a willfully gullible IOC, China has made political hay of their moment in the Olympic sun," Jules Boykoff, an associate professor of political science at Pacific University in Oregon, who has researched the Olympic Games extensively, tells POPSUGAR. "The effects on the domestic population, while often ignored outside of China, are a crucial side effect of these Olympics that will likely strengthen Xi Jinping domestically moving forward."
This November, the Chinese Communist Party will meet for its Party Congress, where Xi is widely expected to begin serving a third five-year term as secretary general. This would make Xi the longest-serving leader of China since Deng Xiaoping in the 1980s.
Since taking over as the country's general secretary in 2012, Xi has worked to bolster power domestically through mass surveillance while also forcing a national security law on Hong Kong, effectively ending the "one country two systems"-style democracy the city-state previously enjoyed. China has also gotten aggressive on a world stage, employing a confrontational "Wolf Warrior Diplomacy" while seeking to reaffirm claims on disputed islands in the South China Sea and near Japan.
Boykoff says the IOC staying out of any form of politics has allowed Xi to control the narrative about the Games and avoid pressure about human-rights abuses. In fact, the mandate of the IOC's new human-rights commitments begins only with the 2024 Host City Contract after the Beijing Olympics have wrapped up.
"By claiming political neutrality in Beijing, the IOC has made a mockery of its stated commitment to justice and humanitarianism," he adds. "The Beijing 2022 Games have shown in ample technicolor that if the IOC has an ideological north star, it's its own money spigot, not the humanitarian principles it claims to uphold."